We've gathered our favorite 4th of July dessert recipes so you can celebrate with some festive treats that have been tried and tested! Any one of these desserts would be fabulous for Independence Day BBQs, Cookouts, Potlucks, or just getting the family together to watch some fireworks. Try a few of these recipes and create a full table of 4th of July desserts that will impress your guests and satisfy everyone's sweet tooth!
The Best 4th of July Desserts
The 4th of July is the peak of summer festivities and fun, but it's not all about fireworks and backyard shenanigans! The 4th of July is also all about delicious summertime desserts!
Below is a list of delicious dessert recipes for the 4th of July that will have all your guests ready to party, mingle, and eat!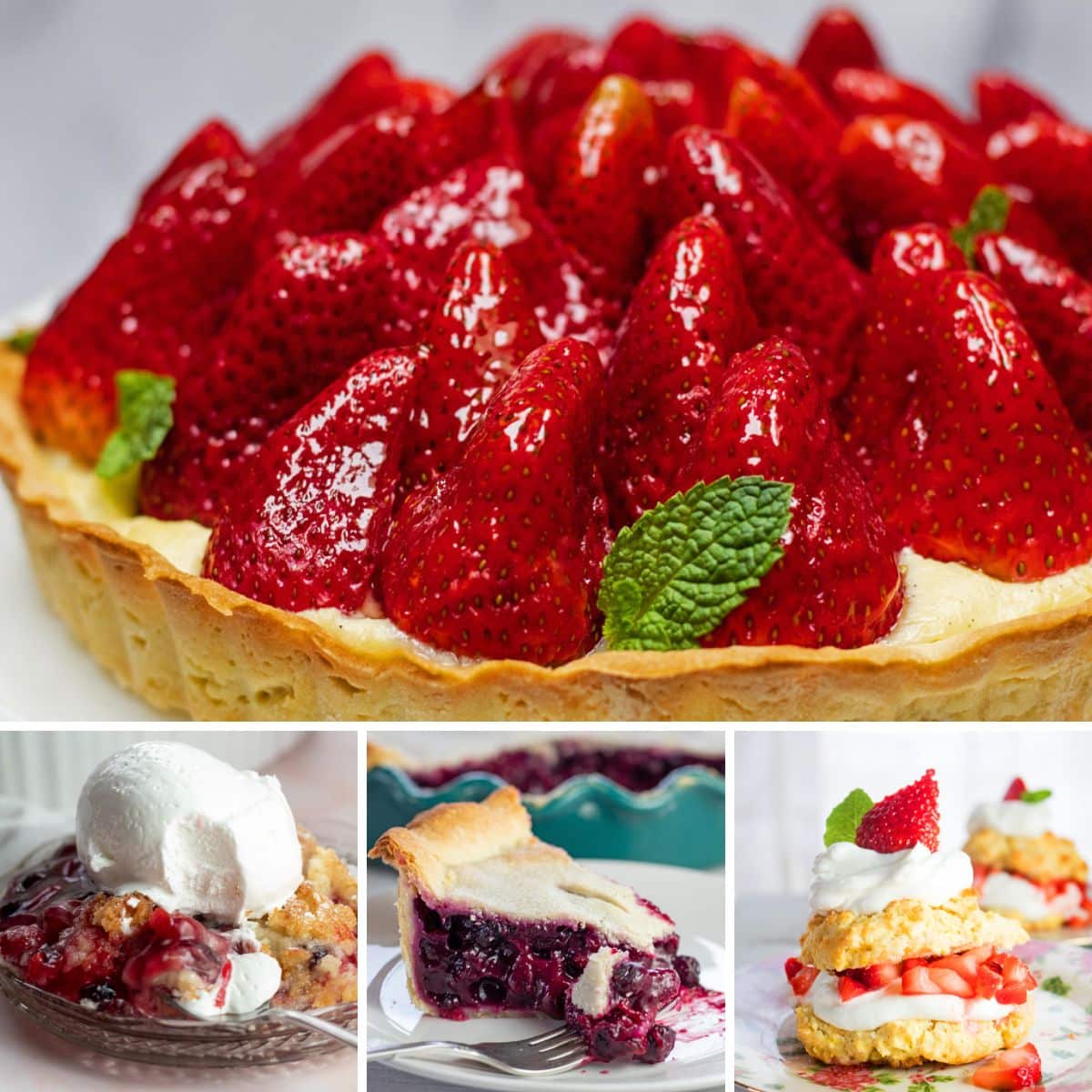 Jump to:
1. Cherry Blueberry Dump Cake
Cherry blueberry dump cake is the perfect 4th of July dessert! Red cherries, blue blueberries, and white cake is the perfect representation of the American flag! It also tastes amazing, too!
2. Vanilla Funfetti Cupcakes
Vanilla Funfetti cupcakes, or as I like to call them, '4th of July Cupcakes' are another festive and colorful summertime treat! Perfect for the kids and adults to indulge while watching the fireworks!
3. Tarte aux Fraises
Tarte aux Fraises is a French Strawberry Tart that will have your guests' mouths watering when they see the delicious red strawberries that cover this masterpiece! This strawberry tart also uses apricot preserves to allow the strawberry flavor to really 'pop'!
4. Blueberry Tart
The 4th of July is all about red, white, and blue! Which makes our blueberry tart the perfect addition to your dessert table!
The sweet blueberry filling and fresh blueberries on top add multiple levels of blueberry flavor!
5. Cherry Chip Cake Batter Cookies
These cherry chip cake batter cookies are tasty and delicious. They add a dash of red to complete your décor and add a blast of cherry flavor!
Be sure to double the batch on this recipe because these delicious cookies will be gobbled up quickly by everyone.
6. Blueberry Pie
Nothing is more American than pie! That is why you must add this blueberry pie to your 4th of July dessert list! The thick blueberry pie filling is just the right balance between sweet and tart.
7. Super Strawberry White and Dark Chocolate Chip Cookies
Are you looking for a summertime sweet treat that has multiple delicious flavors? Then you have found the perfect recipe with these super strawberry white and dark chocolate chip cookies!
8. No-Bake Strawberry Cream Pie
If you don't have an oven at your Fourth of July barbecue, then try this no-bake strawberry cream pie! The crunchy graham cracker crust adds the perfect amount of texture to the sweet strawberry filling.
9. Strawberry Shortcake
Strawberry shortcake is a classic summertime recipe and it's a perfectly festive dessert you should try at your next Fourth of July party! The blend of fresh strawberries, homemade shortcakes, and delicious whipped cream will make your mouth water!
10. Strawberry Shortcake Cookie Cups
Strawberry shortcake cookie cups are the classic summertime dessert everyone loves in a small, easy to carry package! These cupcakes are perfectly festive for your 4th of July events!
11. No-Bake Blueberry Cheesecake
No-bake blueberry cheesecake is a mixture of homemade cheesecake made with whipped cream and cream cheese and topped with our thick blueberry pie filling. Depending on how large your party is, you may want to make 2 because they disappear quickly!
12. Chocolate Chip Stuffed Raspberries
Chocolate chip stuffed raspberries are the easiest dessert you will ever make, but that doesn't mean that they aren't delicious!
Simply stuff your raspberries with your favorite type of chocolate chips, and voila! A healthy, sweet treat you can eat by the handful.
13. Strawberry Pineapple Lemonade Bars
Strawberry pineapple lemonade bars are always a hit. The blend of crushed pineapple, lemon juice, and puréed strawberries creates a burst of flavor for your tastebuds.
14. Double Sugar Cookies
Double sugar cookies are perfect for anyone with a sweet tooth! These cookies can be dyed any color to meet your festive needs, add a drop of red or blue food coloring for the perfect 4th of July cookie!
15. Fruit Cocktail Salad
Fruit cocktail salad is a wonderful blend of grapes, strawberries, oranges, pineapple, bananas, apples, and vanilla pudding mix! Use a mixture of fresh or canned fruits depending on what is in season!
16. Peach Dump Cake
Peach dump cake is the perfect sweet treat for your next 4th of July party!
This cake combines yellow cake mix, canned peaches, and nutmeg to create a moist and delicious cake that is perfect for sharing!
17. Blackberry Tart
Blackberry tart is full of rich flavors and plump blackberries that burst in your mouth. The shortbread pastry crust is perfectly golden brown with just the right amount of heaviness to balance out the sweet blackberry filling.
18. Strawberry Angel Food Lush
Strawberry angel food lush is the perfect no-bake dessert for those who have too many other plans to navigate this 4th of July! This recipe uses store bought angel food cake topped with a layers of sweetened cream cheese and cool whip!
Don't forget to add the final layer of delicious strawberries!
19. Apple Strawberry Crisp
Apple strawberry crisp is balanced to perfection with chunks of apples and sweet strawberries topped with a crispy oat and cinnamon topping. This recipe is recommended for anyone who loves layers of flavor and texture.
20. Blueberry Buckle
Blueberry buckle is a unique dessert for your 4th of July gathering! This sweet dish combines cinnamon sugar crumble and a decadent blueberry buckle pastry, then it is topped with sweet vanilla drizzle.
The multiple layers of flavor will have you going back for more!
21. Bisquick Apple Cobbler
Bisquick apple cobbler is a great addition for your 4th of July holiday this year. This apple cobbler is sweet and savory with the perfect balance of flavors, but of course, the delicious apples are the star of this magical dessert!
22. Root Beer Cupcakes With Cream Soda Buttercream Frosting
Root beer cupcakes with cream soda buttercream frosting are the adult version of the classic root beer floats! On this 4th of July, you will have everyone reminiscing over their childhood with flashbacks of nostalgia with this upgrade!
23. Baked Cinnamon Apples
Baked cinnamon apples are a delicious addition for your 4th of July. They are simple to make but don't lack in flavor.
The sweet apples soften just enough to melt in your mouth and the cinnamon makes you feel cozy and warm.
24. 2 Ingredient Lemon Bars
Need something simple that anyone can make? Try these 2-ingredient lemon bars!
Simply add a box of angel food cake mix with lemon crème filling and you have yourself an easy dessert that punches with flavor!
25. Blackberry and Apple Pie
Blackberry and apple pie combine two of the best types of pie into one creative masterpiece! The tart and juicy blackberries balance with the sweet and crisp apples to create a one-of-a-kind pie that will have you wanting another slice!
26. Blackberry Cream Pie
This blackberry cream pie recipe is a must-try this 4th of July. It has a crunchy graham cracker crust and a puréed blackberry center that is sweet and creamy.
Top this pie with fresh blackberries to add texture and freshness to this delicious dessert.
27. Chocolate Revel Bars
Chocolate revel bars are the number one dessert for chocolate and nut lovers! These bars combine condensed milk, chocolate chips, and chopped walnuts into the perfect treat.
If you want to upgrade this simple dessert add a dollop of whipped cream or a scoop of French vanilla ice cream to really have your guests impressed!
28. Apple Blackberry Crumble
Apple blackberry crumble is truly a dessert recipe that was created with love. This crumble is topped with a blend of sugar, oats, and butter that melts in your mouth.
The base of this recipe is the thinly sliced apples and perfectly ripe blackberries with just a touch of lemon. Make this recipe in individual cups for an easier eating experience this 4th of July!
29. Rainbow Rice Krispies Treats
Everyone loves Rice Krispie treats, they bring us back to when we were younger and first learned how to create delicious treats for ourselves. The marshmallow gooeyness and crunchy rice Krispies pair so well together that you will want to eat the whole batch by yourself!
Use red and blue food dyes to make these match your event!
30. Mandarin Orange Jello Salad
Who said a salad can't also be a dessert? This mandarin orange jello salad is a mixture of mini marshmallows, cool whip, orange gelatin, and pineapple and mandarin oranges.
This salad will be a hit at any 4th of July picnic!
31. Classic Sugar Cookies
These classic sugar cookies are simple to make this 4th of July! They can be made into festive shapes for your holiday event!
Use red or blue food dye to color the dough before baking, or ice them with sugar cooking icing to create stars, flags, or fireworks!
Have you tried any of these 4th of July recipes? If you have, leave us a comment and let us know how they turned out! We would love to hear from you!
📋 Recipe