The best 4th of July appetizers are easy to share with your family and friends at BBQs, parties, or a day by the pool! However you celebrate, these appetizers are great for grazing, perfect for feeding a crowd, and will have everyone enjoying the holiday together! So choose one, or many, of these easy 4th of July appetizers for your summer get-together this year!
The Best Appetizers For July 4th
Most Americans spend the 4th of July eating delicious food with their friends and families while finding a spot to cool off from the summer sun. That means the 4th of July is a great time to try new recipes and share them with your loved ones!
If you want your friends and family to be happy and full this 4th of July, then be sure to try one of these amazing appetizer recipes!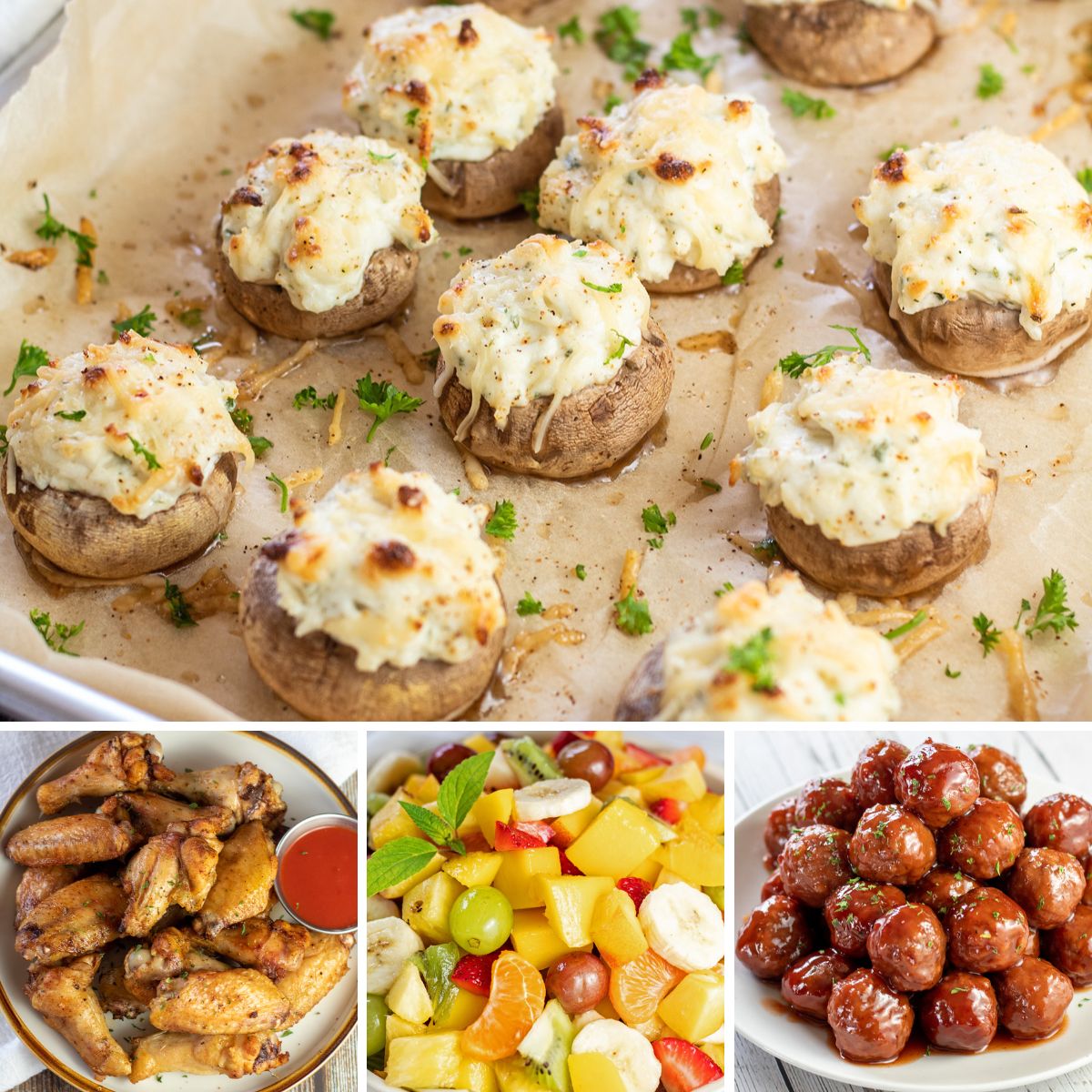 Jump to:
1. Baked Chicken Wings
Baked chicken wings are a universal appetizer that meat lovers can't get enough of. These baked chicken wings are made with BBQ chicken seasoning, oil, and bone-in wings.
Pair with your favorite dipping sauce for extra flavor!
2. Fresh Fruit Salad
Fresh fruit salad is sweet and crisp. It's a wonderfully refreshing appetizer or side dish for hot summer days.
This fresh fruit salad is made with crisp grapes, fresh nectarines, ripe bananas, and cubed pineapple.
3. Crock Pot Grape Jelly Meatballs
Crock pot grape jelly meatballs are unique and surprisingly savory! This fuss-free recipe is an easy way to make finger food for a crowd.
These crock pot grape jelly meatballs are made with grape jelly, ketchup, and cayenne pepper for a little heat.
4. Deviled Eggs
If you want to add a few bite-sized appetizers to the table, you can't go wrong with deviled eggs! These deviled eggs are made with creamy mayonnaise, Dijon mustard, a dash of vinegar, and topped with paprika.
5. BBQ Little Smokies
Are you lacking chef skills? Then try these 2 ingredient BBQ Lil smokies made with barbecue sauce and Lil Smokies cocktail sausages!
These saucy sausages are easy to snack on and even easier to make.
6. French Onion Dip
French onion dip is a classic party appetizer that everyone loves! This French onion dip recipe is made with sour cream, minced onion, onion powder, garlic powder, and parsley.
7. Spinach Artichoke Dip
Spinach artichoke dip is full of robust flavors and textures, your guests will be begging for the recipe! This spinach artichoke dip is made with spinach, artichokes, cream cheese, sour cream, and mozzarella!
8. Pinwheel Sandwiches
Pinwheel sandwiches are fresh and easy to eat while on the go! These pinwheel sandwiches are made with tortillas instead of bread and topped with cream cheese, sliced ham, turkey, cheese, and bacon!
9. Guacamole
Guacamole is my absolute favorite dip! It can be eaten with chips, crackers, or on sandwiches!
This guacamole is made with avocado, lime, tomato, cilantro, onion, and jalapeño pepper. It's got a ton of flavor but not too much spice.
10. Nachos Supreme
Nachos are such a go-to appetizer in my household! They are filled with delicious toppings such as cheese, sour cream, and refried beans.
It's easy to make a plate of nachos or just take a chip right off the top!
11. Mozzarella Sticks
Mozzarella sticks are crisp on the outside and gooey on the inside, everyone will love them! These mozzarella sticks are made with string cheese, flour, eggs, and believe it or not, croutons!
12. Lobster Jalapeño Poppers
Lobster jalapeño poppers are an upgrade from your typical popper! If you're looking for an extra special appetizer that everyone will remember, these are the way to go!
13. Pico de Gallo
Pica de Gallo is such a refreshing appetizer for your 4th of July event. This Pica de Gallo is made with fresh tomatoes, red onion, jalapeños, cilantro, and lime!
14. Cheese Dip for Pretzels
You can't go wrong with cheese dip! This cheese dip recipe is made for dunking pretzels but is equally as delicious with chips, veggies, or whatever you like!
15. Fruit Cocktail Salad
Fruit cocktail salad is sweet and juicy! Everyone will love the blend of vanilla pudding, pineapple, oranges, strawberries, grapes, apples, and bananas!
16. 7-Layer Dip
7-layer dip is quite the appetizer! With 7 individual layers of refried beans, sour cream, guacamole, salsa, cheese, tomatoes, black olives, and green onions.
17. Hawaiian Macaroni Salad
Hawaiian macaroni salad is the appetizer that will 'wow' a crowd! This Hawaiian macaroni salad adds pineapple juice to enhance the flavor and make it a little sweet and tropical!
18. Corn Fries
Corn fries are a unique appetizer that all your friends and family will enjoy! First, start with your favorite frozen French fry and top them with corn, taco seasoning, Monterey Jack cheese, cilantro, queso fresco, and Mexican crema.
19. Air Fryer Coconut Shrimp
Air Fryer coconut shrimp is just what every 4th of July barbecue needs! This air fryer coconut shrimp is made with jumbo shrimp, eggs, panko breadcrumbs, and shredded unsweetened coconut.
20. Lil Smokies Pigs in a Blanket
Little Smokies pigs in a blanket are a great appetizer to eat while you are enjoying other activities! These piggies are made with crescent rolls and Lil smokies cocktail sausages.
21. RoTel Dip
Rotel dip is a quick and easy cheese dip that kids and adults enjoy! This RoTel dip is made with ground beef, RoTel diced tomatoes with green chilies, and Velveeta cheese!
22. Stuffed Pizza Bombs
Stuffed pizza bombs are an explosion of flavor! These stuffed pizza bombs are made with Pillsbury Grands biscuits, pepperoni, mozzarella, and pizza sauce.
23. Caprese Salad
If you want your appetizer table to impress your guests, then add a Caprese salad! It's cool, refreshing, and light- perfect 4th of July hangouts!
24. Air Fryer Potato Skins
Air fryer potato skins are scrumptious! Think a crispy potato skin loaded up with baked potato toppings!
25. Loaded Baked Potato Salad
Loaded baked potato salad is a go-to for my 4th of July events! This upgraded potato salad is made with chunks of soft potatoes, mayonnaise, bacon, and cheddar cheese!
26. Charcuterie Board
Not the best chef? Not a problem! Prepare a charcuterie board full of salami, cheese, crackers, bread, dips, and fruit for everyone to graze!
27. Oven Baked Breaded Macaroni and Cheese Bites
Oven-baked breaded macaroni and cheese bites will have everyone impressed! They are full of the cheesy flavor you expect from mac and cheese but in an easy-to-grab bite-sized package!
28. Irish Nachos
Irish nachos are a great appetizer for your next 4th of July barbecue! Think nachos but instead of chips it's potatoes with your favorite nacho toppings!
29. Oven Baked Beef Empanadas
Oven-baked beef empanadas will have your guests coming back for seconds! These empanadas are stuffed with delicious beef and baked until golden brown.
30. Air Fryer Potato Chips
Air fryer potato chips are crisp and crunchy! They are so incredibly easy to make and everyone will be impressed that you made potato chips from scratch!
If you need a few appetizers for this 4th of July then the above list is sure to inspire you! Let us know which recipes you tried in the comments below!
📋 Recipe