These Labor Day foods include the best main courses and side dishes you need for a memorable Labor Day celebration! It's the perfect time to enjoy the end of summer by sharing some delicious food with your family and friends. If you're looking for some tasty things you can throw on the grill, I've got you covered!
Best Labor Day Recipes
From backyard barbecues and juicy burgers to refreshing salads and tasty desserts, Labor Day is a time to enjoy the summer vibes before they're gone. Whether meeting with family for a picnic or hosting a cookout, your celebration won't be complete without classic summertime food!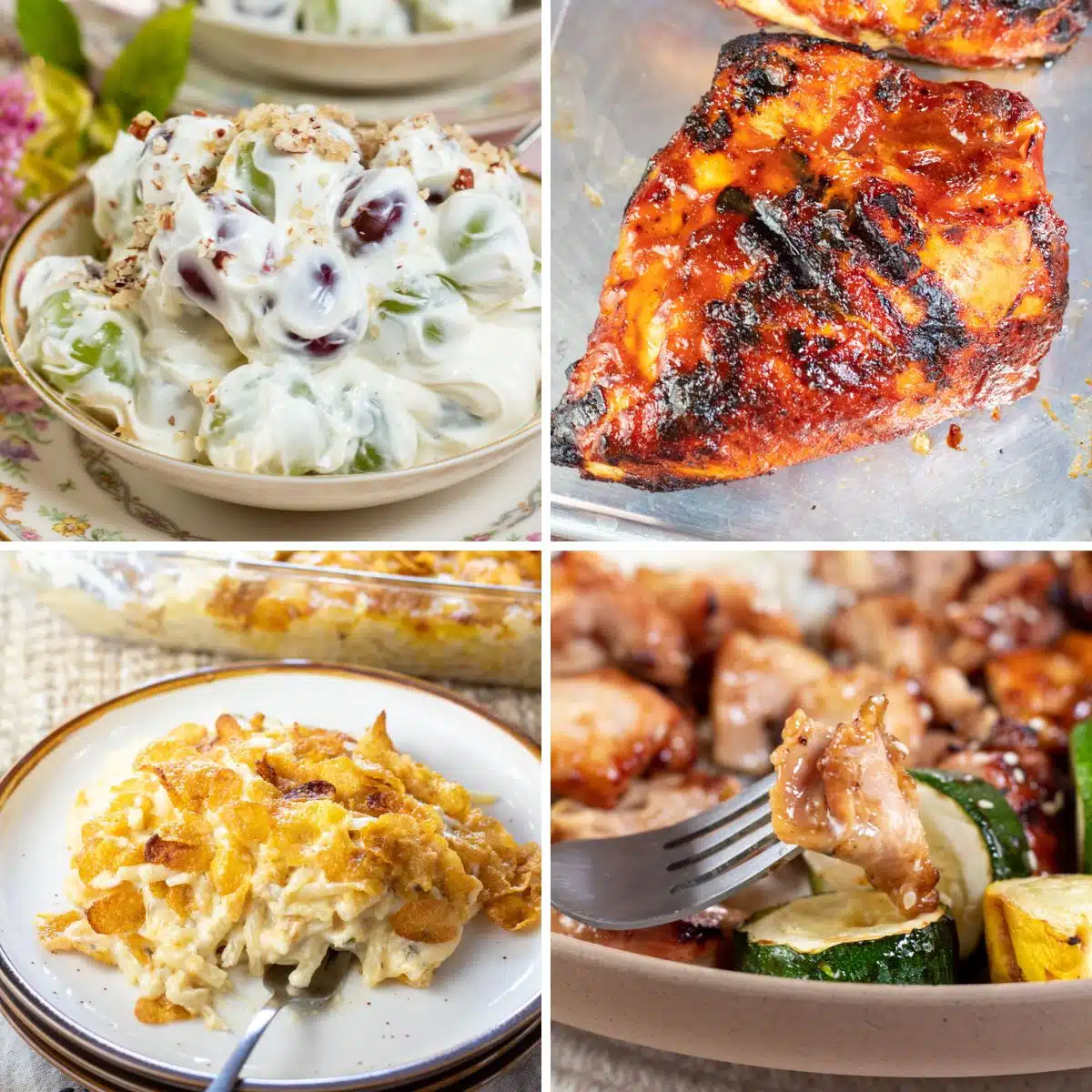 Jump to:
If you plan on spending Labor Day by the pool, be sure to check out all of my favorite pool party foods! You can pretty much guarantee any classic BBQ side dishes will be a hit on Labor Day, too!
1. Cheesy Funeral Potatoes
'Cheesy funeral potatoes' is just an alternative name for cheesy hashbrown casserole. It's the perfect potato side dish for serving large crowds, and you know it's delicious because it's been around for years!
2. Grilled Skirt Steak
This perfectly tender and juicy skirt steak is ready to eat after just a few minutes on the grill. It's marinated in a delicious Asian marinade that pairs perfectly with that flame-kissed flavor!
3. Hot Dog Bar
Build-your-own hot dog bars are an easy and delicious solution for feeding a large number of party guests! You can grill your hot dogs or prepare them however you like.
Then, set them up with freshly steamed buns and all of your favorite hot dog toppings so that everyone can build their ideal hot dog!
4. Burger Bar
If burgers are more your style, you can also set up a build-your-own burger bar! Throw some burger patties on the grill, set up a table with plates, buns, and burger toppings, and everyone can dig in!
Check out all of my burger recipes here for some more topping inspiration!
5. Creamy Grape Salad
Is it a side dish, or is it a dessert? Who cares, it's delicious! This cool and creamy grape salad is a refreshing summertime treat that can be enjoyed whenever you like!
6. Grilled BBQ Chicken Breasts
These juicy and tender grilled chicken breasts are slathered in BBQ sauce that caramelizes as the grill. It's the perfect main course for backyard BBQs, cookouts, pool parties, and more!
7. Crockpot Creamy Salsa Chicken
This delicious three-ingredient salsa chicken can be tossed in the crockpot while you enjoy your day! Serve it as tacos, sandwiches, or even with tortilla chips!
8. Potato Salad
No end-of-summer celebration is complete without some homemade potato salad! This is my go-to recipe for potato salad with mayo, mustard, and pickle relish for the perfect blend of flavors.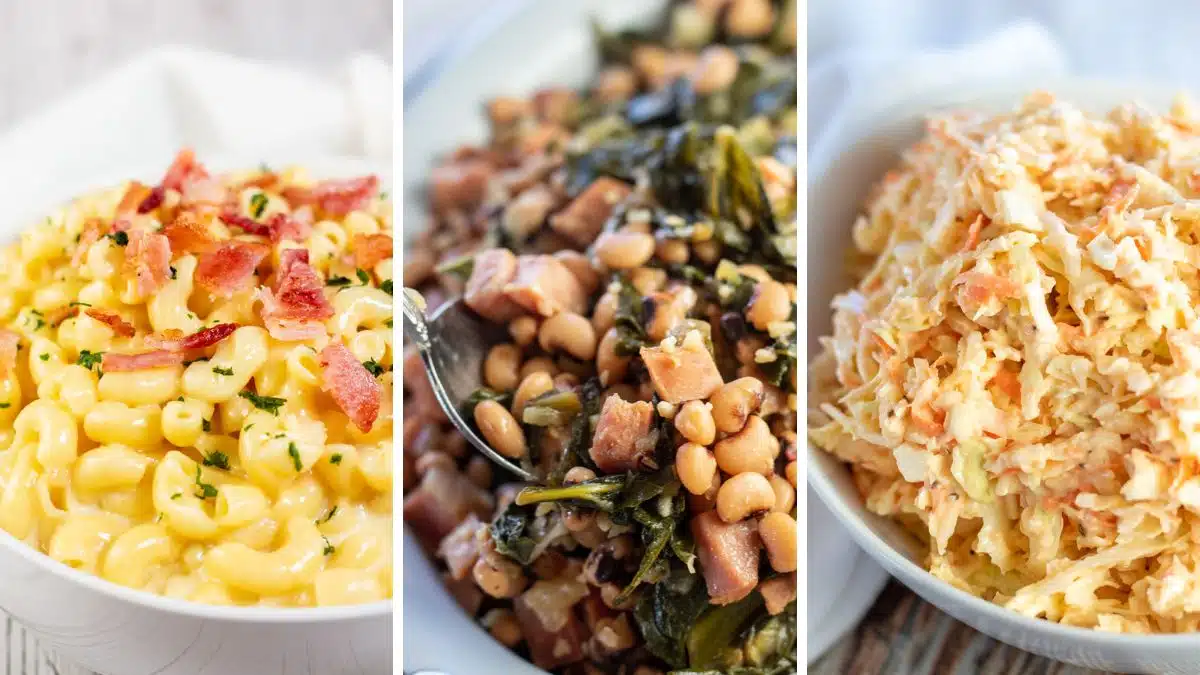 9. Grilled Corn On The Cob
Nothing beats a side dish you can toss on the grill next to your grilled meat. Corn on the cob is reminiscent of summertime, so it's only natural you would serve it at your Labor Day party!
10. Foil Packet Baked Red Potatoes With Bacon
Red potatoes, bacon, onion, and seasonings, all cooked to perfection in a foil pouch (which means easy cleanup)! Learn all the tips and tricks for grilling with foil packets right here!
11. Ambrosia Salad
Ambrosia salad can be a sweet side dish or a tasty dessert! It's a cool and creamy combination of cherries, Mandarin oranges, Cool Whip, coconut, and pineapple that always beats the summer heat.
12. Grilled Chuck Roast
With only three ingredients, this grilled chuck roast is succulent and always flavorful. You can use your favorite seasoning or try my easy steak seasoning or prime rib dry rub!
13. Chicken Salad with Grapes
You can serve chicken salad as a side dish or on two pieces of bread as a sandwich! The grapes' sweetness adds a refreshing flavor to every bite.
14. BBQ Shrimp
These BBQ shrimp skewers are a quick and easy grill recipe that always delivers. From start to finish, they only take about 10 minutes to cook and are loaded with smokey BBQ flavor!
15. Smoked Chicken Quarters
Chicken leg quarters include the drumstick and the thigh, so you get the best of both worlds! Pop them in your smoker, and they come out succulent and juicy with loads of smokey flavor!
16. Pork Tacos
If you have leftover pulled pork from Labor Day weekend, then Monday is the perfect time to indulge in flavor-packed pork tacos! Grab some tortillas and your favorite taco toppings, and enjoy!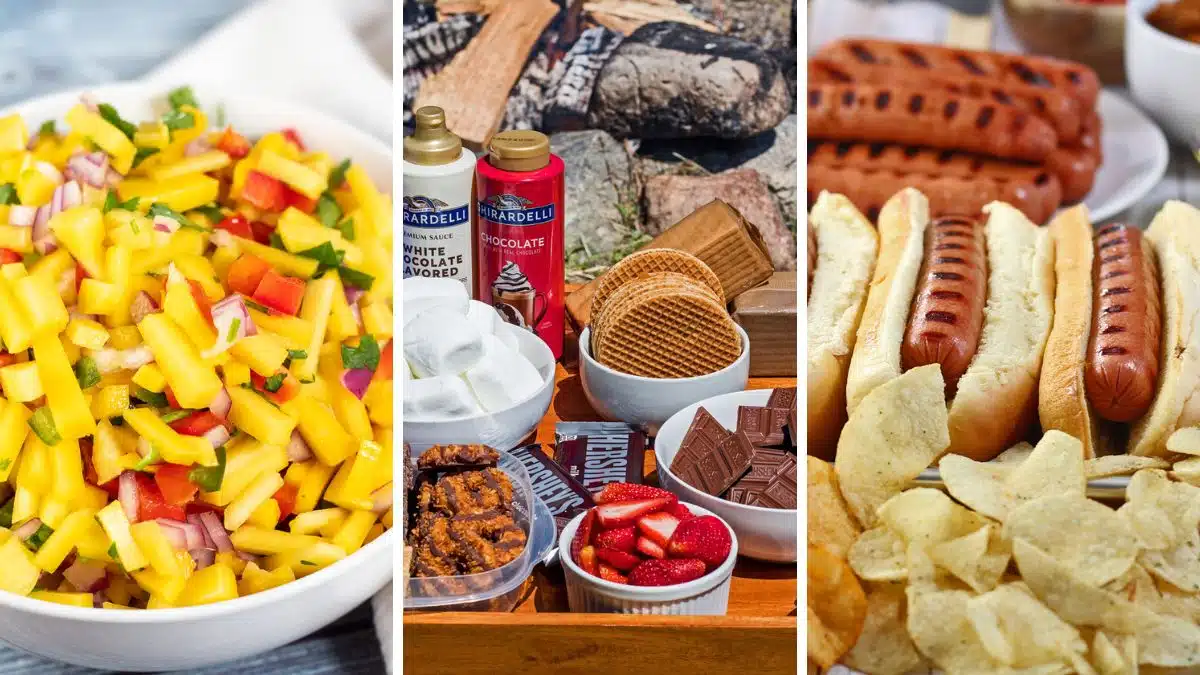 17. Chili Dogs
Chili dogs are a classic summertime snack that makes an easy and delicious meal on Labor Day. Grab your favorite hot dogs, hot dog buns, and some good chili, and you're in business!
18. Crescent Dogs
Crescent dogs are a fun and tasty alternative to traditional hot dogs. In place of a bun, you wrap them in a golden, fluffy crescent roll. All the typical toppings still apply!
19. Sausage & Peppers
Sausage and peppers are a satisfying and delicious meal you can make entirely in your air fryer! It will pair perfectly with any of the other side dishes on this list and is relatively guilt-free when it comes to indulging.
20. Grilled Brats
Throwing some juicy brats on the grill definitely screams 'summertime'! In fact, I even have a super simple recipe for smoked brats, too! See what to serve with brats (bratwurst) for all of my very favorite recipes to go along with them!
21. Southern Coleslaw
Coleslaw is cool, creamy, and crunchy, making it a great addition to tacos and sandwiches! That's not to say you can't serve it on its own as a light and refreshing side dish.
22. Grilled Squash
Yellow squash cooks up quickly on the grill and absorbs that fabulous flame-kissed flavor. It is savory and satisfying but leaves plenty of room for the main course.
23. Grilled Pork Rib Tips
These succulent chunks of pork are seasoned to perfection with my homemade pork seasoning! As if that weren't flavorful enough, they are also basted in a sweet, smokey combination of sticky BBQ sauce and liquid smoke.
24. Chicken Teriyaki Skewers
Chicken teriyaki skewers are delicious and perfect for throwing on the grill this Labor Day! The chicken is marinated in a flavor-packed teriyaki chicken marinade before they are cooked to perfection!
25. Grilled Baby Back Ribs
Finger-licking-god ribs that fall off the bone are definitely my idea of a successful party. These grilled baby back ribs are super simple and always turn out perfectly tender!
💭 Tips For Making The Best Labor Day Food
When choosing the perfect recipe for Labor Day, here are a few key things to remember to help make your day easier.
This Labor Day will be one for the books with any of these delicious recipes on your menu! Enjoy some food with family and friends, then come back and tell me how everything turned out!
📋 Recipe