Here's what to serve with brats (bratwurst) to turn them into a tasty meal your whole family will look forward to! There are classic side dishes like cabbage as well as some new and unique options to try! Bratwursts are quick and easy to prepare, and these recipes are just what you need to complete the meal!
Best Side Dishes For Bratwurst
German bratwurst sausages make for a delicious family dinner and can be prepared in so many ways. Whether you slice them up or plop them in a bun, you'll need a few side dishes to accompany them!
While sauerkraut and mustard are obvious choices, there's so much more for you to choose from. You could opt for a rich baked macaroni and cheese, vinegary German potato salad, or any of the other flavorful dishes below!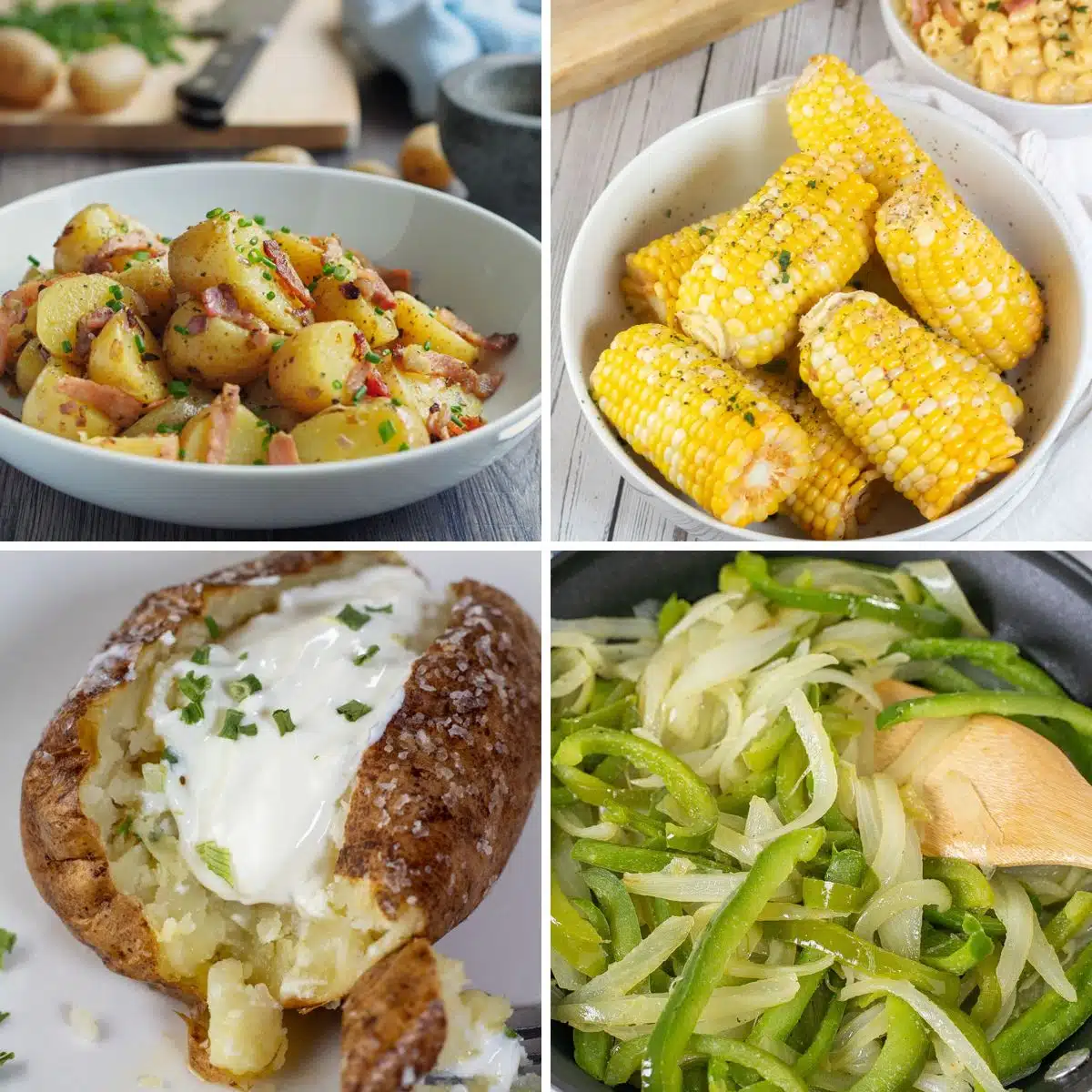 Jump to:
See my page entirely dedicated to brats to learn exactly what bratwurst is! The recipes below would all pair wonderfully with my air fryer brats, smoked brats, or grilled brats!
1. Steamed Corn on the Cob
Steamed corn on the cob is easy to prepare, and the sweetness contrasts the smokey, meaty bratwurst flavor wonderfully. If you're smoking or grilling your sausages, you could try smoked corn on the cob or grilled corn on the cob, too!
2. Paula Deen's Macaroni and Cheese
A warm brat in a bun and a side of baked mac and cheese is the ultimate comfort food! This is Paula Deen's signature recipe with that classic Southern richness that makes for the best macaroni and cheese.
3. Air Fryer Chili Cheese Nuggets
If you've ever had a chili cheese dog, then you know sausages and chili cheese are a match made in heaven! You can purchase these delicious frozen chili cheese nuggets and pop them in your air fryer for an easy appetizer or side dish!
4. Air Fryer Zucchini Fries
Sure, you could pair your brats with french fries, but why not sneak in a few veggies? These crispy zucchini fries can be made right in your air fryer and are just as perfect for dipping in all of your favorite sauces!
5. German Potato Salad
Bratwursts are a classic German sausage, so naturally, they taste fabulous with traditional German potato salad! This isn't your classic American potato salad. It's made with crispy red onions, tender potatoes, and a vinegar-based dressing that tastes wonderful with sausage.
6. Peppers & Onions
A quick batch of sauteed peppers makes a great topping or side for some juicy bratwurst. It's ready to go in less than 30 minutes and a great way to use up any extra onions and bell peppers you might have in your fridge.
7. Sauteed Sweet Potatoes
Sauteed sweet potatoes are both sweet and savory, making them a great pairing for your brats. The outside gets slightly caramelized while the inside stays soft and fluffy. Yum!
8. Air Fryer Baked Potatoes
Baked potatoes are easily customizable, so everyone can add their own favorite toppings to make them perfect! Your air fryer is one of the quickest ways to make perfect potatoes, though you could try oven-baked potatoes or slow cooker-baked potatoes, too!
>>>>See all of my recipes HERE<<<<
9. Broccoli and Cheese
Skip the plain steamed broccoli and go for this tender broccoli coated in rich and creamy cheese sauce! It's warm and super cheesy, but best of all, it's ready in only 15 minutes!
10. Bacon Wrapped Jalapeno Poppers with Cream Cheese
The spicy jalapenos, crispy, salty bacon, and creamy cream cheese make the perfect balance of flavors. This popular appetizer frequently appears at backyard barbecues, family cookouts, and potlucks, just like bratwurst!
11. Baked Beans with Ground Beef and Bacon
A big batch of baked beans is another cookout classic that pairs great with sausages! My version features ground beef, bacon, liquid smoke, and brown sugar, so it has tons of sweet, smokey flavor!
12. Instant Pot Buttered Cabbage
Cabbage is another classic accompaniment to German bratwurst. My family loves this tender and savory buttered cabbage. However, my sweet and sour red cabbage would be delicious too!
13. Cracker Barrel Hashbrown Casserole
Cracker Barrel is known for many of its Southern comfort recipes, but this hashbrown casserole is easily one of the most popular! It's warm, rich, and cheesy, plus you can eat it any time of day (not just at breakfast)!
14. Slow Cooker Roasted Potatoes
Bust out your crockpot for these easy and flavorful roasted potatoes! This hands-off recipe tastes great with just about anything, and you can tweak the seasonings to make them just right for your family.
15. Buttered Noodles
A big bowl of buttery egg noodles is a hearty and satisfying way to complete your bratwurst dinner. All you need is the pasta, butter, salt, pepper, a little parsley, and about 15 minutes of time!
Tips For Choosing What To Serve With Brats
(Bratwurst)
Here are a few serving tips to help you pull off an incredible bratwurst feast! Don't be afraid to offer a variety of condiments; you'll find some unexpected sauces taste great on bratwurst!
Choose a good bun: The bun you choose (if using buns) is almost as important as the bratwurst itself! Try serving them on a fresh, crusty roll or a homemade pretzel bun!
Pickle platter: Tangy, vinegary flavors cut through the richness of bratwurst, meaning pickles are always a great choice. Pair your sausages with a pickle platter that has a variety of pickles to choose from!
Cheese, please: Cheese is also a great addition to bratwurst. Let it melt for an extra level of cheesy goodness! Swiss, cheddar, or gouda would all be delicious.
Mustard Medley: Mustard and brats are a classic combination, and there are so many types of mustard to choose from! Try your sausages with some Dijon, yellow, or even spicy mustard to find what you like best.
You can't go wrong with pairing your juicy bratwurst sausages with any of these delicious recipes! It's all about what sounds good to you! Let me know which ones you tried in the comments below!
😋 🍚 🥗 More Tasty Side Dishes
📋 Recipe