These easy Thanksgiving dinner menu ideas will reduce the stress of hosting a holiday dinner without sacrificing flavor! I've included everything from appetizers to desserts! You can copy my menu or pick and choose your ideal Thanksgiving recipes!
Easy Thanksgiving Recipes
You don't have to be an experienced chef to pull off a delicious Thanksgiving dinner. It might seem daunting, but with a good game plan and a few of my easy Thanksgiving recipes, you can't fail!
Most of these recipes will serve anywhere between 4-6 people. If you're expecting a larger crowd, you can use the 2x or 3x button at the top of each individual recipe card to scale it up as needed!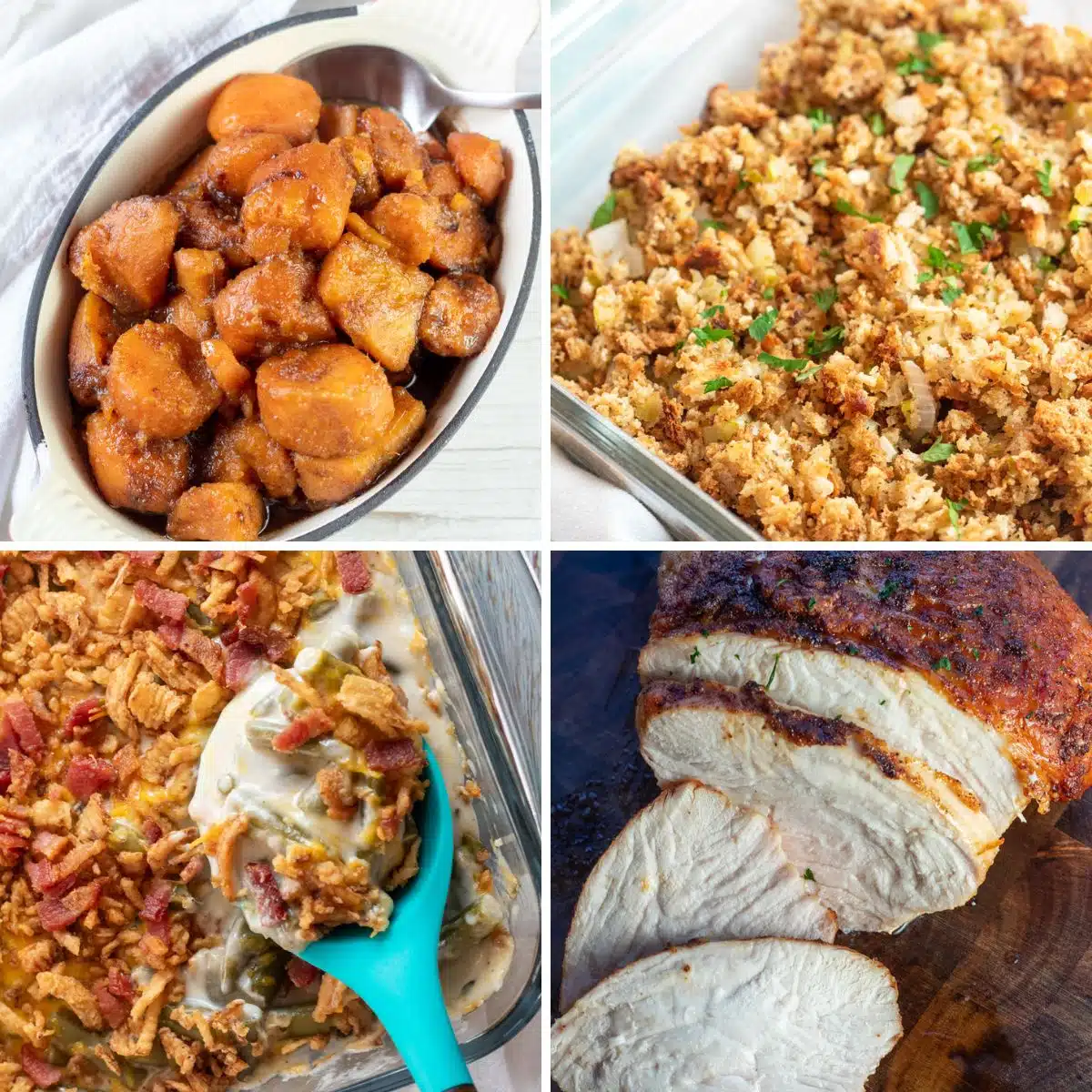 Jump to:
Whether you're a pro at hosting Thanksgiving dinner and holiday parties or giving it a try for the first time this year, you're sure to find my ultimate guide to planning Thanksgiving a help! Don't forget to safely thaw your holiday turkey early, too!
1. Antipasto Platter
Nothing beats an appetizer you don't have to cook, plus, it doubles as a distraction to keep people out of the kitchen! Arrange cured meats like salami, roasted nuts, hard and soft cheeses, and olives on a platter for grazing.
2. Pickle Roll-Ups
With just 3 ingredients, these pickle roll-ups are still the first thing to disappear at my house on Thanksgiving every year. Deli ham or turkey, cream cheese, and pickles, it's simple but so delicious!
3. Air Fryer Turkey Breast
Utilizing alternative kitchen appliances like crockpots, air fryers, and Instant Pots is a great way to lessen the load on Thanksgiving. If you aren't confident cooking a whole bird, give these perfectly juicy turkey breasts with crispy skin a try!
4. Ham Steaks
Ham steaks are an easy way to satisfy any Thanksgiving ham fans without cooking a whole honey-baked ham. They cook super quickly and are coated in caramelized butter and brown sugar, which gives them the same effect!
5. Campbell's Green Bean Casserole
Campbell's classic green bean casserole recipe made with canned green beans and cream of mushroom soup couldn't be easier! Pick up a tub of French's fried onions for the crispy topping and bake until golden!
6. Instant Pot Mashed Potatoes
These super rich and creamy mashed potatoes are made with just 5 ingredients, and they're ready to eat in 30 minutes! This is the perfect recipe for anyone with an Instant Pot that hasn't made mashed potatoes before.
7. Easy Stuffing
Ready-to-use stuffing cubes make this stuffing a breeze, yet it still tastes homemade! Many grocery stores even sell a mix of pre-diced onions and celery that you can snag to cut down the prep time even further!
8. Crockpot Macaroni & Cheese
The convenience of crockpot mac and cheese is that you just dump the ingredients in your slow cooker and let it do the rest! This macaroni is rich, creamy, and delicious, with 3 kinds of cheese!
>>>>See all of my recipes HERE<<<<
9. Microwave Acorn Squash
Acorn squash is one of my favorite fall ingredients, and it adds to the Thanksgiving ambiance. The squash is steamed until tender in the microwave, then coated with butter and brown sugar (or cinnamon)!
If you prefer, you can make acorn squash in the Instant Pot too!
10. Sweet Potato Muffins
Sweet potato muffins aren't overly sweet and are an easy bread option that can be served right alongside dinner. Not to mention, they freeze beautifully, so you can make them in advance!
11. Slow Cooker Candied Yams
These tender yams are sweet and warmly spiced with brown sugar, cinnamon, and nutmeg. You can even add mini marshmallows if you like your candied yams with marshmallows!
12. Microwave Carrots
You can quickly steam sliced carrots in the microwave as an easy vegetable side dish. They're tasty with just salt & pepper, or you can experiment with different seasonings!
13. Pumpkin Dump Cake
It's called a dump cake because you just 'dump' all the ingredients in a baking dish and pop it in the oven! There are practically no baking skills required!
14. No Bake Pumpkin Pie
Skip the classic pumpkin pie and try this cool and creamy no-bake pumpkin pie instead! I like to make this pie the night before and keep it refrigerated until it's time for dessert on Thanksgiving day!
15. Apple Cider Cranberry Sauce
Some people are perfectly happy with canned cranberry sauce, and that's okay! If you want to try your hand at making your own, my apple cider cranberry sauce is super flavorful and surprisingly simple!
💭 Tips For Making Thanksgiving Dinner Easy
Going in with a game plan in mind is the most important part of hosting Thanksgiving dinner. Follow these steps to keep yourself organized!
Plan your menu in advance: You're already on track just by being here! You can't do much until you know the number of guests and the menu.
Create a timeline: Make a detailed timeline of when you need to start each dish and when they need to be finished.
Prepare as much as possible in advance: Chop vegetables and measure ingredients the day before. Some dishes can even be partially cooked or assembled in advance and finished on Thanksgiving day.
Delegate tasks: Friends and family will likely offer help, and there's no shame in accepting! They can focus on setting the table and cleaning up if you don't need help in the kitchen.
I hope these recipes help ease the holiday stress so you can enjoy it! Be sure to come back and tell me how your Thanksgiving dinner turned out in the comments below!
📖 Recipe Card