Here's what to serve with pizza so that you can transform your ordinary pizza night into a well-rounded, tasty dinner! This list of 13+ delicious ideas all pair perfectly with any kind of pizza! From wings to salads, I have a recipe for it all!
Best Appetizers & Sides For Pizza
Many times pizza is a lone dish, but it doesn't have to be! For the ultimate pizza party, consider adding on some additional appetizers or sides.
Here is a list of the best recipes to complement your favorite slice of pizza. No matter what you are looking for, I guarantee that I have a dish you will love!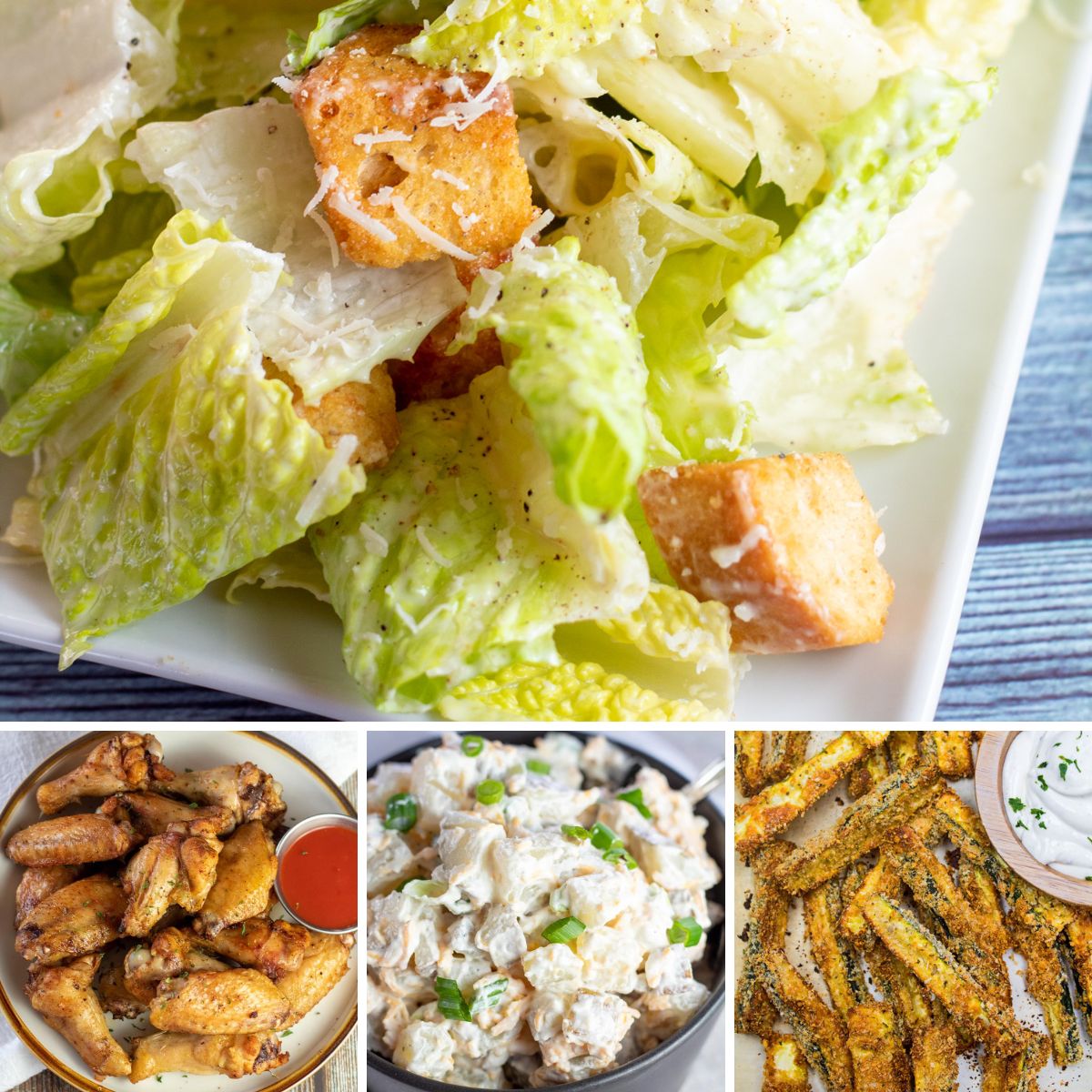 Jump to:
1. Baked Chicken Wings
Wings and pizza are a match made in heaven! There is not a more iconic or classic combination out there.
These baked chicken wings are made in the oven to save you the hassle of dealing with a messy fryer.
2. Greek Pasta Salad
Pasta salad is always a popular choice for enjoying with pizza! The delicious veggies and Greek dressing make for a refreshing and satisfying side dish!
It is simple and easy to whip up. All of your guests are going to enjoy it!
3. Air Fryer Frozen Jalapeno Poppers
These poppers are delightfully crispy, spicy, and cheesy! Using the air fryer makes them cooked perfectly in a minimal amount of time.
Just grab your favorite brand of frozen jalapeno poppers and you are ready to get started!
4. Roasted Tomato Basil Soup
Soup is a great appetizer for almost any dish! This tomato basil soup is rich, creamy, and completely addicting!
You can serve it with your pizza or alongside it for some tasty dipping. This is a combination that can't go wrong!
5. Spinach Artichoke Dip
This delicious dip is a crowd-pleaser! It is perfect for any type of hangout, party, or get-together (just like pizza!)
It's the perfect dip to snack on while you wait for the pizza to arrive! For an extra twist, dip your pizza straight into it!
6. Caesar Salad
Caesar salad is a fantastic option for anyone who wants an appetizer that is on the lighter and healthier side. It is a great contrast for the indulgently cheesy pizza!
7. Loaded Baked Potato Salad
Potato salad is incredibly filling and perfect for feeding a larger crowd! You won't need to buy as many pizzas to satisfy your hungry guests!
This potato salad includes all of the best toppings. Plus, it is great for any occasion!
8. Baked Zucchini Fries
You are already getting all of the calories you need from your pizza. So add on these zucchini fries for a low-cal side option!
The bread crumbs and Parmesan cheese add on an irresistible flavor. You won't be able to eat just one!
9. Air Fryer Frozen Onion Rings
Onion rings are always a crowd-pleaser, even for people that don't like onions! The fried and crispy coating is completely irresistible.
As if it couldn't get any better, these onion rings are ready to eat in a matter of minutes!
10. Southern Coleslaw
This crisp and extremely refreshing side dish is the perfect companion to some carb-heavy pizza. The dressing is nice and creamy while the veggies are extra crunchy!
11. Fried String Cheese Mozzarella Sticks
Cheese sticks are the ultimate party appetizer! It shares so many similarities with pizza that you won't even have to splurge for the stuffed crust!
Make sure you make a ton, though, because there will be none leftover!
12. Fresh Fruit Salad
Try out this fresh fruit salad to counteract all the sodium in your pizza. This side dish is the complete opposite of pizza, which is why they go so well together!
It is easy to customize this salad depending on what fruits are in season. Plus, it has an incredibly delicious honey citrus sauce to top it all off!
13. Air Fryer Frozen Mac & Cheese Bites
This state fair comfort food is sure to be a hit with anyone who tastes them! They have a crisp outside and an ooey gooey, cheesy inside!
These mac and cheese bites make a fantastic party dish as they are so easy to serve! Plus, the air fryer makes them so quick and easy to prepare!
I hope that this list of side dishes and appetizers to serve with pizza helped you to create the best pizza party around! Leave a comment down below and let me know your favorite pizza pairings!
💡 More 'What To Serve' Collections
📋 Recipe