You don't have to wonder what to serve with grilled cheese any longer because this list includes all the best sides for your cheesy sandwich! There are so many options for fantastic recipes to pair with a grilled cheese sandwich (besides tomato soup), so check out our number 1 choices including salads, soups, veggies, and more!
Best Sides For Grilled Cheese Sandwiches
Grilled cheese sandwiches are classic comfort food that's always a hit with kids and adults alike. But what do you serve with it?
Here are some ideas for side dishes that will complement your grilled cheese sandwich perfectly. From easy sides like salads to more complex dishes like macaroni and cheese, we've got you covered!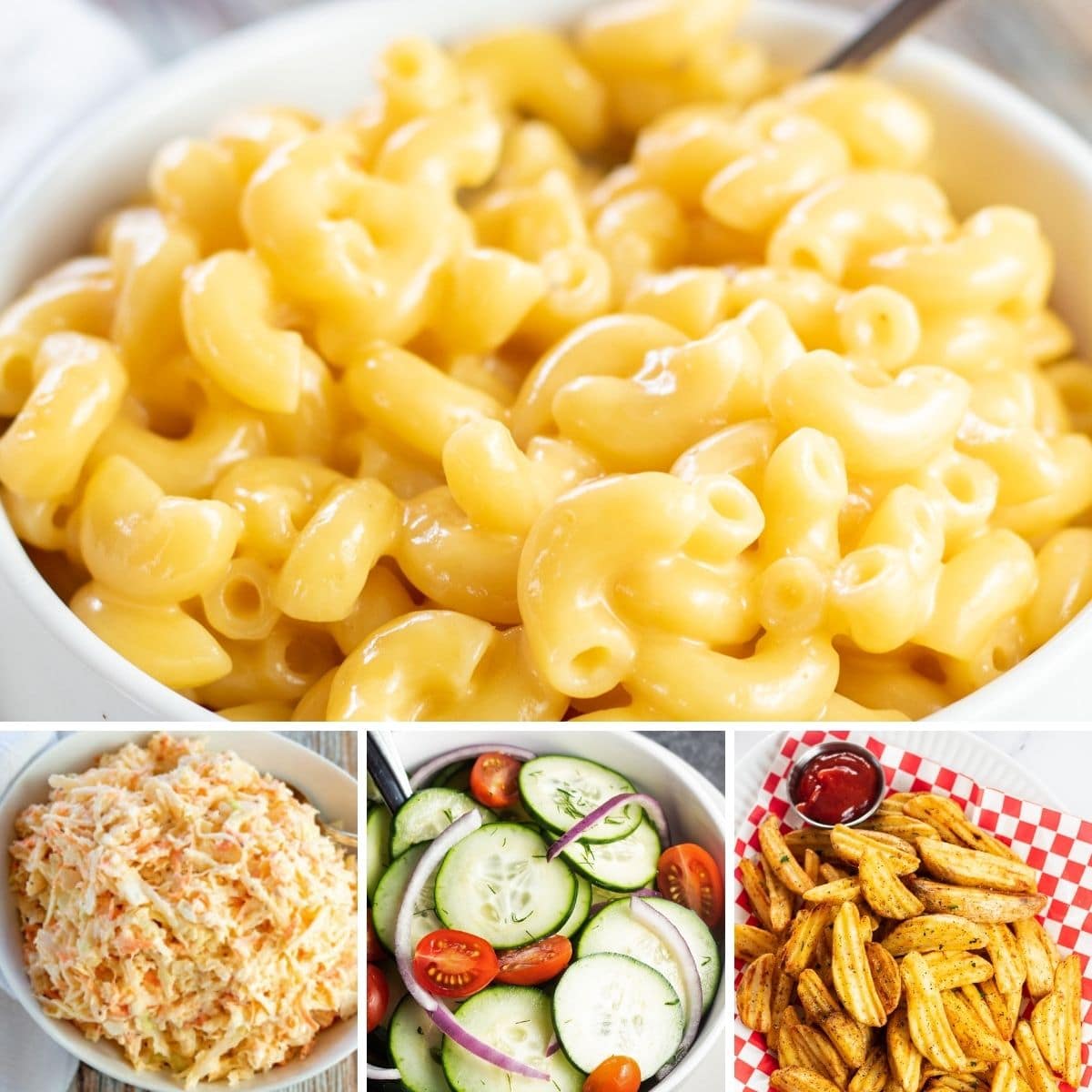 Jump to:
1. Caprese Salad
Are you looking for the perfect summer salad? Look no further than a Caprese salad! This classic Italian salad is easy to make and always a hit with guests.
It's made with fresh mozzarella, tomatoes, and basil, and is best served cold or at room temperature. So tasty and refreshing!
2. Potato Wedges
If you're like me, you love potatoes. Whether they're mashed, roasted, or in this case, air fried, I can't resist them.
If you have an air fryer, making potato wedges is a breeze. They come out crispy on the outside and tender on the inside - perfect for a quick and easy side dish.
So give them a try! You may never go back to regular fries again.
3. Onion Rings
Looking for a fun and easy way to add some excitement to your mealtime routine? Check out this recipe for air fryer frozen onion rings!
They're perfect for satisfying your snack cravings, and they're so easy to make that even the kids can help.
4. Garlic Butter Shrimp
This garlic butter shrimp is the perfect side for grilled cheese sandwiches. It's easy to make and tastes heavenly! Also, it's a great way to get some protein and healthy seafood into your diet.
5. Corn Fries
If you're looking for a fun and unique way to enjoy street corn, look no further than street corn fries! This recipe takes ordinary french fries and adds a delicious street corn topping.
It's a perfect side for grilled cheese. So go ahead and give this recipe a try!
6. Potato Chips
There's something about potato chips that just makes them irresistible. Whether you like them plain, salted, or with a little bit of flavor, they're always a satisfying snack or side.
Making your own potato chips is surprisingly easy. So next time you're looking for a quick and tasty snack, give these homemade potato chips a try!
7. Greek Salad
Are you looking for a new, easy summer salad recipe? Look no further than this appetizing Greek salad.
This light and refreshing salad pairs very well with a grilled cheese sandwich! It's also perfect for potlucks, picnics, and family gatherings.
8. Charcuterie Board
Wondering what to serve with grilled cheese for a crowd? This easy crowd-pleasing idea is perfect for any occasion.
Just gather up some of your favorite meats, cheeses, and veggies, and you're good to go.
9. Sirloin Steak Tips
You're going to love this recipe for steak tips. Steak tips paired with a pile of grilled cheese are something just fantastic.
They are perfect for a quick and easy meal, or as an appetizer. The steak is tender and juicy. You'll be surprised how easy they are to make.
10. Cream Cheese Stuffed Mushrooms
Mushrooms are a great addition to any meal, and they can be stuffed with all sorts of tempting fillings. This recipe for cream cheese stuffed mushrooms is always a hit, and it's so easy to make!
Serve them as an appetizer or side dish, and watch them disappear!
11. Baked Parmesan Zucchini Rounds
Looking for a new and exciting way to cook zucchini? Try baking it in the oven with Parmesan cheese.
These Baked Parmesan Zucchini Rounds are a healthy and easy-to-make grilled cheese side dish that everyone will love.
12. 4 Ingredient Potato Soup
This 4 ingredient potato soup is perfect for chilly days when you want something comforting and hearty. Pair this soup with some grilled cheese and you will love it!
It's simple to make, and the combination of potatoes, bacon, cheese, and cream makes for a rich and flavorful soup.
13. BBQ Bacon Wrapped Brussel Sprouts
Do you love bacon as much as I do? Because if you do, then you're going to love this BBQ Bacon Wrapped Brussels Sprouts recipe!
It's the perfect side dish to go with your grilled cheese, and it's so easy to make. You only need a few simple ingredients, and in just a little while, you'll have a rich dish that everyone will love.
14. Mac & Cheese
Who doesn't love a creamy, cheesy bowl of mac and cheese? This classic comfort food can be made with all kinds of different ingredients, but we think this quick version is really amazing.
15. Breaded Stuffed Scallops
Are you looking for an easy and impressive scallop dish to go with your grilled cheese? Then look no further than breaded stuffed scallops.
This recipe is simple to follow, and the results are delicious. You can even get the scallop shells for an awesome presentation!
16. Cucumber Salad
Move over, boring salads. This cucumber salad is a refreshing change of pace that everyone will love.
It's perfect for potlucks and picnics, or as a side dish for any meal. Plus, it's easy to make and takes only minutes to prepare. So give it a try today!
17. Roasted Tomato Basil Soup
It wouldn't be a list about what to serve with grilled cheese without tomato soup! This upgraded creamy tomato basil soup is super easy to make and will elevate your grilled cheese!
18. Coleslaw
Coleslaw is a great side dish for cookouts and potlucks, but when added to a grilled cheese sandwich it can be a very satisfying meal.
This southern classic recipe is easy to make and can be customized to your liking.
19. Garlic Green Beans
Garlic green beans make a delicious and healthy side dish for any meal. They are easy to prepare and can be made with either fresh or frozen beans.
This recipe is sure to become a new favorite!
As if grilled cheese sandwiches couldn't get any better, any one of these side dishes will take yours to the next level! So next time you wonder what to serve with grilled cheese, come back here and give one of these recipes a try!
Do you love a recipe you tried? Please leave a 5-star 🌟rating in the recipe card below and/or a review in the comments section further down the page.

Stay in touch with me through social media @ Pinterest, Facebook, Instagram, or Twitter! Don't forget to tag me when you try one of my recipes!
📋 Recipe