These ground venison recipes are so incredibly flavorful, hearty, and easy to make that you'll want to try all of them right away! Whether you're a big fan of game meat or are looking for a unique dish to make, this list of recipes won't disappoint! From ground venison tacos and chili to venison lasagna and goulash, you will find a dish that the entire family will love!
Best Recipes Using Ground Deer Meat
Ground venison is a lean and delicious protein that can be prepared in many different ways! With its rich, robust, and earthy flavors, it's a wonderful meat to use as a beef alternative to make truly unforgettable meals.
Whether you are a big fan of deer meat or trying it out for the first time, you can't go wrong with any of these tasty recipes! From ground venison tacos to baked venison spaghetti, even the pickiest of eaters will be satisfied with any of the dishes on this list!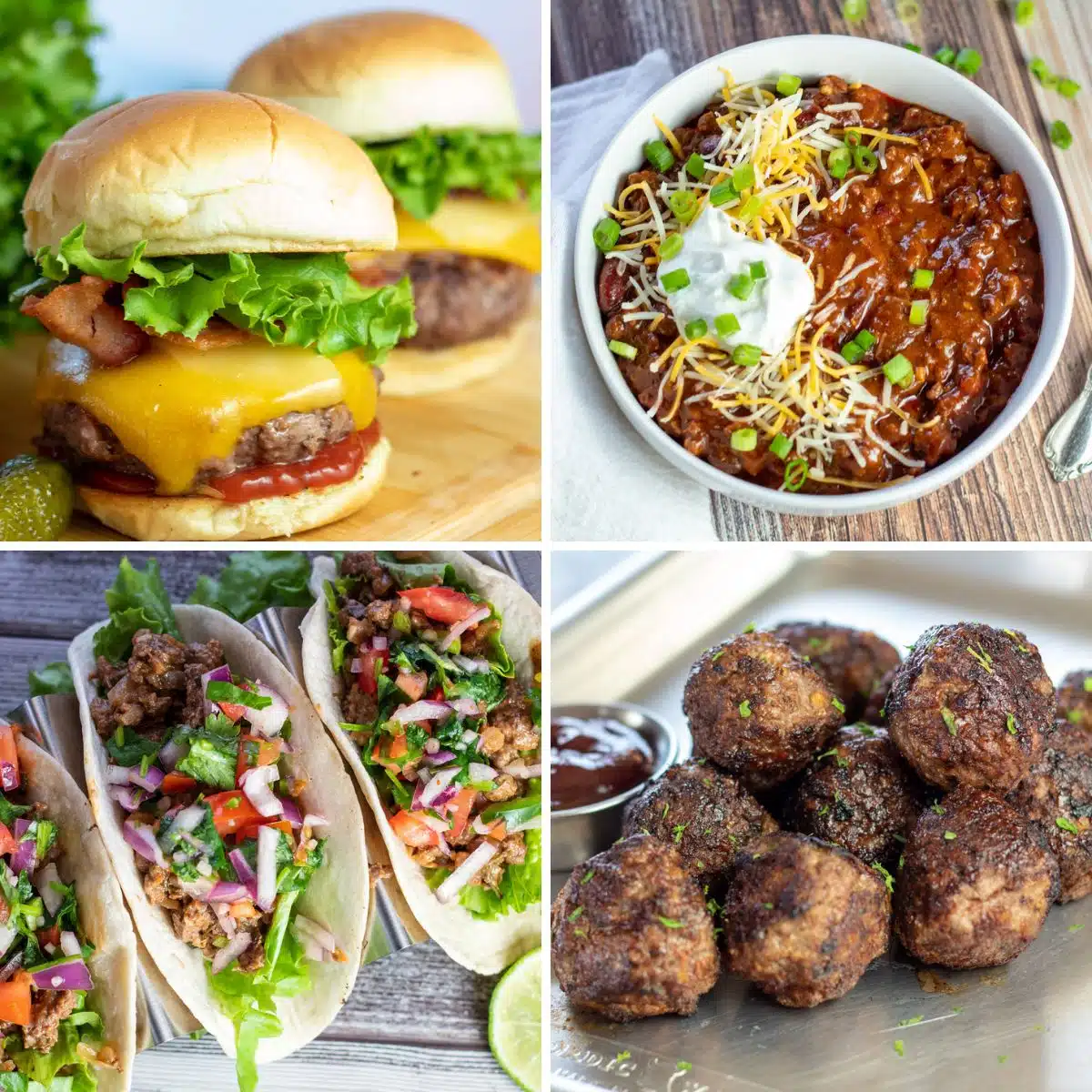 Jump to:
If you are a big fan of venison meat and are looking for even more unique dishes to make, check out my full collection of venison recipes! Plus I have a whole list of tasty side dishes to serve with your venison meat here!
1. Ground Venison Tacos
The next time tacos are on the menu, you have to give these tasty ground venison tacos a try! Ground venison is simmered in an incredible mix of seasonings, including chili powder, cumin, paprika, salt, pepper, garlic powder, and onion powder!
Then it's cooked down with diced tomatoes and lime juice to add a tangy level of flavor! Load your tacos up with your favorite taco toppings for a dish that will make everyone beggings for seconds!
2. Venison Chili
This hearty chili recipe features tender venison meat that's perfectly seasoned with my chili seasoning mix, tangy tomatoes, and kidney beans! It's an easy all-in-one meal to throw together and great for feeding a hungry crowd.
One of the best things about chili is that you can customize it to include your family's preferences. Plus, you can load it up with your favorite chili toppings and serve it with some tasty cornbread or top it on a bed of white rice!
3. Venison Burgers
These easy and flavorful burgers are a tasty way to use up your ground deer meat! They are generously seasoned with my homemade steak seasoning and loaded with chopped bacon to keep the meat rich and juicy!
I like to set up a topping bar with everyone's favorite burger toppings so each person can make their burger the way they like it! Trust me, when you see how quick and delicious these burgers really are, you'll want to keep venison meat stocked!
4. Venison Meatballs
If you are a fan of tasty meatballs, then you have to try my meatball recipe that features ground venison, bacon, breadcrumbs, and aged Parmesan cheese! It only takes 25 minutes to make them, and they are a wonderful alternative to traditional pork and beef meatballs.
Plus, venison meat has a lower fat content and is much leaner than beef. Add them to your favorite pasta dishes for an incredibly flavorful meal everyone will be obsessed with!
>>>>See all of my recipes HERE<<<<
5. Venison Lasagna
If you are looking for a unique and delicious twist on traditional lasagna, look no further than this mouthwatering venison lasagna recipe! With layers of rich tomato sauce, creamy ricotta cheese, and the bold flavor of venison, this dish is sure to become a new household favorite!
It's not only hearty and comforting, but it's also an exciting way to incorporate the deer meat you stocked up from your last hunting trip! Serve with a Caesar salad and oven garlic bread for any weeknight meal.
6. Baked Venison Spaghetti
This baked venison spaghetti recipe is an incredibly easy main course to serve on any occasion. Simply cook the spaghetti, brown the ground venison, then mix it all together with tomato sauce and cheese, and bake it in the oven!
In just a few simple steps, you'll have a delicious and hearty meal to make for any night of the week. Serve it with my air fryer garlic bread and a fresh side salad for a complete and satisfying family dinner that will leave everyone wanting seconds!
7. Ground Venison Stew
When the weather turns chilly, there's nothing better than a warm and comforting bowl of stew! Ground venison is cooked low and slow with fresh vegetables, chicken broth, herbs, and red wine to create a hearty dish everyone will love.
The result is a stew full of many layers of exciting flavors that come together beautifully. Whether you have company in town or are searching for a new main course to try, you can't go wrong with this recipe.
8. Korean Spiced Venison
If you love bold and savory Korean flavors, then this Korean spiced venison recipe is simply delicious and an absolute must-try! The ground venison is first browned in sesame oil with minced garlic and minced ginger.
Then it's simmered with Korean red chili paste, soy sauce, and brown sugar for 15 minutes. This leads to mouthwatering venison meat that is both sweet and savory with a hint of heat. Serve over a bed of boiled or steamed rice for a tasty and filling meal!
9. Ground Venison Stroganoff
This delicious and unique dish has all of the traditional flavors of stroganoff with the added robust flavor of ground venison! It's easy to make and ready to serve on the dinner table in just 40 minutes.
Sauteed mushrooms are combined with onion, garlic, seasoning, venison, and a rich, tangy cream sauce made of beef stock, sour cream, and heavy cream. Then it's poured over the top of warm egg noodles for a dish that is sure to impress!
10. Venison Swedish Meatballs
These tasty venison Swedish meatballs make a wonderful appetizer for parties or a filling dinner when paired with pasta! They're made with tender ground venison, breadcrumbs, and savory spices, then simmered in a simple cream sauce.
You can roll them into smaller meatballs and keep them warm in a crockpot for your next gathering or serve them right away with egg noodles or mashed potatoes! Either way, everyone will enjoy how comforting and flavorful these meatballs are.
11. Venison Goulash
Venison goulash is a great way to cook ground venison meat and make a satisfying meal everyone will enjoy! Plus, all of the ingredients are cooked in one large pot, so there's less mess in the kitchen to clean up.
Ground venison is cooked low and slow with onion, garlic, tomato paste, red bell pepper, red wine, lemon juice, half-and-half, and spices. Top a bowl off with a dollop of sour cream and serve with your favorite dinner rolls any night of the week!
12. Venison Breakfast Sausages
These venison breakfast sausages are straightforward to make, and each bite is filled with sweet and smokey flavors! You can even customize the ingredients to experiment with different flavor profiles if you want to serve them for lunch or dinner too.
In this recipe, maple syrup is added to the sausage filling so they pair wonderfully with sweeter breakfast dishes like pancakes and waffles. They taste equally great with a side of hashbrowns and scrambled eggs.
13. Venison Taco Stuffed Shells
One of my favorite ways to use ground venison is in tacos! These taco-stuffed shells will satisfy your Mexican food cravings, and they turn out delicious every time!
All you need is a handful of simple ingredients and a little bit of patience when stuffing the large shells. Then the oven takes over and melts everything together!
💭 Tips For Cooking With Ground Venison
Seasoning ground venison meat is key. Venison has a distinctive flavor that can be enhanced with the right seasonings. Consider using garlic, onion, rosemary, thyme, bay leaves, or sage to add a depth of flavor.
Make sure to use a meat thermometer if you are not used to cooking ground venison meat. It needs to reach an internal temperature of 160°F (71°C).
Ground venison is meat to cook low and slow because it's an incredibly lean meat that can dry out quickly if overcooked. To keep the meat moist and tender, cook it over low heat for a longer period of time.
To make meatballs or burger patties with ground venison, you can mix in some ground pork or ground beef as added fat to help hold the mixture together. Also, this will help make the meat easier to work with.
I hope that this collection has given you some new ideas and recipes to make with ground venison! If you try any of these dishes, leave me a comment down below and let me know how they turned out!
🍖 Best Game Meat Recipes
📋 Recipe