If you're wondering what to serve with venison, there are plenty of delicious side dishes that pair perfectly with wild game! No matter how you prepare your venison, we guarantee you'll find a fantastic recipe to compliment your dish!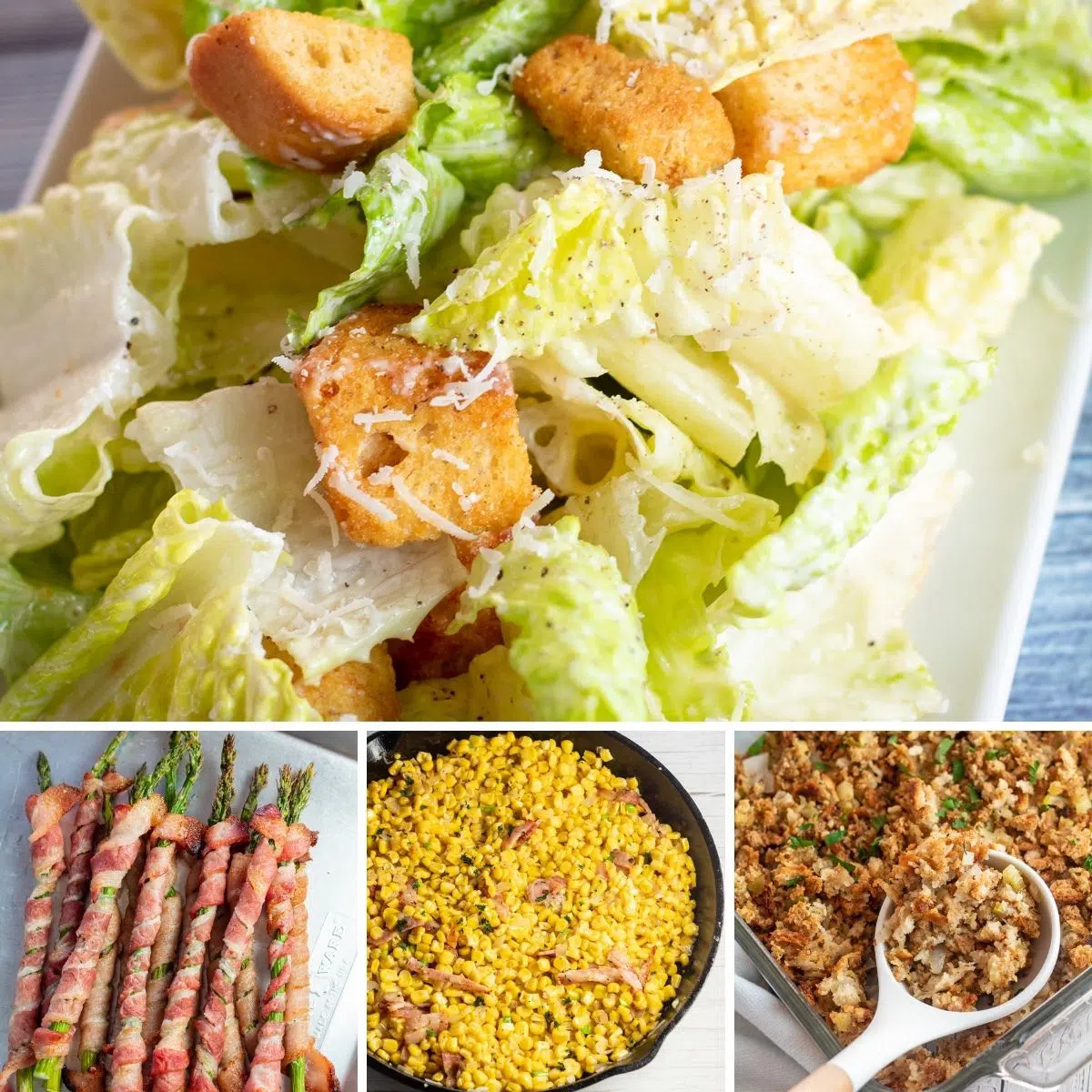 19+ Fantastic recipes that will compliment your venison perfectly!
As Americans, most of us grow up eating the basic meats: beef, pork, chicken, etc. Venison is not nearly as prevalent on our tables despite being one of the leanest, most vitamin-packed proteins available.
If you're looking to branch out from your usual recipes, try cooking with wild game! It's delicious, flavorful, and arguably one of the most sustainable meats you can buy.
Jump to:
I've compiled a list of some of my all-time favorite sides to serve with venison. Whether it's an old favorite of yours or a new food adventure, these sides will help you build a very memorable meal!
1. Honey & Herb Oven Roasted Carrots
The natural sweetness comes out when you roast any vegetable, but carrots are particularly great. Drizzled in honey, butter and fresh rosemary and thyme, these veggies are even better.
They're a family favorite and are a recurring side at our lunches and dinners.
2. Garlic Red Skin Mashed Potatoes
These are the creamiest mashed potatoes you'll find. With both cream and cream cheese, they're silky smooth with a touch of tang.
The roasted garlic adds a sweet element to balance it all out. For a rich, indulgent side that complements your venison any way you season it, look no further.
3. Easy Stuffing
Stuffing is one of my favorite parts of Thanksgiving, but who says you have to save it for the holidays? This recipe only takes 5 minutes to prep and goes great with game.
Herbs de Provence put a unique spin on the classic flavors of bread, broth, butter, onion, and garlic. Just saute your vegetables, mix it all together, and bake!
4. Baked Beans
This isn't your average baked beans recipe. It's full of meaty flavors from beef and bacon with a bit of liquid smoke for that just-off-the-grill taste.
I'm partial to beans with a bit of sweetness, so I also add some brown sugar for good measure. It's a perfect complement to freshly grilled venison.
5. Garlic Butter Mushrooms
Mushrooms tossed in garlic butter are as addictive and rich as it sounds. This recipe, in particular, is delicious because of the added teriyaki sauce and steak seasoning.
They add a new level of flavor that blends really well with any meat you decide to serve.
6. Crockpot Green Beans and Potatoes
Crockpots are an incredibly efficient way to make a meal. Infusing food with flavor as it slow-cooks churns out some of the best dishes you can imagine.
This green beans and potatoes recipe is no different. Cook these veggies with bacon, onion, broth, and garlic on low for 4 hours for a drool-worthy side.
7. Southern Fried Corn
If you haven't tried southern fried corn, you're missing out! Take sweet corn to the next level with fried bacon, onion, garlic, and chives.
With just 15 minutes and 2 steps, you'll have a side dish that is versatile enough to eat with your venison and whatever you're making the next day. Be sure to make extra.
8. Baked Bacon Wrapped Asparagus
Some days you want something a bit fancy. Bacon wrapped asparagus is as impressive as it is tasty, and it's not difficult at all.
Having a party? These make great appetizers and are easily scalable. Plus, they're baked, so you won't spend the evening wiping up grease!
9. Sauteed Broccolini
Lemon, pepper, and Parmesan are the not-so-secret ingredients that make this side unique. The taste of the broccolini comes through and is amplified by the citrusy, salty toppings.
When it's cooked right, this tender, slightly crunchy vegetable is a real crowd-pleaser.
10. Baked Potato
Making a baked potato in the microwave is a huge time-saver. It will give you at least an extra 45 minutes of down time relative to baking them in the oven.
And by the time you add cheese, bacon, chives, and butter, you'll forget why you ever did it any other way. Make as many or as few as you need and customize them for everyone in the family!
11. Baked Sweet Potatoes
Baked sweet potatoes go over well with the whole family, especially kids. It's like getting away with dessert with dinner, but it's healthier.
They're easy to make ahead of time and reheat, and the insides can easily be taken out for mashed potatoes. Whichever way you serve them, they're fabulous, particularly to balance out a savory piece of venison.
12. Fried Cabbage
Bacon makes everything better. Not only is it fantastic mixed into this fried cabbage with onions, but it's a perfect topper for venison.
That rich, savory flavor paired with salty meat is outstanding. From start to finish it only takes 15 minutes.
13. Steakhouse Creamed Spinach
There's a full pound of spinach in just 4 servings of this stuff! Kids will definitely get their vegetables with this creamy, cheesy concoction, and better yet, they will enjoy it!
Spinach, onions, garlic, and nutmeg are mixed with half and half, cheese, mozzarella, and Parmesan for a decadent side or topping for bread or baked potatoes.
14. Vermicelli Rice
Simple can be better at times, and this is one of those times. Vermicelli pasta and basmati rice are lightly flavored with salt and pine nuts in this easy recipe.
It's a subtle flavor that pairs well with virtually anything you decide to serve as a main course. It's easy to personalize, too, if you want it to be more closely geared towards whatever you're serving.
15. Potatoes O'Brien
Potatoes O'Brien take on flavors of the southwest. They're fried with bell peppers and onion and make a perfect cowboy meal with a tender piece of venison and a chunk of the Jiffy jalapeño cornbread listed below.
With lots of words to describe this meal, it is anything but bland. Try it yourself!
16. Caesar Salad
Caesar salad is a classic for good reason. This made-from-scratch dressing has a strong parmesan flavor with a touch of Dijon mustard combined with zesty lemon juice and mayonnaise.
And for anyone worried about the traditional preparation, no, this recipe does not require anchovies and egg yolks.
17. Buttered Peas and Carrots
If you're a regular on this site, you know buttered peas and carrots is another family favorite. They're amazingly delicious and perfect for picky eaters.
The natural sweetness of two of the sweeter vegetables out there is amplified by a mix of butter and honey. Add your favorite fresh herbs for a unique twist on an everyday side, and your diners will go crazy for it.
18. Southern Baked Macaroni and Cheese
Three different kinds of cheese baked with onion and garlic powder, milk, and cream. It really is next level. Eggs add even more richness to an already indulgent dish.
A touch of cheddar sprinkled on top gets extra crispy in the oven. Yum!
19. Jiffy Jalapeño Cornbread
If you've ever been intimidated by the idea of making cornbread, this is the recipe for you! Using a premixed base like Jiffy keeps things simple, and the addition of jalapeños, red bell peppers, and cheddar cheese add incredible flavor.
Sour cream keeps it from becoming too dry. A perfect side for your venison dish!
Any of these recipes will make a wonderful pairing for venison, any which way you cook it! Tell us about your favorite venison recipes by dropping us a comment below!
📋 Recipe