My Christmas ham dinner menu features the best appetizers, side dishes, rolls, and 3 fan-favorite recipes for your holiday ham main course! Mix and match to build your ideal Christmas meal, or try them all and have an epic holiday feast! There's something here for everyone!
What To Eat With Ham For Christmas
Are you planning on featuring a succulent ham at the center of your Christmas dinner table but unsure what to serve with it? Below, I've got plenty of side dish options to choose from, as well as my favorite recipes for the best holiday ham!
For even more menu planning inspiration, check out my Italian Christmas dinner menu and a British Christmas dinner menu! If it's your first time hosting, this easy Christmas dinner menu is a great place to start!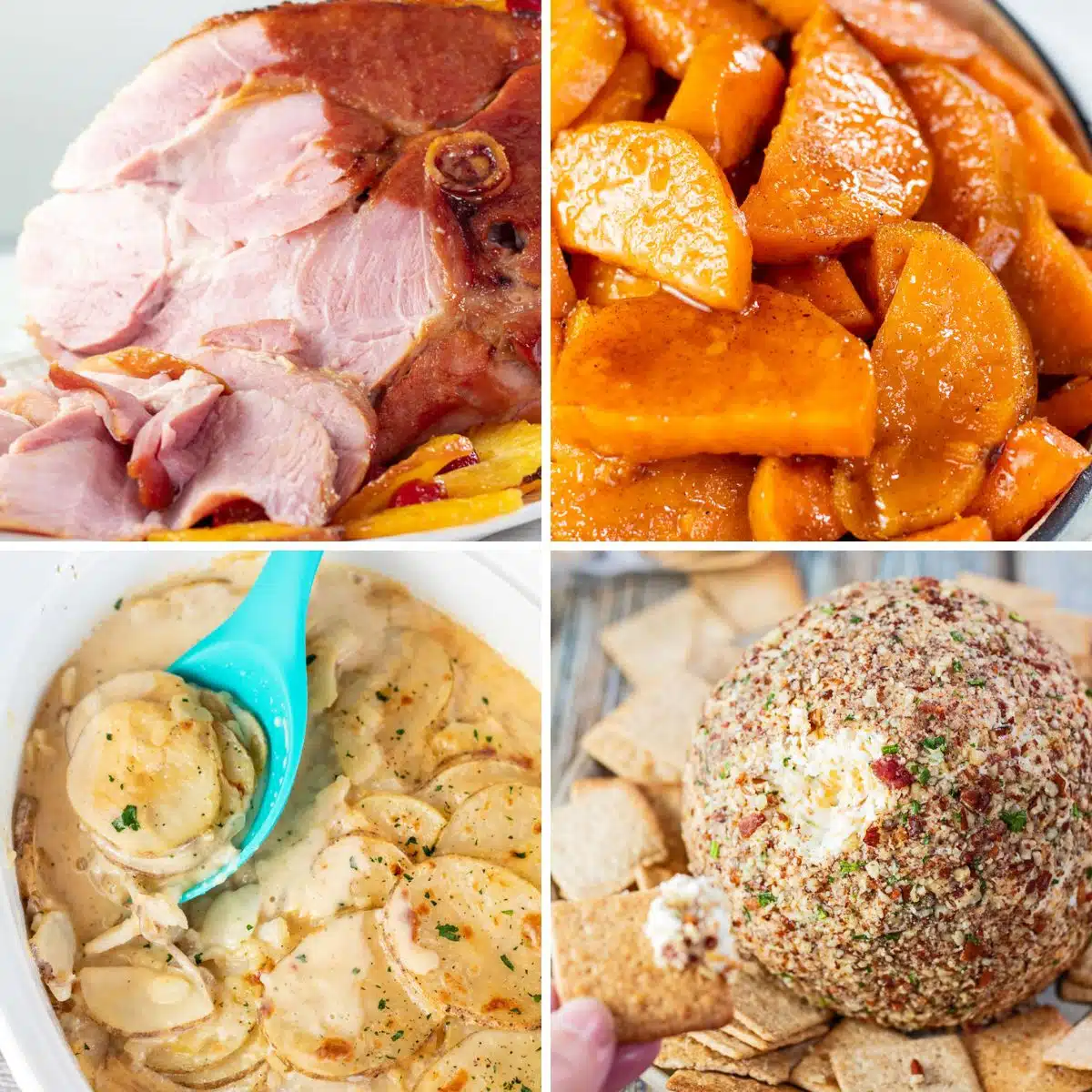 Jump to:
I'm a huge fan of ham for the holidays, so of course, I have a traditional Thanksgiving ham dinner menu you can follow, too! For general ham side dishes that work for Easter, Christmas, or whenever, see my page on what to serve with holiday ham!
1. Baked Holiday Ham
This fruit-studded holiday ham is the perfect main course for a show-stopping centerpiece on your Christmas dinner table! It has that delectable caramelized brown sugar and mustard glaze that is always amazing on ham.
2. Honey Glazed Ham
Elevate your Christmas dinner with the irresistible sweetness of honey-glazed ham! This recipe features a succulent ham coated in a sticky glaze made with honey, brown sugar, and cloves for a classic holiday ham!
3. Gingersnap Baked Ham
This juicy baked ham is coated with a sweet, tangy glaze made from brown sugar, mustard, and crushed gingersnap cookies. The result is a delightful blend of sweet and spicy notes that adds a festive touch to the usual Christmas ham!
4. Ranch Ball
Not only is a ranch cheese ball delicious, but it's a super easy appetizer that you can make in advance! Serve it on a platter with crisp veggies, crackers, or chips, and let everyone snack while you finish up Christmas dinner!
5. Instant Pot Au Gratin Potatoes
It's Christmas, and oven space is limited, so bust out your Instant Pot for these rich and cheesy au gratin potatoes! Thinly sliced potatoes are layered with a rich blend of cheeses, garlic, and herbs, then pressure-cooked to perfection.
The result is a comforting potato side dish with a golden-brown crust and a melt-in-your-mouth texture!
6. Southern Candied Sweet Potatoes
Add a touch of Southern charm to your holiday ham dinner with these candied sweet potatoes. Sliced sweet potatoes are baked in a mixture of brown sugar, butter, and warm spices that become a sticky, sweet, caramelized glaze!
7. Onion Rolls
These soft and flavorful onion rolls are infused with caramelized onions, adding a subtle sweetness and depth of flavor to every bite. With a golden-brown crust and a fluffy interior, these rolls are perfect for soaking up gravy or the juices from your Christmas ham.
8. Baked Mac & Cheese
Paula Deen's baked mac and cheese is a comforting Southern classic, with a rich blend of cheeses baked to golden perfection. Sour cream and evaporated milk are the secret ingredients that make the cheese sauce so creamy and indulgent!
>>>>See all of my recipes HERE<<<<
9. Honey Glazed Carrots
Honey-glazed carrots are a simple yet elegant side dish that pairs perfectly with ham and adds a pop of color to any plate! These carrots are cooked until tender and then coated in a honey glaze to enhance their natural sweetness.
10. Dauphinoise Potatoes
Dauphinoise potatoes are a sophisticated and creamy alternative to traditional mashed potatoes. The potatoes are layered and baked with a rich mixture of cream, garlic, and cheese until golden and bubbling!
11. Bacon Cream Cheese Mashed Potatoes
Take mashed potatoes to a whole new level with this recipe that combines the richness of cream cheese and the savoriness of bacon. This indulgent twist on the classic side dish will surely be a hit with your holiday ham!
12. Mashed Sweet Potatoes
To make mashed sweet potatoes, boil them until tender and then mash them with a touch of butter and heavy cream. Keep them savory with a simple seasoning of salt & pepper, or add honey and cinnamon for a sweeter side!
13. Brown Sugar Glazed Carrots
These carrots are simmered in a delectable brown sugar and butter glaze that creates a sticky caramelization everyone will love. The natural sweetness of the carrots shines through, making them a perfect accompaniment to a sweet and succulent Christmas ham.
14. Buttered Peas & Carrots
Tender peas and crisp carrot slices are sautéed in butter for an easy and delicious vegetable side dish. Buttered peas and carrots will add a pop of color and freshness to your holiday plate.
15. Creamed Kale
Creamed kale is an indulgent vegetable side dish with fresh kale wilted in a creamy sauce made with butter, garlic, cheese, and heavy cream. It has the perfect balance of earthy kale flavor with the richness of a velvety cheese sauce!
16. Creamed Corn
Creamed corn is warm and savory, with a subtle sweetness from the juicy corn kernels and just a touch of sugar. It's a rich and savory side dish that comes highly requested at my Christmas dinner table each year!
17. Southern Candied Sweet Potatoes
Each year, the kids fight over the leftovers of these sweet potatoes simmered in a syrupy blend of brown sugar, butter, and warm spices. They bring a perfect balance of sweetness and warmth to any holiday meal!
18. Jiffy Corn Casserole
Jiffy corn casserole is a quick and easy 'pudding' or 'spoon bread' that combines Jiffy muffin mix with creamed corn, sour cream, and butter. Baked to golden perfection, it offers a sweet and savory corn flavor with a moist and fluffy texture that is hard to resist!
19. Campbell's Green Bean Casserole
Campbell's green bean casserole is a classic Christmas favorite made with green beans, cream of mushroom soup, and crispy fried onions. Using canned green beans, soup, and onions makes it quick and convenient, yet the results are always incredible!
20. Baked Buttercup Squash
Buttercup squash is an easy seasonal side dish that is perfect for fall or winter celebrations and pairs beautifully with ham! I like to enhance the sweet and nutty flavor of the buttercup squash by adding fresh apples, honey, and pumpkin pie spice!
21. Velveeta Mac & Cheese
When it comes to ham, you really can't go wrong pairing it with any macaroni and cheese recipe! However, velvety smooth Velveeta cheese blends seamlessly with macaroni for a decadent side dish that kids and adults will love!
22. Herb Butter Rhodes Rolls
These ready-made frozen dough rolls offer a hassle-free way to create warm and soft dinner rolls for Christmas. Bake until fluffy and golden, then baste them with melted herb butter for the most amazing finishing touch!
23. Cheese Rolls
Everything is better with melted cheese, and these soft and fluffy dinner rolls are no exception! This super simple recipe is almost foolproof if you want to make homemade rolls from scratch for Christmas!
💭 Tips For Making The Best Ham Christmas Dinner
Choosing any combination of the recipes above will give you a flawless and flavorful Christmas dinner! Here are a few ways to ensure you get the most succulent ham and that your meal comes together seamlessly:
Choose the Right Ham: Select a high-quality ham that will suit your chosen recipe. There are different types of ham, such as bone-in or boneless, smoked or unsmoked.
Score the Ham: Scoring the ham enhances the presentation and allows the glaze to penetrate the meat. Follow this step-by-step guide to scoring ham for easy and thorough instructions!
Use a meat thermometer: Use a meat thermometer to make sure the ham is cooked to the right internal temperature. The internal temperature should reach 140°F (60°C) for fully cooked hams (see my guide to pork levels of doneness for more information)!
Resting period: Allow the ham to rest for about 15-20 minutes after removing it from the oven. This helps redistribute the juices and will give you juicier, more flavorful ham when sliced.
You can never go wrong with classics: Ham is incredibly versatile and will taste fantastic with any of your favorite Christmas side dish recipes! Ultimately, the best Christmas dinner menu is one that you and your family will enjoy!
Which of these mouthwatering recipes will be gracing your holiday table this year? Share what your family serves with Christmas ham in the comments below!
📖 Recipe Card