When you're menu planning and wondering what to serve with ham for a holiday meal or family dinner, all you have to do is read on and pick your favorites! My complete list of great side dishes for ham also includes starters and dessert to help you round out your dinner!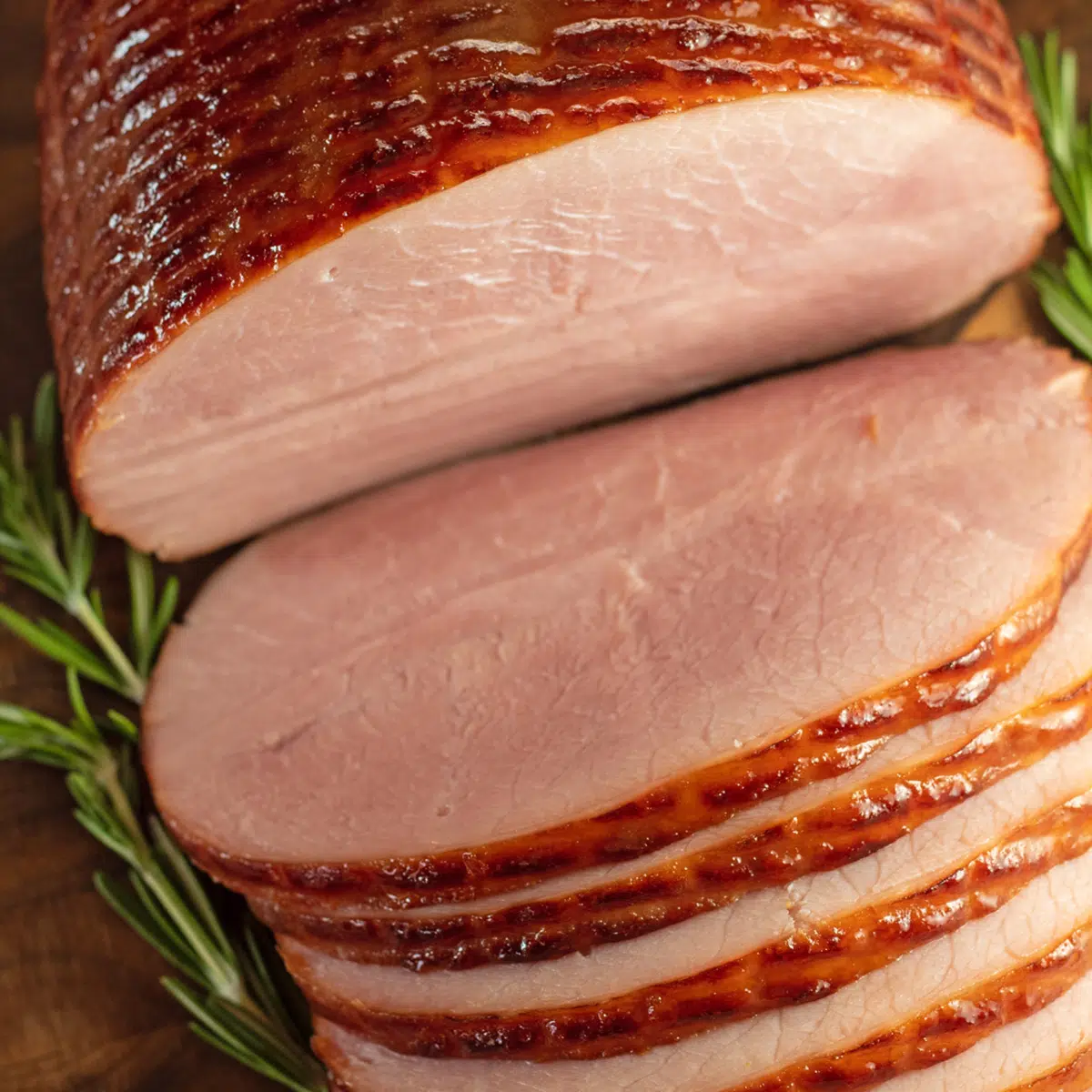 All of the perfect combinations of appetizers, sides, and desserts to pair with your amazing baked ham!
Honey glazed ham is a holiday classic for some families. For others, it's simply a great part of a weekday meal. No matter how or when you make this delicious meal, you'll need some recipes to serve before it, with it, and after it.
I've compiled a complete list of appetizers, sides, and desserts I love that pair perfectly with an Easter or Christmas ham or just go really well with ham overall! Try one or try them all! You can't go wrong with any of these.
Jump to:
🫒 Appetizers
---
If you're planning a Christmas or Easter ham dinner, you'll definitely want some amazing appetizers to serve to a hungry gathering of family and friends! Here are some great ideas to get your meal started right!
1. Charcuterie Board
A charcuterie board is a fantastic way to incorporate ham into an appetizer. It's a beautiful dish that allows you to serve a wide variety of different finger foods that will satisfy every person at a party.
Mix it up with meats, cheeses, vegetables, nuts, olives, antipasto, etc. You can put as much or as little as you like on a platter or wooden cutting board to serve. It's easily scalable.
2. Pinwheel Sandwiches
These little finger sandwiches are also a crowd-pleaser. Make one kind or make them all. Check out all of my delicious flavors including Italian, Club, Tuna Salad, Taco, and BLT (with bonus recipes)!
I'd recommend making some with and some without for anyone who might prefer the latter. It's an easy but impressive appetizer you can throw together at the last minute or even make the day before.
3. Deviled Eggs
Ham and eggs have always been a breakfast favorite, so it is only natural that deviled eggs would be a perfect match for dinner as well. The tang of mustard in these traditional deviled eggs will intensify the flavor of the ham.
If this is Easter dinner, you might have a supply of hard boiled eggs left over from the kid's egg hunt, so "deviling" them is the perfect solution.
4. Pigs In A Blanket
Super popular crescent dogs are made in mini form using tasty Lil' Smokies sausages and crescent rolls! They're a family favorite appetizer that everyone loves and perfect for serving with ham!
🥦 Vegetable Side Dishes
---
Every ham dinner needs at least one great veggie side dish to pair with it, and these are some of the most popular ones to enjoy!
5. Bacon Cheddar Green Bean Casserole
Bacon and ham come from the same place, so you can imagine bacon cheddar green bean casserole being served alongside ham.
It's a pretty traditional dish that would be great for the holidays!
Cheesy, salty vegetables will even have the kids asking for seconds.
6. Acorn Squash
I love acorn squash. It's a flexible dish that can be served sweet or savory, so depending on how you flavor your ham, you can adjust accordingly.
Anyone with a sweet tooth will love a little butter, cinnamon, nutmeg, cayenne pepper, and brown sugar. It's as good as dessert...with a spicy twist.
If you lean towards savory, try cooking the squash with herbs and Parmesan or butter and garlic. You could even stuff it with ham and quinoa!
7. Honey Glazed Carrots
Honey glazed carrots are one of the more requested favorites amongst my family members. They're coated in honey, brown sugar, and herbs that create a sweet and savory blend, and it goes well with any way you cook your ham.
Plus, this colorful dish only takes 5 minutes to prep!
8. Cauliflower Mac & Cheese
This plant-based mac and cheese is just as indulgent as the traditional kind and is amazing with ham!
Swap out the sausage in this recipe for pieces of ham, or serve it roasted on the side for a comfort food your whole family will love.
Cauliflower's savory taste adds a richness amplified by the multiple kinds of cheese it's mixed with!

9. Sauteed Broccolini
Lemon, black pepper, and Parmesan make this green vegetable something even the pickiest eaters will love!
In just 15 minutes, you can create a healthy side that perfectly complements your baked ham. With a milder taste than broccoli, broccolini blends with anything you put it with.
10. Roasted Broccoli
Hands down, this has been voted the BEST vegetable to roast. Roasting will make the florets tender, lightly charred, with a slightly sweet flavor.
Adding garlic during the cooking seriously enhances the flavor, then top with grated Parmesan when served is the "icing on the cake".
11. Roasted Brussel Sprouts
As if roasting doesn't bring out enough flavor, the addition of sugar, Dijon, bacon, and red pepper flakes knocks this out of the ballpark.
You can easily adjust the sugar and pepper flakes to your desired level of sweetness or degree of heat. You can be sure these will disappear quickly.
12. Roasted Asparagus
Nothing could be simpler with a bigger pay-off in flavor. Just toss with your seasonings and roast for 10-15 minutes.
Your asparagus will be tender and infused with flavor. Fast and healthy, this is a crowd favorite.
🥔 Savory Sides
---
What better to serve with a rich and indulgent meal than some hearty, starchy, savory side dishes?! Here's a few of the potato favorites as well as some new ideas too!
13. Jiffy Corn Casserole
Corn is another tasty complement. The salty ham is amazing with the sweetness found in this corn casserole. There is a lot of flexibility in the flavors, too!
Add cheese, or crank up the heat with some jalapeños! For a full, hearty meal, bake the ham right into the casserole.
14. Southern Baked Mac & Cheese
Mac and cheese is another recipe that is good with practically anything. It's just an amazing creation and classic comfort food.
Ham and cheese were made for each other. You can serve this cheesy dish as a side or as a main with ham mixed directly in for a family-friendly feast!
15. Mushroom Risotto
My family loves Gordan Ramsay and mushroom risotto, so I created a copycat of our favorite chef's recipe to make at home. It's nutty and earthy and topped in a salty Parmesan cheese.
An excellent addition to a meal with ham at the forefront. I would recommend avoiding the honey glazes when serving it with this recipe. Simple is best here.
16. Baked Beans
If you're really looking for a protein-heavy meal, look no further. This recipe combines beef, bacon, and sweet baked beans.
There's even some liquid smoke to add that extra special level of flavor. So whether you're making your ham glaze from brown sugar, bourbon, or even pineapple, these beans will complement the star of the meal.
17. Scalloped Potatoes
A smooth and creamy sauce bathes your favorite potatoes in a flavorful casserole that tastes like you spent hours preparing it, but actually it is quite simple.
Your "meat and tater" lovers will enjoy this buttery delicious tender potato dish that pairs perfectly with the richness of the ham.
18. Au Gratin Potatoes
Who doesn't love ham and cheese?? Similar to basic scalloped potatoes, Au-gratin adds a generous amount of cheese to make these potatoes irresistible.
19. Fondant Potatoes
Pan seared then roasted in the oven, they are crispy on the outside and soft in the middle (chefs call them "melting potatoes"), with a very full and robust potato flavor with each bite.
A classic French cooking technique that will impress your dinner guests, yet they are quite simple to prepare…that makes this dish perfect for your holiday entertaining.
20. Potatoes Dauphinoise
A very mild potato gratin that will allow the savory goodness of your ham main dish to shine. This French method of preparing potatoes in milk, butter and cream with just a hint of garlic results in an amazingly rich luxurious dish from just a few basic ingredients.
21. Creamy Mashed Potatoes
Everybody loves mashed potatoes, but they will rave over this dish. Adding cream cheese and roasted garlic turns the everyday mashed potato into an incredibly flavorful side.
22. Roasted Potatoes
Plain and simple potatoes take a new twist when they are roasted to perfection!
They will end up crispy and crunchy on the outside, but soft and tender on the inside.
These easy potatoes are quick to cook, and you can easily adjust the quantities from a small group to a large crowd.
🥖 Breads That Pair With Ham Dinners
---
I can't serve a holiday meal without a spectacular bread on the side! Here are some wonderful rolls, biscuits, and more to enjoy with your ham!
23. Cheddar Bacon Chive Biscuits
These cheesy, bacon and chive-filled biscuits practically melt in your mouth. They're a wonderful side to serve with ham and some rich scalloped potatoes!
If you're looking for a great breakfast option, here's a winner!
Throw a few slices of ham in a skillet to enjoy with these delicious biscuits in the morning. Or you could even toss it on with an egg for a hearty breakfast sandwich!
24. Hot Cross Buns
Hot cross buns aren't just in the songs of yesteryear. They also don't have to be reserved for Good Friday! Hot cross buns are a tasty treat any day of the year!
These spiced fruit rolls are just as tasty today as they were when people were making up songs about them!
For anyone who loves a good honey-baked ham or a brown sugar glaze, this recipe will be an excellent complement. Sometimes, you just need a little something sweet!
25. Yorkshire Puddings
Yorkshire puddings aren't as popular in the US as they are in the UK, but I'm convinced it's mainly because people don't know what they are. I'm completely in love with this eggy batter-based roll, and you will be too!
These eggy dinner rolls utilize meat drippings and can be stuffed with anything from gravy to mashed potatoes. Who wouldn't be excited about that?
26. Oatmeal Dinner Rolls
Oatmeal dinner rolls are always a hit with my family and friends. In fact, they consistently request them.
They're yeasty and slightly sweet due to the addition of brown sugar. It's this last bit that really makes them pair well with ham.
They're really nice for sandwiches to take to work or school, too! Leftovers have never been so delicious.
27. Cheese Rolls
Like I mentioned before, ham and cheese is a classic combo. Why not put the cheese in the bread and save yourself a step when making your sandwiches?
Yeast rolls are another highly-requested item in my family, and they're even more spectacular covered in cheddar.
Try making a ham sandwich with these for an instant hit!
🍮 Desserts to Serve With Ham
---
Wrap up the meal with an equally amazing dessert that your guests will love! Pick a classic holiday dessert, or something Easter-themed and fun!
28. Pineapple Sunshine Cake
This is for all of the pineapple and ham lovers out there. Even your dessert can pair up with your main dish.
You can't go wrong with mixing in a few maraschino cherries and covering everything in whipped cream frosting!
29. Pineapple Upside Down Cake
In addition to being flavorful, this cake is stunning. It's perfect for a holiday party or a gift. The brown sugar butter glaze is especially memorable.
30. Carrot Cake
For a richly-spiced carrot cake with cream cheese buttercream icing, try this recipe. End your ham-forward meal with something indulgent. When it's time to celebrate, this is the cake for the job.
🐰 Easter Desserts
---
For the kids in your life - and the young at heart! 🙂 Some fun and extremely tasty treats that are just perfect for Easter parties and dinners!
31. Easter Basket Cupcakes
Parties require a little extra attention to details, and these cupcakes fit the bill.
Surprise and delight your guests with white cake cupcakes with grassy icing and hidden Easter eggs on top.
It's easy to do and makes a lasting impression.
32. Easter Oreos
Fudge covered Oreos are simple but delicious. This is a great recipe to make with the kiddos!
Even the younger ones can help decorate with sprinkles!
33. Easter Basket Cookies
These sugar cookies are covered with buttercream icing and a layer of colored shredded coconut.
The candy eggs on top turn these oh-so-good cookies into creative little Easter baskets everyone will love!
They're especially fun to make for school functions.
I hope that your holiday meals are wonderful and would love to hear about your must-have sides for Christmas ham dinners and your Easter celebrations too!
📋 Recipe