These tailgating recipes for a crowd are just what you need the next time you attend an event with your family and friends. From chips and dip to mac and cheese, desserts, and more, we've got all the staples covered. So whether you're looking to score some points with your fellow fans or just want to make sure everyone is fed and happy, these crowd-pleasing tailgate recipes will get the job done!
Easy Recipes for Large Tailgating Parties
Nothing says party like good food, and when it comes to game day, there is no better way to show your team spirit than with some delicious tailgating recipes! Whether you're feeding a crowd or just looking for some snacks to enjoy while you wait for the main event, I've got you covered.
Once upon a time when we were at horse shows, we'd have huge tailgating parties in the barn and these were some of my favorite dishes to share. From chip dips to chicken wings, these recipes are sure to please everyone at the tailgate!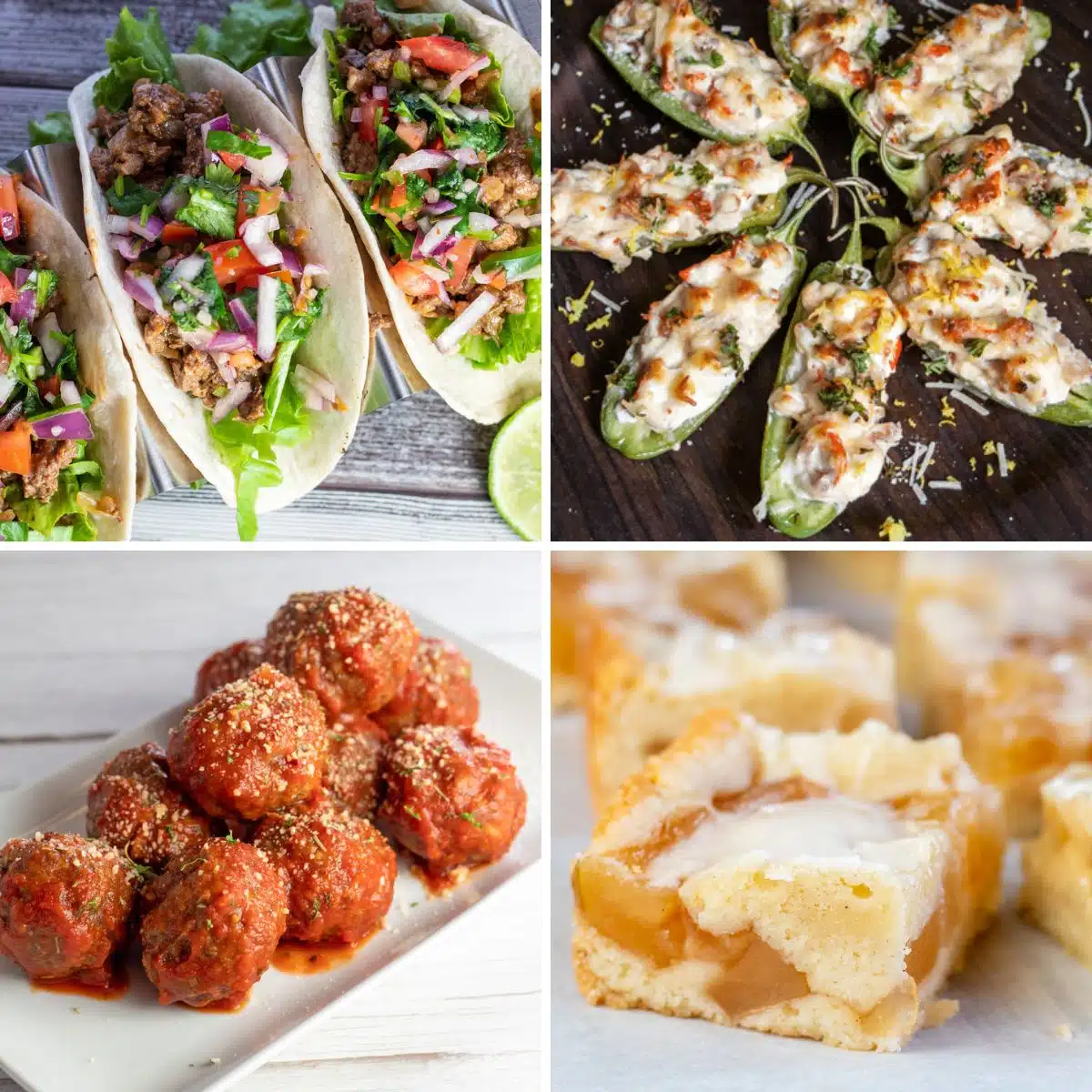 Jump to:
Want More Recipes? Enter your email below and we'll send them straight to your inbox!
For more crowd-pleasing recipes take a look at my pages on potluck recipes and winter potluck recipes!
1. Strawberry Pineapple Lemonade
Nothing beats a delicious and refreshing strawberry pineapple lemonade at a summer tailgate party! The lemonade is made with fresh strawberries, pineapple, honey crisp apples, and limoncello lemons.
It is a perfect drink for a hot day and can be easily made in a juicer. There's no added sugar whatsoever, it's delicious as it comes!
2. Chili con Carne
When it comes to feeding a crowd, there's nothing quite like a big pot of chili. This chili con carne recipe is hearty and filling, and it's easy to make ahead of time.
Serve with a side of cornbread or tortilla chips and you've got a feast fit for a tailgate party!
3. Lobster Jalapeno Poppers
Who doesn't love a good jalapeno popper? These lobster jalapeno poppers are a great appetizer or snack for your next tailgate party.
They're crunchy, cheesy, and full of delicious lobster meat. Plus, they're easy to make and only take about 15 minutes from start to finish! So if you're looking for a winning appetizer recipe, look no further than our lobster jalapeno poppers!
4. Baked Italian Meatballs
Baked meatballs are super versatile and can be served as an appetizer or main course. These baked meatballs are inspired by traditional Italian flavors, but they can be easily customized to your liking.
Add in some extra spices or toss them in your favorite sauce for even more flavor. Get creative and make these baked meatballs your own!
5. Jalapeno Cheddar Scones
These jalapeno cheddar scones are perfect for on-the-go snacking. They have plenty of flavor from melted cheddar cheese and jalapenos, but they aren't particularly spicy.
Best of all, these scones take less than 30 minutes to make! They are a perfect last-minute addition to your tailgate that you can whip up before you walk out the door.
6. Sour Cream Dip
This sour cream dip is so easy to make and only takes 5 minutes of prep time! It's the perfect appetizer to bring to a tailgate or game-day party.
The sour cream is perfectly seasoned with a simple blend of herbs and spices, and it's delicious with potato chips or sliced vegetables! Whether you're cheering on your favorite team or just gathering with friends, this sour cream dip will be a hit!
7. Deviled Eggs
Deviled eggs are a classic appetizer that is perfect for any occasion - especially tailgates and game day watch parties! They're easy to make and can be customized to your liking by adding additional seasonings or tasty mix-ins.
All you need are some eggs, mayonnaise, Dijon mustard, apple cider vinegar, paprika, salt, and pepper!
8. Ham Salad
Looking for a quick and easy appetizer that you can make with leftover ham? Look no further than this ham salad recipe!
Made in a food processor with just a handful of ingredients, this ham salad is a snap to prepare. Serve it with crackers or bread and enjoy!
9. Lamb Meatballs
These lamb meatballs are tender, juicy, and richly flavorful. They're also incredibly easy to make, and can even be made in advance and frozen for later use!
They only take about 30 minutes to throw together, and they are always a hit at parties or tailgates!
10. Ground Venison Tacos
If you are looking for a unique twist on traditional tacos, these ground venison tacos are the way to go! You can still use your preferred taco shells or tortillas and all of your favorite taco toppings!
11. Cream Cheese Salsa Dip
Looking for an easy and delicious appetizer or snack for your next tailgate? Try this cream cheese salsa dip!
It's made with just two ingredients and can be served hot or cold. Serve it with veggie sticks, chips, or crackers, and watch it disappear!
12. Garlic Parmesan Chicken Wings
One of the most popular items on game day is chicken wings. And these baked garlic Parmesan chicken wings are the perfect way to enjoy them! The chicken wings are first baked until they are nice and crispy.
Then, they are tossed in a flavorful buttery garlic parmesan sauce. These chicken wings are sure to be a hit at your next tailgate party.
13. Stuffed Green Peppers
Stuffed green peppers are a classic dish that is both filling and satisfying. They are made with a savory filling of rice, ground beef, cheese, and tomato sauce, that is baked in the oven.
If you're looking for a delicious and easy-to-make meal for your next tailgate, stuffed green peppers are a great option!
14. BBQ Baked Sausage
This baked BBQ sausage recipe is so easy, with just 4 ingredients, and the results are absolutely delicious! The sausages get nice and crispy in the oven before being smothered in a sweet and sticky BBQ sauce.
This is the perfect dish to bring to a tailgate or summer BBQ!
15. Crockpot Mac & Cheese
This crock pot mac and cheese recipe is rich, creamy, and easy to make. It's a crowd-pleaser that's always a hit at tailgates and potlucks.
This dish is made with 3 different types of cheese, making it extra cheesy and extra delicious!
16. Cream Cheese Stuffed Mushrooms
Cream cheese stuffed mushrooms have become a classic appetizer at tailgates and backyard barbecues. These delicious bites are easy to make and impress any crowd!
The rich Parmesan and cream cheese filling inside these tender mushrooms is hard to resist. They are the perfect 2-bite snack to get your tailgate party started!
17. Apple Cobbler Bars
Apple cobbler bars are a delicious and sweet dessert that is perfect for a tailgate. They are made using a buttery and crumbly crust combined with apple pie filling.
These dessert bars have all the flavor of an apple cobbler without all the work of making a traditional cobbler. Perfect for a tailgate, these bars provide a delicious and convenient way to transport this classic dessert to any gathering.
18. Pineapple Pie Bars
Pineapple pie bars are the perfect dessert for a tailgate! These fruity bars are incredibly easy to make and will bring a fruity tropical twist to your party.
The pineapple pie filling is sweet and tangy, and the crust is buttery and crumbly, making for a perfectly balanced bar. Plus, they're so easy to make that you can easily whip up a batch in no time!
19. Easy Chocolate Cake
Are you looking for an easy chocolate cake recipe that is sure to impress? Look no further! This moist, decadent chocolate cake is the perfect dessert for any occasion - tailgates included!
The rich, chocolate flavor of this cake will make your mouth water. A layer of made-from-scratch chocolate ganache tops it all off for a truly indulgent chocolate treat!
20. Hello Dolly Bars
Hello Dolly Bars are a classic 7 layer dessert that is perfect for any tailgate. The layers consist of a buttery graham cracker crust, chocolate chips, butterscotch chips, shredded coconut, and pecans. To top it off, a layer of sweet condensed milk is poured over the top.
It's a delicious combination of flavors that everyone loves! The sweetness of the chocolate and butterscotch chips, combined with the crunchy texture of the coconut and pecans, make for an unforgettable dessert.
21. Root Beer Floats
Root beer floats are a classic tailgate dessert that are easy to make and incredibly refreshing! All you need is root beer, ice cream, and a cup.
Simply add a scoop of your favorite ice cream to a cup, top it off with root beer, and enjoy! The sweet root beer and creamy ice cream combine to create the nostalgic flavor that everyone loves. Not only is a root beer float a delicious drink, but it's also a great way to beat the summer heat at a tailgate!
I hope these recipes help you throw the ultimate tailgate party! Be sure to come back and let me know if the recipes were a hit by commenting down below!
😋 More Easy Recipes
📋 Recipe