These spring desserts are all bright, refreshing, and fantastic for enjoying the season with friends and family! From fruit tarts to lemon cookies, there is a tasty spring-inspired treat that is perfect for any occasion! Go ahead and let these desserts be the final touch to your springtime meals!
Best Spring Dessert Recipes
The warming weather always puts me in the mood for some springtime baking! I want to sit on a patio, soak up some sunshine, and snack on a sweet treat!
I put together this list of all of my favorite spring-inspired dessert recipes so that you can enjoy the seasonal baking with me! Pick out a few sweets to try and then get ready to fall in love with them!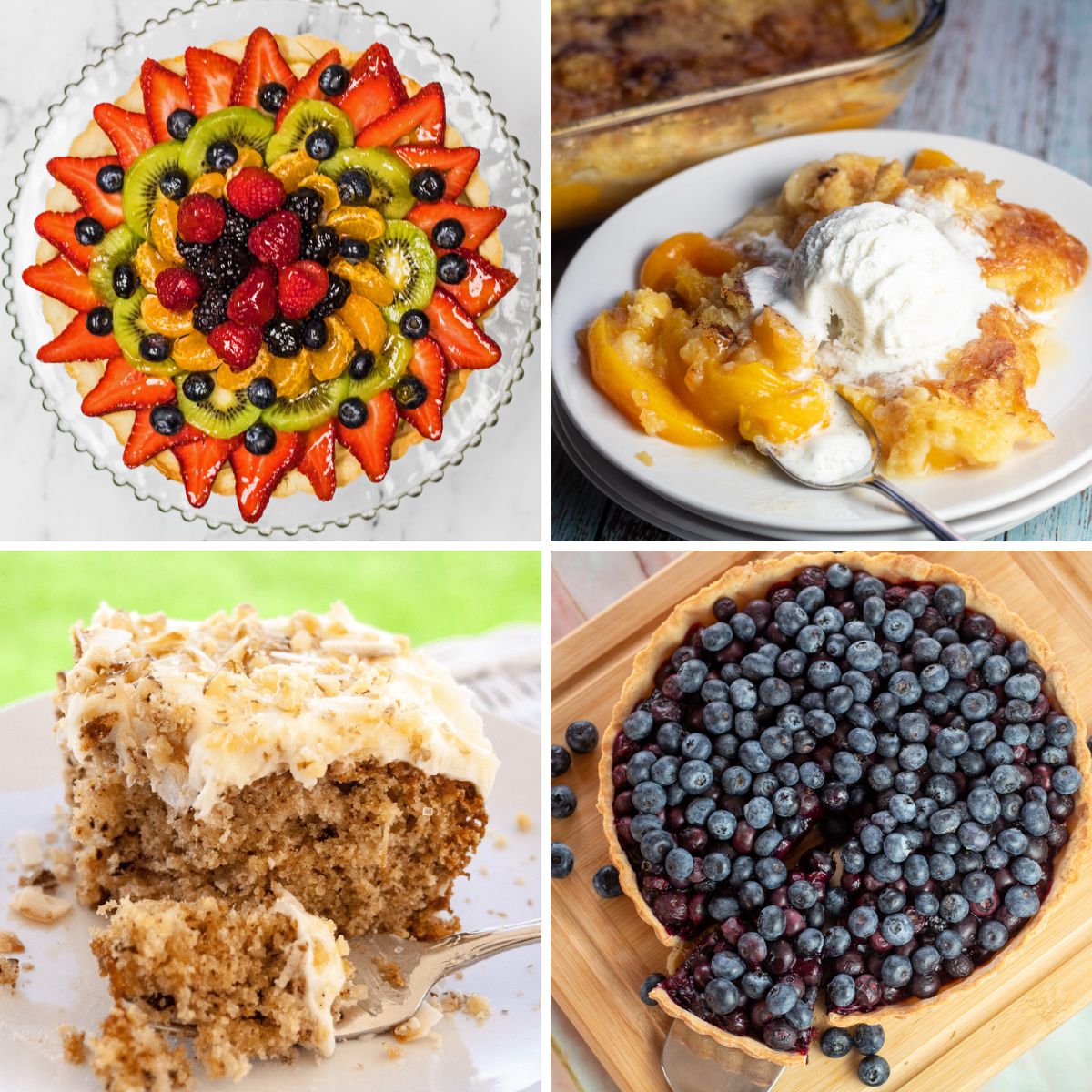 These spring desserts are perfect for any celebration!
French Fruit Tart
2 Ingredient Lemon Bars
Blueberry Pie
White Chocolate Raspberry Loaf Cake
Preacher Cake
Strawberry Angel Food Lush
Banana Blueberry Muffins
Carrot Cake
Fudge Brownies
Shortbread
Cherry Blueberry Dump Cake
Bisquick Peach Cobbler
Blueberry Buckle
Berry Parfait Greek Yogurt Popsicles
Strawberry Shortcake
Blueberry Muffin Bread
Hot Cross Buns
Jump to:
1. French Fruit Tart
Is there anything more spring-like than a wonderfully vibrant and colorful tart that is loaded up with fruit? Make sure you opt for fresh fruit to get the maximum flavor payoff!
2. 2 Ingredient Lemon Bars
It wouldn't be a spring dessert list without some lemon bars packed with citrus flavor! This simple recipe only uses 2 ingredients, but you can check out my classic version here!
3. Blueberry Pie
I love fruit-based pies all year long, but something about the springtime makes them feel extra special. This blueberry pie is loaded with homemade blueberry pie filling (which is so much better than storebought!)
If you love fruit pies as much as I do, make sure you check out my apple cranberry pie, granny smith apple pie, and blackberry apple pie!
4. White Chocolate Raspberry Loaf Cake
Tender vanilla cake is packed with fresh raspberries and then drizzled with white chocolate! Not only is it a flavor combination made in heaven, but it is absolutely stunning as well!
5. Preacher Cake
Preacher cake is known for being incredibly quick and simple to make! The cake itself includes both pineapple and coconut for a nice tropical flavor while the topping is cream cheese frosting! Finally, sprinkle it with some walnuts and toasted coconut to make it even better!
6. Strawberry Angel Food Lush
This strawberry angel food lush is simply too good to be true! It's loaded with angel food cake, whipped cream, fresh strawberries, and sweet cream cheese!
7. Banana Blueberry Muffins
Muffins are so versatile since you can enjoy them for breakfast, as a snack, or as a dessert! Ripe bananas make these muffins incredibly moist and sweet and then the blueberries add little bursts of flavor!
Of course, my strawberry yogurt muffins are also perfect for spring!
8. Carrot Cake
This is truly the best carrot cake you will ever taste. It's a classic recipe that can be enjoyed all spring long!
9. Fudge Brownies
Brownies are easily a well-loved year-round dessert! They are a classic treat that can be enjoyed any day, any time, for any occasion!
10. Shortbread
These shortbread cookies are so soft and tender that they will literally melt in your mouth! Plus, they use just a few ingredients so that anyone can make them, even if you've never baked them before!
Check out all of my helpful tips and tricks in my guide for making shortbread!
11. Cherry Blueberry Dump Cake
I love dump cakes! In fact, I love them so much that I have an entire post on how to make them as well as a ton of different recipes!
They only use a handful of ingredients (typically cake mix, butter, and pie filling) and are ridiculously simple to prepare. This cherry blueberry dump cake is perfect for springtime, but so are my blueberry, strawberry, peach, and pineapple varieties!
12. Bisquick Peach Cobbler
This recipe will satisfy your cobbler craving without you having to spend a ton of time in the kitchen! The Bisquick mix really makes preparing the cobbler topping a breeze!
You can also try out my Bisquick apple cobbler and nectarine cobbler!
13. Blueberry Buckle
This cake is soft, moist, and loaded with tons of flavor! It is coated with a cinnamon sugar crumble topping and packed with fresh blueberries!
14. Berry Parfait Greek Yogurt Popsicles
As soon as the weather begins to warm up, I can't help but reach for these frozen treats! They are loaded up with Greek yogurt, fresh berries, and granola so that you don't have to feel guilty at all!
15. Strawberry Shortcake
Strawberry shortcake is possibly the most spring-based dessert there is! The light and fluffy shortcake, homemade whipped cream, and fresh strawberries make this such a refreshingly delicious dessert that it's hard not to love it!
16. Blueberry Muffin Bread
This incredibly soft and moist bread is super delicious. It tastes just like a muffin but in loaf form!
17. Hot Cross Buns
These buns are a timeless classic that is commonly enjoyed for Easter! They have just the right amount of sweetness and can be snacked on at any time of the day!
18. Pineapple Sunshine Cake
Yellow cake is infused with crushed pineapple and then topped with whipped cream frosting, pineapples, and cherries! The tropical flavor of the pineapple is ideal for enjoying the warm weather!
19. Lemon Crinkle Cookies
Crinkle cookies are one of my favorite kinds of cookies because they are soft, tender, and beautiful! These cookies are great for any lemon lovers out there as they are bursting with citrus flavor!
20. Peach Galette
Galettes are even easier to make than pie and still have a wonderfully flaky crust and sweet peach center! Of course, you can also try out my blueberry galette. Both flavors are perfect for spring!
21. Blueberry Pie Bars
When the weather gets warmer, you'll know that picnic season has begun! These bars have all of the flavors from a blueberry pie but in easy-to-serve bars!
Want to mix it up with some other yummy flavors? Try out these pineapple pie bars, cherry pie bars, blackberry pie bars, and apple cobbler bars!
22. Blackberry Tart
Can you tell that I love tarts? They are fresh, fruity, and super vibrant making them a perfect dessert to enjoy this spring. The coconut and lime zest topping just makes it even better!
23. Lemon Strawberry Bread
This easy lemon bread is loaded with fresh strawberries and then topped off with a sweet and citrus lemon glaze! It definitely gives off some strawberry lemonade vibes!
24. Honey Cakes
These little cakes feature crisp edges, a moist inside, and an intensely delicious honey flavor! They are then topped with frosting (or more honey!)
25. Chocolate Chip Cookies
Homemade chocolate chip cookies are soft, tender, and bursting with melted chocolate chips! Of course, these classic cookies are a perfect treat any time of the year, so why not enjoy them in spring as well?
If you want some tips and tricks on how to make the best cookies possible, take a look at my ultimate guide to baking chocolate chip cookies!
26. Strawberries & Cream Scones
These tender scones are crisp on the outside and moist on the inside! They are packed with strawberries and drizzled with sweet vanilla icing!
Make sure you take a look at my blueberry cream cheese scones and blueberry white chocolate scones if you are in the mood for some blueberries!
27. Banana Cake With Cream Cheese Frosting
Using extra ripe bananas is the key to this moist and sweet cake! If you enjoy banana bread, than this cake is sure to knock your socks off!
28. Lemon Blueberry with White Chocolate Chips Cookies
Zesty lemon and juicy blueberries come together for these amazingly delicious cookies! The bright yellow and pops of blue practically scream "spring"!
29. Strawberry Tart
A buttery and flaky crust, some sweet cream, and fresh strawberries- what more could you ask for in a springtime dessert? Not only is it delicious, but it is also oh-so beautiful! Try the blueberry version here!
Are you excited to try out some of these sweet spring desserts? Which one do you want to make first? Leave a comment down below and let me know!
>>>>See all of my recipes HERE<<<<
🌸 More Spring Dessert Recipes
📋 Recipe