Here's what to serve with split pea soup to turn it into a rich and satisfying meal your family will enjoy! From classic sandwiches and salads to quiches, cornbread, and more, there are tons of tasty recipes to try! This classic comfort food tastes even better with the perfect side dish!
Best Side Dishes For Split Pea Soup
Split pea soup is a wonderful fall soup because of its rich and satisfying ham flavor, as well as its heartiness. While it is certainly a delicious soup all on its own, nothing compares to pairing it with the perfect side dish!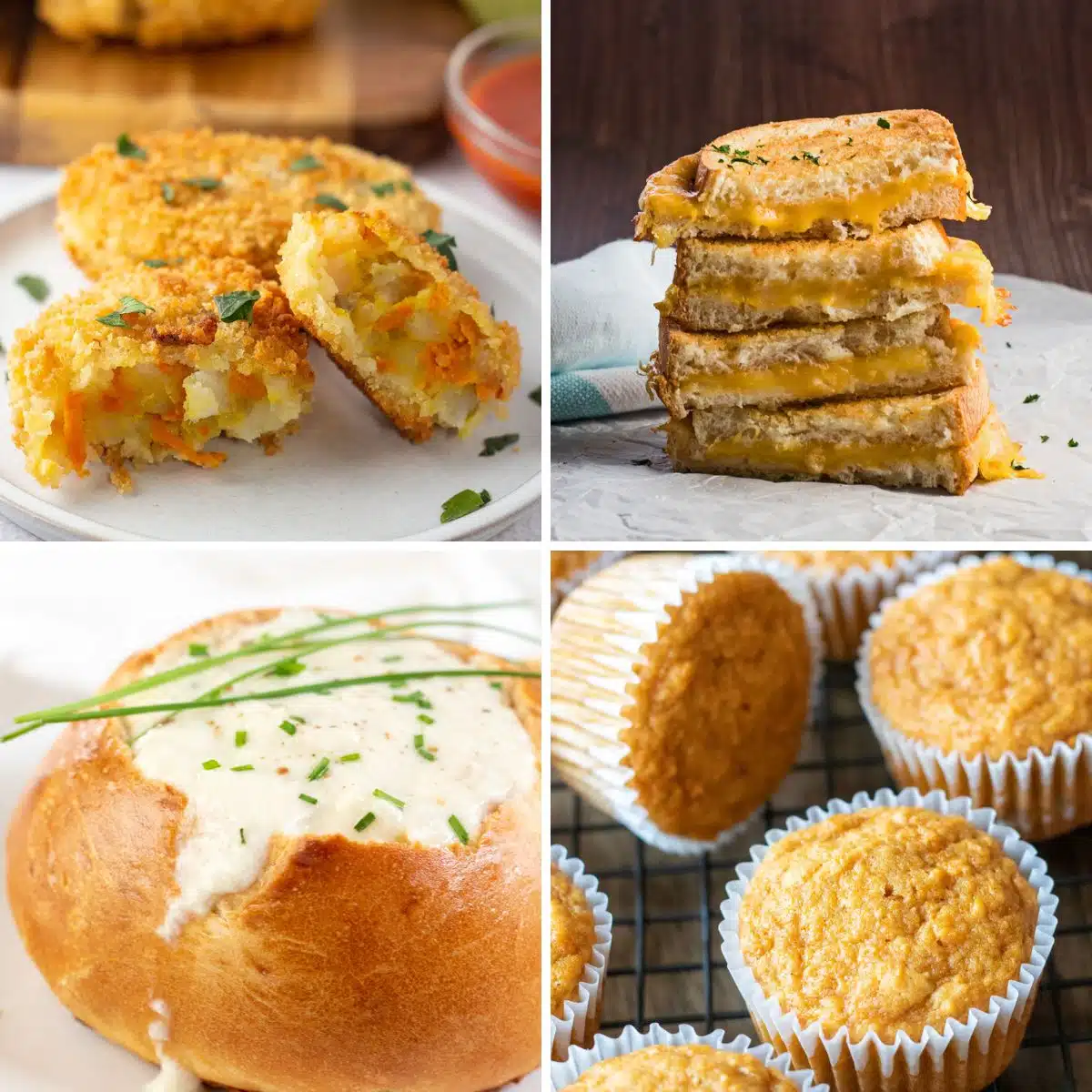 Jump to:
1. Homemade Bread Bowls
These homemade bread bowls are golden and slightly crisp on the outside, while the bread on the inside stays fluffy and soft. The bread soaks up all of the wonderful flavors of the soup, and nothing beats a bowl you can eat!
2. Sweet Potato Muffins
A warm sweet potato muffin with a big bowl of split pea soup is as comforting a meal as they come! It's sweet enough to contrast such a savory soup while not being so sweet that you should serve it as dessert.
3. Potato Croquettes
Potato croquettes are a great way to use up leftover mashed potatoes! They are fried to crispy golden perfection, but the inside stays creamy and smooth!
4. Oven Baked Potato
A cup or bowl of soup and a loaded baked potato is a perfect meal for lunch or dinner any day of the week! Typically, I prepare my baked potatoes in the oven.
However, it's just as easy to make them in the microwave, air fryer, Instant Pot, or slow cooker, with equally tasty results! All you need is your favorite baked potato toppings.
5. Air Fryer Grilled Cheese
Grilled cheeses aren't only delicious with tomato soup. It's perfectly tasty with split pea soup as well!
You can even take things one step further and add some ham to your grilled cheese! There's ham in the soup, so naturally, they pair together perfectly.
6. Green Garden Salad
What's not to love about an easy and delicious soup and salad combo? My first choice is a green garden salad with a vinaigrette, followed by a fresh Caesar salad or a wedge salad.
7. Oven Garlic Bread
The great thing about making your garlic bread is that you can make it as crispy or soft as you like! For soup, I like it a little crispier because it won't get overly soggy while dipping.
My air fryer garlic bread is ready in half the time and always turns out perfectly crusty and delicious!
8. Rhode's Rolls
With a slathering of melted garlic herb butter, these fluffy take-and-bake dinner rolls taste completely homemade. In fact, when it comes to split pea soup, you can never go wrong with bread!
>>>>See all of my recipes HERE<<<<
9. Crockpot Corned Beef
Some tender, perfectly seasoned corned beef is a great protein to pair with split pea soup. You can serve it on sandwiches, make corned beef and cabbage, or toss it in your crockpot and enjoy it on its own!
10. Honey Baked Ham
Not only is the ham bone from a honey-baked ham perfect for making split pea soup, but extra cubed ham on top or a slice to the side never hurts! In fact, there are many types of ham, and every single one would taste great with split pea soup.
11. Zucchini Fritters
Zucchini fritters are an easy veggie-based side dish with a fantastic crunch! You can dip them in your favorite condiments or sauces or dunk them straight into your soup.
12. BLT sandwich
There's absolutely no shame in pairing your split pea soup with a simple yet delicious sandwich like a BLT. Use thick slices of fresh, juicy tomatoes and extra-crispy bacon for a perfectly balanced combination of textures!
13. Ham and Cheese Quiche
While you may consider quiche a breakfast food, it's perfectly acceptable to enjoy for brunch, lunch, or dinner, too! This savory ham and cheese quiche is a great way to work in some extra protein and balance out the soup's richness.
14. Sour Cream Cornbread
For extra moist cornbread, you have to try mixing in some sour cream! Both split pea soup and cornbread are classic Southern dishes that never disappoint.
15. Ranch Roasted Potatoes
These crispy potato wedges are still soft and fluffy on the inside with tons of tangy and herbaceous ranch flavor! Don't worry; they still taste great with ketchup and come 100% kid-approved.
💭 Tips For Choosing What To Serve With Split Pea Soup
Bread or Rolls: A classic choice is to serve split pea soup with crusty French bread or dinner rolls. Sourdough, whole wheat bread, or even cheesy garlic bread are all great options.
Crackers: A handful of crackers, such as saltines, whole-grain crackers, or oyster crackers, will add a nice crunch to your soup.
Salad: A fresh green salad is a light, healthy side dish. I recommend a simple green salad with vinaigrette or a Caesar salad to balance the soup's richness.
Sandwich: A sandwich would be perfect alongside your bowl of split pea soup. A turkey or ham sandwich, a grilled cheese, or a BLT are all excellent choices.
Cornbread: Cornbread is a classic Southern side dish and pairs well with hearty soups like split pea. You can dunk it, butter it, or whatever you like!
Split pea soup tastes even better with the perfect side dish! What do you typically serve with your split pea soup? Let me know in the comment section below!
📋 Recipe