Know what to serve with crack chicken to make a hearty family meal come together, whether it's lunch or dinner! All of my favorite sides are shared here, and they are absolutely perfect for pairing with this rich, creamy chicken entree! From easy finger foods like Cajun fries to quick veggies and rice, you'll find a dish everyone will enjoy!
Best Side Dishes For Crack Chicken
You'd better have great sides when you're dishing up a flavor-packed main protein like crack chicken! If you're sandwiching this tasty chicken and serving it as a lunch or dinner, you'll love finger food options!
Alternatively, when serving your creamy chicken dish over a bed of rice, a veggie choice is exactly what you need! See all my best and favorite side dishes for my crack chicken recipe here!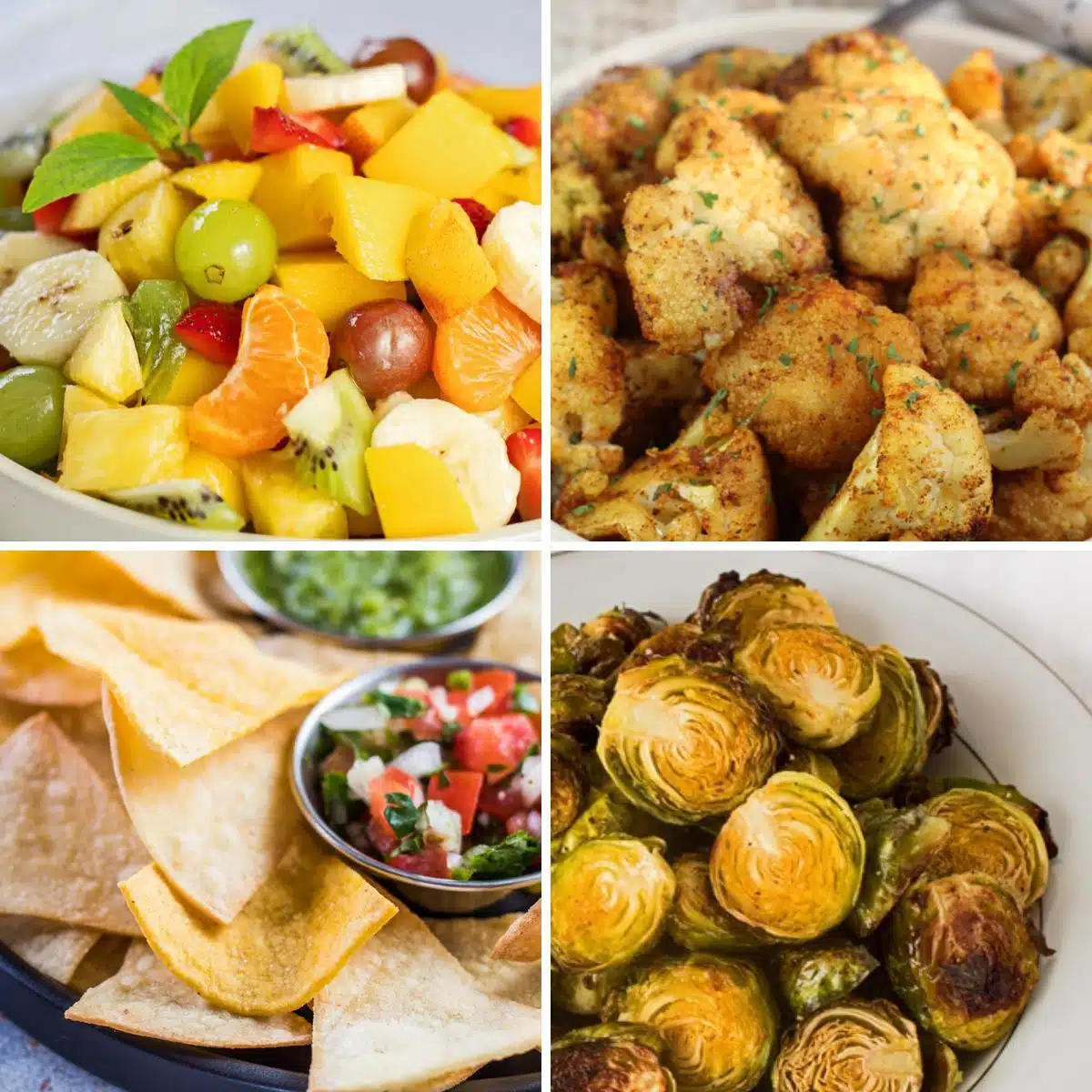 Jump to:
1. Instant Pot Long Grain Rice
This Instant Pot long-grain rice recipe requires three simple ingredients and only takes 15 minutes to make! It's the perfect base for crack chicken and will make your chicken dinner even more filling.
Plus, you don't have to worry about the fuss of cooking rice on the stovetop. All you have to do is rinse your rice and let your pressure cooker do all the work for you!
2. Sauteed Broccolini
Sauteed broccolini is an easy and versatile vegetable side dish that complements many main course dishes! Full of citrus and salty Parmesan flavors, this recipe is wonderful to make if you have picky eaters in your home.
If you can't find broccolini at your local grocery store, you can use broccoli in place or try my steamed broccoli! I even have a tasty cheese sauce to pour on top if you'd like.
3. Kaiser Rolls
If you want to make creamy crack chicken sandwiches, my Kaiser rolls are incredibly simple to make and cook up perfectly every time! They turn out with a delightfully crispy crust and a tender, chewy bread center, making them a great hamburger-styled bun for any occasion.
Don't worry if you've never baked your buns before; I will walk you through them step-by-step! I even share all the ways to toast them in the oven, on the grill, or on the stovetop if preferred!
4. Air Fryer Tortilla Chips
These air fryer tortilla chips are so easy to make and taste better than any store-bought version! In just 15 minutes, you'll have crispy chips that you can either dip into your crack chicken or serve as a side for crack chicken sandwiches!
Since they are cooked in the air fryer, you'll never have to worry about any greasy chips again! All it takes is flour or corn tortillas, extra virgin olive oil, and salt.
5. Air Fryer Cauliflower
This tasty cauliflower recipe is the ultimate way to get a tender, crispy, and flavorful vegetable side dish that everyone will enjoy! Cooking it in the air fryer is extremely easy and will allow you more time to focus on what you serve it with!
Plus, it's less hassle than roasting, boiling, or frying! Whenever crack chicken is on the menu in my home, I always keep this dish at the top of my go-to list for easy sides.
6. Roasted Green Beans
Roasted green beans are a refreshing and nutritious side dish that takes little effort to make! This recipe features fresh green beans that are tossed in olive oil, minced garlic, salt, and ground black pepper.
Finish these tender green beans off with melted butter and lemon juice after they come out of the oven! I've even included a few tasty variations that you can try out depending on your family's preferences.
7. Brioche Buns
These brioche hamburger buns are amazingly flavorful and sturdy enough to pile in your crack chicken for sandwiches! They have a soft, rich, buttery texture inside and a beautiful golden crispy crust on the outside.
If you are intimated by working with yeast, there's no need to be because these buns are just that easy! Once you try them out for yourself, you'll want to make homemade bread all the time.
8. Roasted Garlic Mashed Potatoes
If your family is like mine, mashed potatoes are frequently on the menu for dinner as a side dish. When you add roasted garlic, it truly takes your regular creamy mashed potatoes to the next level!
Trust me; the flavor is so addicting that there won't be any leftovers! And when you pair these potatoes with your creamy crack chicken, you're in for an unforgettable meal.
>>>>See all of my recipes HERE<<<<
9. Air Fryer Potato Chips
Another tasty finger food option to serve with your crack chicken meal is my air fryer potato chips! They're wonderfully crispy but without all of the grease from a store-bought bag.
Not only are they healthier, but they are also incredibly easy to prepare with 3 simple ingredients. Choose your favorite potato variety like russet or Yukon gold potatoes, slice, coat with olive oil, and season, then air fry to crunchy perfection!
10. Twice Baked Sweet Potatoes
Twice-baked sweet potatoes are a satisfying side dish to pair with your creamy crack chicken dinner. They're filled with your favorite savory baked potato toppings like diced bacon, jalapeno, green onions, shredded cheddar, lime juice, and sour cream!
However, you can always make the filling sweet if you like with brown sugar, butter, cinnamon, and cream cheese! All you'll need is a baking sheet, a mixing bowl, and a skillet to get started.
11. Grilled Corn On The Cob
Grilled corn on the cob is another incredibly easy vegetable side dish that's full of sweet and smokey deliciousness! They're grilled for 15-20 minutes then smothered with a melted butter and seasoning mixture for an even more tasty flavor.
While your slow cooker crack chicken is cooking nice and slow, go ahead and fire up your grill to make this side that everyone will love. You'd even have enough time if you made Instant Pot crack chicken too if you soak the corn in advance!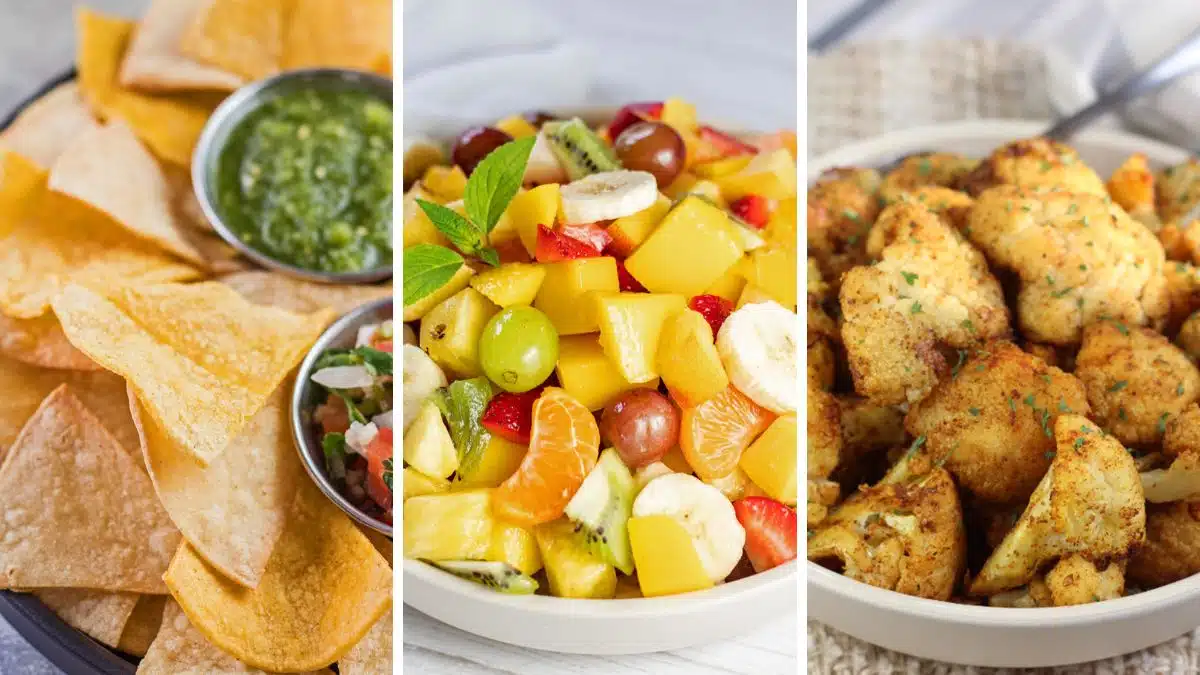 12. Air Fryer French Fries
These air fryer French fries are a healthier alternative to the traditional fried French fries we all love. It's a wonderful recipe to keep in your rotation of easy side dishes, especially if you are new to using an air fryer.
You can prepare these fries homemade with russet potatoes or air fry your favorite brand of frozen French fries! Either way, they're ready to serve on the table in under 30 minutes.
13. Roasted Brussel Sprouts
Roasted brussel sprouts are a simple, yet flavorful veggie that will give nutrition and color to your crack chicken main course. You can use frozen or fresh brussel sprouts in this recipe and roast them at different times to fit your family's texture preferences.
The brussel sprouts caramelize beautifully in the oven and develop a crispy exterior while the interior remains tender. It's a dish that is suitable for simple weeknight dinners or even special occasions and holiday gatherings!
14. Cajun Fries
If you're looking for a side dish that has a kick of spicy flavor, these Cajun fries are just the thing! I use my homemade Cajun spice blend to make them extra special, but you can use any of your favorite brands like Slap Ya Mama.
Simply pick up some russet potatoes, peanut oil, and Cajun seasoning (or make mine) the next you are at the grocery store. Serve alongside crack chicken sandwiches and watch how quickly everyone will clear their plate!
15. Fruit Salad
A bright and refreshing fruit salad is the perfect light choice to pair with a more hearty main course like crack chicken! This super easy recipe features grapes, nectarines, mango, kiwi, strawberries, orange, bananas, and pineapple all tossed in a honey citrus sauce!
You can even prepare this salad as an appetizer on a hot summer day. Once you try it, you'll never want to make it another way or use any canned versions.
Tips For Pairing The Perfect Sides With Crack Chicken
Here are some simple tips and tricks for pairing side dishes with your crack chicken without overpowering it:
Balance Richness. Because crack chicken is a rich dish, consider pairing it with sides that will balance out the richness. Light, fresh, and slightly acidic side dishes can provide a great balance. A simple green salad with a vinaigrette, pickled vegetables, or coleslaw would work well.
Complement Creaminess. Complement the creaminess of crack chicken with something hearty, like roasted vegetables or baked potatoes. These sides can stand up to the robust flavors of the chicken and add some texture to the meal.
Add Color. Crack chicken tends to be monochromatic, so consider side dishes that add color to your plate. Brightly colored vegetables like broccoli, bell peppers, or carrots can add visual appeal and nutritional value.
Consider Grains. Grains like rice, quinoa, amaranth, or pasta can help to soak up the sauce from the crack chicken and make the meal more filling. You could also consider serving the crack chicken over a bed of mashed potatoes or cauliflower rice for a low-carb option.
Keep it Simple. Given that crack chicken has a lot of flavors, you might want to keep your side dishes fairly simple. Pan-fried asparagus, sauteed green beans, or roasted brussels sprouts would all be great options.
Add Some Bread. A nice piece of crusty rustic bread or oat rolls can be a great side to help scoop up any leftover sauce and add some contrasting texture. Or, serve your crack chicken like a dip in my homemade bread bowls.
Consider Texture. Crack chicken is quite soft and creamy, so adding a side dish with a contrasting texture can be a good idea. Consider something crispy, like sweet potato fries or a raw cucumber vinegar salad.
Now that you have a list of tasty side dish ideas to complement your crack chicken lunch or dinner, which one are you most excited to try? Leave a comment down below to let me know what you think!
📋 Recipe