These leftover fried chicken recipes are just what you need if you find yourself with some extra crispy fried chicken on hand. On its own, fried chicken is almost never as good the second time around. But with these tasty recipes, you'll be looking forward to having leftovers!
Ways To Use Leftover Fried Chicken
Everyone loves fried chicken. With crispy breading on the outside and juicy meat on the inside, it's classic comfort food. But what do you do with the leftovers?
From soups and salads to casseroles and quick stir-fries, fried chicken can be repurposed into so many incredible meals. Plus, it's already cooked so it cuts down on prep time a lot! Keep reading for 15 of my favorite recipes to make using leftover fried chicken!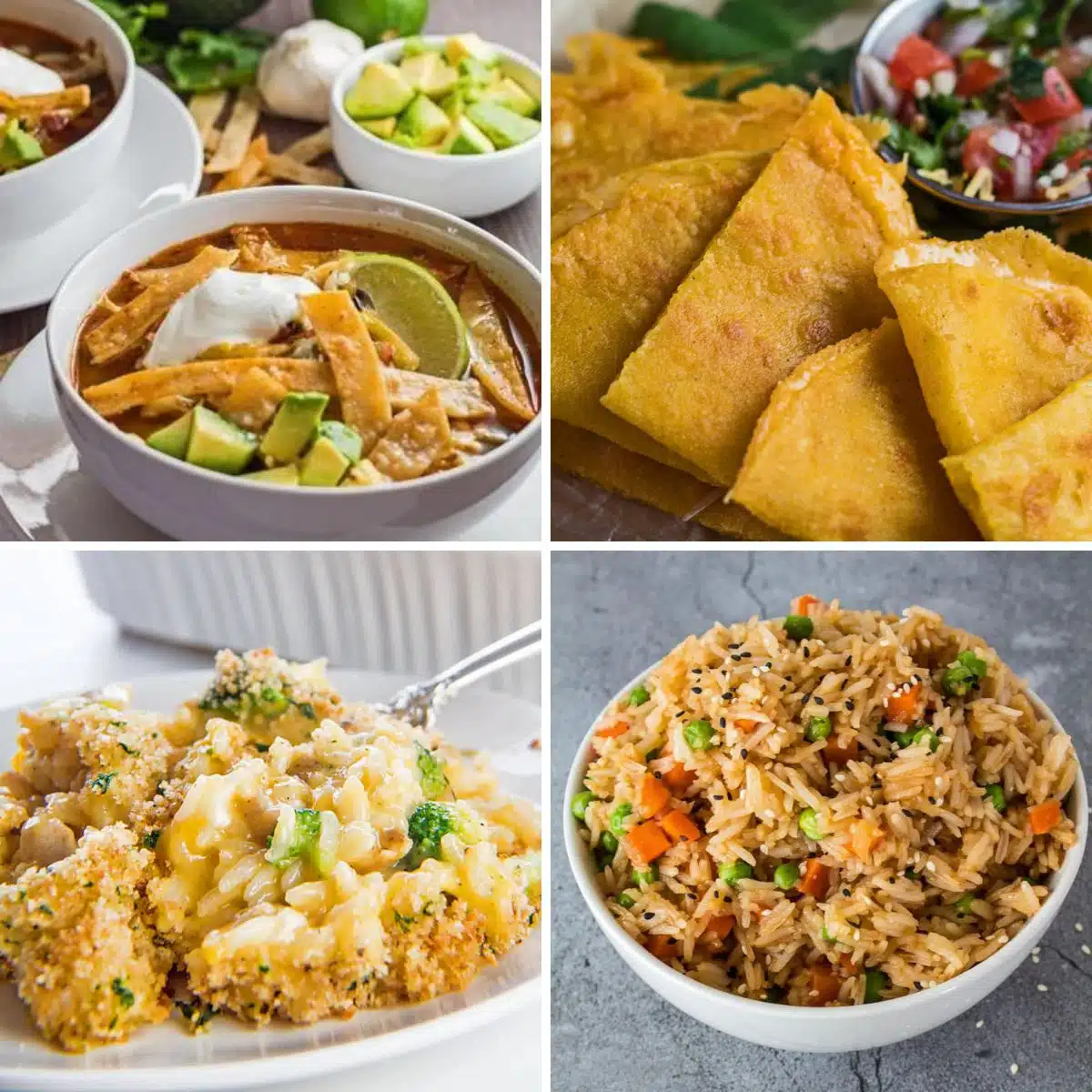 Jump to:
Want More Recipes? Enter your email below and we'll send them straight to your inbox!
For more quick and easy dinner ideas, check out all of my family-favorite recipes for using up leftover chicken (fried or not)!
1. Chicken Fried Rice
Chicken fried rice is one of my favorite things to prepare with leftover fried chicken. Because the chicken has already been cooked, you can just toss it in the skillet near the end of cooking your fried rice until it is heated through.
Sometimes we turn it into 'takeout night' by starting off with crab rangoons and busting out the chopsticks!
2. Ritz Chicken Casserole
This easy 7-ingredient casserole makes a great family dinner any day of the week! It's creamy, cheesy, and crunchy, so you're extra fried chicken will blend right in (you'll need about 4 cups diced up).
The best part of this casserole is the buttery topping made with Ritz crackers! Don't be surprised when everyone goes for seconds.
3. Chicken Broccoli Rice Casserole
Cheesy chicken broccoli and rice casserole is another crowd-pleasing dinner. With 8 hearty servings, it's more than enough to feed the whole family!
You can totally skip pan-frying the chicken before assembling the casserole because it's already cooked!
4. Chicken Parmesan Pizza
Fried chicken is the perfect thing for topping off a homemade pizza! Just slice some of your leftover chicken and put it on top, it will warm up while the pizza cooks.
This chicken Parmesan pizza keeps things simple with mozzarella cheese, chicken, and pizza sauce, but you could add any of your favorite pizza toppings!
5. Chicken Tortilla Soup
Dice or shred your leftover chicken and use it to make homemade tortilla soup! This is one of my favorite cold-weather recipes because it's warm and slightly spicy with plenty of tender vegetables.
I try to remove as much of the breading as I can beforehand, but it's usually relatively easy once you start slicing.
6. Chicken Spaghetti
Everyone will love this super easy chicken spaghetti with creamy cheese sauce. From start to finish, it only takes about 30 minutes to make!
Just dice up some leftover chicken, cook the pasta, make your cheese sauce, toss everything in a baking dish, and pop it in the oven!
7. Chicken Quesadillas
Chicken quesadillas are one of the quickest and easiest meals you can make with leftover chicken. They're great because you can easily customize everyone's quesadilla to suit their tastes!
Whether you like yours with just chicken and cheese or you prefer to add some veggies, you really can't mess them up! I like to serve chicken quesadillas with sides of guacamole, sour cream, and salsa for dipping.
8. Chicken Noodle Soup
When looking for ways to use up leftover chicken, you can't go wrong with chicken noodle soup made from scratch. It's a classic comfort food recipe that is a hit with kids and adults alike!
If you're looking for a heartier meal, check out my post on what to serve with chicken noodle soup for great side dish ideas!
9. Chicken a la King
Chicken a la king is made by combining tender chunks of chicken and vegetables in an ultra-creamy sauce. You can serve chicken a la king over rice, pasta, mashed potatoes, or with crusty French bread for dipping.
Because your chicken is already cooked, you can have this chicken a la king on the dinner and ready to eat in just 15 minutes.
10. Bisquick Chicken and Dumplings
If you're craving a hearty and comforting soup, chicken and dumplings is about as satisfying as they come. The rich and creamy broth, tender vegetables, chunks of chicken, and fluffy biscuits will have you savoring every bite.
11. Chicken Salad
Chicken salad makes a fabulous light lunch on its own, or you can use it to make sandwiches if you want something more filling. I often use rotisserie chicken, but fried chicken would be just as tasty!
My recipe includes crispy onions and celery as well as a super simple Dijon mustard dressing. You could try this mayonnaise-based chicken salad with grapes, too!
12. Doritos Chicken Casserole
Use up your leftover chicken and that half-eaten bag of nacho cheese Doritos sitting in your pantry at the same time! If you don't have Doritos, this cheesy casserole is worth a quick trip to the store.
This casserole is a whole dinner in one dish. It's loaded with chicken, black beans, tomatoes, cheesy chicken sauce, and of course, Doritos chips. It's so fun and full of flavor, you'll want to make it every week!
13. Chef's Salad
The great thing about using leftover fried chicken for a chef's salad is that you don't even have to heat it up! This chef's salad has a little bit of everything- tomatoes, hard-boiled eggs, cheese, croutons, and pepperoni.
I used leftover turkey here, but you could easily swap it for whatever poultry you have on hand (fried chicken included)! Of course, you can use your favorite salad dressing, too!
14. Biscuit Chicken Pot Pie
This biscuit chicken pot pie casserole has all the classic flavor of chicken pot pie, but with half the work. Even the made-from-scratch cream biscuits are fairly simple to prepare.
If you're on a time crunch you can always pick up a tube of biscuits at the store and pop them on top instead.
15. Chicken Fettuccini Alfredo
Slice your fried chicken, cook some pasta, and whip up a batch of homemade alfredo sauce and you have a quick and easy chicken fettuccini alfredo! You can skip cooking the chicken which cuts down the already impressive 30-minute cook time for this recipe significantly.
What are some of your favorite leftover fried chicken recipes? If it's not on the list, let me know in the comments below so I can give it a try!
>>>>See all of my recipes HERE<<<<
😋 More Easy Dinners
📋 Recipe