Understanding how long to boil potatoes is essential for making a wide variety of different potato-based dishes! From types of potatoes to different recipes, I'm going to break down everything you need to know about boiling potatoes! You'll have perfectly cooked potatoes every single time!
Guide To Boiling Potatoes
You've probably come across boiling potatoes in a variety of different recipes, from mashed potatoes to potato salad and tons of dishes in between! While it may seem like a simple task, there are definitely a few tips and tricks out there for ensuring perfectly boiled potatoes any time you need them!
This guide will answer all of your questions, including how long to boil potatoes! Keep on reading and you'll be an expert in no time!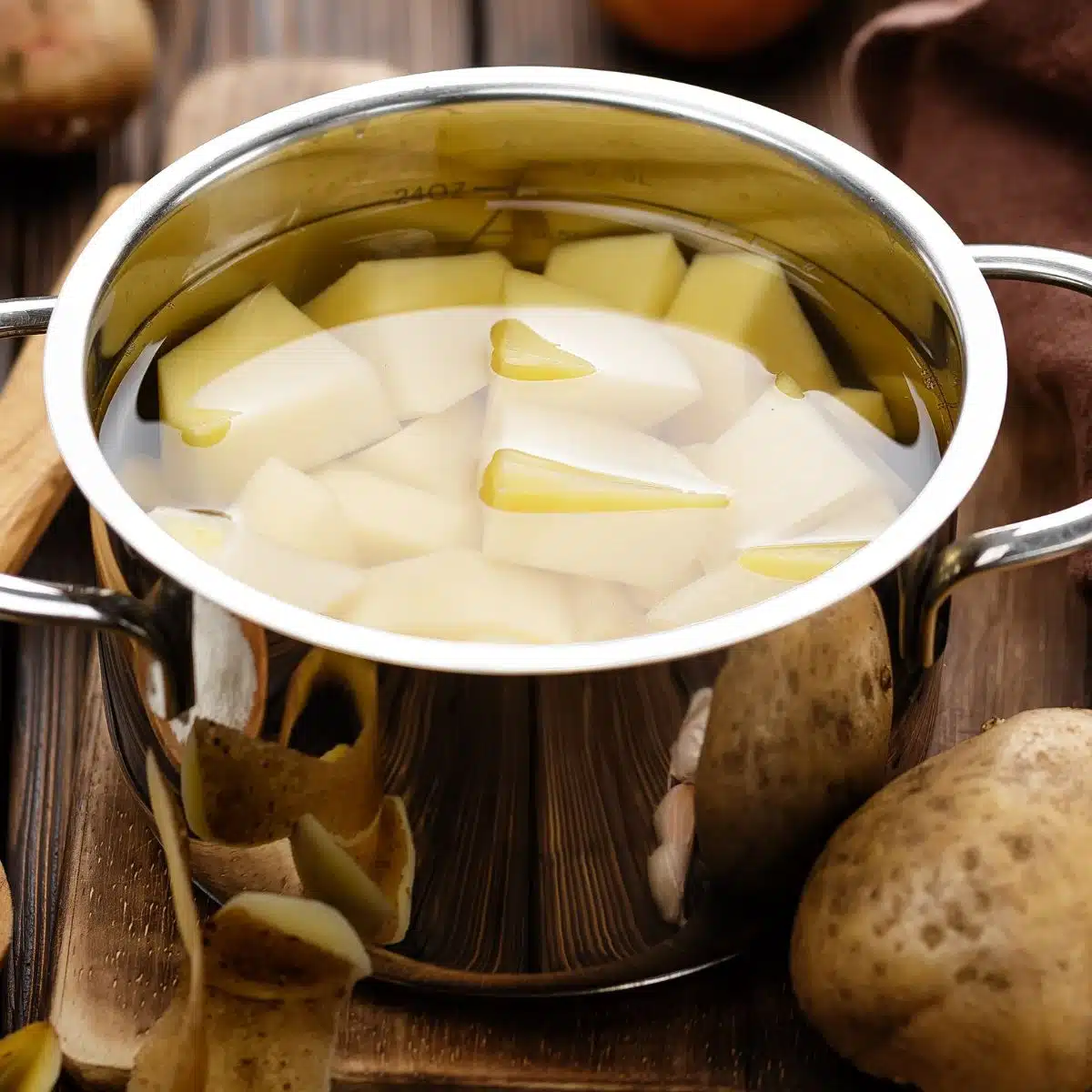 Jump to:
Want More Recipes? Enter your email below and we'll send them straight to your inbox!
For more helpful potato guides, take a look at the best potatoes for baked potatoes, the best potatoes for mashed potatoes, and how to scald milk quickly for mashed potatoes!
How To Boil Potatoes
Boiling potatoes is super easy and straightforward. Just follow these steps for some perfectly cooked spuds!
Using a brush, gently scrub the outside of your potatoes underneath some cool running water to remove any dirt.
Place the potatoes in a large pot. *You can also cut the potatoes into large chunks first for faster cooking.
Cover the potatoes with cold water, making sure that they are submerged by at least 1 inch. Don't forget to salt the water for added flavor!
Place the pot on the stovetop over high heat and bring the water to a boil.
Boil until easily pierced with a fork. *Boiling times are listed below.
Remove the potatoes from the water and transfer them to a plate for a few minutes (depending on the recipe that you will be using them for).
How Long To Boil Potatoes
The exact time that it will take for your potatoes to boil depends on a couple of factors, mainly how large the potatoes are and if you choose to cube them first.
Peeled and cubed potatoes: 10-12 minutes
Whole red or Yukon gold potatoes: 15-20 minutes
Whole russet potatoes: 25-30 minutes
How Long Does It Take To Boil Whole Potatoes
You can still boil your whole potatoes, regardless of the variety. Below is a handy chart for approximately how long it will take to cook your potatoes once the water has begun boiling.
| | | |
| --- | --- | --- |
| Type of Potato | Potato Size | Boiling Time |
| Baby Potatoes | 1 inch (2½ cm) | 12 minutes |
| Small Potatoes | 2 inches (5 cm) | 15 minutes |
| Medium Potatoes | 3 inches (7½ cm) | 20 minutes |
| Large Potatoes | 4 inches (10 cm) | 25 minutes |
| XL Potatoes | 6 inches (15 cm) | 30 minutes |
How To Know When Potatoes Are Done
Luckily, it's super easy to tell when your potatoes are done cooking! You'll know they are good to go when you can easily pierce them with a fork (making sure to go all the way through to the center).
Boiling Potatoes In The Microwave
Did you know you can even boil your potatoes in the microwave? This method is perfect for if you're in a time crunch, as it is even faster than using the stovetop!
Simply place a couple of potatoes into a microwave-safe bowl and add a couple of tablespoons of water. Cover the dish and heat on high power for 6-8 minutes (for large potatoes). That's it!
Best Potato Varieties For Boiling
You can boil any of your favorite varieties of potatoes. However, some types hold up to the boiling process better than others. Make sure to choose one that works well for the recipe you're following!
Baking Potatoes: These starchy potatoes are ideal for making mashed potatoes, as they have a super fluffy interior and easily fall apart. This includes varieties such as russets, Idahos, and purple potatoes.
All-Purpose Potatoes: As the name implies, all-purpose potatoes are well-suited for a variety of different dishes and recipes. They have a medium starch content and can be enjoyed in casseroles, soups, potato salad, and more! This includes varieties such as Yukon gold and red gold potatoes.
Waxy Potatoes: At the other end of the spectrum from baking potatoes, you'll have waxy potatoes that have a low level of starch content. This means that these potatoes hold their shape and remain firm after cooking, making them great for dishes such as potato salad. This includes varieties such as red bliss, fingerlings, and round white.
Boiling Sweet Potatoes
Sweet potatoes, as well as yams, can be boiled using the same method as any other potato variety. For quicker results, cut your sweet potato into chunks. This way, they should be done cooking in about 15-20 minutes.
Tips For Boiling Potatoes
If you are boiling whole potatoes, make sure you use potatoes that are similar in size so that they cook at the same rate.
Choose potatoes that are brown in color and don't have any bruises or soft spots.
Make sure to scrub your potatoes before using them in order to remove any excess dirt.
Starting your potatoes in cold water helps to ensure that they cook evenly.
Adding salt to your water helps to add tons of flavor to your potatoes!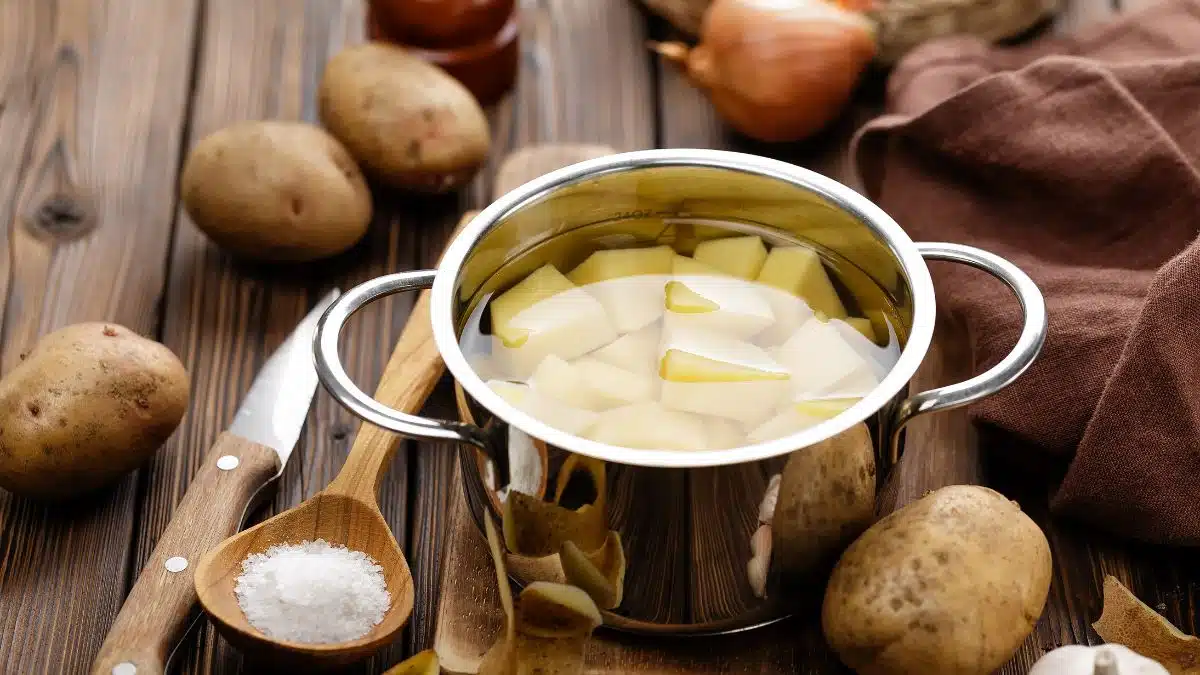 Now you know how to make perfect boiled potatoes every single time! What is your favorite way to enjoy boiled potatoes? Leave a comment down below and let me know!
>>>>See all of my recipes HERE<<<<
❓ FAQ
Should Potatoes Be Peeled Before Boiling?
Technically, this is a personal preference. Some people insist that it is better to boil potatoes without peeling them. With the peel on, your potatoes will absorb less water during the cooking process (and it's easy to remove the peel after cooking if you don't want to eat it).
Is It Better To Boil Potatoes Whole Or Cubed?
Again, this is totally up to you! Cubed potatoes will definitely cook faster, so it is my preference! But you can boil them whole if you like. They both cook the potatoes just fine, so neither option is better than the other.
Can You Boil Potatoes Too Long?
Yep! Potatoes actually can be boiled for too long. If they spend too much time boiling, the potatoes will absorb too much water and become waterlogged. This affects the texture of the potatoes, making them grainy and mushy.
🥔 Best Potato Recipes
📋 Recipe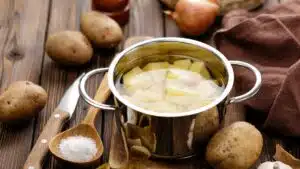 Print Recipe
Leave A Comment
Love This Recipe?
Click On A Star To Rate It!
How Long To Boil Potatoes: Boiled Potatoes (+Tips & Tricks For Tasty Potato Side Dishes!)
Understanding how long to boil potatoes is essential for making a wide variety of different potato-based dishes! From types of potatoes to different recipes, I'm going to break down everything you need to know about boiling potatoes! You'll have perfectly cooked potatoes every single time!
Pin Recipe
Share on Facebook
Ingredients
Instructions
In a large saucepan or stock pot, add the baby potatoes, bay leaf, Kosher salt, peppercorns, garlic cloves, and enough water to cover the potatoes by about an extra inch.

1 lb baby potatoes,

1 whole bay leaf,

2 teaspoon Kosher salt,

1 teaspoon black peppercorns,

4 whole garlic cloves

Bring the water to a boil, then reduce the heat and simmer for about 5-8 minutes. Once the potatoes are fork tender, remove from heat. Drain and discard the bay leaf, peppercorns, and garlic cloves.

Return the drained boiled potatoes to the saucepan or a clean bowl and toss with melted butter. Season to taste with salt and pepper, then serve immediately.

2 tablespoon butter,

each, salt & pepper
Equipment You May Need
Nutrition
Calories:
143
kcal
(7%)
|
Carbohydrates:
21
g
(7%)
|
Protein:
3
g
(6%)
|
Fat:
6
g
(9%)
|
Saturated Fat:
4
g
(25%)
|
Polyunsaturated Fat:
1
g
|
Monounsaturated Fat:
1
g
|
Trans Fat:
1
g
|
Cholesterol:
15
mg
(5%)
|
Sodium:
1220
mg
(53%)
|
Potassium:
499
mg
(14%)
|
Fiber:
3
g
(13%)
|
Sugar:
1
g
(1%)
|
Vitamin A:
199
IU
(4%)
|
Vitamin C:
23
mg
(28%)
|
Calcium:
25
mg
(3%)
|
Iron:
1
mg
(6%)
Boiled Potatoes, how long to boil potatoes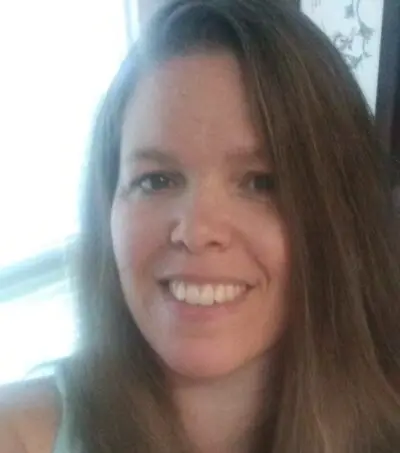 Angela is an at home chef that developed a passion for all things cooking and baking at a young age in her Grandma's kitchen. After many years in the food service industry, she now enjoys sharing all of her family favorite recipes and creating tasty dinner and amazing dessert recipes here at Bake It With Love!