Knowing fruits that start with F can come in handy for fun food challenges like cooking through the alphabet or trivia! Fruits that start with F are surprisingly hard to come up with, so I did the work listing them all out for you! I guarantee you'll discover some unique fruits you've never heard of before!
Fruits Beginning With The Letter F
When it comes to fruits that start with the letter F, the options are few and far between. In fact, before I did my research, figs and Fuji apples were the only things to come to mind!
Many of these fruits that begin with F only do so because of the location or region they are grown in. So keep reading to learn about different fruit varieties that start with F from all over the world!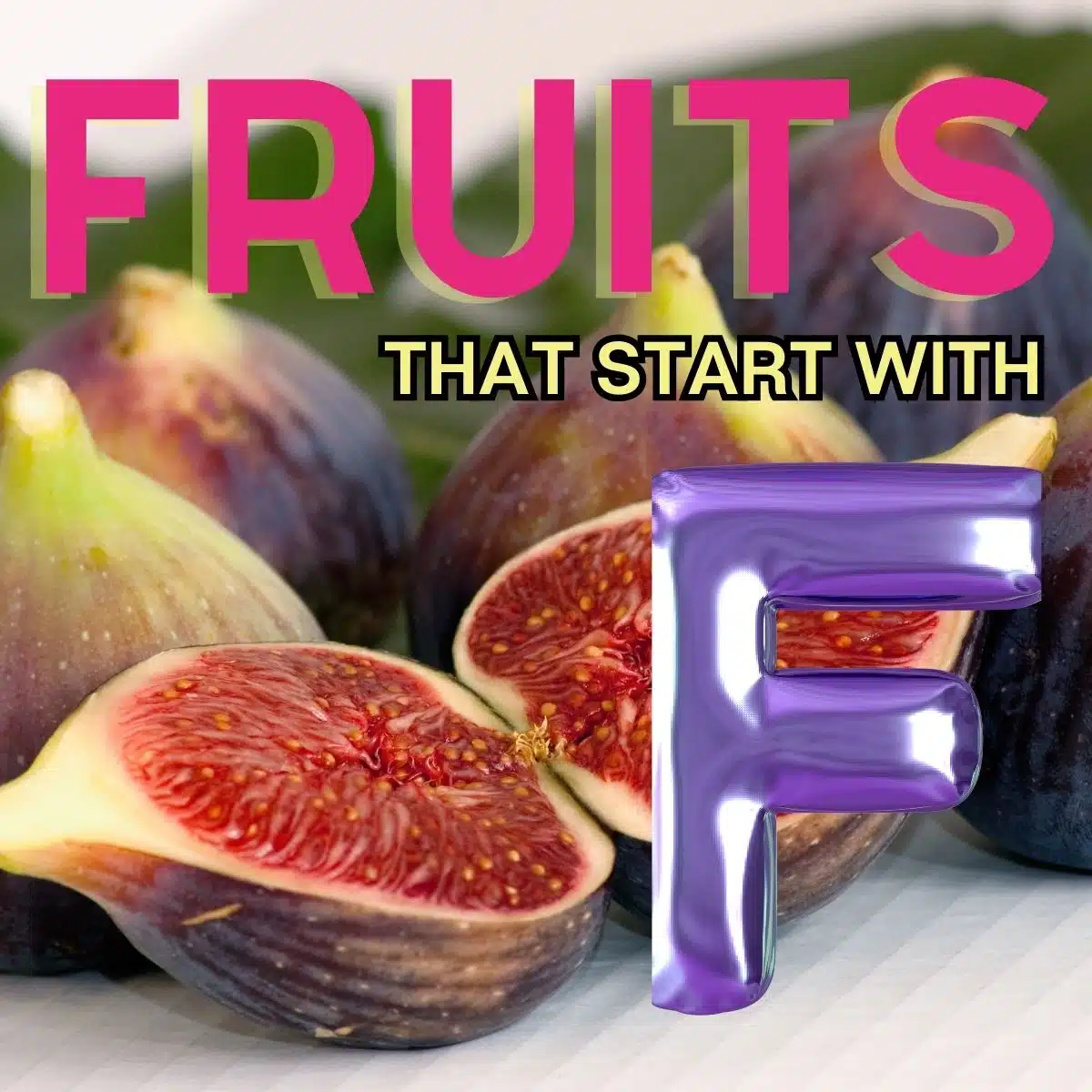 Jump to:
1. Fairchild Tangerine
Fairchild tangerines, also known simply as Fairchilds, are a tasty citrus fruit variety that is known for their sweet and tangy flavor profile. They have a deep orange color and a thin, easy-to-peel skin, making them a convenient and mess-free snack option!
What makes them extra special is their exceptional sweetness, often described as having honey-like undertones. This sweetness makes them a versatile ingredient in various dishes, from salads (such as a refreshing fruit salad) and desserts to marmalades and marinades!
2. Falberry
Falberry is another name for the Bilberry (also known as European blueberries). They are often mistaken for blueberries due to their similar appearance, but they have a more intense, sweet-tart flavor that sets them apart.
Their dark color is due to the high content of anthocyanins, which not only give them their vibrant hue but also contribute to their antioxidant properties! Bilberries are a versatile fruit used in various dishes, from jams and pies to beverages and baked goods.
3. False Mangosteen
A type of fruit found in Southeast Asia, it's similar in taste to the mangosteen but belongs to a different family of plants. It is small, round, and typically greenish-yellow when ripe, with a slightly wrinkled appearance.
It has a sweet and tangy flavor, but it lacks the deep flavor of the true mangosteen. In some regions where false mangosteen grows, its fruit is used in cooking, particularly in Thai and Malaysian cuisine.
4. False Mastic
A small, tart, tropical fruit native to the Caribbean and parts of Florida. It is known as "false mastic" due to its similarity in appearance to the true mastic tree (Pistacia lentiscus), which produces the well-known mastic resin used in various culinary and medicinal applications.
It has a sweet and mildly bitter flavor, making it a unique addition to dishes. In the Caribbean, false mastic fruits are occasionally used in recipes, including jams, jellies, and beverages. They are also known to be eaten fresh, but not as frequently as other tropical fruits.
5. Fantasia Nectarine
A variety of nectarine with bright red skin and yellow flesh which is known for their sweet taste and firm texture. They are typically larger than other nectarine varieties.
The flesh inside is juicy and slightly tangy, making them a popular choice for enjoying fresh as a healthy snack or in a variety of recipes. They can be eaten on their own, added to fruit salads, used in baking, or blended into smoothies!
6. Farkleberry
Farkleberries are a lesser-known member of the blueberry family, found primarily in the southeastern United States. They have a deep purple-to-black color and smooth skin.
They have a mild, somewhat earthy taste with a hint of sweetness. While they are not as well-known or commercially cultivated as blueberries, farkleberries are sometimes used for jellies or wine.
7. Fe'i Banana
A type of banana that is orange to red in color and native to the island of Tahiti. They are typically smaller and thicker in shape, with thick skin that can be challenging to peel compared to typical bananas.
Fe'i bananas have a rich, starchy texture and unique flavor, which can vary from sweet to tangy depending on the variety. They are often enjoyed cooked rather than eaten raw.
What makes them even more special is that they are commonly used in rituals and ceremonies within the local communities! You'll usually see them boiled, roasted, or baked, and they serve as a key ingredient in various dishes, including puddings, pancakes, and savory dishes.
8. Feijoa
Also known as pineapple guava or guavasteen, it is a small, green fruit with a tart and aromatic flavor. The flesh inside is soft, grainy, and juicy, filled with a jelly-like center containing a lot of small, edible seeds.
Feijoas are often enjoyed by cutting them in half and scooping out the flesh with a spoon.
9. Fennel
Technically a vegetable, the plant produces small fruits that are often referred to as fennel seeds. It is a versatile and aromatic herb that is widely used in culinary and medicinal applications around the world!
Fennel has a mild, slightly sweet, and licorice-like flavor that adds a unique dimension to many recipes. In fact, both the bulb and the leaves of the fennel plant are also edible and are commonly used in a wide variety of different dishes.
10. Fermented Mango
A traditional Indian and Asian culinary practice of fermenting raw mangoes to preserve them and use them as a flavor enhancer. The fermentation process involves soaking ripe mangoes in a brine solution, typically consisting of water, salt, and sometimes spices, for a certain period of time.
This process not only adds a unique flavor to the mangoes but also lengthens their shelf life. The result is a sweet and sour treat with a rich umami undertone!
11. Fern-Leaf Yarrow
While fern-leaf yarrow is primarily grown for its attractive fern-like foliage and clusters of tiny, golden-yellow flowers, it also produces small, dry fruits.
They are tiny, hard, and are not consumed by humans or hold any culinary or medicinal significance like other parts of the plant, such as its leaves and flowers, which are used in medications and landscaping.
12. Fieldberry
Fieldberries (or wild berries) include a wide variety of species, including wild strawberries, blackberries, raspberries, and blueberries, each with its distinct appearance and taste.
13. Fig-Leaf Gourd
Fig-leaf gourds are typically long and pear-shaped, with rough, green, or yellow skin that is sometimes covered in warts or bumps. The flesh inside is pale and sweet, with a taste that is often compared to sweet potatoes or chestnuts.
14. Figs
A sweet, pear-shaped fruit known for its unique texture and taste. They have a sweet, honey-like flavor and a texture that can range from chewy to tender, depending on their ripeness.
Figs come in various colors with the inside often featuring a rich, reddish-pink flesh studded with small, edible seeds. They are commonly consumed fresh, dried, or in various dishes ranging from salads and appetizers to desserts like cakes and pastries.
15. Filbert (Hazelnut)
A type of nut often used in confections and desserts. They are enjoyed for their rich, sweet, and nutty flavor, making them a popular choice for snacking, baking, and using in various recipes.
Hazelnuts are commonly used in desserts like hazelnut chocolate spreads and cakes or even savory recipes like roasted vegetable dishes and salads. They are also a popular choice for making pralines, nut butter, and flavored coffees.
16. Finger Lime
A type of citrus that is small and elongated, resembling a finger. The interior contains small, pearl-like sacs of juice and a texture that is similar to caviar.
They are often used as a garnish for seafood, salads, and desserts, adding a citrus pop of flavor and vibrant color.
17. Fingered Citron
Also known as Buddha's Hand, this citrus fruit is unique for its long, finger-like sections. They are bright yellow or orange and do not have the typical segmented flesh found in other citrus fruits.
Instead, it is made up of fragrant and pithy segments. While fingered citrons are not commonly consumed as a fruit due to their lack of juice and flesh, the peel is prized for its culinary and medicinal applications.
18. Five-flavor Fruit
Known as Schisandra or Magnolia berry, this Chinese fruit is traditionally used for its medicinal properties and unique flavor that includes sweet, salty, bitter, pungent, and sour tastes.
19. Flame Seedless Grapes
A popular variety of seedless red grapes, often eaten fresh. Being a seedless variety makes them incredibly convenient to eat and easy to use in various recipes.
They can be eaten as a healthy snack, added to fruit salads, or used as a natural sweetener in desserts and smoothies. They are also commonly used to make raisins!
20. Florida Beauty
This variety of grapefruit is cultivated primarily in the sunny groves of Florida and has a deep pink to red flesh, which is incredibly sweet and tangy. The exceptional flavor makes Florida Beauties a favorite among grapefruit fans.
>>>>See all of my recipes HERE<<<<
21. Florida Pomelo
A variety of pomelo grown specifically in Florida which is known for its sweet-tart taste. They are closely related to the better-known grapefruit but are typically larger and have a milder, sweeter flavor.
Their taste is often described as a blend of sweet and tangy, making them a delicious and refreshing fruit option.
22. Florida Strangler Fig
A type of fig tree native to Florida, it produces small, edible fruits. These figs are typically green when unripe and turn yellow or orange when ripe.
While they are not commonly consumed by humans due to their small size and bland taste, they are an essential part of the diet for various wildlife species.
23. Forastero Cacao
The most commonly grown variety of cacao, which is used in the majority of chocolate production. Forastero cacao beans have a flavor that is bold, earthy, and slightly bitter, which makes them an ideal choice for dark chocolates and cocoa powders.
I have so many indulgent and decadent chocolate dessert recipes to check out!
24. Forest Plum
A West African fruit that is commonly consumed locally and also used for medicinal purposes.
They are small, deep purple to black fruits that have a smooth, shiny skin. The flesh inside is typically dark and juicy, with a mildly sweet and tangy flavor.
25. Forest Strawberries
Also known as wild strawberries, they are smaller than regular strawberries but with a more intense flavor. They have a tender texture and are known for their juiciness and sweet-yet-tart flavor.
You can enjoy these fresh, or use them in some tasty recipes like strawberry dump cake, strawberry angel food lush, or any of your other favorite strawberry desserts!
26. Formosa Papaya
Formosa papayas are a large variety of papaya that is often found in Brazil and the United States. These papayas are known for their large size, vibrant orange flesh, and excellent flavor.
Their flavor is sweet, aromatic, and tropical in taste, often described as a tasty blend of melon, mango, and citrus.
27. Fox Grape
A species of grape native to eastern North America, used in making wines, jellies, and grape juice. They are typically small and round with skin that ranges in color from green to deep purple when fully ripe.
While they are less commonly used for wine production compared to European grape varieties, they are typically used in the production of grape juice, jams, and jellies, and for eating fresh.
28. Fragaria (Strawberry genus)
A broad category that includes all varieties of strawberries! You can enjoy them as a healthy snack or use them to make a ton of sweet treats, make drinks, or add them to salads.
Try out some of my favorite strawberry recipes, like strawberry pineapple lemonade bars, lemon strawberry bread, or strawberry coulis.
29. Fragrant Pear
A type of pear native to China, known for its fantastic fragrance, crisp texture, and sweet, juicy flavor. They have a crisp and crunchy flesh, which is more similar to an apple in texture than a typical pear.
30. Fraise des Bois (Alpine strawberry)
Alpine strawberries are a small variety of wild strawberries. Unlike their larger and more common relatives, alpine strawberries are typically small, about the size of a blueberry, and they are known for their intensely sweet and aromatic taste.
They are often enjoyed fresh, as a snack, or as a tasty addition to fruit salads and desserts. Additionally, they are commonly used to create homemade jams, jellies, and preserves.
31. Franklinia
A type of fruit that is native to North America, the Franklinia alatamaha tree produces a dry, woody fruit that isn't typically consumed by humans. Instead, the tree is sought after for its beautiful appearance.
32. Freestone Peach
A category of peaches where the stone easily separates from the flesh. Unlike clingstone peaches, where the flesh sticks tightly to the seed, freestone peaches have flesh that easily separates from the pit, making them convenient to slice and enjoy.
They come in various cultivars, each with its distinct taste and appearance, but can all be enjoyed in a variety of dishes and recipes.
33. French Lime
Also known as a key lime, it is smaller, seedier, has higher acidity, stronger aroma, and thinner rind than the more common Persian lime. They are a staple ingredient in many iconic dishes, including the famous Key lime pie, where their juice provides a tangy, sweet, and zesty kick.
34. French Prune
A type of plum that is often dried to create prunes. These plums are typically oval-shaped with deep, rich purple to dark brown skin, and they are loved for their juiciness and sweetness when fresh.
When dried, French prunes become wrinkly, and their flavors grow more concentrated, resulting in a chewy, sweet treat.
35. Freshwater Mangrove
A plant native to Southeast Asia, Australia, and the Pacific islands, the fruit is edible but generally not eaten due to its bitter taste. The freshwater mangrove tree is a unique tree that thrives in brackish and freshwater swamp environments, usually near coastal regions.
36. Frog Skin Melon
An heirloom melon variety with a taste comparable to a cantaloupe but with a skin that resembles a frog's skin. Its sweet flavor is perfect for snacking, adding to fruit salads, or using it as a base for refreshing smoothies and beverages.
37. Fuerte Avocado
A variety of avocados which is known for their creamy texture and great taste. They are a hybrid between the Mexican and Guatemalan avocado species and have a buttery texture and a mild, nutty flavor.
They are well-loved for their ability to stay green and maintain their flavor even after being cut, making them a popular choice for salads, sandwiches, guacamole, and tons of other dishes.
38. Fuji Apples
A variety of apple that is large, crisp, and sweet, often used for fresh eating. They are a cross between two American apple varieties, the Red Delicious and Ralls Janet, resulting in a beautiful and flavorful fruit.
They make a great option for snacking, or you can use them in your favorite recipes (such as cinnamon apple bread, chicken sausage with apples, or apple cider).
39. Fukushu Kumquat
A type of kumquat, a small fruit that is similar to an orange. They have bright orange skin and the ability to be eaten whole, including the peel!
This specific variety of kumquat is sweeter than many other kinds, with a subtle hint of tartness. They can be enjoyed in dishes that are both sweet or savory and are often used to create marmalades, preserves, and candied kumquats.
40. Fuyu Persimmon
A variety of persimmon that can be eaten while still firm (or fully ripe) with a sweet and mild flavor. When fully ripe, Fuyu persimmons have a refreshingly sweet flavor with a hint of honey and floral flavors.
They are crisp and juicy, similar in texture to a ripe pear, making them a favorite choice for eating fresh.
Best Fruits That Start With F
There are so many fruits on this list that I have yet to try! However, some of my favorites are Fuji apples, forest strawberries, and (of course) Forastero cacao!
What do you think of all of these fruits that start with F? Which ones have you tried and which ones do you want to taste? Leave a comment down below and let me know!
📋 Recipe