My list of the best chocolate desserts was made by chocoholics for chocolate lovers, and you can't go wrong with any of them! This list of chocolate sweets and treats features cookies, cakes, bread, candy, and so much more!
The Best Chocolate Desserts
So many delicious desserts can be made with chocolate. From fluffy cakes, to fudgy brownies, to fabulous cookies and more!
There's no denying the popularity of chocolate in all its forms. There are limitless varieties and flavor combinations, and everyone has a favorite.
No matter your type, there is bound to be a delicious chocolatey treat on this list that speaks to you. So take a peek at some of my favorite chocolate dessert recipes and maybe you'll find your new fave!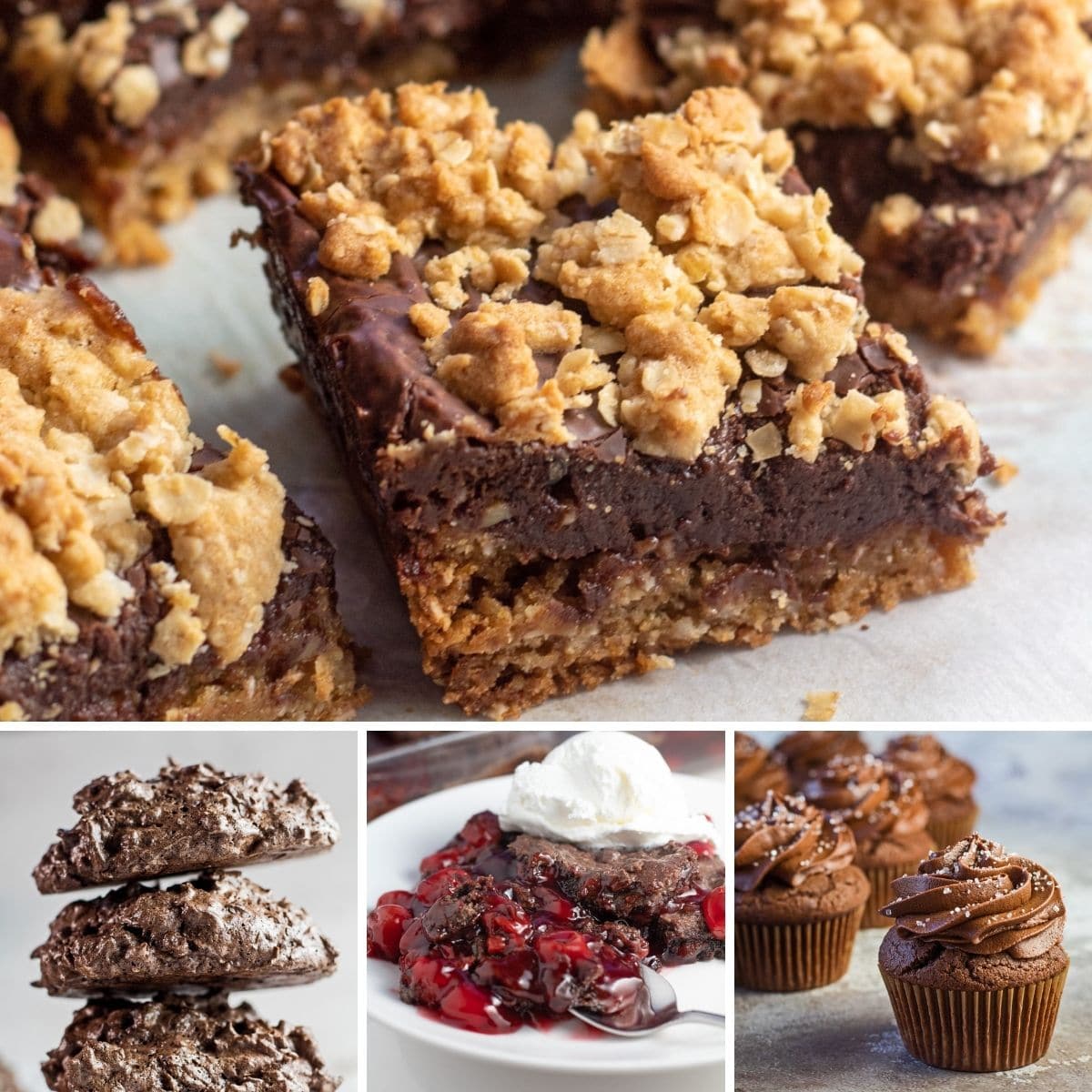 An amazingly tasty assortment of chocolate desserts that you're sure to love!
Jump to:
1. Chocolate Covered Strawberries
Chocolate covered strawberries are the sweet and simple dessert that everyone loves! Delicious fresh strawberries covered in velvety chocolate, how can you go wrong?
2. Revel Bars
Chocolate revel bars are a delectable treat, with a buttery oatmeal crust and delicious fudgy filling! Pair these mouthwatering bars with a glass of ice-cold milk and enjoy!
3. Chocolate Chip Mug Cake
This chocolate chip mug cake is easy to make and super delicious! These microwaveable cakes are a quick way to make an incredible dessert you don't have to share!
4. Chocolate Peanut Butter Rice Krispies Treats
Chocolate peanut butter Rice Krispies treats are always crowd pleaser! Creamy peanut butter, rich chocolate, sticky-sweet marshmallows, and crisp Rice Krispies cereal, you will be in heaven!
5. Baileys Irish Cream Chocolate Chip Cookies
These scrumptious Bailey's Irish Cream chocolate chip cookies are going to be your new go-to cookie recipe! The tasty Irish cream adds a subtle-but-delicious flavor you will fall head over heels for!
6. Maraschino Cherry Brownies
Fudgy and fruity, chocolate maraschino cherry brownies are the perfect dessert. This recipe is a fun way to elevate your typical brownie!
7. Cherry Chocolate Dump Cake
Super simple and extremely delicious, my cherry chocolate dump cake is a no-fuss dessert! Just as it sounds, you literally just dump all of the tasty ingredients together and bake! Enjoy!
8. Chocolate Nice Cream
Chocolate nice cream, a delicious and healthy new version of chocolate ice cream! Blend the small list of flavorful ingredients together for a creamy, cool dessert you don't have to feel bad about eating!
9. Chocolate Dipped Rice Krispies Treats
Chocolate dipped Rice Krispie's Treats are the perfect combination of sweet, gooey, melty, and crispy! Taking your favorite childhood treat and dipping it in chocolate, what could be better?
10. Mary Berry's Chocolate Cupcakes
These Mary Berry's chocolate cupcakes are insanely light, fluffy, and most importantly, super chocolatey! Mary Berry is a famous English baker, and she has some of the BEST recipes, including these cupcakes!
11. Pumpkin Chocolate Chip Cookies
Pumpkin chocolate chip cookies are delectable little treats that bring Autumn to your dessert tray! Flavorful pumpkin mixed with rich pumpkin spice, zesty orange peel, and of course chocolate chips!
12. Chocolate Macaroons
Simply delicious, chocolate macaroons are riddled with bright coconut, fluffy egg whites, and cocoa powder. With only a few ingredients and a couple of steps, you will have light and airy macaroons in no time!
13. Chocolate Peanut Butter No-Bake Cookies
A classic combination, chocolate peanut butter no-bake cookies meld creamy peanut butter with rich cocoa in a tender cookie. Fold in some chewy oats, sugar, milk, and butter and you get some scrumptious treats that will fly off the tray!
14. Chocolate Chip Maraschino Cherry Almond Bars
Chocolate chip maraschino cherry bars have great flavor and amazing texture- you will fall in love with every bite! Chewy, fudgy, crunchy, and chock-full of cherries, cocoa, and almonds!
15. Chocolate Chip Banana Nut Bread Pudding
Chocolate chip banana nut bread pudding is a decadent dessert that pairs chocolate with sweet bananas. Using banana nut bread in place of regular French bread in a bread pudding elevates the whole dish!
16. Fudge Cake
Light and fluffy cake with sweet, creamy frosting, my chocolate fudge cake is an absolute delight! Serve it warmed with a scoop of vanilla bean ice cream and it tastes like heaven!
17. Chocolate Pecan Slab Pie Bars
Spectacularly sweet, savory, and full of texture, chocolate pecan bars are absolutely delicious! Crunchy pecans and velvety pie filling spread on top of a tasty cream cheese crust, it's as good as it sounds.
18. Double Chocolate Banana Bread
Double chocolate banana bread is deliciously moist, full of bananas, cocoa powder, and of course, chocolate chips! Boost up your traditional banana bread with this fun take version everyone is sure to love!
19. Chocolate Banana Cake
Chocolate banana cake is a tasty dessert full of bananas and rich chocolate, then topped with a velvety peanut butter cream cheese frosting. Fluffy and absolutely decadent, you and your loved ones will "go bananas" for this cake!
20. Chocolate Oatmeal No-Bake Cookies
Crunchy shredded coconut, oatmeal, cocoa, and creamy butter make up these chocolate oatmeal no-bake cookies. With few ingredients and a couple of steps you will have these easy no-bake cookies ready to be devoured!
21. Flourless Chocolate Raspberry Cake
My flourless chocolate raspberry cake is a tasty combination of fruit and chocolate and it's gluten-free! Fudgy and velvety texture laced with tangy raspberry, this cake is absolutely amazing!
22. Dark Chocolate Almond Butter Cups
Dark chocolate almond butter cups are a treat everyone will enjoy. Less sweet than its milk chocolate counterpart, these almond butter cups are a treat you can savor!
23. Maraschino Cherry Chocolate Chip Cookies
A traditional chocolate chip cookie with a little surprise- maraschino cherries! With a touch of almond extract and maraschino cherry halves, these cookies are downright addicting.
24. Chocolate Chip Rolos Cookie Bites
Chocolate chip Rolos cookie bites are fun, easy, and always adored by kids and adults alike! With a chewy caramel and chocolate center, you can't eat just one!
25. Chocolate Mug Cake
This incredibly moist chocolate microwave mug cake is just what you need to satisfy a sweet tooth and chocolate craving combo in a hurry! It's the best chocolate dessert you can make in a microwave too!
We could write about chocolate desserts all day, so be sure to tell us if we missed any of your favorites! Even better, if you give any of these incredible recipes a try come back and tell us how they turned out!
📋 Recipe