Here's what to serve with haddock that will complement the delicate, flaky texture and mildly sweet flavor of this tasty white fish! From the best vegetable side dishes to potatoes and other starchy sides, these recipes can be mixed and matched to make a balanced seafood dinner! Everything on this list is as easy as it is delicious!
Best Side Dishes To Serve With Haddock
Any seafood lover can appreciate the tender and mildly sweet taste of haddock (plus it makes for delicious fish & chips). However, a meal is only as good as the entree and side dishes combined - so here are a few of the best sides guaranteed to complement this tasty white fish!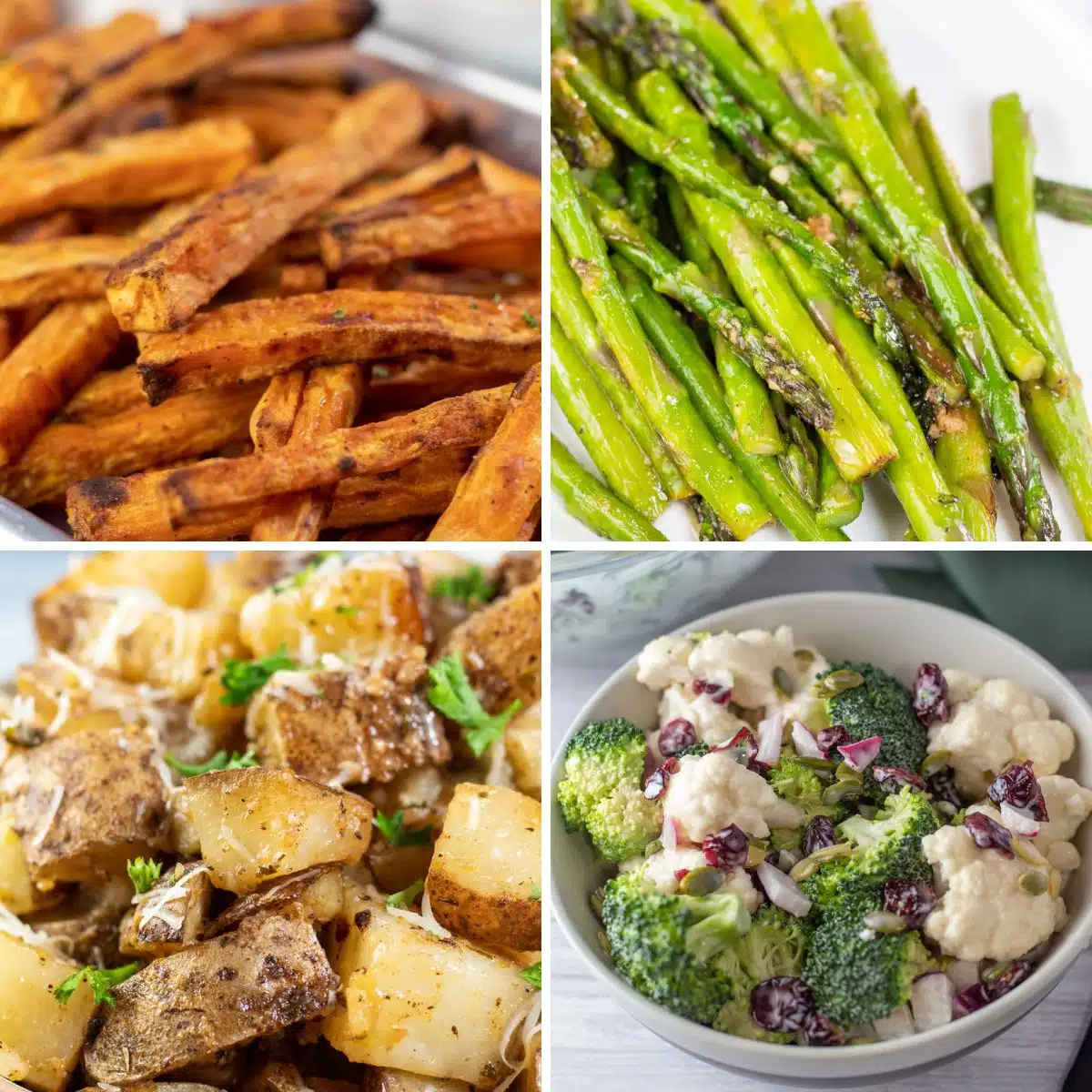 Jump to:
1. Baked Sweet Potato Fries
Crispy on the outside and fluffy on the inside, baked sweet potato fries are always a satisfying side to pair with fish. You can even whip up a quick side of sweet potato fry sauce for dipping!
2. Pan-Fried Asparagus
Pan-fried asparagus is quick, easy, and always delicious with white fish. In fact, you can't go wrong with any asparagus recipes! You could even top it with this velvety cheese sauce when pairing it with haddock!
3. Zucchini Fritters
Despite being made with zucchini, these fritters are super tasty with a satisfying crunch! You can pair them with your favorite dipping sauces, but they're equally delicious on their own with a sprinkle of salt!
4. Broccoli Cauliflower Salad
This creamy and tangy broccoli cauliflower salad adds a great crunch to any plate of fish. You can even make it in advance and keep it in the fridge until needed!
5. Slow Cooker Roasted Potatoes
These slow-cooker potatoes are cooked low and slow with a delicious blend of butter, garlic, and herbs until perfectly tender. Of course, if you don't have time for the crock pot, you can make oven-roasted potatoes too!
6. Green Beans Almondine
You can serve haddock with any green bean recipe, though I love the added crunch from the almonds in green beans almondine. The recipe is quick and easy yet elegant enough to be served on special occasions.
7. Rice Pilaf
Rice pilaf is one step above a simple side of rice. The combination of rice and orzo pasta cooked with broth, butter, and onions gives it a flavor that's hard to beat!
8. Brown Sugar Glazed Carrots
The caramelization on these tender carrots will have you savoring every bite. It's nicely balanced by the sweet and mild flavor of haddock, especially when paired with a green veggie!
>>>>See all of my recipes HERE<<<<
9. Southern Coleslaw
Coleslaw is a classic side for just about any fish, whether it's grilled, pan-seared, roasted, smoked, or fried! It's cool and crispy, yet creamy and refreshing - the perfect choice for summer Sunday dinners.
10. Asian Cucumber Salad
Another light and refreshing side you can pair with haddock is this easy Asian cucumber salad. The thick slices of crunchy cucumber are tossed in a sesame soy sauce vinaigrette, so there's no shortage of flavor!
11. Air Fryer Baked Potatoes
The air fryer is the easiest way to make perfectly cooked baked potatoes that crisp up on the outside and stay fluffy on the inside. You can keep them simple with butter, salt, and pepper, or load them up with your favorite baked potato toppings!
12. Caesar Salad
A small Caesar salad with homemade dressing makes an excellent side dish or starter for seafood. It's quick and easy, but it never disappoints!
13. Lemon Butter Sauce
A drizzle of lemon butter sauce over a freshly cooked haddock filet takes it from delicious to exceptional! If some of the buttery goodness makes its way onto your potatoes, rice, or veggies, so be it!
14. Potato Croquettes
Potato croquettes are made by frying mashed potatoes (mixed with a few other ingredients) until golden and crispy. The texture is a beautiful contrast to the tender flakiness of the fish, and they are always filling and satisfying!
15. Gremolata
Gremolata is a condiment made with Italian parsley. The fragrant, lemony, garlicky flavor goes perfectly with white fish and makes any meal feel gourmet!
💭 Tips For Choosing The Best Sides For Haddock
Haddock has a mild, slightly sweet flavor, so you'll want sides that enhance or complement its taste. Here are some tips for choosing the perfect sides:
Add Vegetables: Vegetables will add color to your plate and help produce a well-rounded and balanced meal - broccoli, green beans, brussel sprouts, or just about any green vegetable pairs well with haddock.
Add Citrus: The acidity and freshness of citrus complement the mildness of haddock. Serve your haddock with lemon wedges, a citrus-based sauce like my lemon butter sauce above, or a citrus vinaigrette.
Try A Starch: Starchy sides like rice, potatoes, or pasta can will make your meal more filling.
Include A Salad: A fresh garden salad with a light dressing is always an excellent side dish for fish. A simple mixed green salad with balsamic vinaigrette or a Caesar salad works nicely.
Keep It Balanced: Try to create a balanced plate by including a protein (haddock), vegetables, and a starch of some sort. This is key for a well-rounded meal featuring a variety of flavors, textures, and nutrients!
Now that you know what to serve with it, you can make haddock a regular part of your dinner plans! What are your favorite ways to prepare haddock? Let me know in the comments below!
📖 Recipe Card