Types of cake fillings: A guide to all of the different types of fillings that can be used to take your cakes to the next level! From sweet buttercream to creamy custard, I'm going to discuss all of these tasty filling options as well as what kinds of cake to pair them with! Let's get started!
Best Fillings For Cakes
It's definitely safe to say that the filling in a cake may actually be just as important as the cake itself (or maybe a little more important!) A fantastic cake filling has the ability to completely transform the flavors of your dessert and add in some extra pizzazz.
I've put together this guide to discuss all of the different varieties of cake fillings you can use, as well as which types of cake they pair fantastically with! You'll be whipping up some showstopping cakes in no time!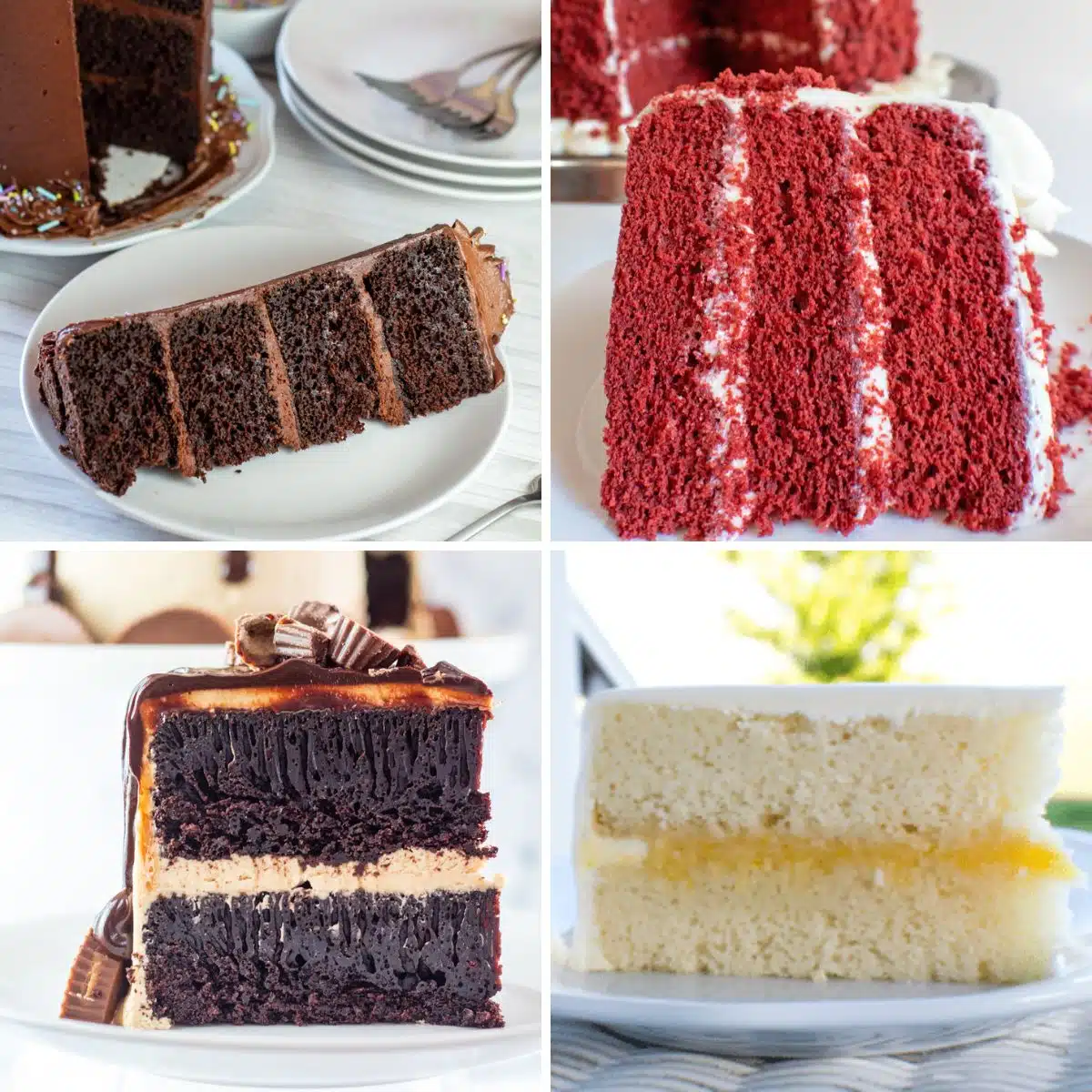 Jump to:
Want More Recipes? Enter your email below and we'll send them straight to your inbox!
I have a few extra cake guides you should check out in order to become a true cake master! Take a look at my post on how to frost a cake, this handy cake serving guide, as well as this collection of different types of cake!
Buttercream
Buttercream is probably the most well-known option when it comes to cake frostings and fillings. You can use buttercream in between the layers of your cake as well as for the coating around the outside. No need for a separate filling and frosting!
As the name implies, this sweet frosting is made up of butter. However, there are a few different varieties of buttercream. No matter which one you choose, they are all so versatile that you can pair them with essentially any kind of cake you like!
Take a look at my collection of buttercream frosting recipes here!
American Buttercream
American buttercream is a staple in many baker's recipes! It is made of a combination of butter and powdered sugar that has been whipped until smooth and fluffy.
It has a thick consistency that makes it easy to spread or pipe and you can customize the flavors in a snap.
Since this buttercream only uses 2 ingredients and is both quick and easy to make, it is actually known to be the most used cake filling around the world!
Try out these tasty American buttercream recipes!
Italian Meringue Buttercream
Butter and powdered sugar are still the stars of the show in Italian meringue buttercream. However, this alternative features egg whites to create a lighter texture. A boiling sugar syrup is poured over the egg white while whisking in order to cook the meringue before the butter is incorporated.
While this buttercream does involve more technique (and a candy thermometer), the result is a light buttercream frosting that is not too sweet and doesn't form a crust when left to sit.
Swiss Meringue Buttercream
Swiss meringue buttercream is very similar to the previously mentioned Italian meringue buttercream. It is actually a tad easier to prepare, as the meringue is cooked using a double boiler rather than pouring the hot sugar syrup over the egg whites.
French Buttercream
While Italian and Swiss meringue buttercream frosting feature the use of egg whites, French buttercream includes egg yolks as an ingredient. This helps to make the flavor extra rich.
German Buttercream
German buttercream is more of a cross between French buttercream and ermine buttercream. It uses butter, sugar, egg yolks, and cooked flour. The result is a super rich and smooth buttercream.
Ermine Buttercream
The big difference between ermine buttercream and the rest of the buttercream family is that ermine buttercream is actually cooked. Milk is thickened with flour to create a custard-like base that is then blended with sugar and butter.
No eggs are involved in this recipe, but it is still ultra-rich, creamy, and smooth!
Frosting
Of course, there are a few varieties of frosting out there that don't fall under the umbrella of buttercream.
Take a look at my post on icing vs frosting vs glazes.
Cream Cheese Frosting
If you've ever eaten red velvet cake, banana cake, or carrot cake, you've probably enjoyed some cream cheese frosting. As you may have guessed, cream cheese frosting is similar to buttercream, except that the butter is swapped out for or combined with cream cheese!
It is incredibly thick and creamy with some added tang from the cream cheese.
Try out these cream cheese frosting recipes!
Whipped Fillings
Whipped fillings are a perfect option for when you are wanting a lighter cake (like during the summer). These fillings are airy, fluffy, and not as dense as buttercream and frosting.
For these fillings, make sure you are pairing them with a lighter cake so that the cake layers don't smash the filling!
Whipped Cream
Everyone knows and loves this light and airy treat! While whipped cream pairs amazingly with a vast array of different desserts and treats, it also makes a great filling for cake!
Whipped cream is made by simply using a mixer to whip air into some heavy whipping cream. I definitely recommend using homemade whipped cream as opposed to store bought!
Chantilly Cream
Chantilly cream is essentially sweetened whipped cream that features some vanilla flavoring. It has just the right amount of sweetness and is easy to make at home! Try my recipe here!
Mousse
Mousse is thicker than whipped cream but airier than standard frosting. It's a sweet treat that can easily be enjoyed by itself or layered within a cake.
You can use any of your favorite mousse flavors or recipes!
Cream Fillings
Cream fillings are a perfect balance of sweet and light. They are lighter than frosting but thicker than whipped fillings, making them a great midpoint.
Pudding
Pudding is a rich and creamy treat that can easily add moisture to any cake. You can prepare pudding in a ton of different flavors, so it's easy to mix and match to make the best combination for you.
Custard
You could consider custard to be a close cousin to pudding. In fact, the only true difference between the two is the thickening agent used while cooking. Pudding opts for flour or cornstarch while custard uses eggs.
Pastry Cream
Pastry cream is actually a type of custard that is specifically made with the intent of filling pastries, cakes, or other desserts. It is thickened using cornstarch and most often is vanilla in flavor (which pairs well with so many other flavors!)
Bavarian Cream
Bavarian cream is made from a combination of creme anglaise, gelatine, and whipped cream. You may have enjoyed it in some filled donuts before, but it also makes a tasty addition to any of your favorite cake recipes!
Ganache
Ganache is a super versatile cake filling as you can adjust how thick or light it is! In fact, ganache is simply a mixture of chocolate and cream.
You can tweak how firm the ganache is by adding more or less cream or even whipping the ganache for a lighter texture.
You can pair it with some chocolate cake for a super indulgent treat or use it to add some richness to a variety of different cake flavors!
Fruit Fillings
Fruit fillings are a great choice for so many different kinds of cake! You can pair them with a fruit-flavored cake (such as lemon) or even use them to contrast a richer kind of cake (imagine a fudge cake with cherry filling).
Use a thin layer of whipped cream or frosting on the cake (and a dam around the border of the layers) before adding the fruit filling in order to keep it from soaking into the cake and spilling over the sides.
Jam, Jelly, and Preserves
Grabbing a jar of jelly is a super quick and easy way of having a delicious filling for your cake. They are perfect for adding flavor and sweetness without any extra preparation.
Take a look at my post on jam vs jelly vs preserves vs marmalade to find out the differences between them!
Curd
Curd makes a great filling on its own, or you can even mix it into your buttercream for some added flavor! It is easy to make on your own considering it only uses fruit juice, zest, eggs, and sugar.
You'll most commonly see citrus curd varieties, but you can make it in other flavors as well.
Try out my apple curd, pineapple curd, and lemon curd!
Compote
Compote is simply a mixture of whole or chunky fruit that has been stewed in juices along with some sugar and other flavorings. You can use it just as you would jam or jelly for your cake filling!
Pie Filling
Pie filling makes yet another super convenient filling choice! It is sweet and thick, and you can find it in a ton of different fruit-based flavors! Of course, I recommend just making your own at home since it is so easy!
Try out some of these great homemade pie filling recipes!
Other Filling Options
There are tons of other options out there if you need a quick filling for your cake. You can use peanut butter, Nutella, or even nuts!
If you still want to make your filling, try out a homemade caramel sauce, toffee sauce, or even marshmallow cream.
Mix-Ins
One way to really elevate your cake filling is by adding in some delicious mix-ins! You can mix and match them to suit your preferences and desired taste. Try out some of these fun and yummy options!
Crushed cookies
Candy (M&Ms, toffee, etc)
Chocolate chips
Nuts
Sprinkles
Graham crackers
Flavored syrups
>>>>See all of my recipes HERE<<<<
No matter which one of these delicious cake fillings you decide to try out, you won't be disappointed! Leave a comment down below and let me know which cake filling is your absolute favorite!
🍰 Sweet Cake Recipes
📋 Recipe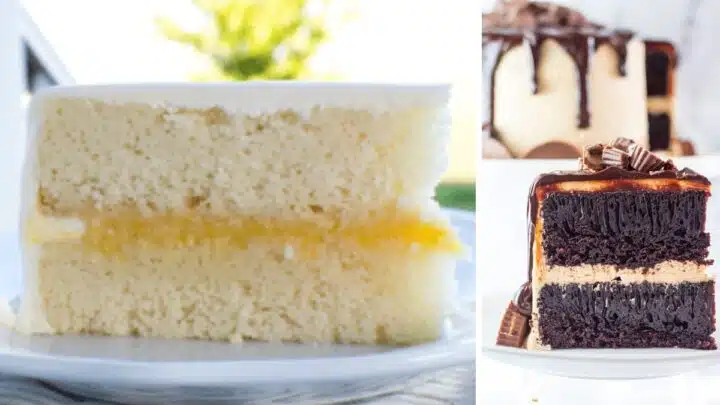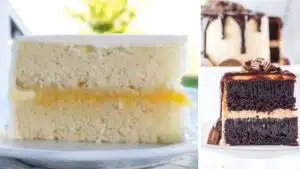 Print Recipe
Leave A Comment
Love This Recipe?
Click On A Star To Rate It!
Types of Cake Filling: Microwave Lemon Curd (+More Tasty Ideas & Recipes!)
Types of cake fillings: A guide to all of the different types of fillings that can be used to take your cakes to the next level! From sweet buttercream to creamy custard, I'm going to discuss all of these tasty filling options as well as what kinds of cake to pair them with! Let's get started!
Servings:
16
servings (2 cups)
Pin Recipe
Share on Facebook
Ingredients
Instructions
In a small to medium size mixing bowl, whisk together the sugar and eggs until smooth. Add the lemon juice, melted butter and lemon zest (if desired). Stir to combine.

1 cup lemon juice,

½ cup butter,

1 cup sugar,

3 large eggs,

lemon zest

Microwave the lemon curd mix in 30 second to 1 minute increments (I like to microwave the lemon curd in shorter increments, but it will take a bit longer to get your desired consistency). Stir between each microwave heating.

Repeat the heating and stirring steps until your lemon curd sticks to the back of your spoon and begins to hold the stirred shape in your bowl (it will set up more when cooled and refrigerated). This step can take between 4-10 minutes, depending on your microwave's power. When done, the lemon curd should have an internal temperature of 185°F (85°C).

Stir and transfer to a storage container, then refrigerate until your lemon curd is firm. Lemon curd will store, refrigerated, for up to three weeks and can be frozen for longer storage.
Equipment You May Need
Nutrition
Calories:
118
kcal
(6%)
|
Carbohydrates:
14
g
(5%)
|
Protein:
1
g
(2%)
|
Fat:
7
g
(11%)
|
Saturated Fat:
4
g
(25%)
|
Cholesterol:
55
mg
(18%)
|
Sodium:
66
mg
(3%)
|
Potassium:
30
mg
(1%)
|
Fiber:
1
g
(4%)
|
Sugar:
13
g
(14%)
|
Vitamin A:
235
IU
(5%)
|
Vitamin C:
6
mg
(7%)
|
Calcium:
9
mg
(1%)
|
Iron:
1
mg
(6%)
cake fillings, lemon curd, microwave lemon curd, types of cake fillings, what to fill layer cakes with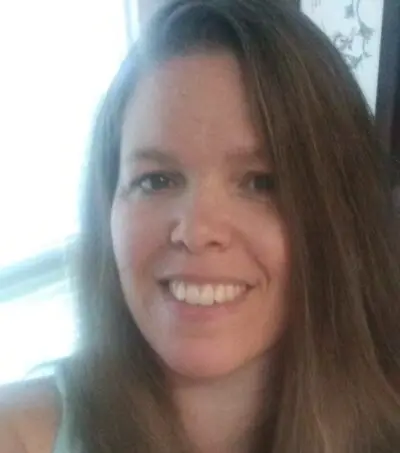 Angela is an at home chef that developed a passion for all things cooking and baking at a young age in her Grandma's kitchen. After many years in the food service industry, she now enjoys sharing all of her family favorite recipes and creating tasty dinner and amazing dessert recipes here at Bake It With Love!