What to serve with coconut shrimp: A collection of all of the best sides to pair with this tasty shrimp dish! From coleslaw to rice and everything in between, you are bound to find a delicious recipe to round out your meal! No matter which ones you choose, you're in for a fantastic dinner!
Side Dishes For Coconut Shrimp
I absolutely love coconut shrimp! The coconut flakes contribute a tropical touch to the shrimp that works like magic. I definitely could eat a ton of these little shrimp bites, so I prefer to use some tasty sides to make a meal out of them!
I put together this collection of recipes to help anyone who may be on the hunt for a perfect coconut shrimp meal! Go ahead and try some (or a few) of these dishes out!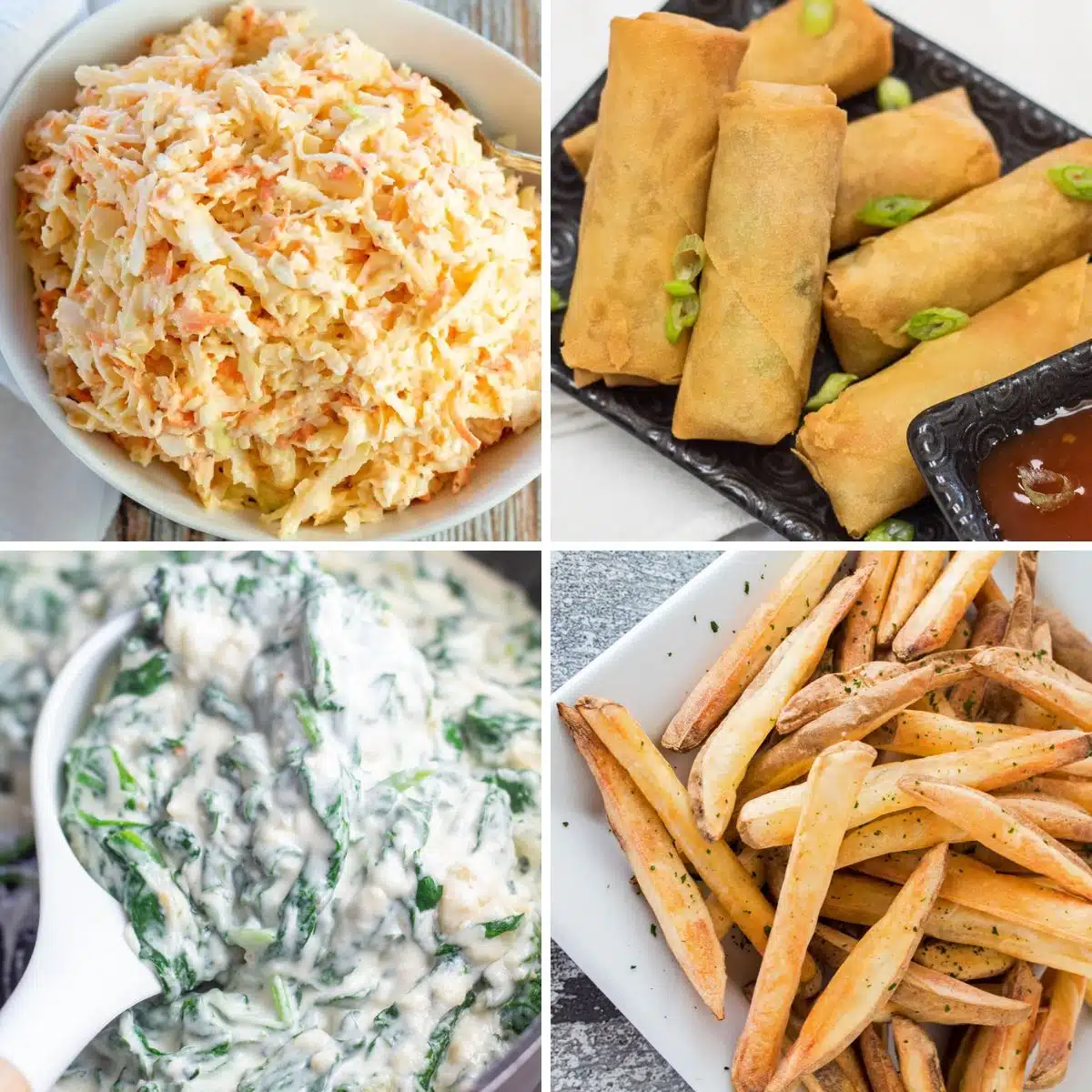 Jump to:
Want More Recipes? Enter your email below and we'll send them straight to your inbox!
Make sure you check out my delicious creamy coconut shrimp and air fryer coconut shrimp recipes! If you want to mix it up a little, go ahead a take a look at all of my favorite shrimp recipes!
1. Southern Coleslaw
The tangy flavor of coleslaw complements the flavors of coconut shrimp extremely well. In fact, I may even think that this combination is a match made in Heaven! You really can't go wrong here!
2. Cream Cheese Pasta
Pasta dishes pair so well with coconut shrimp! In fact, you can probably choose any of your favorite pasta and enjoy it alongside your shrimp.
This recipe is super simple and quick to make and features delicious cream cheese, garlic, and Parmesan sauce!
3. Spring Rolls
If you've ever been to a Chinese restaurant or buffet then you've probably seen some creamy coconut shrimp on the menu! These frozen spring rolls are so easy to make in the air fryer (which makes them extra crispy!) You won't even miss having takeout!
4. Instant Pot Long Grain White Rice
I feel like every protein-packed dish pairs fantastically with rice, even shrimp! This rice is prepared in the Instant Pot (so it is extra easy). Sometimes I enjoy using white rice, such as this, but you can use any of your favorite rice varieties!
5. Air Fryer French Fries
French fries are a classic side dish. Pairing some fried shrimp with homemade French fries just sounds like a fantastic idea all around! Of course, If you don't want to make your fries from scratch, you can always opt for some air fryer frozen French fries or even sweet potato fries!
6. Instant Pot Au Gratin Potatoes
Creamy, tender, and rich au gratin potatoes can easily take your coconut shrimp and turn it into a nice sit-down dinner for the whole family! It's a filling side that gives off a sense of elegance (even though it is so easy to make!)
7. Grilled Yellow Squash
There's something about tropical flavors that really make me think of summertime grilling! If you're having an outside party or barbecue then make sure to toss some yellow squash on the grill for an easy side that tastes fantastic with coconut shrimp!
8. Twice Baked Potatoes
These twice-baked potatoes are a great option if you're hosting a party, it's game day, or you're simply in the mood for some finger foods! They're easy to snack on while mingling or socializing, and they can even be made in advance!
9. Buttered Noodles
Buttered noodles are warm, cozy, and (of course) super buttery! They are easy to prepare and can be customized to your liking by adding in your favorite mix-ins (such as peas, Parmesan cheese, or spinach!)
10. Hawaiian Macaroni Salad
A creamy and cool macaroni salad is just the side you need! The pineapple juice adds a tropical sweetness that pairs perfectly with the coconut flavors in the shrimp.
11. Balsamic Roasted Brussel Sprouts
These roasted brussel sprouts are another veggie-based sides that taste great with coconut shrimp! They are roasted in the oven and then tossed with tangy balsamic vinegar and sweet honey! If you're not a fan of brussel sprouts, this dish might even change your mind!
12. Hush Puppies
Hush puppies are made from a cornmeal-based batter (imagine little balls of deep-fried cornbread). It's a tasty and easy finger food that is perfect for hosting, serving as an appetizer or snack, or just adding to your plate alongside your shrimp!
13. Creamed Spinach
Rich and creamy creamed spinach is loaded with different varieties of cheese! It's a completely satisfying dish that could be enjoyed as-is or even used as a dip!
14. Fresh Fruit Salad
Coconut shrimp already features some tropical flavors (and definitely gives off some beach vibes). Whip up some fresh fruit salad to really play into the warm vacation theme! Additionally, it's easy to customize with your favorite kinds of fruits!
15. Cilantro Lime Rice
Rice is extremely versatile and pairs well with so many different types of cuisines! This rice has a bright flavor from the lime and cilantro which makes it a fantastic accompaniment to your tropical coconut shrimp!
I hope this post helped to give you some yummy ideas to pair with your coconut shrimp! Leave a comment down below and let me know which recipe you are excited to try out first!
>>>>See all of my recipes HERE<<<<
🍤 Tasty Shrimp Recipes
📋 Recipe