These Thanksgiving menu ideas for 2 are just what you need to serve an epic yet intimate holiday dinner between you and your loved one. Appetizers, entrees, side dishes, and dessert, this list has it all! Plus, these recipes are simple so you can spend your time with each other instead of in the kitchen!
Thanksgiving Dinner Recipes For 2
If it's just you and a loved one this holiday season, that doesn't mean you shouldn't indulge! These incredible recipes are perfect for serving you and another an unforgettable Thanksgiving dinner.
Appetizers, side dishes, entrees, and desserts, this list has them all. You can have an epic Thanksgiving meal even though it's just the two of you!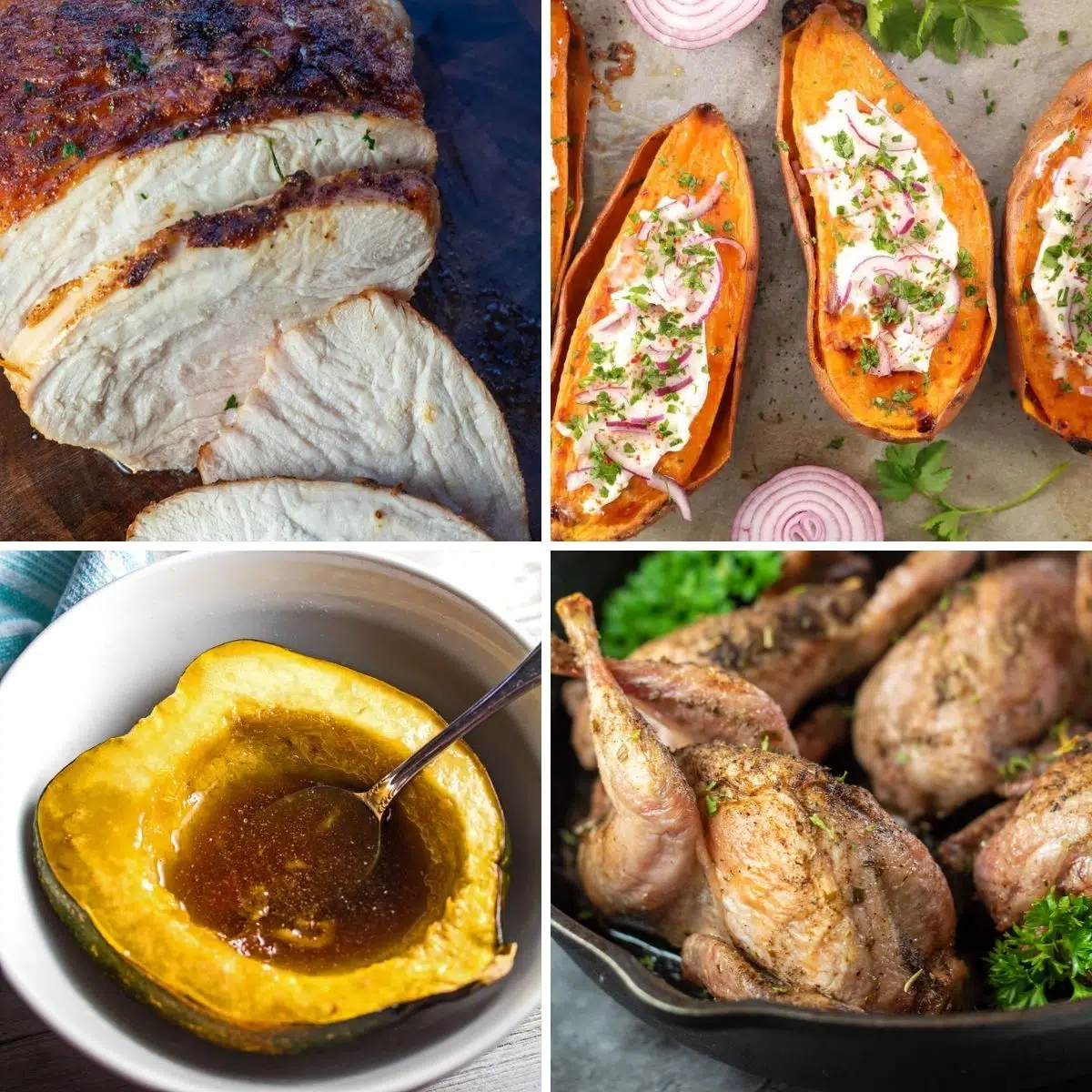 Jump to:
Whether you're a pro at hosting Thanksgiving dinner and holiday parties or giving it a try for the first time this year, you're sure to find my ultimate guide to planning Thanksgiving a help! Don't forget to safely thaw your holiday turkey early, too!
Delicious Thanksgiving Dinner Recipes For Serving 2 People
If you don't have big plans for the holidays this year, that is perfectly fine. You can still celebrate at home with these amazing Thanksgiving recipes!
1. Air Fryer Turkey Breast
An air fryer turkey breast is a great alternative to a full turkey. This recipe is so much quicker and takes half the effort!
The air fryer still gives it crispy skin while keeping the inside moist and juicy.
2. Air Fryer Cornish Hens
You can also ditch turkey all together and try these air fryer Cornish hens! In fact, one Cornish hen is plenty for 2 people to share.
You only need 4 ingredients and about 30 minutes to throw these together. That means you can enjoy your time with each other!
3. Roasted Quail
Another great main course idea is roasted quail! They are special and elegant, and each person can get their own quail.
Other than the birds, you only need oil and poultry seasoning. It's so much better than slaving over a turkey.
4. Classic Turkey Gravy
Turkey gravy is incredibly easy to make. It is delicious with any poultry, so no need to worry if you aren't serving turkey. You can buy the giblets on their own at most grocers.
5. Microwave Acorn Squash
This acorn squash is a quick and easy side dish that is full of fall flavor! Top them with brown sugar and butter and you'll be in heaven.
Though it sounds super sweet, the squash itself is somewhat savory. It's the perfect balance!
6. Sour Cream Cornbread
This simple cornbread recipe is made even better by the addition of sour cream! The edges get a lovely golden brown, while inside each muffin is crumbly and moist.
It's the perfect cornbread recipe for sharing with someone you love.
7. Instant Pot Mashed Potatoes
Your Instant Pot can make creamy mashed potatoes in half the time! This recipe only calls for 5 ingredients, and the potatoes are incredible.
It takes less than 30 minutes to make decadent potatoes that are just waiting for some turkey and gravy!
8. Mashed Sweet Potatoes
Mashed sweet potatoes are another easy side dish. They don't require much in the way of seasoning to dress them up.
A little butter, or some cinnamon, whichever you prefer!
9. Microwave Baked Sweet Potatoes
Even quicker than mashing sweet potatoes is baking them in the microwave! You can make them sweet with brown sugar and cinnamon, or keep them simple with butter and salt & pepper.
They are easily customizable! You can even build your own sweet potatoes so they are just how you like it.
10. Sauteed Green Beans
Opt for sauteed green beans in place of green bean casserole. They are quick, easy, and flavorful.
Not to mention, this side dish is healthy! It's nice to add some lighter options to a heavy Thanksgiving dinner.
11. Microwave Carrots
You can make perfectly fork-tender carrots in the microwave taste just as good as those made in the oven. If you don't tell them they were made in the microwave, no one but you would know!
All it takes is 4 ingredients and 10 minutes to make!
12. Easy Stuffing
Use your favorite pre-made stuffing cubes to whip up a quick and flavorful thanksgiving side dish! This classic stuffing only requires a handful of simple ingredients.
You will definitely have leftovers, but that's one of the best parts of Thanksgiving!
13. Bacon Wrapped Asparagus
Bacon-wrapped asparagus is elegant and delicious! The hardest part is delicately wrapping strips of bacon around the stalks (and it is not very difficult).
14. Creamy Yellow Squash Soup
Creamy summer squash soup makes a tasty fall appetizer! It only takes about 30 minutes to make, and you can have it ready in advance. Just reheat it when you need it!
It's also fairly light, so you will still have plenty of room for dinner.
15. Pumpkin Dump Cake
Pumpkin pie filling and spiced cake mix from a box make for one tasty dessert! In fact, you may even prefer this recipe to pumpkin pie.
You will definitely have leftovers, but it's so easy to make that you won't mind.
16. Baked Apples
Baked apples are a fabulous fall dessert. Plus, you can make exactly the number you need!
These apples are soft and tender with plenty of flavor from cinnamon and brown sugar. Top them off with ice cream for a heavenly treat!
17. Pumpkin Flan
This smooth and creamy custard dessert is loaded with pumpkin pie filling! It's a great alternative to pie that will serve a smaller number of people.
Did I mention it is coated in a homemade caramel sauce? Yum!
I hope you have a lovely Thanksgiving dinner with your loved one. Let me know in the comments below if you tried any of these Thanksgiving menu ideas for 2!
🦃 More Thanksgiving Menus
See more Thanksgiving →
📖 Recipe Card