These Thanksgiving menu ideas for 4 include recipes that are perfect for serving small families or hosting intimate dinners. This includes everything from Thanksgiving classics to holiday-worthy comfort food. Just because the guest list is short doesn't mean you can't make an impressive meal!
Thanksgiving Dinner Recipes For 4
If you plan on keeping the guest list small this year, these are the ideal Thanksgiving recipes for serving 4 people! Not only that, but you have options to choose from.
That means you can take these suggestions and build your perfect holiday menu! From appetizers to desserts, we have you covered.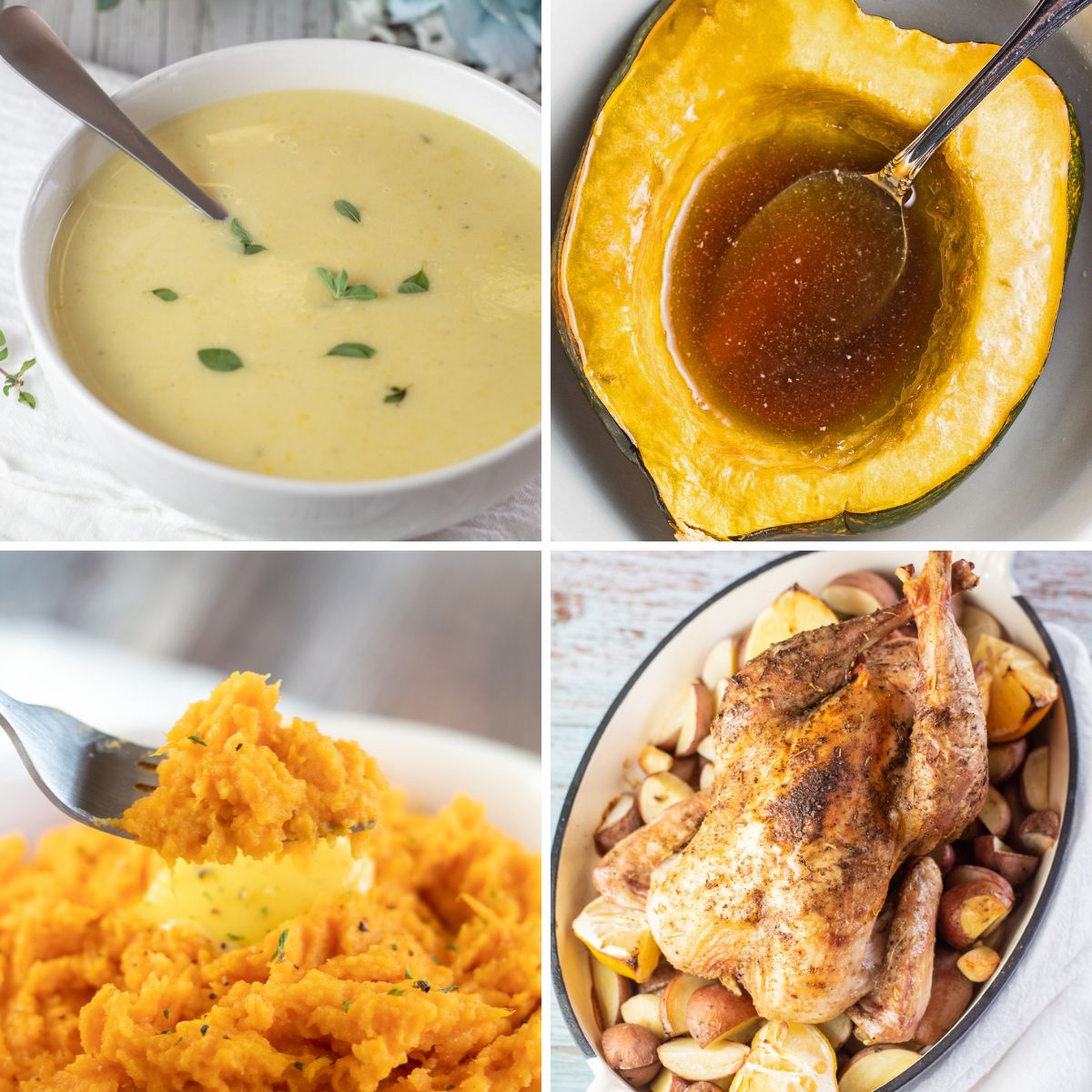 Jump to:
Whether you're a pro at hosting Thanksgiving dinner and holiday parties or giving it a try for the first time this year, you're sure to find my ultimate guide to planning Thanksgiving a help! Don't forget to safely thaw your holiday turkey early too!
Delicious Thanksgiving Dinner Recipes For Serving 4 People
Every family is different, and some like to keep the holiday get-togethers small. There's no shame in that- especially when your food is this good!
1. Traeger Smoked Turkey
This year, why don't you try smoking your turkey? The smokey flavor is absorbed deep into the meat, and you still get the crispy skin that everyone loves.
This recipe also makes your job as a host so much easier. Just set it and forget it while it smokes!
2. Roasted Pheasant
One great thing about having a smaller guest list is you can branch out with your entree! Try roasted pheasant instead of traditional turkey, and you won't be disappointed.
This recipe serves about 4 people. It's made on top of a bed of tender potatoes, so that takes care of 1 side!
3. Whole Roasted Duck
Another elegant entree option would be roasting a whole duck. It's especially tasty if you are celebrating Thanksgiving for the 2nd or 3rd time and you are a bit tired of turkey.
This duck is juicy and tender, with a rich flavor that you only get with duck. It's pretty darn easy to make, too!
4. Creamy Yellow Squash Soup
This soup makes a great starter or side dish! It only requires a handful of ingredients and it's fairly light so you can still fill your plate after.
Yellow squash soup is savory yet subtly sweet. Though it may be called summer squash, this recipe is perfect for fall!
5. Honey Roasted Acorn Squash
Acorn squash screams fall, particularly when it is roasted with honey and cinnamon! It's a unique side dish that you don't see often, which is odd because it is so simple!
Don't worry, it isn't overly sweet. It's the perfect balance of sweet and savory!
6. Creamed Corn Cornbread
Making your cornbread with canned creamed corn adds a subtle sweetness and plenty of moisture. It might just be the best cornbread you've ever had!
There's no boxed cornbread mix here, and you won't even miss it. Give this must-try side dish a place on your Thanksgiving table this year!
7. Mashed Sweet Potatoes
Mashed sweet potatoes with butter are one of my all-time favorite Thanksgiving sides. They are creamy and rich, while still maintaining a touch of sweetness.
These potatoes don't take much effort or time. They don't even need that much seasoning, they are naturally tasty!
8. Baked Sweet Potatoes
If you prefer baked to mashed, these sweet potatoes are super simple! Grab however many potatoes you need and top them with your favorite potato accouterments.
I like serving them with just a touch of butter, salt, and pepper. That's all they need!
9. Easy Stuffing
It's not Thanksgiving without stuffing but that doesn't mean it has to be complicated. You just mix some diced veggies and chicken broth with ready-to-use stuffing cubes and bake!
This recipe is so easy, you can spend your time with your family instead of slaving in the kitchen.
10. Bacon Cheddar Green Bean Casserole
This classic green bean casserole with bacon is comfort food at its finest. This classic recipe has all the good stuff: crispy fried onions, bacon, and cheddar cheese!
Canned green beans and cream of mushroom soup make this recipe even easier. You'll be lucky to have leftovers.
11. Skillet Brown Sugar Glazed Carrots
Fork-tender carrots have always been one of my favorite vegetables. These skillet brown sugar glazed carrots are at the top of the list!
A hint of garlic balances the sweet flavor perfectly. You will never want to eat carrots any other way!
12. Southern Baked Macaroni and Cheese
Nothing beats this 3-cheese Southern baked macaroni! The inside gets ooey-gooey and delicious while the top gets slightly crispy.
Don't be surprised when everyone asks you for this recipe.
13. Bacon Wrapped Asparagus
The theme of this menu is elegant and easy, which perfectly describes this asparagus! Bacon automatically elevates any dish and that is the case here.
Perfectly cooked asparagus wrapped with crispy strips of bacon is one way to get people to eat their veggies.
14. Jiffy Corn Casserole
Corn casserole is often called corn souffle, corn pudding, or spoon bread. It's a holiday classic around the country and it's easy to see why!
Creamed corn and juicy corn kernels mixed with cornbread- it's as delicious as it sounds.
15. Baked Apples
The great thing about baked apples is that you can make exactly the number you need (maybe a couple extra for leftovers). These apples are slathered in brown sugar, butter, and cinnamon for a truly flavorful dessert.
Add a scoop of ice cream and you have something truly special that is easy to make.
16. Pumpkin Dump Cake
This cake is practically effortless with all the flavor of a made-from-scratch dessert! Just use your preferred box of spiced cake mix and canned pumpkin pie filling, combine them with some common baking staples, and bake!
Seriously, you very well may prefer this to pumpkin pie.
17. Butternut Squash Risotto
A creamy risotto filled with chunks of butternut squash, yum! It's cozy and comforting, with plenty of fall flavor.
If you've ever made risotto, this recipe is a breeze. If you haven't, it's still pretty easy and there's no better time to try than now!
I'd love to hear how your holiday went! Let me know if you tried any of these Thanksgiving menu ideas for 4 by leaving me a comment below!
🦃 More Thanksgiving Recipes
See more Thanksgiving →
📋 Recipe