These squash recipes showcase a collection of my favorite squash dishes featuring tender summer squash or hearty winter squash varieties! Whether you're looking for a quick appetizer, side dish, or a hearty main course, you've come to the right place. This list contains incredible flavor ideas - from tasty acorn squash, butternut, and buttercup squash to yellow squash and zucchini!
Best Winter & Summer Squash Recipes
When it comes to squash, there are tons of tasty varieties to choose from. Each one comes with its own unique flavor and texture, so I've gathered a collection of the best recipes for cooking or baking with different kinds of winter and summer squash!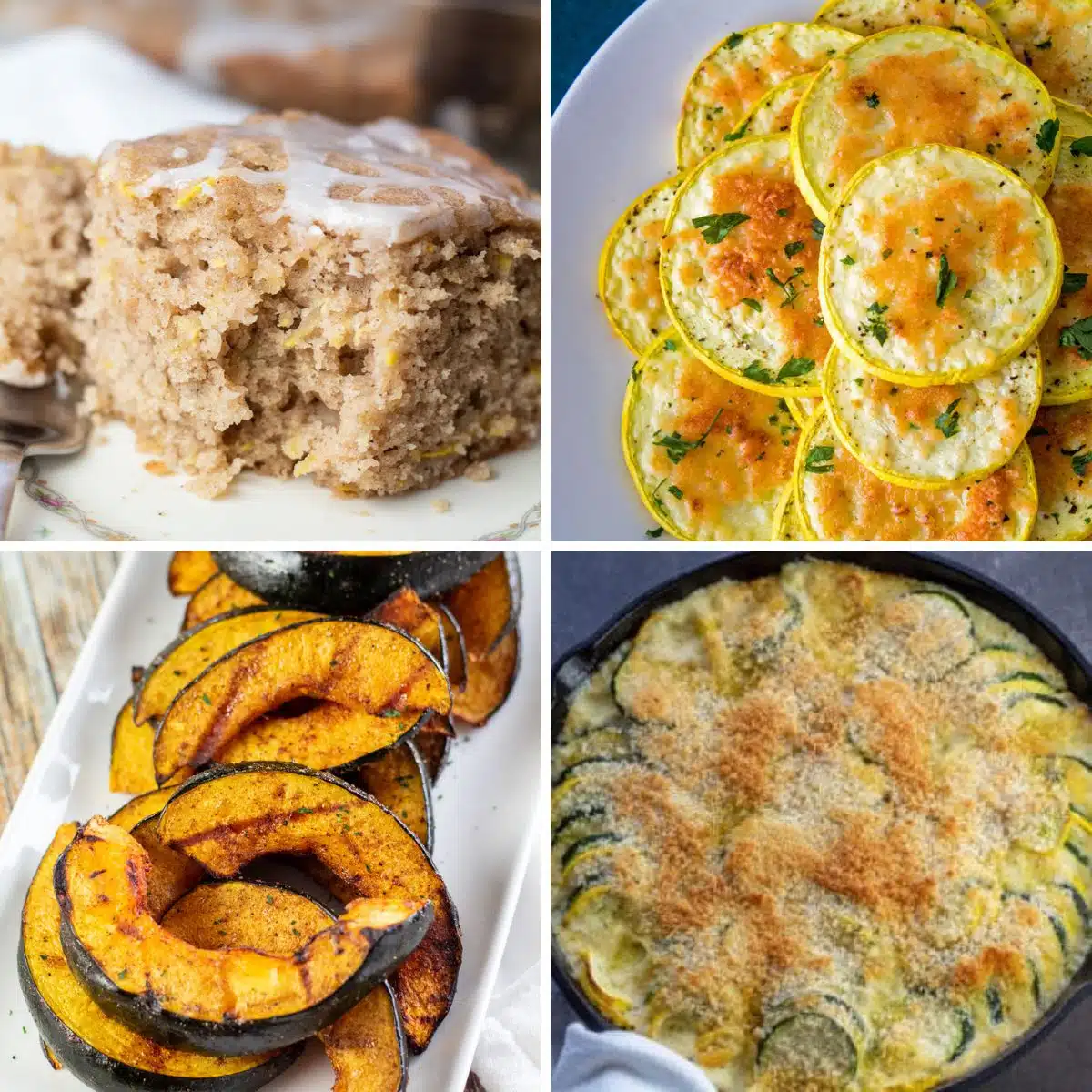 Jump to:
If zucchini is one of your favorite squash varieties, check out my list of the best zucchini recipes for some great dishes to try!
1. Mirliton (with chayote squash)
This traditional Cajun dressing features chayote squash that's boiled, peeled, and baked with a flavorful combination of shrimp, ham, onions, herbs, garlic, and breadcrumbs. Its comforting textures make it a perfect side dish for the holidays!
2. Air Fryer Zucchini Fries
If you're looking for a unique way to use up the extra zucchini you have in the fridge, these crispy and delicious zucchini fries are the perfect choice! They're great for experimenting with your favorite seasonings and go well with any of your favorite tasty condiments.
I like to serve them with my Cajun dipping sauce, chipotle aioli, or honey mustard sauce!
3. Butternut Squash Risotto
Arborio rice is combined with butternut squash puree to make a delicious meal full of warm fall flavor! Even if you've never made risotto before, this recipe is easy to follow and will surely be a hit.
4. Baked Buttercup Squash
In 45 minutes from start to finish, you'll have baked buttercup squash that's full of apples, butter, honey, and pumpkin pie spice! It's the perfect mix of sweet and savory, making it the ultimate fall vegetable side dish.
5. Zucchini Boats (with ground beef)
These easy zucchini boats are stuffed with a savory mixture of ground beef, onion, bell pepper, marinara sauce, and Italian seasoning! Top them off with breadcrumbs and Parmesan cheese for a satisfying combination of textures and flavors that's completely addicting.
6. Instant Pot Acorn Squash
If you're like me, you love simple side dishes that are almost entirely hands-off, and this Instant Pot acorn squash is exactly that! All you have to do is cut the squash in half, remove the seeds, and let your pressure cooker take over.
Finish the halves with a delicious honey sauce, and you're all set!
7. Grilled Acorn Squash
The next time you plan on grilling out, this simple recipe makes for a delicious side dish that you can easily customize to be sweet or savory. It only takes a few minutes to grill an acorn squash that can be paired with any of your favorite grilled meats.
Try it with grilled chicken quarters, grilled ribeye, or grilled lamb steaks!
8. Zucchini Fritters
These zucchini fritters feature grated zucchini, flour, salt, pepper, Parmesan cheese, and garlic for an easy appetizer or snack! They crisp up quickly on the stovetop and taste extra delicious with a dollop of sour cream.
9. Butternut Squash Soup
When the weather starts to cool down, there's nothing more comforting than a bowl of butternut squash soup! Start by steaming and roasting the squash, then add the rest of the ingredients and blend.
10. Roasted Butternut Squash
This roasted butternut squash recipe is easy to prepare and perfect for all your fall holiday gatherings! The squash is cut down into cubes to caramelize beautifully in the oven.
It's especially delicious with roast turkey, roast chicken, or even prime rib!
11. Yellow Squash Bread
Whenever you have excess yellow squash on hand, you can use it to make an incredibly moist and flavorful bread! This recipe is beginner-friendly and will be loved by the pickiest of eaters.
>>>>See all of my recipes HERE<<<<
12. Hibachi Zucchini
If your family loves Hibachi dishes like mine, this Hibachi zucchini with onions recipe will surely be a winner! Once you wash and trim the zucchini, simply add it to a heated wok with teriyaki sauce, soy sauce, and crushed red pepper flakes.
It's the perfect side dish to serve alongside Hibachi chicken, Hibachi salmon, or Hibachi steak and shrimp.
13. Creamy Yellow Squash Soup
Another delicious soup recipe to start your meal or serve as the main course is this quick and easy yellow squash soup! Yellow squash is combined with a handful of basic ingredients for a delicious, savory flavor that's perfect for fall and the holidays.
14. Baked Parmesan Zucchini Rounds
If you're looking for a tasty and healthy snack that's simple to prepare, you might just fall in love with these Parmesan zucchini rounds! Thin slices of zucchini are topped with seasonings and grated Parmesan cheese and then baked to golden perfection.
Although they are addicting on their own, I like to dip them into my homemade ranch dressing or marinara sauce.
15. Sauteed Yellow Squash
Elevate the natural sweet and nutty flavor of yellow squash by adding a pinch of olive oil, fresh herbs, and seasoning, then saute for 5 minutes! Pair it with any meaty main course dish, and you'll have a delightful meal the whole family will love.
16. Baked Zucchini Fries
Tender zucchini is tossed in a mixture of Parmesan cheese and Italian-seasoned Panko breadcrumbs, then baked to crispy perfection! In just 30 minutes, you'll have a healthy alternative to satisfy your French fry cravings without all the extra oil.
17. Honey Roasted Acorn Squash
Another great way to cook up your favorite winter squash is to roast it in the oven until fork tender with a simple honey-butter mixture!
18. Grilled Yellow Squash
This grilled yellow squash recipe infuses fresh summer squash with a smoky, charred flavor that's simply irresistible!
19. Roasted Yellow Squash
This 20-minute recipe features tender slices of yellow squash coated with savory garlic powder and Parmesan cheese, enhancing the squash's natural sweetness!
20. Zucchini Squash Casserole
Two popular summer squash varieties are covered in a delicious garlic and cheese sauce, followed by a generous sprinkle of crispy Panko breadcrumbs! The resulting baked squash is irresistible!
21. Air Fryer Yellow Squash
If you've never air-fried yellow squash before, you'll appreciate how fast and effortless it is to achieve perfectly cooked squash to pair with your favorite main protein! Keep it simple and low-calorie with this clean version (no breading)!
22. Microwave Acorn Squash
Transform your acorn squash into a delectable fall side dish by microwaving it with butter and brown sugar!
23. Pumpkin Zucchini Muffins
These delightful breakfast muffins combine the cozy taste of pumpkin spice and pumpkin puree with the moist goodness of grated zucchini!
24. Sauteed Zucchini and Yellow Squash
This simple 10-minute recipe blends two summer squashes with garlic and Parmesan cheese to create an incredibly flavorful side dish!
25. Baked Parmesan Yellow Squash
These yellow squash rounds topped with Parmesan cheese are a healthy alternative to chips and taste extra delicious when dipped into ranch dressing!
26. Air Fryer Zucchini
This incredibly easy air fryer recipe features sliced zucchini tossed in olive oil and salt and then finished with Parmesan cheese! It's the perfect side dish to make when you need a quick and delicious veggie to go with any main.
💭 Tips For Cooking With Squash
When it comes to cooking winter and summer squash varieties, there are a few tips and tricks to keep in mind. Follow these suggestions to make the most out of your squash dishes:
Carefully select squash: Select squash that is fresh, firm, and free from blemishes or soft spots.
Choose the right squash: Different types of squash have varying flavors and textures. Butternut squash is great for soups and roasting, while zucchini and yellow squash are perfect for sauteing or grilling.
Proper preparation: Wash your squash thoroughly before using. Use a sharp knife for winter squash, and be cautious when cutting, as the skin can be quite hard. You can soften them in the microwave for a few minutes before slicing if desired. *I frequently opt for softening the skin of winter squash, then use a peeler to remove the skin.
Experiment with flavors: Most squash varieties have a mild flavor, so feel free to incorporate a variety of seasonings and add-ins. Common options include olive oil, garlic, onions, herbs like thyme or rosemary, and spices like cinnamon or nutmeg for sweeter dishes.
Pair with protein: Squash can be a great side dish or the star of a vegetarian meal, but it also pairs well with proteins like chicken, pork, or shrimp for a complete meal.
Now that you have some new winter and summer squash recipe ideas, which one are you most excited to try? Leave a comment down below to let me know what you think!
📋 Recipe