These Christmas brunch recipes feature sweet and savory brunch ideas that will make your holiday even more magical! Nothing says Christmas like a shared meal between family, and these recipes will have them savoring every bite. You'll love them so much you will want to make them year after year!
Best Christmas Brunch Ideas
If your family is like mine then the first order of business on Christmas morning is gathering around the tree to open presents. It's not until all the wrapping paper clears that we realize just how hungry we are!
I'm not complaining, our late breakfast opens the door for all of these fantastic brunch recipes! By that time, a mid-day mimosa or gingerbread eggnog cocktail is perfectly reasonable while we all gather around the table to enjoy a meal together.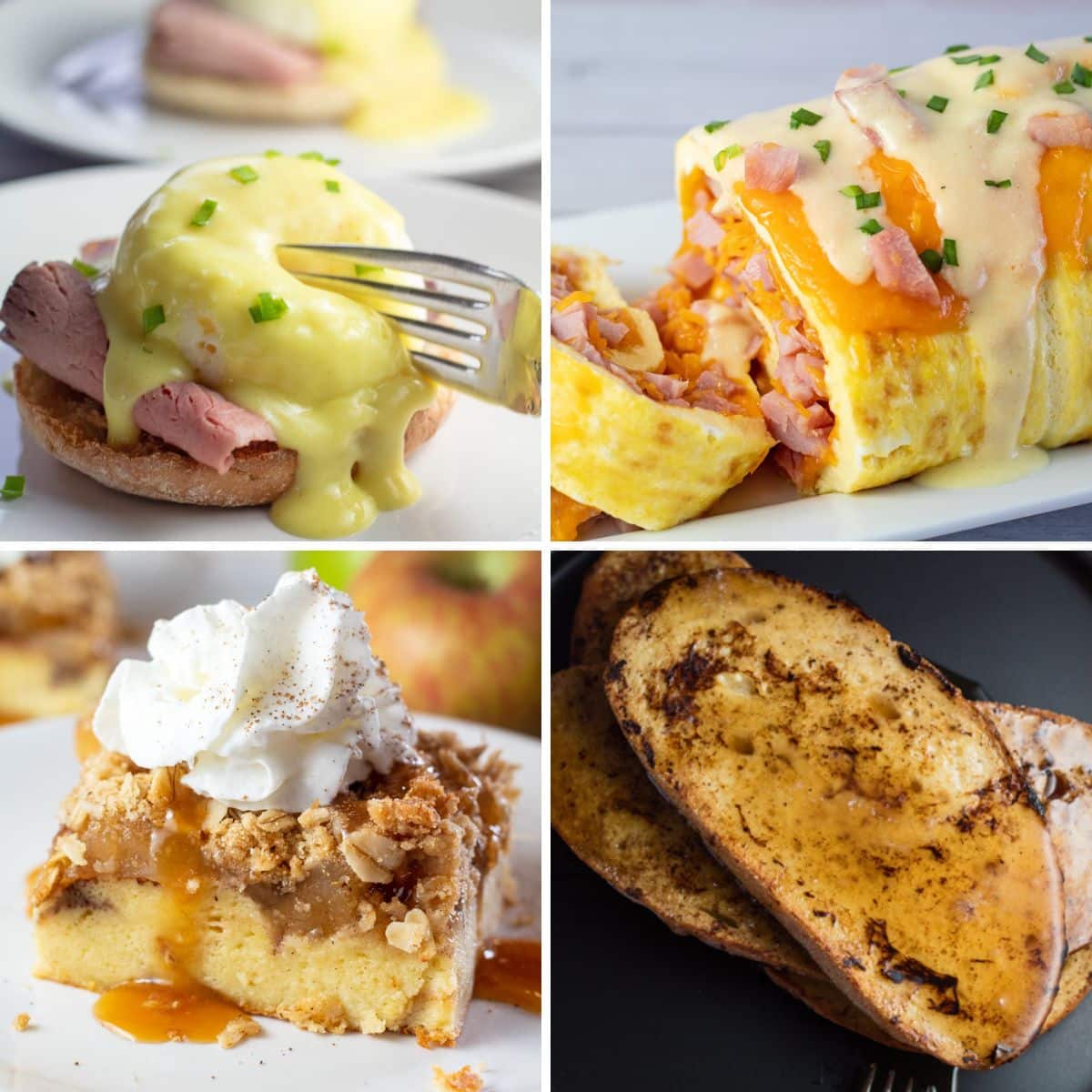 Jump to:
Holiday Brunch Recipes
These brunch recipes are tried and true favorites from my family to yours. Whether you like your brunch sweet or savory, there's something for everyone!
If you enjoy your Christmas meal a little earlier in the day, or you plan on serving a crowd, take a look at my Christmas breakfast casserole recipes!
1. Cinnamon Roll Bread Pudding
On Christmas, we bust out the extra special bread pudding! You can use leftover, storebought, or freshly made cinnamon rolls to make this version.
As if cinnamon rolls weren't delicious enough, these are cut up and soaked in a creamy sweet custard then baked. This is one recipe you'll want to make a family tradition.
2. Apple Pie French Toast Casserole
This brunch casserole is just as dreamy and indulgent as it sounds. Everyone loves apple pie and everyone loves French toast, so why not combine the two?
You can even make this casserole Christmas eve so it's ready to go the next day. Just pop it in the oven, slice it, and serve!
3. Cracker Barrel Hashbrown Casserole
Serve your favorite brunch entrees with a side of this satisfying hashbrown casserole. The crispy hashbrowns are coated in an irresistible combination of melted cheese, sour cream, and cream of chicken soup.
It tastes identical to the Cracker Barrel version. Maybe even better!
4. Apple Cider Pancakes
Apple cider is a Christmas tradition and these festive pancakes are full of that same spiced apple flavor! They are even topped off with soft, cinnamon-fried apples and a caramel apple syrup that is downright heavenly.
You could go all out and serve some homemade apple cider right alongside these pancakes. 'Tis the season!
5. Sausage Egg & Cheese Breakfast Casserole
This hearty casserole is made with all your breakfast favorites in one easy-to-slice dish! It's savory and cheesy and it will keep you full until dinnertime.
This casserole can easily be assembled in advance to save yourself time on Christmas day.
6. Baked Eggs
If you want to add some eggs to your brunch spread, these baked eggs are an easy way to do it! Baked eggs are still creamy in the center but the whites are perfectly set, it's truly the best way to enjoy eggs.
Not only are they easy to make, but they look so elegant when baked in a decorative ramekin. It's a great life hack for putting together a gourmet-looking brunch spread.
7. Baked Denver Omelet
A fluffy baked omelet is a great option for feeding a crowd on Christmas day. It's filled with sauteed onions, savory bits of ham, bell peppers, and of course, lots of cheese.
This baked omelet can be made in advance so you simply pop it in the oven when you're ready for brunch!
8. Strawberry Buttermilk Crepes
Creamy and sweet, strawberry buttermilk crepes will make any meal feel like a special occasion. Not to mention, this beautiful French breakfast is ready to eat in just 15 minutes.
The buttermilk crepes are so lite and tender with a subtle sweetness that is perfectly complemented by fresh strawberries and whipped cream.
9. Sausage Hash Brown Breakfast Casserole
If you're craving comfort food, this sausage hashbrown breakfast casserole will hit the spot. It combines everything you would want from a full country breakfast and bakes it into one satisfying casserole!
You've got savory sausage, protein-packed eggs, melted cheese, and crispy hashbrowns, what more could you want?
10. French Toast Bake
Don't waste time making individual slices of French toast when you can make enough for the whole family in one dish! It's superbly fluffy and it slices like a dream.
A drizzle of maple syrup and some fresh fruit or whipped cream will make this a brunch to remember!
11. Chocolate Pancakes
Kids and adults will be overjoyed when they see a stack of these rich chocolate pancakes on their plates! I've even included a recipe for my indulgent chocolate ganache syrup if you have a family of chocolate lovers.
I enjoy topping my chocolate pancakes with marshmallows. It's like hot cocoa you can eat!
12. Maraschino Cherry Coffee Cake
The juicy bits of Maraschino cherry in this coffee cake will have your family savoring every bite. It's soft and crumbly with an irresistible streusel topping and a cinnamon ripple right through the middle.
Coffee cake is classic brunch fare, but I promise you haven't had a coffee cake like this!
13. Prime Rib Eggs Benedict
Take the leftovers from your Christmas eve prime rib and turn them into an unforgettable eggs benedict! Velvety smooth hollandaise sauce, tender sliced prime rib, and a perfectly poached egg will have your guests feeling like they are in a 5-star restaurant.
If you've never made eggs benedict, don't worry. This recipe walks you through every step.
14. Omelet Roll
Perfectly set eggs rolled up around melted cheddar and bits of savory ham, yum! You can slice it and serve it with your favorite brunch sides.
1 omelet roll makes a whopping 12 servings, so there's plenty for extended family.
15. Sourdough French Toast
Once you try this sourdough French toast, you'll never go back to flimsy sliced bread again. The bread absorbs the flavors of rich maple and vanilla without becoming soggy.
Sourdough adds a slightly 'tangy' element that really helps to balance out the added sweetness. It's just as delicious with your favorite French toast toppings, too!
🎅 More Christmas Recipes
These Christmas brunch recipes are here to help you pull off a magical morning for you and your loved ones. Let me know which recipes you featured on your holiday menu by leaving me a comment below!
📋 Recipe