These Christmas breakfast casserole recipes are just what you need to serve a hearty meal to friends and family on Christmas morning! When guests come in from out of town, you need recipes that are easy, filling, and can serve a crowd. This tasty selection of breakfast casseroles will get the job done!
Breakfast Casseroles For Christmas Morning
During a hectic Christmas morning, the last thing you want is to be stuck in the kitchen cooking. Instead, feed the whole family with ease by serving these delicious breakfast casseroles!
Whether you are looking for something sweet or something savory, this list has you covered. There are plenty of casseroles to choose from so you can find what works best for your family!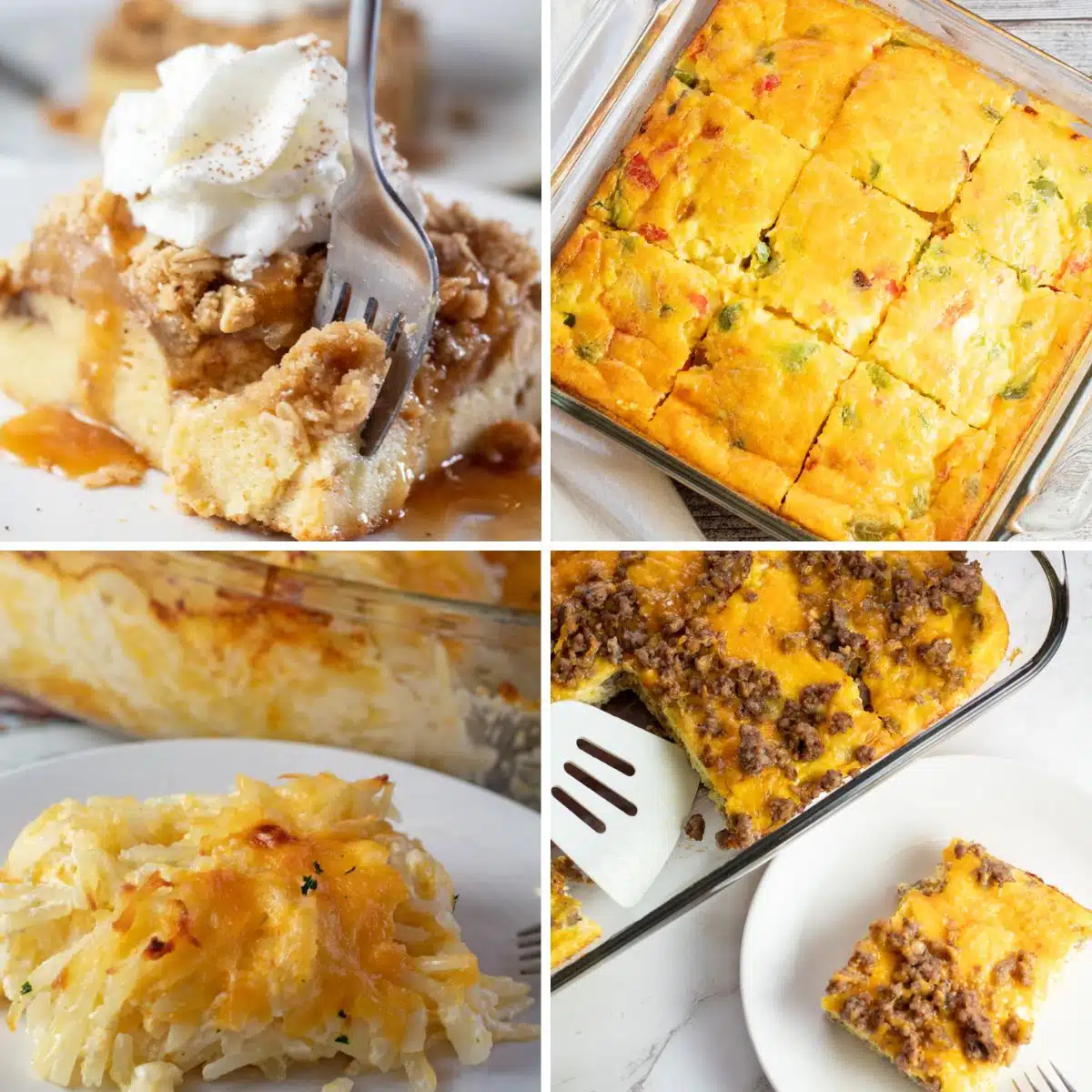 Jump to:
Christmas Breakfast Ideas
Some of these casseroles are an entire meal in one dish! They are a stress-free way to fill everyone's tummies before a long day of Christmas festivities.
If you are open to more than just casseroles, take a peek at my other family favorite Christmas breakfast recipes!
1. Cinnamon Roll Bread Pudding
Enjoying a cup of coffee with this cinnamon roll bread pudding is the best way to start Christmas day. What's not to love about dessert for breakfast?
You don't have to use stale cinnamon rolls for this recipe. You can use leftover cinnamon rolls if you have them or make cinnamon rolls from scratch!
2. Apple Pie French Toast Casserole
This breakfast casserole is truly an extra special treat worthy of the holidays. It has all the flavor of a made-from-scratch apple pie nestled in fluffy French toast with a delightful oatmeal streusel topping.
Make your french toast casserole the night before to save you even more time in the morning! Top it off with homemade whipped cream and the kids won't mind waiting to open presents.
3. Cracker Barrel Hashbrown Casserole
This knockoff of the Cracker Barrel classic is an easy side dish to serve in a snap. The hashbrowns are frozen, so there's no need to peel or shred potatoes.
Hashbrowns don't get better than this. They are creamy and cheesy and always a hit with kids and adults alike!
4. Sausage Egg & Cheese Breakfast Casserole
This hearty sausage, egg, and cheese casserole is a one-dish breakfast suitable for any special occasion! Putting it together is simple, just combine a few breakfast classics like eggs, sausage, cheese, and milk, then bake!
There's no need for sides, though a dash of hot sauce is a personal favorite. It has a whopping 8 servings, so there's plenty for the whole family!
5. Baked Denver Omelet
This omelet is both easy to make and easy to slice! It's full of all the classic Denver omelet mix-ins like ham, cheddar cheese, and crisp veggies.
There's absolutely no need to slave over a hot skillet on Christmas morning. You can have this omelet casserole on the table in just 35 minutes!
6. Sausage Hash Brown Breakfast Casserole
This recipe is made by combining all the elements of a hearty breakfast into one easy-to-eat casserole! It makes a perfect pre-present breakfast or post-present brunch to keep the family full until dinnertime.
This casserole will easily feed 10 people. However, you can feed even more by adding more eggs (up to 10) and more sausage (up to 2 pounds)!
7. French Toast Bake
All the familiar flavors of French toast in one crowd-pleasing casserole! This version takes much less effort than making individual slices of French toast.
Everyone will enjoy drizzling syrup over a fluffy slice of baked french toast. You can serve it with some other casseroles for this list or whip up a quick batch of scrambled eggs and bacon!
8. Everything Bagel Breakfast Casserole
Skip a boring plain bagel on Christmas and opt for this satisfying everything bagel casserole instead! You can even make it the night before so you just have to pop it in the oven on Christmas morning.
A cozy blend of bagels, everything bagel seasoning, cream cheese, bacon, and eggs, is baked until warm and inviting. Everyone will enjoy gathering around the table for this memorable holiday meal.
9. Sausage Cranberry Strata
This cranberry and sausage strata screams Christmastime! This tasty egg bake has all the expected breakfast heavy-hitters like eggs, pork sausage, and cheese, but with a tasty secret ingredient: cranberries!
This recipe also calls for diced English muffins, though you could easily swap them for bread. You could even use spicy sausage if you prefer a little kick!
10. Biscuits & Gravy Bake
This recipe is classic comfort food made even better by baking it into a casserole! It features a thick layer of white sausage gravy and plenty of black pepper for good measure.
You don't have to worry about dry biscuits or too much gravy. This casserole keeps your biscuits and gravy at the perfect ratio!
11. Corned Beef Hash Brown Casserole
Loaded with crispy tater tots, sliced corned beef, protein-packed eggs, bell peppers, onions, and lots of cheese, this casserole is a totally suitable main course. Kids love it and it's even gluten-free!
You can also make this casserole the night before so you can focus on more important things on Christmas morning.
12. Farmer's Casserole
This casserole tastes even better when you assemble it the night before and let the flavors meld. It's simple, with just 6 ingredients plus salt and pepper, but tastes incredible!
It includes eggs, ham, hashbrowns, evaporated milk, green onions, and plenty of gooey melted cheese. It's perfect for when you need a hands-free holiday breakfast!
13. Cheesy Amish Breakfast Casserole
Calling all cheese lovers, this casserole is for you! This crowd-pleasing casserole features bacon, eggs, and hashbrowns, with 3 different kinds of cheese!
Cottage cheese keeps the casserole moist while Swiss and cheddar add melted cheesy goodness.
🎄 More Christmas Recipes
Each of these Christmas breakfast casserole recipes will help you pull together a memorable Christmas morning. Don't forget to come back and tell me which recipes you tried in the comments below!
📋 Recipe