Birthday party foods (menu planning): A list of the easiest and most delicious recipes for hosting an epic birthday party! From appetizers all the way through desserts, these recipes are always a hit with kids and adults alike! I've also included some tips and tricks that will help you streamline the menu planning process!
Best Birthday Party Foods
There are three key things you need to pull off a fabulous birthday party: a venue, entertainment, and FOOD! If you've picked the place to host your party and planned the activities, then all that's left is to build the birthday party menu.
Now that my daughter is a teenager, I've hosted my fair share of parties for kiddos to young adults. I've learned a thing or two about picking the perfect menu that keeps the partygoers happy and makes cleanup afterward a breeze!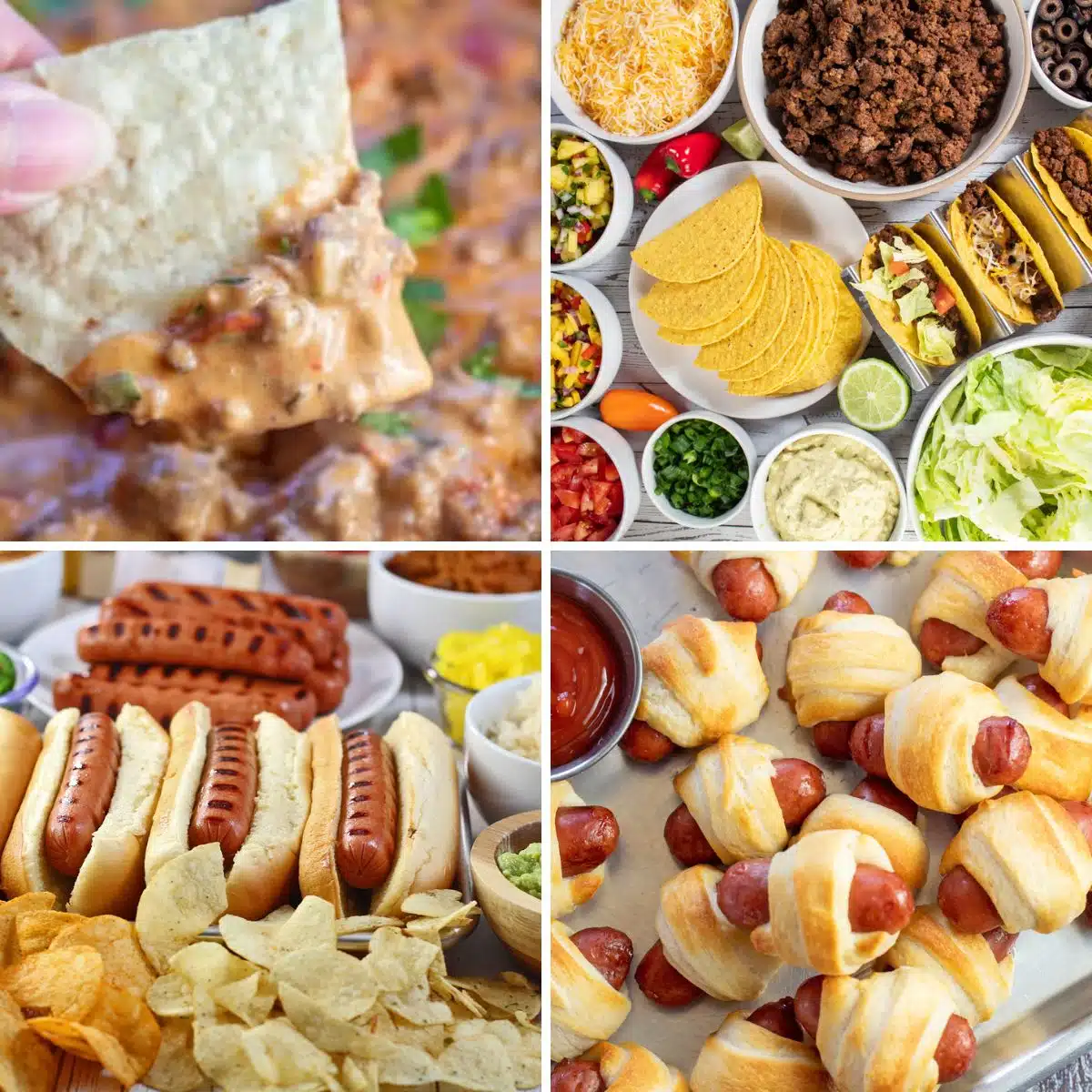 Jump to:
🎉 Birthday Party Appetizers
Chips with dip and grab-and-go snacks make for the best party appetizers. You don't want to choose anything too complicated, so you can focus your energy on the main course and dessert!
If you don't see anything that piques your interest here, check out my page of easy appetizers for more great suggestions!
1. Deviled Eggs
When I'm throwing a party, these deviled eggs are always the first thing to disappear! This is my go-to recipe for classic deviled eggs with the perfect balance of mayonnaise and mustard.
2. Air Fryer Pigs in a Blanket
It doesn't get much easier than these 2-ingredient air fryer pigs in a blanket. They are a great appetizer for when you're short on time before the party starts, and they are practically mess-free!
3. Dill Pickle Dip
This creamy chip dip is full of dill pickle flavor! Best of all, it only takes about 10 minutes to throw together and only requires a handful of simple ingredients.
4. Rotel Dip
Warm and cheesy RoTel dip is best served with crispy tortilla chips. The taco-seasoned ground beef makes this an excellent appetizer for a taco bar!
5. Nachos Supreme
A giant platter of nachos supreme will require some extra plates and napkins, but they're always a popular addition to any appetizer spread! To make things easier, you can put the cheese and toppings on the side so everyone can assemble their own nachos on their plate.
6. Easy Air Fryer Pretzel Bites
Utilize time-saving kitchen appliances like your air fryer or Instant Pot to help you with prep. These air fryer pretzel bites are delicious and perfect for dunking in various condiments and sauces!
>>>>See all of my recipes HERE<<<<
‌🍔 Birthday Party Main Courses
7. Baked Potato Bar
Baked potatoes can make an excellent main course if you provide a variety of hearty fillings like pulled pork or shredded chicken! I like to display all the toppings in Tupperware containers. That way, I can quickly close everything up and refrigerate it when the party ends.
8. Burger Bar
Both kids and adults love burgers, especially when there are tons of tasty burger toppings to choose from! You can offer different cheeses and condiments like my addictive burger sauce and let everyone build their perfect burger!
9. Hot Dog Bar
A build-your-own hotdog bar is perfect for summertime parties and outdoor events! Hot dogs are quick and easy to prepare and don't require any silverware. A big batch of homemade chili for chili dogs is always appreciated!
10. Taco Bar
If the guest of honor is a fan of tacos, nothing beats a taco bar! You can assemble different toppings, condiments, meats, and fillings for everyone to load up their taco shells or tortillas (or both). Adults may appreciate more 'gourmet' taco toppings, while kids are usually content with the basics.
‌🍟 Birthday Party Side Dishes
11. Fruit Salad
Fruit salad is cool and refreshing, plus it can be made house before the party and kept in the fridge until you're ready. The fruit is tossed in a super simple honey citrus sauce that will have everyone coming back for seconds!
12. Potato Salad
It's easy to make a huge batch of potato salad, and again, it can be prepared the night before and refrigerated until needed. This is a favorite for outdoor parties during the hot summer months.
13. Ambrosia Salad
Ambrosia salad is a sweet side dish consisting of creamy cool whip dressing, fluffy mini marshmallows, and fruit! You can whip it up hours before the party and keep it cool in the fridge while focusing on the remaining food.
14. Air Fryer Frozen Onion Rings
Onion rings pair perfectly with any of the main courses above (of course, you could go for air fryer french fries, too)! Frozen onion rings turn out crispy and delicious in the air fryer, no one will know they weren't homemade.
‌🎂 Birthday Party Desserts
15. Sprinkle Cookies
I love that you can use any type of sprinkles for these soft and chewy sprinkle cookies. That makes it incredibly easy to make them match the party theme!
16. Easy Chocolate Cake
If you don't consider yourself a baker, you can still pull off a wonderfully moist and decadent birthday cake. This easy chocolate cake recipe is simple enough for beginners in the kitchen and always tastes delicious!
17. Birthday Cake Funfetti Cupcakes
Cupcakes are a classic birthday dessert that can be easily customized with sprinkles, candy, and different colors and flavors of buttercream frosting. I love these Funfetti cupcakes because every bite has a rainbow sprinkle surprise!
You could also try my number cupcake cake, which makes for a cute photo op!
18. Chocolate Birthday Cake
Almost everyone loves chocolate! As long as the birthday boy or girl is a fan of chocolate cake, this moist chocolate birthday cake with chocolate buttercream frosting never disappoints.
Don't worry if you don't see the perfect party dessert here, I have many more easy party desserts to choose from!
Tips For Choosing The Best Birthday Party Foods
Ultimately it's up to the guest of honor to choose the type of food at their party, unless it's a surprise party, of course! Here are a few key things to keep in mind when building the birthday party menu:
Prepare for dietary restrictions: Offer various options so that anyone with dietary restrictions won't be left out. You may not be aware of all dietary needs before the party, so make sure there is plenty of food to choose from.
Make age-appropriate choices: When selecting the menu, be sure to keep the age of the attendees in mind. Young kids usually prefer common foods, whereas teenagers or adults might enjoy a more diverse menu.
Consider the time of your party: Usually, you will be expected to serve dinner if the party is at dinnertime. If you're working on a budget, have a mid-afternoon party. You can feed small plates and snacks rather than a full meal if the party is held outside of mealtimes.
Finger foods and easy-to-eat items: Finger foods and easy-to-eat options are best, especially for younger children. Guests will graze and snack throughout the party, so dishes that require minimal mess or utensils make cleanup so much easier!
Customize for the theme: If the birthday party has a specific theme, try incorporating it into the food! For instance, you can choose coordinating frosting colors for cakes or cupcakes.
Keep it fun and interactive: Include interactive food stations or DIY options that allow partygoers to customize their meals. Build-your-own burger bars, taco bars, hot dog bars, and even ice cream sundae stations are always a hit!
Any combination of these recipes will make your next birthday party one to remember! Tell me about your favorite birthday party recipes in the comment section below!
🎈 🍰 😋More Crowd-Pleasing Recipes
📋 Recipe