Here's what to serve with corn on the cob so you can turn it into a tasty meal that showcases the sweet and succulent taste of corn! From grilled meats to refreshing summer side dishes, you can't go wrong with any of these fabulous recipes! Whether you're firing up the grill for a backyard BBQ or planning a simple family dinner, you've come to the right spot!
Best Dishes To Have With Corn On The Cob
Summertime is just around the corner, and one of the most versatile (and delicious) summer side dishes is corn on the cob! You can boil it, steam it, or grill it, and it pairs perfectly with so many classic summer recipes.
From burgers to BBQ, fried chicken, tacos, and more, a side of corn on the cob never disappoints. Below are my favorite dishes to serve when I know I'm putting corn on the menu, as well as a few tips for choosing which recipes will work best!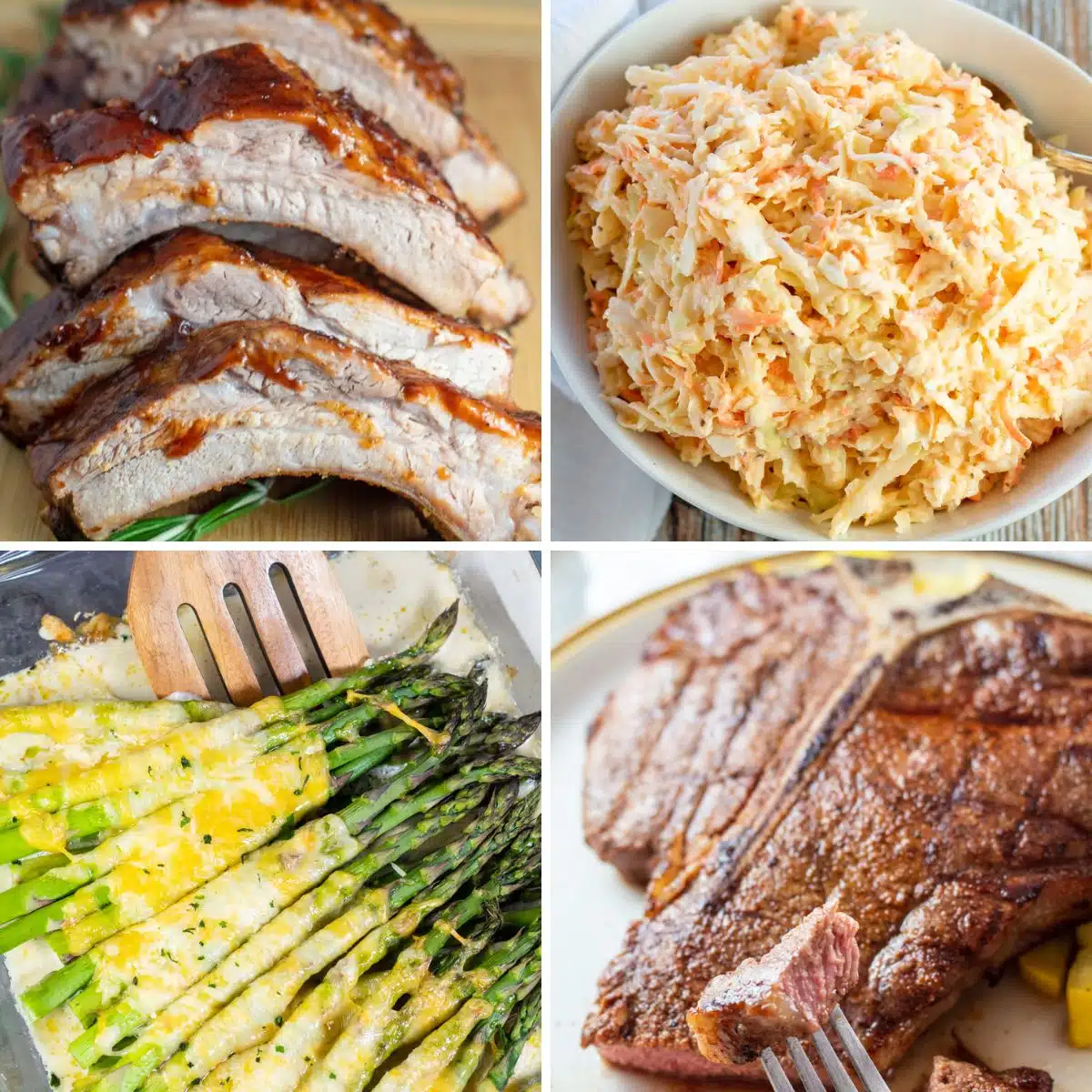 Jump to:
If you don't already have your corn-on-the-cob recipe picked out, I have plenty to choose from! My grilled corn on the cob, smoked corn, milk butter boiled corn, crockpot corn, and air fryer corn recipes are all equally delicious! (I even have a microwave corn on the cob recipe if you need it in a flash!)
1. Grilled Baby Back Ribs
As thrilled as everyone will be about these succulent, fall-off-the-bone tender ribs, they'll be even more excited if it comes with a side of juicy corn! You can throw your corn cobs on the grill when the ribs are almost done cooking so that they're ready at the same time.
2. Cheesy Baked Asparagus
Asparagus in any form makes a fabulous veggie side to serve with corn. This cheesy baked asparagus takes the flavor one step further with a rich and creamy sauce and lots of melted cheese.
3. Baked Beans with Ground Beef
These sweet and savory baked beans with ground beef are hands-down one of my favorite side dishes for cookouts and barbecues. The sweet and refreshing flavor of corn contrasts the smokey flavor of the beans perfectly!
4. Southern Coleslaw
Whether you are adding it to sandwiches or enjoying it on its own, coleslaw is a crisp, cool, and refreshing addition to any meal. 90% of the time, a big bowl of coleslaw and a platter of warm corn on the cob are the only side dishes you need!
6. Hot Dog Bar
Corn on the cob and hot dogs are both summer classics, so naturally, they taste great together! A hot dog bar is perfect for any occasion where you need to serve a crowd. Hot dogs, buns, and all the toppings you could ask for are arranged so that everyone can build their perfect dog!
7. Egg Burger
Move over french fries, corn on the cob will be your new favorite side to serve with burgers! All burgers would make an excellent choice, but if you ask me, there's something so satisfying about a burger with a fried egg on top.
8. Air Fryer Baked Potatoes
Everyone knows corn, and potatoes are a match made in heaven, so why not pair yours with these super easy baked potatoes? Grab your favorite potato toppings and load them up!
>>>>See all of my recipes HERE<<<<
9. Baked Pork Tenderloin
Corn and pork taste incredible together, and this baked pork tenderloin makes a regular appearance at my house. It's a super easy recipe that always yields perfectly moist and tender pork that you can enjoy as is or slather in pork gravy!
11. Grilled T-bone Steak
When in doubt, you can never go wrong serving corn with a nice, juicy steak. I particularly love a T-bone with corn that has been grilled as well, so they both have that slightly charred flavor!
12. Sloppy Joes
These classic sloppy Joes are just like you remember from childhood. They make a wonderful family dinner any day of the week, and a corn cob on the side is always a hit!
13. Baked Panko Chicken
If you don't feel like firing up the grill, try this juicy and tender chicken with a crispy panko coating! It's baked until golden and perfectly seasoned, plus it's always enjoyed by kids and adults alike.
14. Chicken Fajitas
Zesty or spicy Mexican recipes pair wonderfully with the refreshing and sweet flavor of corn. These chicken fajitas are a family favorite, and you can pair them with some homemade tortillas for making tacos and more!
15. Air Fryer Grilled Ham and Cheese
What's not to love about a 10-minute recipe with almost no prep or cleanup? This air fryer grilled ham and cheese is just that! For a quick and easy lunch or dinner, whip up a few of these tasty sandwiches and some corn on the cob!
16. Slow Cooker Beef Cheek Tacos
Corn tastes great with tacos in any way, shape, or form. From ground beef tacos to shredded chicken tacos, you really can't go wrong. My personal favorite are these richly flavorful and mouthwatering beef cheek tacos you can make in your crockpot!
17. Cajun Fries
These zesty and addictive Cajun-seasoned french fries are made with my super simple Cajun seasoning blend. You can add some extra seasoning to your corn cobs to make it a Cajun feast!
Most Common Foods To Pair With Corn On The Cob
When choosing recipes to serve with corn, the main thing to consider is how you prepare and season your corn. Plain or buttered corn pairs well with just about anything on this list, while seasoned corn may pair well with some things better than others!
Grilled Meats: Corn on the cob is a classic accompaniment to grilled foods. It pairs well with grilled steak, grilled chicken, pork, or fish.
Barbecue: Whether it's pulled pork, bbq beef ribs, or barbecue chicken, the sweetness of corn is a nice counterpoint to smoky, tangy barbecue flavors.
Burgers: A juicy burger and an ear of corn is a classic summer meal, whether you're grilling outdoors or cooking indoors.
Seafood: Corn on the cob pairs well with a variety of seafood dishes. Try it with bbq shrimp, a Cajun seafood boil, or a seafood bake.
Fried Chicken: This is a classic combination. The natural sweetness of corn complements the savory flavor of the chicken perfectly.
Tacos and Fajitas: Corn on the cob can be a refreshing side dish to balance Mexican dishes' rich and spicy flavors.
Sausages: Whether it's hot dogs, kielbasa, bratwurst, or Italian sausage, corn on the cob is a great side.
Roasted or Grilled Vegetables: For a vegetarian option, pair corn on the cob with other grilled or roasted vegetables for a hearty meal.
Pork Chops: The sweetness of corn on the cob pairs well with the savory flavor of pork chops.
Skewers/Kabobs: Corn on the cob can balance out the flavors of marinated or grilled meat skewers nicely. Serve with chicken, pork, or beef kabobs for a tasty meal.
Table 1: Quick Guide For Pairing Corn
You can't go wrong with any of these recipes when corn on the cob is on the menu! Let me know your favorite pairings for corn in the comments below!
🌽😋 More Tasty Corn Recipes To Try
📋 Recipe