These Thanksgiving appetizers are a perfect way to kickstart the big day while waiting for the main course! There are a ton of different options, so you are bound to find some recipes that your whole family will love! They'll definitely hold everyone over until it's time for turkey!
Best Thanksgiving Appetizers
Thanksgiving is a time of gathering with your family and catching up! The perfect time to do this is while enjoying some appetizers before the turkey is ready.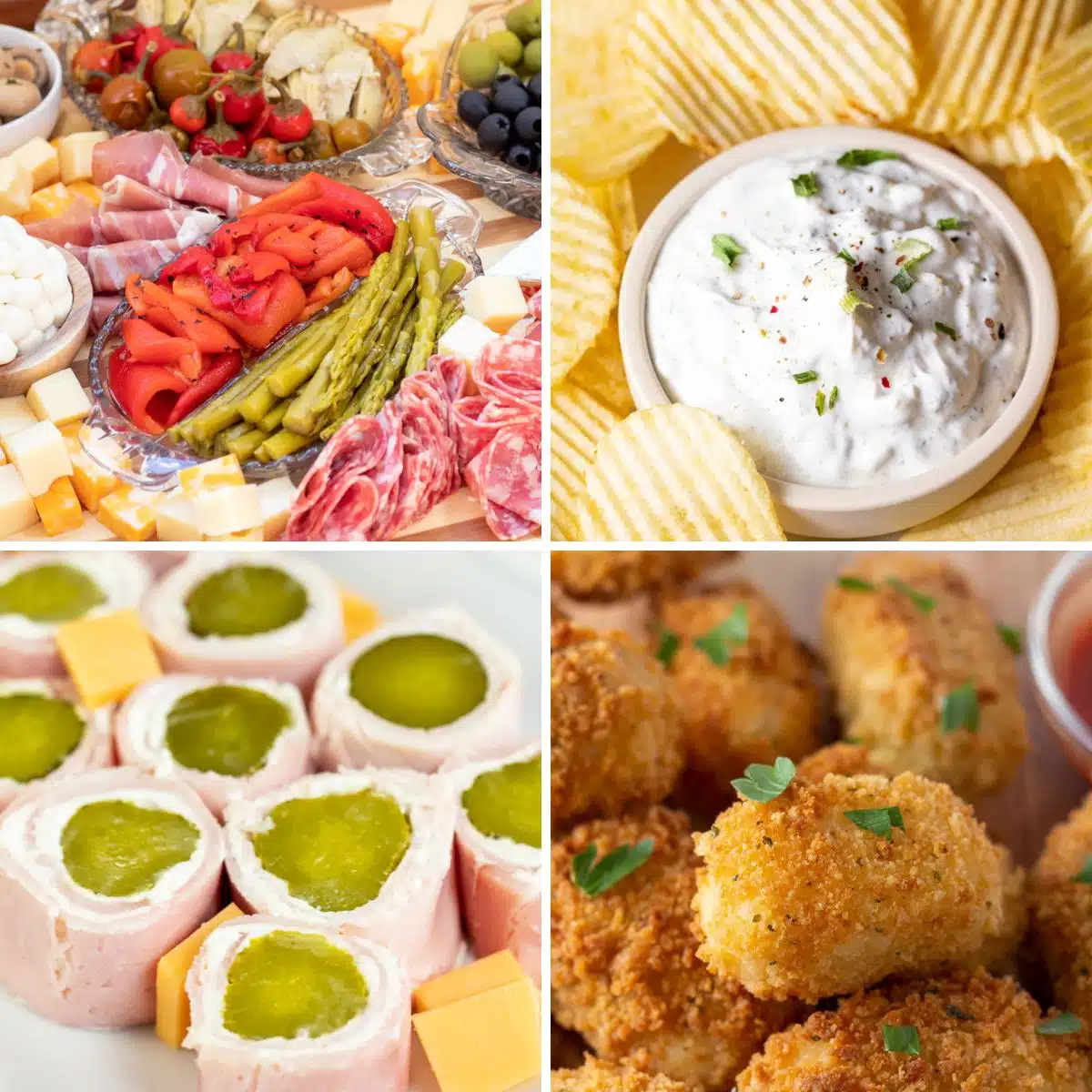 Jump to:
Whether you're a pro at hosting Thanksgiving dinner and holiday parties or giving it a try for the first time this year, you're sure to find my ultimate guide to planning Thanksgiving a help! Don't forget to safely thaw your holiday turkey early, too!
1. Cheese Croquettes
These irresistible croquettes combine mashed potatoes with fontina cheese. The mixture is coated in breading and then fried until golden.
You can't go wrong with these! Try out my potato croquettes or korokke for different variations.
2. Pickle Roll-Ups
This 3-ingredient appetizer is a snap to make! It's perfect for when you want something for everyone to snack on but are too busy to put in a ton of effort.
There's no cooking required! Serve with cocktail toothpicks for easy snacking!
3. Antipasto Platter
Whether you are hosting a formal Thanksgiving or one that's more casual, everyone can enjoy an antipasto platter! It is customized with your preferred meats, cheeses, and snacks, which will perfectly suit your needs.
4. Sour Cream Chip Dip
Everyone loves dip, and Thanksgiving is perfect for setting some out! Plus, it is ridiculously easy to make, so you won't have to spend a ton of time on it!
5. Bacon Wrapped Asparagus
The combination of salty bacon and fresh asparagus makes this dish a real winner. Even if you aren't a fan of asparagus, the addition of bacon may change your mind!
6. Cream Cheese Stuffed Mushrooms
A mixture of cream cheese, seasonings, and Parmesan cheese is stuffed into cremini mushrooms and baked to perfection. You may want to double the batch because everyone will gobble these up!
7. Hummus
Hummus is a classic dip that pairs perfectly with crackers, veggies, chips, bread, and more! Not to mention, there are a ton of different flavor variations you can try out!
8. Ranch Cheese Ball
This impressive ball of cheese features cheddar, cream cheese, ranch seasoning, and bacon! While it is delicious, it is also pretty impressive to look at.
9. Pinwheel Sandwiches
Pinwheel sandwiches are an incredibly versatile appetizer. You can easily customize them with any of your favorite fillings, or make a variety!
10. Crockpot BBQ Meatballs
These tangy and sweet meatballs are pretty effortless and hands-off. Serve them with toothpicks for a simple appetizer that people can snack on while they mingle!
Some crockpot grape jelly meatballs would be another great choice!
11. Spinach Artichoke Dip
Spinach artichoke dip may be one of the most popular chip dips out there! If you want to take it up a notch, try my lobster artichoke dip!
12. Cheese Platter
A spread of cheeses, dips, and accompaniments is delicious and visually impressive.
13. Bacon Wrapped Jalapeno Poppers
Jalapenos are stuffed with cream cheese, wrapped in bacon, and baked! I also have an air fryer jalapeno poppers recipe or a lobster jalapeno poppers recipe you can try!
>>>>See all of my recipes HERE<<<<
14. Risotto Balls
Everything you love about classic risotto, but in easy-to-serve fried balls.
15. Crab Stuffed Shrimp
Combining two different popular seafood options into one amazing appetizer is always a hit!
16. Cheddar Swiss Cheese Fondue
Enjoy some melted, savory fondue for dipping bread, vegetables, and more!
17. Calamari
Crispy rings of fried squid are always a crowd favorite, no matter the occasion!
18. Crab Rangoons
A classic Chinese recipe that makes a perfect finger food. Try out my shrimp rangoons, too!
19. Charcuterie Board
Customize your board with your guest's favorite snacks!
20. French Onion Dip
Creamy homemade French onion dip tastes so much better than the store-bought version.
21. Bisquick Sausage Balls
Using Bisquick baking mix makes these sausage balls extra simple to prepare!
22. Deviled Eggs
Deviled eggs are a classic Thanksgiving appetizer that can't be missed!
23. Breaded Stuffed Scallops
If your guests love seafood, these stuffed scallops are going to be a new favorite!
24. Olive Dip
A savory olive dip that pairs amazingly with buttery crackers.
25. Sausage Cream Cheese Crescent Rolls
A 20-minute appetizer that only needs four ingredients to make!
💭 Tips For Choosing Thanksgiving Appetizers
Here are a few things to keep in mind when choosing what you want to put on your Thanksgiving appetizer menu.
Consider Dietary Restrictions: Be mindful of any dietary restrictions or allergies your guests may have.
Balance Flavors and Textures: Aim for a diverse range of flavors and textures. Include options that are crunchy, creamy, savory, and sweet.
Prep in Advance: Choose appetizers that can be prepared ahead of time or require minimal last-minute assembly.
Finger-Friendly Options: Consider easy-to-eat finger foods that guests can enjoy while mingling.
Portion Control: Keep portion sizes in mind. Appetizers should be small enough to leave room for the main meal.
Sauce and Dip Selection: Offer a variety of sauces and dips to accompany your appetizers.
Include Familiar Favorites: While it's fun to experiment with new recipes, don't forget to include a few familiar favorites that are sure to be crowd-pleasers.
These Thanksgiving appetizers are guaranteed to be a hit! Let me know which ones you are going to make this year!
📖 Recipe Card