These pumpkin pie recipes are the best of the best! They're guaranteed to impress at any Thanksgiving or Christmas celebration, from tried-and-true classic pumpkin pie to chocolate pumpkin pie and many more fun and tasty variations! Find your new signature holiday dessert to bake for years to come!
Best Pumpkin Pie Recipes
Everyone knows pumpkin pie is a must-have Thanksgiving dessert. However, after seeing different families for Thanksgiving celebrations, I'll admit I get a little worn out with the same pumpkin pie over and over.
That's why I love bringing along a dessert that features the classic pumpkin pie flavor we all crave but with a tasty twist! Check out all of my favorite pumpkin pie recipes below!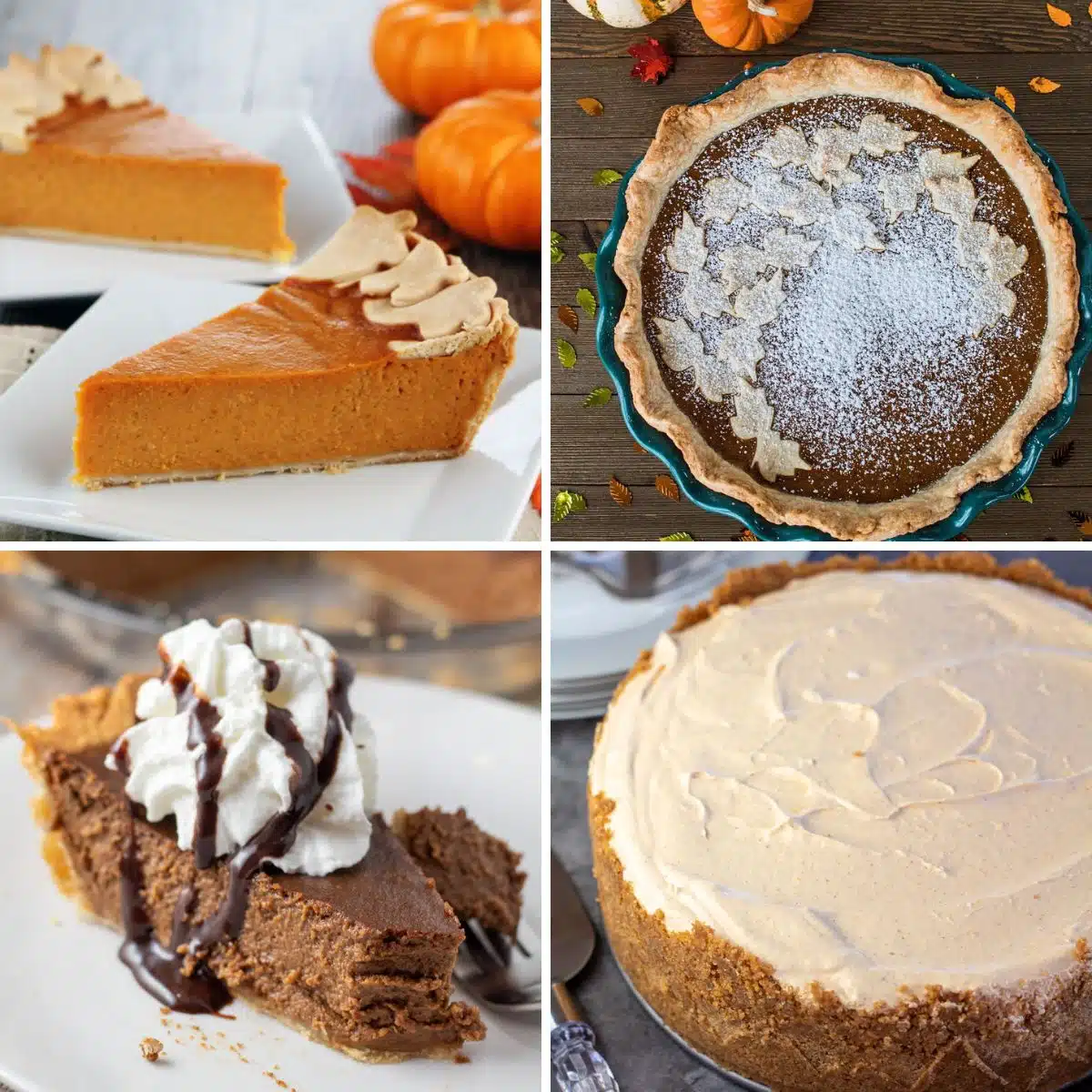 Jump to:
Many pumpkin pies freeze beautifully! To make them in advance or freeze leftovers, check out my page on how to freeze pumpkin pie! You can find my full collection of holiday pies right here!
1. Pumpkin Pie
Starting off the list with my signature classic pumpkin pie. It's creamy and perfectly spiced with my homemade pumpkin pie spice (plus the flaky butter pie crust is made from scratch)!
2. Pumpkin Pie without Evaporated Milk
No evaporated milk? No problem! This pumpkin pie turns out rich and creamy without it!
3. No Bake Pumpkin Pie
It doesn't get much easier than pumpkin pie that you don't have to bake! It's cool, creamy, and rich, and the crispy gingersnap pie crust is always a crowd favorite.
4. Chocolate Pumpkin Pie
Chocolate and pumpkin is the unlikely flavor combination you didn't know you were missing out on! With some whipped cream and a drizzle of chocolate syrup, it's much more decadent than your typical pumpkin pie!
5. Pumpkin Pecan Tart
Gone are the days when you had to decide between pumpkin or pecan pie! Now you can satisfy fans of both desserts with this one delicious and surprisingly easy-to-make tart!
>>>>See all of my recipes HERE<<<<
6. Pumpkin Pecan Streusel Pie
This pumpkin pie features a delicious pecan streusel on top! It adds a delectably sweet crunch that will have everyone coming back for a second slice.
7. Dulce De Leche Pumpkin Pie with Hazelnut Crust
This pie screams 'fall' with its rich and warmly spiced layers! It begins with a flaky hazelnut pie crust, followed by a layer of classic pumpkin pie filling and a layer of dulce de leche cheesecake.
8. Salted Caramel Pumpkin Pie
Salted caramel fans will be delighted with this unique and tasty twist on pumpkin pie! Pumpkin pie spice seasonings and salted caramel blend together to make the ultimate fall flavor combination.
9. Brown Butter Pumpkin Pie
Brown butter adds a depth of flavor you didn't know was possible for pumpkin pie! Browning the butter is a quick extra step that is more than worth the effort.
10. Creme Brulee Pumpkin Pie
You can't go wrong with this cream brulee pumpkin pie for a show-stopping holiday dessert! Whip out the blow torch tableside to crisp up the crackly creme brulee topping, and you'll have everyone talking!
11. Southern Pumpkin Pie
Paula Deen's signature recipe for pumpkin pie includes cream cheese, which gives it a delicious tang! There's only about 10 minutes of prep time, then the onion takes over!
12. Butternut Pumpkin Pie
Butternut squash has a flavor similar to pumpkin, so they blend together beautifully. Roasting the squash brings out its natural sweetness and gives this pie a delicious complexity!
13. Pumpkin Slab Pie
A pumpkin slab pie is essentially a giant pumpkin pie baked in a rectangular baking pan. It's a beginner-friendly recipe that's ideal for serving a crowd at any fall party!
14. Chocolate Chip Cookies Pumpkin Pie
This rich and chocolatey chocolate chip cookie pumpkin pie will quickly become a new family favorite! Think of these pumpkin pie chocolate chip cookies but in super fudgy pie form!
15. Pumpkin Pie Cheesecake
Two layers of pumpkin pie filling and cheesecake come together in a crumbly graham cracker pie crust! Try it with a drizzle of toffee sauce, it's out-of-this-world!
🍰 Pumpkin Pie Variations To Try
If you're looking for a way to make your pumpkin pie stand out from the rest, there are plenty of ways to customize it! Offer a variety of whipped creams flavored with spices, bourbon, or maple for guests to choose from, or try some of these suggestions:
Crust Variations
Graham Cracker Crust: Graham cracker crust is sweet and crumbly with a touch of cinnamon, making it a tasty alternative to classic crust.
Gingersnap Crust: Gingersnap pie crusts have a spicy kick that complements the pumpkin flavor.
Oreo Crust: For a chocolatey contrast to the pumpkin filling that is crunchy and delicious!
Pretzel Crust: A crisp pretzel crust offers a delightful salty-sweet combination.
Gluten-Free Crust: Try using almond flour or gluten-free graham crackers if you need to accommodate dietary restrictions.
Filling Variations
Chocolate Chips: Mix in chocolate chips or chunks for a bit of chocolate flavor in every bite!
Apple Butter: Mixing apple butter into the filling or adding a layer of apple butter in the center of your dessert adds a deep, spiced autumn flavor.
Cheesecake: A cool and creamy layer of cheesecake adds a tangy and velvety element that everyone will love!
Bourbon or Rum: A splash of bourbon, brandy, or spiced or dark rum in the pie filling will add extra warmth and depth.
Alternative Milk: Substitute coconut, almond, or oat milk for evaporated milk to make a dairy-free pumpkin pie!
Toppings & Garnishes
Meringue Topping: Meringue is a light and fluffy alternative to whipped cream that is always delicious.
Caramel Drizzle: For extra sweetness and a gourmet presentation, add caramel!
Candied Pecans or Walnuts: Candied nuts add a wonderful crunch and nutty flavor.
Streusel Topping: A crumbly, brown sugar topping adds texture and flavor!
Ice Cream: A scoop of vanilla, cinnamon, or butter pecan ice cream on top of pumpkin pie is heavenly!
Presentation
Pie Crust Shapes: Use cookie cutters to create festive shapes from extra pie dough to garnish the top. (Like I did here with my pumpkin pie and pumpkin pie without evaporated milk)!
Lattice Top: Create a lattice pattern with pie crust over the pumpkin filling for a beautiful traditional pie look.
Layered Look: Carefully layer different fillings for a visually pleasing presentation that only appears when sliced!
With all these fabulous pumpkin pie recipes and tasty variations at your disposal, I hope I helped you create a new favorite holiday pie! Tell me all about your Thanksgiving dessert spread in the comment section below!
📖 Recipe Card