This flaky Butter Pie Crust makes it easy to bake perfect pie crusts every time using only flour, salt, butter and ice water! My fool proof pie crust tips are included for taking all of the worry out of your pie baking!

Butter Pie Crust Recipe
For all of us out there that have ever been intimidated by a homemade pie crust, I can assure you this is truly a simple starting recipe! I've been there, and my pies may not be the prettiest but they certainly taste great!
This easy to make all butter pie crust is as straight forward as they get, with minimal ingredients. The only key to making a great butter pie crust is to work with COLD butter and keep the butter as cold as possible throughout the process.
The butter pie crust is perfect for both sweet and savory fillings, and can be used as the base crust of a tart or quiche as well!
How To Make An All Butter Pie Crust
Before starting, measure out your ½ cup of cold water and add ice cubes. Allow the water to chill in the refrigerator while you gather ingredients and set up your food processor ( my recommended method, but this can be done by hand in a large mixing bowl and pastry cutter ). Your cubed butter an also be placed in the freezer for about 15 minutes prior to be placed into your food processor.
In the bowl of your food processor, combine the all-purpose flour and salt. Pulse the food processor once to combine the dry ingredients.
Place the cold, cubed butter into the food processor bowl with the flour. Pulse your food processor in short bursts until you have a roughly pea sized crumble. *Place your food processor bowl in the refrigerator, if needed, to keep the butter cold while working with it.

Slowly add the ice water to the dough, drizzling it in using 1 tablespoon at a time. The dough should be moist enough to come together, but not be wet or soggy.
Transfer the pie crust dough out onto a lightly floured working surface and gather it together. Split the dough into two equal portions, and form a ball with each half. Press the dough down into a flattened disc shape.
Wrap the dough in plastic cling film wrap, then transfer both portions to your refrigerator. Chill for at least one hour before rolling out and baking. The dough can be kept in your refrigerator for up to 2 days before using.
This recipe makes a double crust that works for 8 or 9 inch pie pans and baking dishes.
Salted Butter vs Unsalted Butter
The salt content of salted butter varies by brand, so your recipe results are affected by those variances. Unsalted butter allows you to control the salt content better, which is especially important in baking. By default I always recommend cold, unsalted butter.
Best Type of Flour for Making Pie Crusts
A medium protein all-purpose flour works great for pie dough! If you have a pastry flour available to you, it will work wonderfully as well. Pastry flour, as the name implies, is absolutely perfect for making pie crusts!
Pastry flour is on the low end of protein content, about 8-10%, but not as low as cake flour. Cake flour does not have enough protein to form a workable dough. Additionally, cake flour has a high starch content and will not absorb enough water to form a good pie crust.
On the opposite end of the spectrum, bread flour has a protein content that is too high. The bread flour will absorb too much water and make a pie crust that is tough and chewy.
Should I Sift the Flour for Pie Crusts
There is no need to sift your flour for pie crusts, especially when using a food processor. If you're making your pie crust by hand, whisk your dry ingredients together before adding the flour.
Pie Crusts That Aren't Flaky and Tender
If your butter pie crust is tough and/or not flaky, either it has been over-worked or too much water was used. This is not the end of the world, of course! Slice up your pie and serve it with some ice cream or whipped cream, your next crust will surely be better!
Pie crusts that repeatedly turn out tough may be due to your all-purpose flour. Each all-purpose flour brand has differing levels of protein and starch, which directly affects your pie crust baking.
To work around an all-purpose flour that has a high protein content, use cake flour in equal portions to your all-purpose flour. For example, in this recipe you would be using 2 ½ cups all-purpose, instead you would combine 1 ¼ cups each all-purpose flour and cake flour.
As with all things baking, you do learn what consistency you want in your dough after a try or two. Stick with it and you are sure to master this easy recipe in no time at all!
Print Recipe
Leave A Comment
Love This Recipe?
Click On A Star To Rate It!
Butter Pie Crust
This flaky Butter Pie Crust makes it easy to bake perfect pie crusts every time using only flour, salt, butter and ice water! My fool proof pie crust tips are included for taking all of the worry out of your pie baking!
Servings:
2
pie crusts (8-9 inch pie crust or 1 double crust)
Total Time
1
hour
15
minutes
Pin Recipe
Share on Facebook
Ingredients
2 ½

cups

all-purpose flour

½

teaspoon

salt

1

cup

butter

(2 sticks or 16 tablespoons - cold, cubed - can be frozen briefly before using)

½

cup

ice water
Instructions
In a food processor, add the flour and salt then pulse them together. Add butter and pulse in short bursts until the butter has broken down into pea-sized crumbles. *Refrigerate your food processor bowl if needed, to keep your butter cold while processing.

Add the ice water slowly in small amounts of 1 tablespoon at a time while pulsing the food processor. Continue until the mixture comes together as dough, it should be moist not soggy.

Turn dough out onto a lightly floured working surface, divide it into two halves and form each half into a ball.

Using your hands, flatten the two dough balls into a disc shape and cover with plastic cling film wrap. Chill in the refrigerator for a minimum of 1 hour (and up to 2 days).
Nutrition
Calories:
1383
kcal
(69%)
|
Carbohydrates:
119
g
(40%)
|
Protein:
17
g
(34%)
|
Fat:
94
g
(145%)
|
Saturated Fat:
59
g
(369%)
|
Cholesterol:
244
mg
(81%)
|
Sodium:
1398
mg
(61%)
|
Potassium:
194
mg
(6%)
|
Fiber:
4
g
(17%)
|
Sugar:
1
g
(1%)
|
Vitamin A:
2836
IU
(57%)
|
Calcium:
51
mg
(5%)
|
Iron:
7
mg
(39%)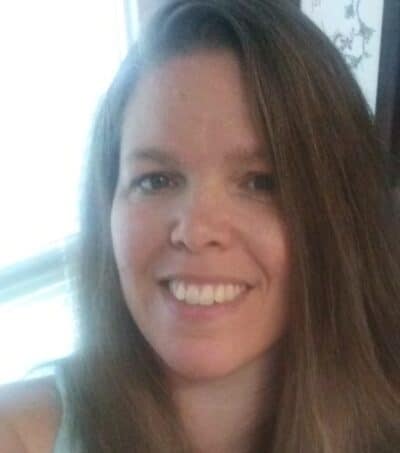 Angela is an at home chef that developed a passion for all things cooking and baking at a young age in her Grandma's kitchen. After many years in the food service industry, she now enjoys sharing all of her family favorite recipes and creating tasty dinner and amazing dessert recipes here at Bake It With Love!