These Sunday breakfast ideas include classic breakfast recipes, easy-to-make family meals, and some fun new favorites! From baked donuts to breakfast casseroles, there's something here for everyone. Treat yourself to a special breakfast this Sunday with any of these delicious weekend recipes!
Breakfast Recipes For Sunday Mornings
Breakfast is considered the most important meal of the day, and what better way to kickstart a lazy Sunday morning than with a delicious and satisfying breakfast? Whether you prefer sweet or savory, light or hearty, there are countless options to choose from.
Sunday breakfast is the perfect time to experiment with new flavors and ingredients or to simply indulge in your favorite comfort foods. From classic pancakes and waffles to more adventurous dishes like huevos rancheros, we'll explore some creative and tasty Sunday breakfast ideas to inspire you this weekend!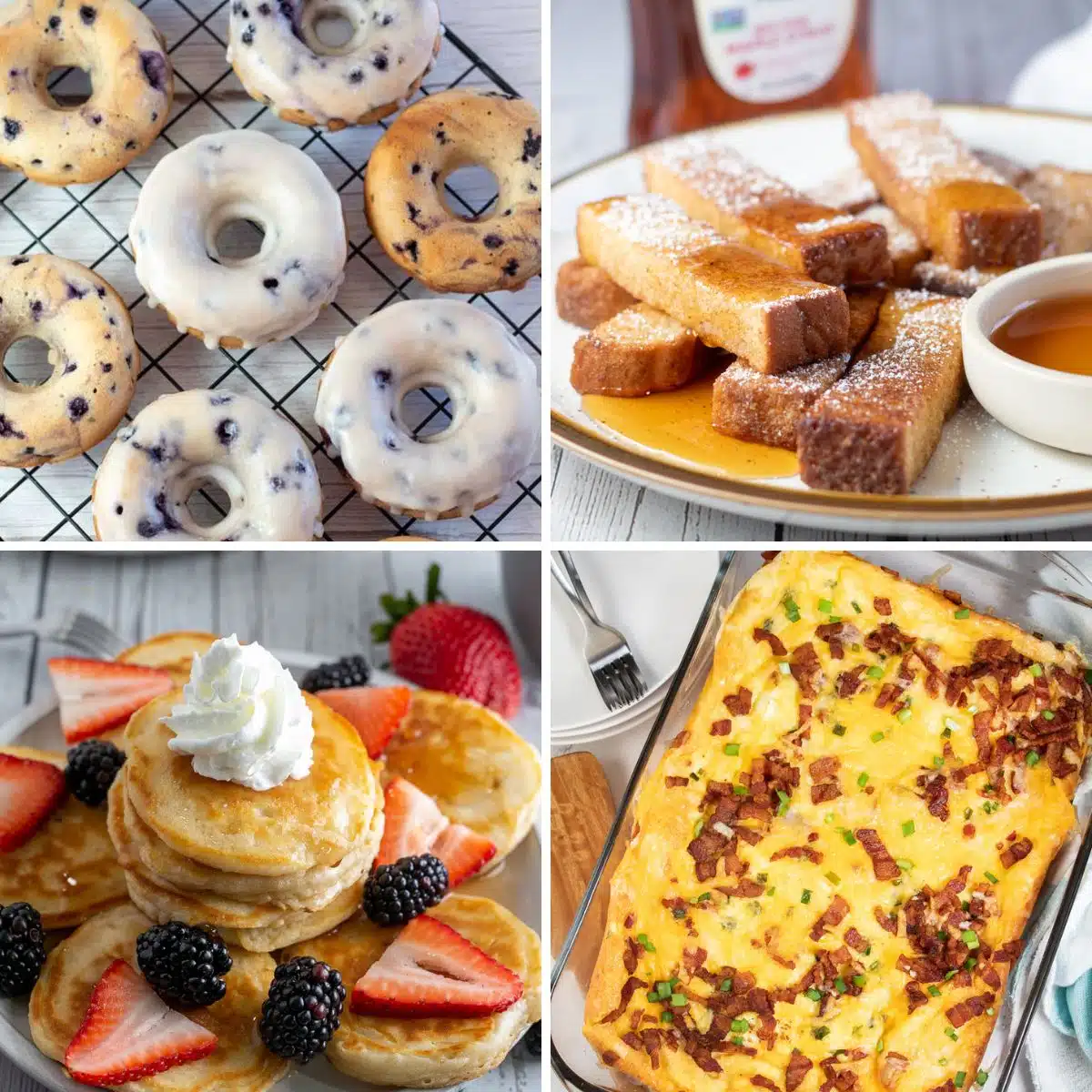 Jump to:
1. French Toast Sticks
One of the most classic of all weekend breakfasts has got to be French toast. These tasty finger food versions of that well-loved dish are a hit with kids too!
Coat your sliced bread sticks, and pan-fry until golden, then bake for a nice crisp exterior, and everyone will rave about their breakfast!
2. Corned Beef Hash
Corned beef hash is a classic breakfast recipe made with chopped corned beef, potatoes, onions, plus a little salt and pepper. Serve it with eggs and toast at breakfast or as a side dish for brunch!
It's a great way to use up leftover corned beef from St. Patrick's Day, but it's equally delicious any time of the year.
3. Huevos Rancheros
Huevos Rancheros is a traditional Mexican breakfast recipe that consists of fried eggs served on corn tortillas topped with zesty red salsa. It's a great way to start the day with a little bit of spice!
Serve your huevos rancheros with some refried beans and a dollop of sour cream for an authentic Mexican breakfast!
4. Pizza Dough Cinnamon Rolls
Pizza dough cinnamon rolls are a fun twist on a classic breakfast treat. Instead of traditional dough, pizza dough is used to create soft and chewy cinnamon rolls filled with cinnamon sugar and topped with sweet cream cheese icing.
It's much simpler than making your own dough from scratch but just as tasty. This cinnamon roll shortcut is my go-to for lazy Sunday mornings!
5. Silver Dollar Pancakes
Silver dollar pancakes are small, fluffy pancakes that are perfect for little hands or for anyone that wants to enjoy a variety of flavors. They're quick to make and can be customized with all your favorite pancake toppings, like roasted berries, blueberry syrup, or whipped cream!
6. Sweet Potato Coffee Cake
If you crave a sweet treat at breakfast time, this sweet potato coffee cake is sure to hit the spot. It's made with mashed sweet potato, which keeps the cake ultra-moist and adds a uniquely delicious flavor.
Fragrant warm spices, honey, and vanilla are all featured in this delightful breakfast cake, and sweet oatmeal crumble tops it all off!
7. Bacon Breakfast Casserole
This bacon breakfast casserole is loaded with eggs, bacon, and cheese. What more could you want from an easy one-pan breakfast?
It's cheesy, satisfying, and packed with protein that will keep you full until lunch. You can even make it ahead of time, and leftovers can be reheated for a quick and easy breakfast throughout the week!
>>>>See all of my recipes HERE<<<<
8. Grits
Grits are a Southern breakfast staple that everyone should try at least once in their life. You can make your grits savory by mixing in butter, bacon, or cheese.
Add fruit, honey, sugar, or cinnamon to make them sweet. This is just a base recipe to get you started because the flavor combinations are limitless!
9. Breakfast Quesadillas
Breakfast quesadillas are a delicious and easy way to start your Sunday. Filled with scrambled eggs, cheese, bacon, and hashbrowns, these quesadillas are always a hit!
This is a great 20-minute recipe for getting a quick bite in before church or other weekend activities. They are also freezer-friendly, so you can freeze extras for an easy breakfast later on in the week!
10. Ham & Cheese Quiche
Ham and cheese quiche is a classic breakfast dish that's perfect for a Sunday breakfast or brunch. Made with a flaky pie crust, eggs, ham, and cheese, this quiche is filling and flavorful!
This quiche reheats beautifully, so you can always make it Saturday night and refrigerate it until breakfast Sunday morning!
11. Ham Steaks
Ham steaks are a delicious and easy way to add protein to your Sunday breakfast! They're a great alternative to bacon or sausage if you're looking to try something new.
Serve your ham steaks with eggs, toast, or biscuits, or try them on a breakfast sandwich!
12. Cathead Biscuits
Cathead biscuits are a Southern classic that is perfect for a weekend breakfast or brunch. Made with flour, buttermilk, and butter, these biscuits are super tender and fluffy.
They're called "cathead" biscuits because they're the size of a cat's head! They can be served with butter and jam, country gravy, or even as a sandwich with bacon and eggs.
13. Peanut Butter Chocolate Chip Donuts
Indulge in some peanut butter chocolate chip baked donuts this weekend! These baked donuts are made with a peanut butter batter studded with chocolate chips, then topped with a simple peanut butter icing.
These cake donuts are sweet, satisfying, and loved by kids and adults alike!
14. Homemade Waffles
On the weekend, when you have a little extra time, try whipping up some waffles from scratch! Made with simple ingredients like flour, eggs, milk, vegetable oil, sugar, and butter, this recipe couldn't be easier.
Best of all, these waffles can be customized with all of your favorite waffle toppings!
For serving suggestions, stop by my page dedicated to what to serve with waffles!
15. Apple Pie French Toast Casserole
Apple pie French toast casserole is a comforting and delicious breakfast dish that's perfect for fall. Made with chunks of apple, cinnamon, and French bread soaked in an egg mixture, this casserole is topped with a crunchy streusel topping and baked until golden brown. It's a great way to start your day with a little taste of dessert!
16. Cinnamon Roll Casserole
Cinnamon roll casserole is a fun and easy way to enjoy the flavors of cinnamon rolls without all the work! It's made with baked or unbaked cinnamon rolls, eggs, heavy cream, maple syrup, vanilla, and cinnamon.
Combine everything, pop it in the oven, and bake until golden! It's a great option for feeding a crowd or for a special weekend breakfast.
17. Hash Brown Crust Sausage Cheddar Quiche
Hash brown crust sausage cheddar quiche is a hearty and flavorful recipe that works for breakfast or brunch! The hash brown crust adds a wonderfully crunchy texture to the quiche, which has a rich sausage, egg, and cheese filling.
This unique quiche is an excellent make-ahead option for entertaining, or you can just make it for yourself because the leftovers are delicious!
18. Tater Tot Breakfast Casserole
Layers of all the breakfast classics come together to make the ultimate breakfast casserole! It's got tater tots, breakfast sausage, bacon, eggs, and lots of melted cheese to enjoy in every slice.
With this one-dish meal, you don't even need sides! And just like all of the other egg-based casseroles on this list, the leftovers are super tasty.
19. Hashbrown Sausage Bacon Egg Casserole
This casserole is made with a layer of crispy hashbrowns and bell peppers, followed by a mixture of crumbled sausage, onion, and scrambled eggs. To finish it off, a generous sprinkling of cheese and crumbled bacon!
You can even assemble this casserole the night before and just pop it in the oven Sunday morning!
20. Overnight French Toast Bake
Nothing beats a recipe you can prep the night before and pop in the oven the next morning. The creamy, eggy French toast goodness soaks up into the bread overnight, so all you have to do in the morning is bake it.
This recipe is especially useful if you're cooking for a lot of people because classic French toast would take 3 times as long.
21. Homemade Pancakes
Nothing beats a stack of homemade pancakes piled high. This classic recipe is one you can use time and time again and always results in pancakes that are perfectly golden and fluffy.
If you prefer buttermilk pancakes, just swap out the milk for the same amount of buttermilk. You can add chocolate chips, blueberries, or any of your usual pancake mix-ins!
For topping and side dish ideas, check out my post on what to serve with pancakes!
22. Sheet Pan Pancakes
Sheet pan pancakes, also known as baked pancakes, are a convenient and delicious way to make a large batch of pancakes at once. Instead of standing at the stove flipping pancakes, you simply pour the batter into a sheet pan and bake it in the oven!
This method ensures that the pancakes are perfectly cooked and uniform in size. It's a hassle-free and tasty way to enjoy pancakes without the mess and effort of traditional stovetop cooking!
23. Chorizo and Eggs
Chorizo and eggs is a delicious and flavorful breakfast dish that's popular in Latin American and Mexican cuisines. The sausage adds a smoky and spicy flavor to the eggs, while the eggs provide a creamy and fluffy texture.
I like to pair my chorizo and eggs with some homemade flour tortillas for making tacos or burritos!
24. Aebleskiver (Danish Stuffed Pancakes)
Aebleskivers are small, round pancakes cooked in a special pan with half-spherical molds, which give them their distinctive shape. Fill them with jam, fruit, custard, peanut butter, or whatever you like!
That's not to say they aren't still totally delicious without filling. You can still add maple syrup or any of your favorite pancake toppings!
25. Ham & Cheese Omelet
A ham and cheese omelet is a classic and delicious breakfast dish that's easy to make and perfect for any day of the week. All you need is eggs, cheese, butter, milk, and ham, plus a little salt.
A super cheesy, protein-packed omelet makes an excellent main course that will keep you satisfied for longer. Pair it with your favorite breakfast side dishes to round out the meal!
26. Bisquick Waffles
Bisquick is a quick and easy way to make homemade waffles without the hassle of measuring out each individual ingredient. You'll just need Biqsquit baking mix, 1 egg, milk, and some butter!
You can have crispy, golden waffles ready to be topped with butter, syrup, fruit, or whatever you like!
27. Poffertjes (Dutch Puffed Pancakes)
Poffertjes are traditional Dutch puffed pancakes that are made with the same pan you would use to make the aebleskiver above. They are light and airy, with a slightly sweet flavor, and are typically served with butter and powdered sugar.
Poffertjes are a fun and unique way to enjoy pancakes and are a great way to add some international flavor to your breakfast routine!
These Sunday breakfast ideas are sure to make your weekend one to remember! I'd love to hear how everything turns out, so don't forget to come back and let me know in the comment section below!
🥓🧇🥞🍳🥛 More Breakfast Collections
📋 Recipe