Here's what to serve with waffles so you can turn them into a filling and well-rounded breakfast or brunch! From sweet, sticky syrups to savory side dishes, this list has everything you could want! Whether your making your waffles from scratch or popping some Eggo's in the toaster, these recipes will take your breakfast to the next level!
Best Recipes To Serve With Waffles
Waffles are such a versatile breakfast food and can pair with both sweet and savory recipes. You'll find classic pairings like syrup and scrambled eggs on this list as well as some less-traditional options like fried chicken and hashbrown egg cups!
No matter what you choose, you can't go wrong. Try a handful of different recipes to make the ultimate breakfast or brunch waffle spread!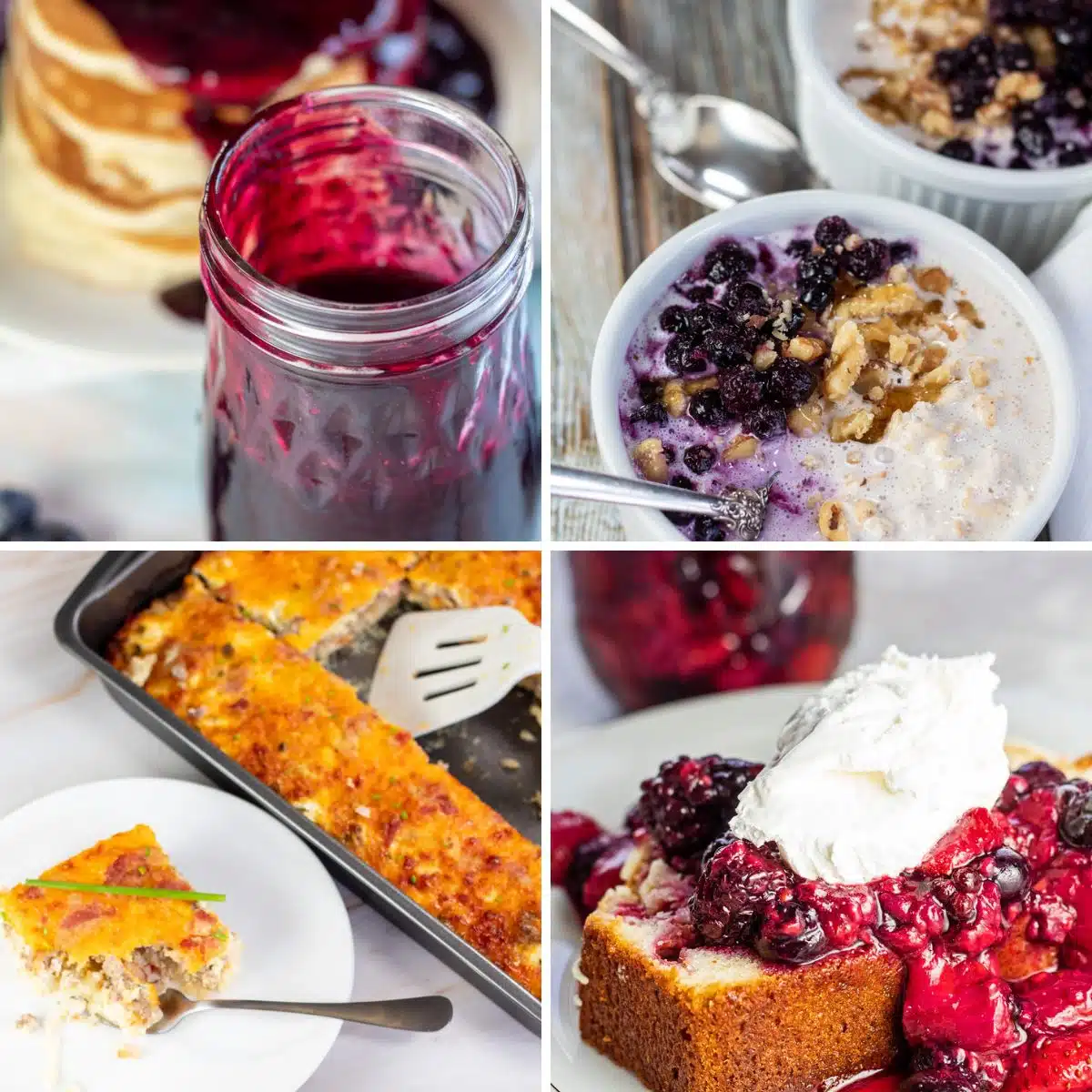 Jump to:
Want More Recipes? Enter your email below and we'll send them straight to your inbox!
These recipes would pair wonderfully with homemade waffles, Bisquick waffles, air fryer frozen waffles, or any of your favorite types!
1. Maple Syrup
Maple syrup and waffles are a match made in heaven so naturally, it belongs at the top of this list. It complements other flavors well, so try mixing and matching different toppings like peanut butter and syrup or cinnamon sugar and syrup!
2. Homemade Blueberry Syrup
Sweet and sticky warm blueberry syrup made from scratch is always the right choice. You can use fresh or frozen berries and the bits of fruit make the syrup taste so much better than anything you can buy at the store.
3. Roasted Berries
This recipe is so easy and totally delicious! Just toss some strawberries, blackberries, blueberries, and raspberries with sugar and pop them in the oven.
The berries cook down into the most delectable sweet and sticky syrup that tastes incredible on fluffy waffles!
4. Fried Chicken
Fried chicken and waffles anyone? This once-unlikely pairing has taken the world by storm and once you try it, you'll see why!
The chicken is crispy and savory while the waffles are soft and sweet, together they are the perfect balance of both flavors.
5. Overnight Oats with Yogurt
Overnight oats are delicious and nutritious, plus you don't have to cook a thing! Just combine the oatmeal and yogurt, let it set in the fridge overnight, top with fresh fruit, and enjoy!
6. Hashbrown Sausage Bacon Egg Casserole
4 breakfast staples in one easy-to-make casserole. This hearty breakfast bake is loaded with breakfast sausage, bacon, hashbrowns, eggs, and of course, cheese. Just combine the ingredients in a baking dish and pop it in the oven!
7. Potatoes O'Brien
Pan-fried potatoes with onions and bell peppers are the perfect savory side to serve with your waffles! The potatoes stay soft inside but the outside gets nicely browned and wonderfully crispy!
8. Scrambled Eggs
Scrambled eggs in any form are a great way to add protein to a plate of waffles. This is my classic go-to scrambled egg recipe, but you could also try some ultra-fluffy sour cream scrambled eggs or microwave scrambled eggs if you're in a hurry!
9. Cheese Omelet
Take it up a notch from scrambled eggs and whip up a quick cheese omelet! You can keep it simple with just tender eggs and melted cheese, or add some mix-ins like veggies or ham!
10. Hashbrown Egg Cups
These 2-bite hashbrown cups are filled with tender baked eggs. I like to pull them from the oven while the egg yolk is still just a little bit runny, yum!
11. Whipped Cream
Whipped cream is always a plus! Combine some homemade whipped cream with fresh fruit, nuts, or chocolate syrup, and you have dessert for breakfast!
12. Lemon Curd
Sweet and creamy lemon curd adds a lovely pop of citrus to waffles. I love it with fresh berries for a sweet and refreshing start to the day!
13. Apple Pie Filling
Apple pie filling is a great choice for topping waffles because it's sweet and syrupy! It's particularly tasty with a drizzle of caramel or toffee sauce and a dollop of whipped cream. In fact, waffles would taste fabulous with any fruity pie filling!
14. Cinnamon Sugar
A quick batch of cinnamon sugar will go a long way on waffles! It adds that classic warm spiced sweetness that is great on its own but even better with a drizzle of maple syrup.
15. Microwave Bacon
Crispy bacon is a breakfast staple that adds a nice salty and savory element to the plate. I love this microwave version when I'm short on time. You can't even tell a difference! You could also give my air fryer bacon a try!
No matter which of these recipes you choose, your waffles are going to turn out delicious! Let me know some of your favorite waffle toppings and side dishes in the comments below!
>>>>See all of my recipes HERE<<<<
🥞 More Breakfast Recipes
📋 Recipe