These Sunday brunch ideas are the best sweet and savory brunch recipes worth sharing with family and friends! From donuts to casseroles, this list has it all! Brew a fresh pot of coffee and choose a few of these dishes to create a fabulous Sunday brunch spread!
Best Sunday Brunch Recipes
Sundays are for brunch! These recipes will help you pull off the ultimate weekend brunch for your family and friends.
There are sweet and savory options. All you need is some coffee and mimosas and you're in business!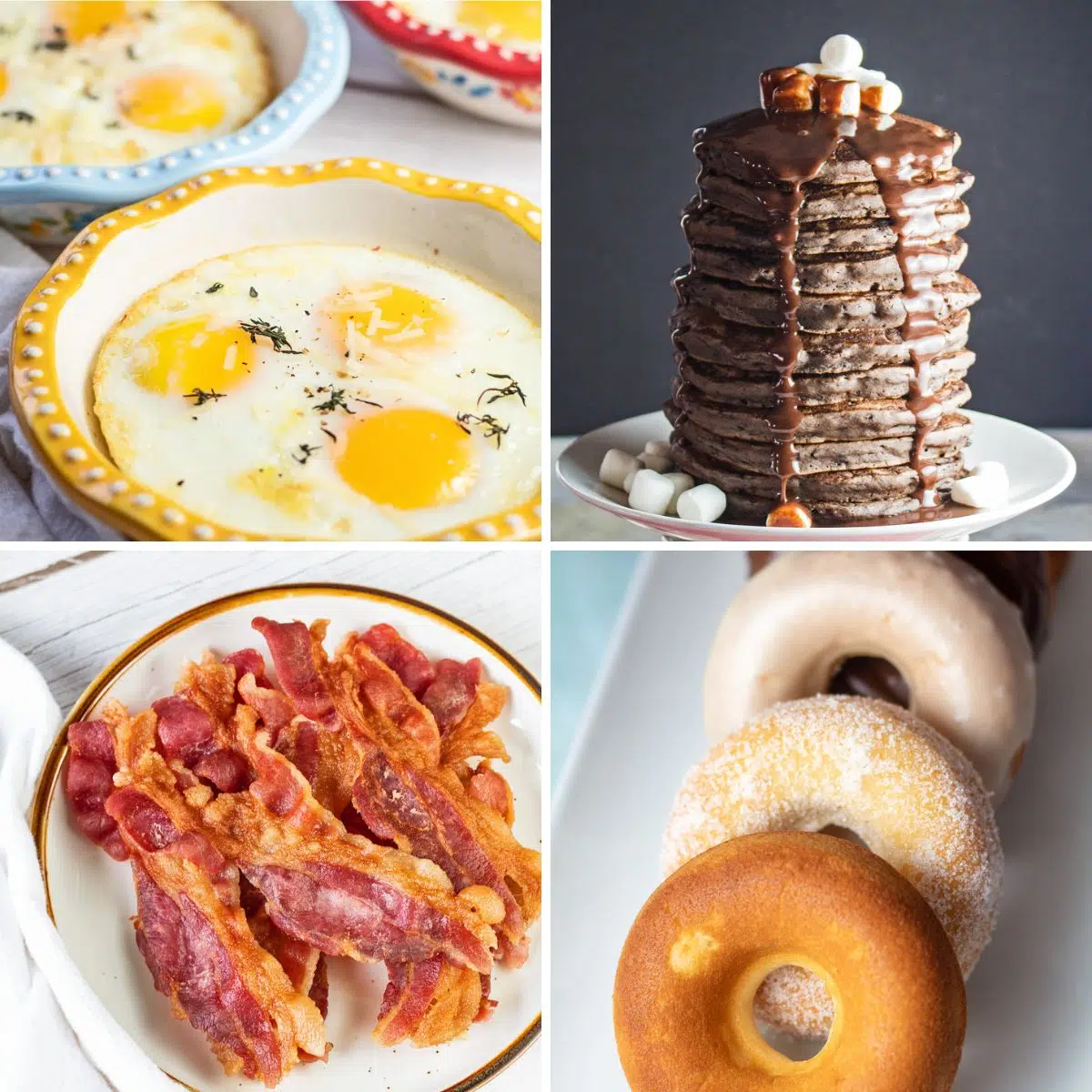 Jump to:
Recipes For Hosting A Sunday Brunch
The key to an epic brunch is having options. So choose a few different recipes from this list the next time brunch is at your house!
1. Baked Donuts
Who knew homemade donuts were so easy to make? These cake donuts come together in just 30 minutes and you can frost them or flavor them however you like!
2. Air Fryer Bacon
Bacon makes everything better! When planning to serve a crowd, air fryer bacon is the shortcut you didn't know you need.
It comes out perfectly cooked and crispy every time!
3. Chocolate Pancakes
These decadent chocolate pancakes are a nice change from classic Buttermilk. They are just as easy to make as traditional pancakes, and with my chocolate ganache syrup, they are downright heavenly.
4. Baked Eggs
Baked eggs are an incredibly easy way to make (and serve) eggs! Just bake a few in a nice oven-safe ramekin and bake!
5. Apple Pie French Toast Casserole
This indulgent casserole takes to fabulous treats (apple pie and french toast) and combines them in the most perfect way. It can easily serve a crowd and everyone will want the recipe!
6. Sourdough French Toast
This rustic french toast is made-from-scratch and oh-so-delicious. Offer your guests an array of toppings from homemade blueberry syrup to roasted berries!
7. Cinnamon Rolls with Vanilla Icing
Nothing beats fluffy, homemade cinnamon rolls. They make a wonderful brunch addition around the holidays, though you can (and should) enjoy them any time of year!
8. Strawberry Buttermilk Crepes
These classic French crepes are delicately thin and cook in just minutes. Top them with some freshly sliced strawberries and homemade whipped cream and everyone will be going for seconds.
9. Apple Banana Muffins
Apple banana muffins are fluffy and sweet. The brown sugar and cinnamon streusel topping is what really makes them a special treat!
10. Hash Brown Cups
These hash brown egg cups are like bite-sized breakfasts! They are easy finger food to snack on as you chat over coffee (or mimosas).
11. Apple Cider Pancakes
These apple cider pancakes are full of fragrant spices and topped with cinnamon fried apples. I even made caramel apple cider syrup for drizzling over the top!
12. Southern Shrimp and Grits
Shrimp and grits are a Southern classic and it is the best of both worlds between breakfast and lunch! It's warm, cheesy, and undeniably comforting.
13. Microwave Omelet
Lessen your time in the kitchen by whipping up some quick microwave omelets. They are still fluffy and delicious like omelets made on the stove, and no one has to know!
14. Deviled Eggs
Deviled eggs are suitable for any time of day, especially brunch! Follow my classic recipe or add some extra toppings like crumbled bacon or everything bagel seasoning!
15. Hash Brown Casserole
This copycat of Cracker Barrel's famous hashbrown casserole is so easy to make! The secret is all in the cream of chicken soup.
No one can resist this cheesy breakfast casserole!
16. Banana Bread with Brown Sugar Streusel
Banana bread makes a wonderful breakfast. It's not overly sweet, and I mean there are bananas in it.
The only thing that makes it better is a crumbly brown sugar streusel topping!
17. Waffles
Waffles are a classic breakfast that can be made savory or sweet! Take a look at my list of awesome waffle toppings for inspiration!
18. Chorizo and Eggs
Serve a Mexican-inspired brunch with chorizo and eggs or huevos con chorizo! The eggs can be served with tortillas so everyone can make their own tacos, or serve them over crispy potatoes!
19. Maraschino Cherry Coffee Cake
Coffee cake is a brunch staple. This recipe is bursting with juicy Maraschino cherries that add a nice contrast to the fluffy cake!
20. Omelet Roll
Soft eggs rolled up around ham and melted cheese? Yes, please! An omelet roll can be sliced and served so everyone gets a small portion. It is perfect for brunch!
21. Pumpkin Streusel Bread
Pumpkin streusel bread is a great morning treat for fall weather. This bread is almost cake-like, it is so soft and moist.
22. Blueberry White Chocolate Scones
These blueberry white chocolate scones are to die for. They are topped off with sweet lemon icing that ties all the flavors together!
23. Duck Fat Fried Potatoes
Pan-frying potatoes in duck fat gives them a rich, buttery flavor that is nothing short of incredible. The potatoes are crisp on the outside while soft and fluffy on the inside!
24. Quiche Lorraine
Quiche Lorraine is a classic French tart filled with egg custard, cheese, and bacon! You can even mix in extra veggies if you'd like.
This quiche slices beautifully and will make a hearty 8 servings!
25. Prime Rib Eggs Benedict
Perfect for using up leftover prime rib after the holidays, this egg benedict recipe is elegant and brunch-worthy! Spoil your guests with this luxurious egg recipe!
🍳 More Breakfast Recipes
These Sunday brunch ideas are the best of the best! Let me know how your brunch turned out by sending me a message below!
📋 Recipe