There are so many fabulous peanut butter recipes out there, that it's almost impossible to choose which ones to try! Well, we did the delicious dirty work for you and put together a list of the very best recipes using peanut butter so you can't go wrong! This list of peanut butter desserts, sweets, and treats is a peanut butter lover's dream!
The Best Peanut Butter Recipes
Whether eating straight out of the jar or added to your favorite recipe, peanut butter recipes are adored by just about everyone! Peanut butter is one of the most versatile ingredients in the kitchen!
If you are like me, then you undoubtedly are obsessed with peanut butter. Below we are going to introduce you to a few scrumptious recipes that showcase this star ingredient!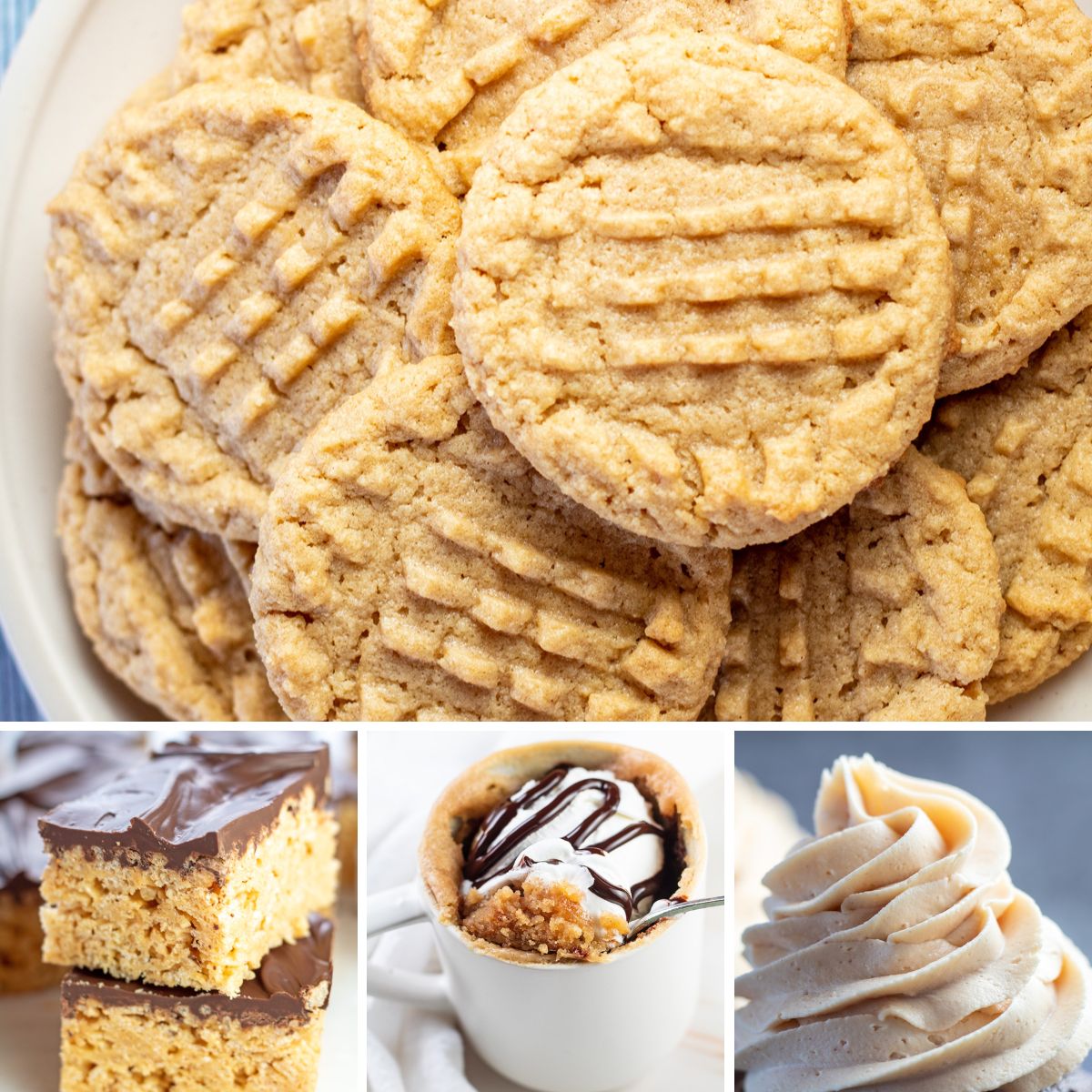 Jump to:
1. Chocolate Peanut Butter Rice Krispies Treats
I bet when you were a child, you couldn't resist soft and gooey Rice Krispies treats! These chocolate peanut butter Rice Krispies treats are the perfect way to rekindle your love for these sweet treats!
The thick chocolate layer on top of these Rice Krispies treats adds the perfect texture and flavor for chocolate lovers. Paired with the peanut butter and melted marshmallow goodness, you have a treat that everyone will want a piece of!
2. Almond Flour Peanut Butter Cookies
Peanut butter cookies are one of my all-time favorite cookies, but those with gluten sensitivities can't always indulge. However, thanks to the use of almond flour, these cookies are delicious and gluten-free!
The unique blend of almond flour and peanut butter make these cookies extra nutty and perfect for anyone with gluten intolerance!
3. 3 Ingredient Peanut Butter Cookies
Do you want an easy recipe that your kids can help make? Parents around the world know how their little ones jump at the opportunity to help mom or dad in the kitchen, especially if it's time to make cookies!
This three-ingredient cookie recipe blends peanut butter, sugar, and eggs. Bake them until golden and enjoy!
4. Peanut Butter Blossoms
Peanut butter blossoms are one of my favorite cookies from childhood! This holiday cookie is great for parties, celebrations, or an after-dinner snack.
These peanut butter cookies topped with Hershey kisses will have your family asking you for your secret recipe!
5. Peanut Butter Mug Cake
Peanut butter mug cake is another recipe that the kiddos will love! It's easy and quick for movie nights with minimal clean-up and lots of flavor!
This simple cake recipe is customizable for your specific needs or wants! Alternative the type of oil you use such as olive, coconut, or avocado! Add a dash of vanilla to allow the peanut butter flavor to really "pop."
6. Peanut Butter Banana Brownies
Peanut butter banana brownies, just saying the name makes my mouth water. Surprise the office or classroom with these rich and decadent brownies.
The blended overripe bananas add sweetness and nutrients, and the thick peanut butter and cocoa powder create a fudge-like texture that thickens the brownies and makes them just right.
7. Peanut Butter Rice Krispie Treats
You can't have enough Rice Krispies treats, can you? If you are a peanut butter lover chances are you will absolutely love this recipe.
Marshmallows melted with peanut butter and Rice Krispies cereal will have you doing a little dance as you stir!
8. Microwave Peanut Butter Fudge
Hot summer days need easy recipes that don't require us to turn on the oven! This microwave peanut butter fudge will be great to keep you and the house cool!
Fudge doesn't have to take all day to make anymore! This peanut butter and white chocolate chip fudge with chunks of peanuts will be done in only a few minutes!
9. Peanut Butter Cookies
Peanut butter cookies are not only delicious, but they are perfect for any occasion. This peanut butter cookie dough will be hard to resist, so double the recipe if you have to!
They are wonderfully soft and chewy every time. You can't go wrong with a classic!
10. Peanut Butter Pecan Cookies
Want a twist on peanut butter cookies? Try peanut butter pecan cookies! Not only will you love stepping out of the box, but you will love the added texture!
Soft peanut butter cookies and crunchy pecans are the pair that you have been missing! Add the crushed pecans to the dough or top the cookies with whole pecans.
11. Peanut Butter Cream Cheese Frosting
Peanut butter cream cheese frosting is so delicious that you will want to eat it by the spoonful! Make sure to double the recipe so you have enough for the cake!
Peanut butter enhances the flavor of the cream cheese so that it becomes sweet and nutty. Always remember to store any leftover frosting in the fridge to prevent it from spoiling.
12. Chocolate Peanut Butter No Bake Cookies
Chocolate peanut butter no-bake cookies are one of the most classic peanut butter recipes! They can be made in a dorm or even outdoors on a hot plate!
If you live unconventionally, don't worry, you can still have fresh homemade cookies! Simply add peanut butter, cocoa powder, sugar, butter, vanilla, milk, and oats and you have a quick set cookie that you can bring to your next potluck.
13. Peanut Butter Banana Cookies
Peanut butter banana cookies are the perfect way to sneak in some extra nutrients without hearing any moans and groans from the kids!
Elvis was on to something with his peanut butter and banana sandwiches, the flavors are meant to be together!
14. Peanut Butter Oatmeal No Bake Cookies
Peanut butter oatmeal no-bake cookies are so filling that you can easily replace breakfast with a few! Pair them with a cup of your favorite milk and indulge away!
The protein-packed peanut butter paired with oats, sugar, milk, vanilla, and butter will have you making these cookies all the time!
15. Chocolate Banana Mini Cakes with Peanut Butter Frosting
Did someone say cake? Celebrate any occasion with these chocolate banana mini cakes with peanut butter frosting!
They may be mini, but they are not lacking in flavor! These cakes have multiple layers of flavor and deliciousness.
Chocolate cake with a filled layer of peanut butter frosting and topped with mini chocolate and peanut cups allows these cakes to be number one!
16. No-Bake Haystack Cookies
No-bake haystack cookies are unique cookies that you may have never heard of or even tried. But, once you try this one-of-a-kind cookie you will want them as your next dessert!
The cookie uses chow mein noodles, butterscotch chips, peanuts, and peanut butter. The savory chow mein noodles are sweetened by the other three ingredients making them the perfect treat!
17. Peanut Butter Buttercream Frosting
Peanut butter buttercream frosting can be used on cakes, cookies, or as a unique way to fill your favorite donuts! It's sweet and yummy with just the right amount of peanut butter flavor.
The combination of peanut butter, powdered sugar, salted butter, vanilla, and milk creates a mouthwatering balance of salty and sweet that will have you adding it to everything!
Which peanut butter recipes are you excited to try? Leave us a comment below and let us know how they turned out!
📋 Recipe