Don't worry about what to serve with pigs in a blanket because any of these easy, delicious recipes will make the perfect pairing! These pastry-wrapped sausages can be enjoyed at breakfast, lunch, dinner, and even BBQs and potlucks, so we've listed a variety of versatile side dishes for any occasion!
The Best Pigs In A Blanket Sides
Pigs in a blanket are sure to be a hit at any party or family event. Lil Smokies wrapped in soft and buttery pastry dough are a classic flavor combo.
If you are looking for easy finger food to please a crowd, a quick breakfast, or a savory snack, pigs in a blanket are always a great choice.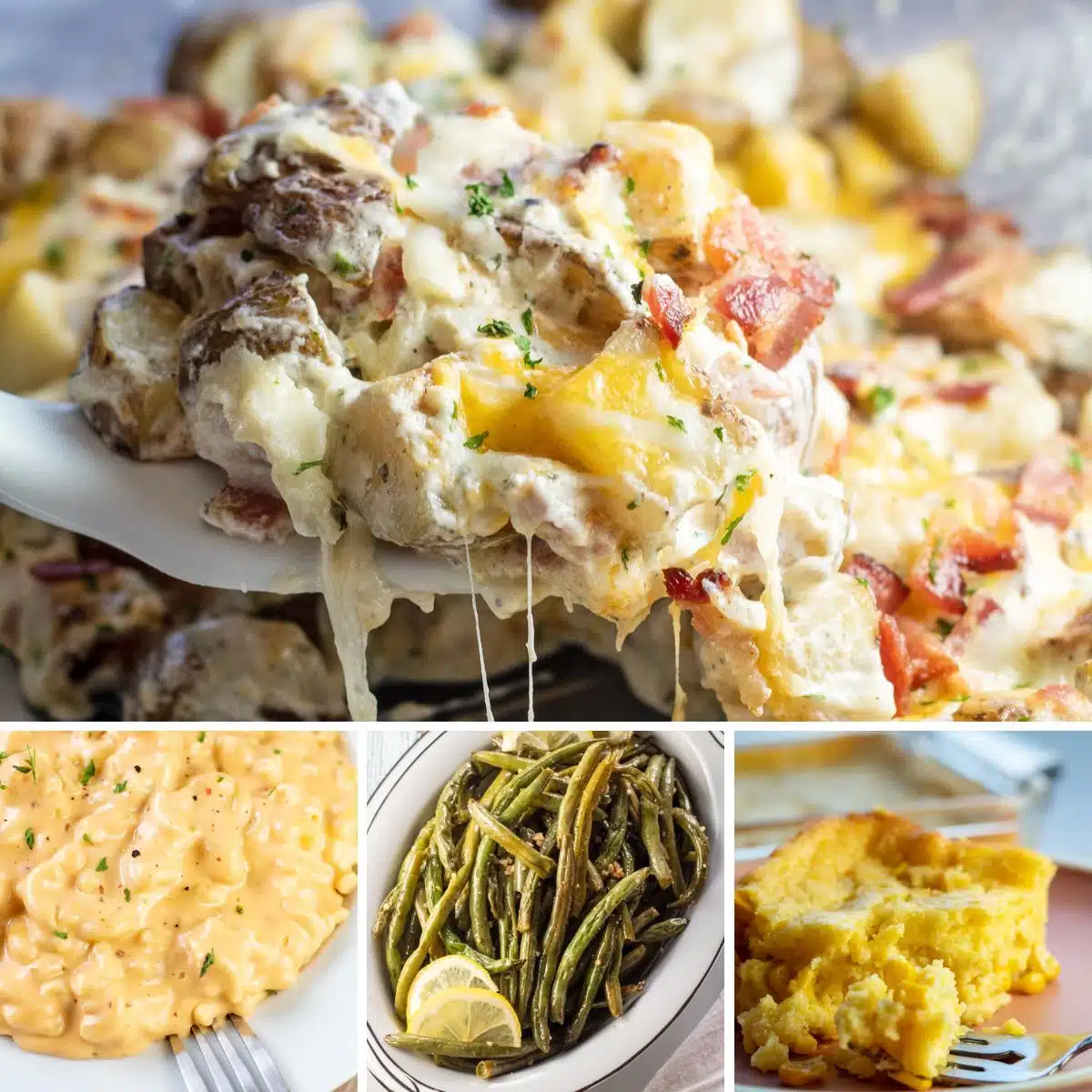 Jump to:
But no matter how tasty these appetizers are, they are rarely intended to be served alone.
Pigs in a blanket really shine when set out with some equally delectable sides. Below I have rounded up some simple recipes that go great when cozied up next to those little pastry-wrapped sausages.
1. Baked Beans with Ground Beef and Bacon
Pork and beans have gone together for as long as anyone can remember! The rich, saucy beans are a great complement to your pigs in a blanket.
This is a tasty dish if you are hoping to add a little bit of sweetness to your meal or barbecue spread.
2. Crockpot Mac and Cheese
This crockpot mac and cheese is cheesy, creamy, and oh-so-delicious, plus you can just set it and forget it! The only thing better than a big bowl of mac and cheese is a big bowl of mac and cheese with a plate of pigs in a blanket!
Slow cooker mac is a great recipe if you are looking to transform your pigs in a blanket from a snack to a full-blown meal.
3. Scrambled Eggs
Equally as quick as they are delicious, scrambled eggs are a quintessential breakfast side. In the South, pigs in a blanket are regularly served at breakfast (you can even get them at donut shops)!
Serving them with scrambled eggs at breakfast is also a great opportunity to try changing up your pigs in a blanket by using breakfast sausage in place of the Little Smokie.
4. Roasted Broccoli with Garlic and Parmesan
This is a great side dish if you are looking for a vegetable to offer with your tasty pigs in a blanket! Oven-roasted broccoli paired with the powerhouse team of garlic and Parmesan is a side dish made in heaven.
While many people are used to steaming or sautéing their broccoli, roasting gives it a wonderful flavor profile.
5. Southern Coleslaw
Coleslaw is a great side dish for picnics and potlucks! The cool, fresh crunch and slightly sweet dressing is the perfect contrast to soft and savory pigs in a blanket.
While coleslaw is rarely the star of the show, I find it's always a much-welcomed addition.
6. Deviled Eggs
You can never go wrong with deviled eggs at any get-together! While there are infinite variations on the deviled egg, this recipe sticks with the classic flavors.
Bringing pigs in the blanket to a potluck makes you popular, bringing them along with deviled eggs makes you the most popular person in the room!
7. Waffle Fries
If you're looking for a quick and easy pairing, frozen waffle fries are the way to go. When cooked in the air fryer, they are so fresh and crisp that no one will realize you didn't make them from scratch.
Not only will they finish cooking in half the time, but you will also get that restaurant-worthy crisp that is impossible with the oven alone.
8. Cheesy Bacon Ranch Potatoes
If you haven't tried these cheesy bacon ranch potatoes, today is the day to give them a try. This recipe mixes potatoes, sour cream, cheese, bacon, and ranch dressing mix to create something truly divine!
It will be your family's new favorite side dish guaranteed!
9. Bisquick Pancakes
Another super simple, yet familiar, breakfast choice is some good old-fashioned pancakes! While there is room to make modifications to the pancakes, the basic recipe will always turn out fluffy and delicious.
These might be another great candidate to try modifying your pigs in a blanket with breakfast sausage or link.
10. Au Gratin Potatoes with Diced Ham
Au Gratin potatoes are also commonly known as scalloped potatoes. This recipe features diced ham, which of course will pair wonderfully with your piggies!
A big dish of au gratin potatoes is an easy way to turn these snack-sized sausages into a full-blown meal.
11. Roasted Green Beans
Roasted green beans are an easy and tasty way to get your veggies in. I love roasting green beans because you can achieve a great texture without losing the crisp.
Green beans are a fabulous choice if you are looking for a healthy balance to your pigs in a blanket.
12. Jiffy Corn Casserole
Corn casserole is a warm and comforting classic that is right at home at potlucks, parties, and BBQs. Fluffy Jiffy cornbread and sweet corn are a match made in heaven.
This dish is simple and cheap to whip up while still being super filling and hearty.
13. Mozzarella Sticks
Make some homemade, super easy mozzarella sticks by battering and frying up some string cheese! These are way better than store-bought and don't take much more effort.
Whether you use the air fryer or the oven, they turn out incredibly tasty. A great pairing for your pigs in a blanket.
14. Texas Chili
Chili is not only a savory comfort food but it can also be ladled on top of pigs in a blanket, or used for dunking! Sausages and chili just belong together!
15. Southern Fried Corn
Sweet corn, bacon, butter, onion, garlic, and seasonings make this a next-level side dish that you won't be able to stop eating! Pair it with some savory Lil Smokies wrapped in fluffy pastry and you have an easy meal that everyone will enjoy!
It's great for summer when fresh sweet corn is abundant and in season.
As delicious as pigs in a blanket are, they can be made even better by serving them with any of these incredible recipes! Next time you're wondering what to serve with pigs in a blanket, come back here and give one a try!
📋 Recipe