Here are all of the very best Mother's Day brunch recipes so you can show mom how much you love her with a homemade meal! Whether mom likes something sweet for breakfast or a dish that's a bit more savory, this list features something for everyone and for cooks of every skill set!
Best Brunch Ideas For Celebrating Mother's Day
If you're trying to take mom out to a restaurant for mother's day, you better come prepared to wait because it is the busiest day of the year. Instead, spend that extra time enjoying mom's company and make her a homemade brunch featuring any of these incredible recipes!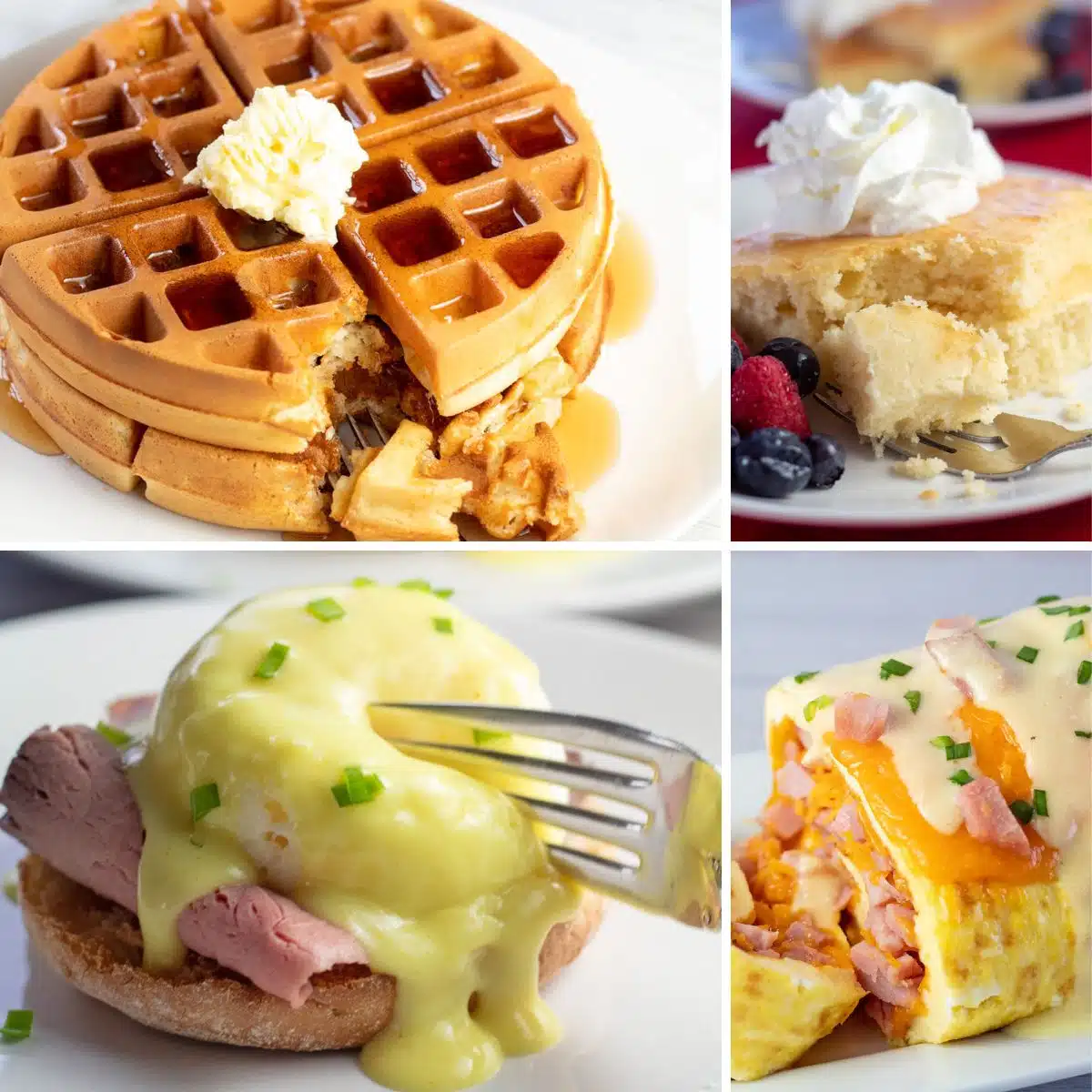 Jump to:
1. Raspberry Cream Crepes
Slightly sweet, slightly tart, and incredibly luscious, these raspberry crepes are always a delight. Not only are they delicious with their creamy raspberry filling, but they look beautiful on the plate!
2. Omelet Roll
If mom prefers something a little more savory, this ham and cheese omelet roll is a great choice. The savory, salty ham and rich melted cheddar all wrapped up in a bundle of perfectly set eggs will make for a meal mom won't soon forget.
3. Prime Rib Eggs Benedict
Make mom feel like the queen she is with this incredible prime rib eggs benedict! It's an impressive brunch recipe due to the addition of hearty prime rib paired with the classic poached egg and hollandaise sauce.
4. Baked Denver Omelet
If you've never been able to flip an omelet, bake it instead! This easy recipe is perfect for serving the whole family.
A mixture of eggs, crisp veggies, savory ham, and sharp cheddar cheese is baked until irresistibly fluffy and satisfying.
5. Sheet Pan Pancakes
This is another incredibly easy brunch recipe that can be made in a jiffy and customized with mom's favorite pancake toppings! Fresh fruit, whipped cream, or just good old fashioned maple syrup will make this quick giant pancake feel extra special.
6. Sourdough French Toast
If French toast is more of mom's thing, this sourdough French toast is reminiscent of your favorite brunch spot! It has a rich maple and vanilla coating that will keep you savoring every bite.
7. Bisquick Waffles
These classic Bisquick waffles are so quick and easy to make! It will likely remind you of your childhood and mom of hers.
Sometimes simple recipes are the most delicious and after all, it's the thought that counts!
8. Pineapple Banana Bread
A moist and fluffy banana bread gets the day started off right, and the addition of pineapple adds a unique flavorful element that mom likely hasn't tried before! It's also perfect for gifting if you don't have time for a sit-down brunch.
9. Sausage Egg & Cheese Casserole
Another hearty and savory option, this sausage egg & cheese breakfast casserole will easily feed the whole family. Just make sure mom knows you made it especially for her!
10. Classic Cinnamon Rolls (with icing or frosting)
A breakfast (or brunch) classic, you can't go wrong with cinnamon rolls. A sweet vanilla icing makes them finger-licking good!
Homemade cinnamon rolls are wonderful on any occasion, but on Mother's day they are an extra special treat! Especially if you offer them to her with a good cup of coffee.
11. Banana Bread Pudding
Mother's day is a holiday and we all know calories don't count on holidays! Serve mom dessert for brunch with this fabulous chocolate chip banana nut bread pudding.
But be warned, you should be prepared for her to ask you to make this recipe again and again!
12. Lobster Breakfast Sandwich
Nothing says luxury like lobster and it's even more impressive when paired with creamy scrambled eggs and asparagus on a toasted brioche bun. This is a recipe that will truly make mom feel special.
13. Dutch Baby Pancakes
Try your hand at making some easy Dutch baby pancakes from scratch! Lay out a spread of mom's favorite fruits and toppings and enjoy a quick brunch together.
14. Blueberry Pancakes
Of all the mother's day brunch recipes, this one is the most classic: blueberry pancakes! With a homemade blueberry syrup they are more than just your average pancakes, you can taste the time and love poured into every bite!
15. Strawberry Buttermilk Crepes
No one can resist a fabulous crepe brunch, and some refreshing homemade whipped cream and sliced strawberries really tie it all together. They only take minutes to make, so you can focus on enjoying brunch together.
Try one of these recipes or make mom a whole spread (we all know she deserves it)! Tell us if your Mother's day brunch recipes were a hit by commenting down below!
📋 Recipe