Cornmeal vs polenta: everything you need to know about the differences and similarities of these two common foods made from ground corn! In this guide, I break down the key differences in taste and texture, as well as which one is best to use in certain recipes. Keep on reading for tips, tricks, and more on cooking with polenta and cornmeal!
Cornmeal vs Polenta
If you've ever cooked with cornmeal or polenta before, you might have wondered what the differences are between them and may have even used them interchangeably. They're both made from ground corn, yet cornmeal is cooked as an ingredient in a dish and polenta is served as a dish.
In this helpful guide, I will be covering the similarities, key differences, how you can use them in meals, and much more! Plus, I will be sharing some delicious recipes for you to make at home!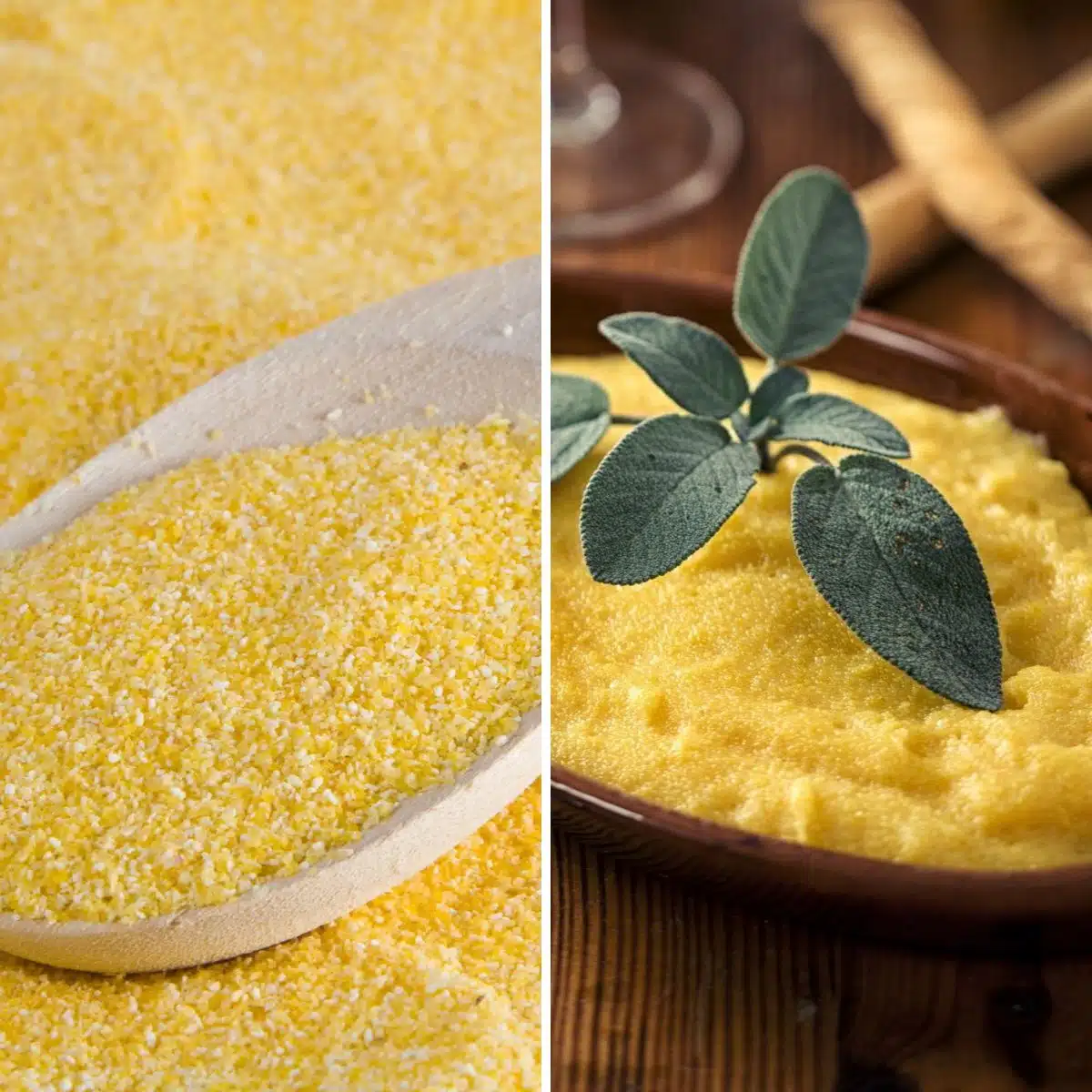 Jump to:
Want More Recipes? Enter your email below and we'll send them straight to your inbox!
What Is Cornmeal
When you think of cooking with cornmeal, a delicious and savory cornbread often comes to mind. This is because cornmeal is the key ingredient in making a classic Southern cornbread recipe! It's also an extremely versatile pantry staple and has many other culinary uses!
Cornmeal is a coarse flour made from ground yellow dent corn. It is processed either through a stone ground or steel rollers depending on the desired ground size (or coarseness). Cornmeal comes in a variety of ground sizes ranging from fine to medium to coarse.
As it cooks, it creates a light and crispy crust that brings a wonderful texture, vibrant color, and slightly sweet flavor to many dishes. Below is a breakdown of the different types and uses of cornmeal and what it tastes like!
Check out my guide comparing grits vs polenta for more great information about these ingredients!
What Does Cornmeal Taste like
Cornmeal has a very prominent corn flavor since it consists of ground-dried corn kernels. Yellow cornmeal is much stronger and richer in flavor than the delicate flavor of white cornmeal and blue cornmeal has a sweeter and nutter flavor.
Types Of Cornmeal
In addition to the various sizes of cornmeal, it also can come in a variety of colors - yellow, white, or blue!
Uses Of Cornmeal
Cornmeal has a variety of culinary uses ranging from making baked goods and dusting baking surfaces to coating fried foods! It can also be used as a thickening agent in soups and stews.
Cornmeal is most commonly used to bake into sweets such as cornbread, pies, pancakes, muffins, cakes, cookies, biscuits, and scones.
Cornmeal Recipes
What Is Polenta
Polenta is a northern Italian staple that is popularly served as a porridge dish! It can be enjoyed as a main course or as a delectable side dish with a variety of other cuisines.
It's perfect for serving as a hearty breakfast with some sweet toppings like fresh fruit and maple syrup or savory toppings like breakfast sausage and scrambled eggs. Alternatively, it makes a great addition to chicken, pork, lamb, veal, and vegetables! You can even turn it into some tasty fries after it completely cools down.
Polenta is a coarsely ground yellow cornmeal made from processed flint corn. It has a less soft starch content than dent corn, therefore, it's not as creamy compared to other dishes made from cornmeal, like grits.
It's not an ingredient like cornmeal, polenta is considered its own meal even though it is the most commonly used substitute for cornmeal. Polenta is a healthier alternative to substitute for other common starchy side dishes like rice and pasta.
What Does Polenta Taste Like
Polenta has a mild flavor profile that tastes like corn. Due to its neutral flavor, polenta soaks up the other flavors that it is cooked with like milk, chicken stock, butter, or cheese.
What To Serve With Polenta
Polenta acts as a versatile base for many sweet and savory dishes. It can be topped off with classic Italian sauces like marinara or served alongside roasted chicken. Here are a few of my favorite recipes to serve with polenta:
How To Make Polenta
The process of making polenta is extremely easy. Polenta is slow-cooked in liquid until it reaches a mushy consistency. The common ingredients in a polenta dish are water, broth, milk, and salt.
Ground cornmeal is first combined with water and then poured into boiling water and whisked until no lumps remain. It will thicken as it is simmering (for up to 30 minutes), then add butter and salt and serve!
Cornmeal vs Polenta: Key Similarities & Differences
Even though cornmeal and polenta are both made from ground corn, there are a few differences that set them apart. The main differences are the consistency of the grain and their culinary uses.
Polenta has a coarser consistency, while the texture of cornmeal ranges from fine to medium to coarse. Polenta is also its own meal and is not classified as an ingredient like cornmeal. Cornmeal is the main ingredient in polenta and other baked goods like cornbread, muffins, and pancakes.
Now you know all about cornmeal vs polenta, their similarities and differences, and which one to use in recipes. Have you cooked with cornmeal or made a delicious polenta? Leave me a comment down below to let me know!
>>>>See all of my recipes HERE<<<<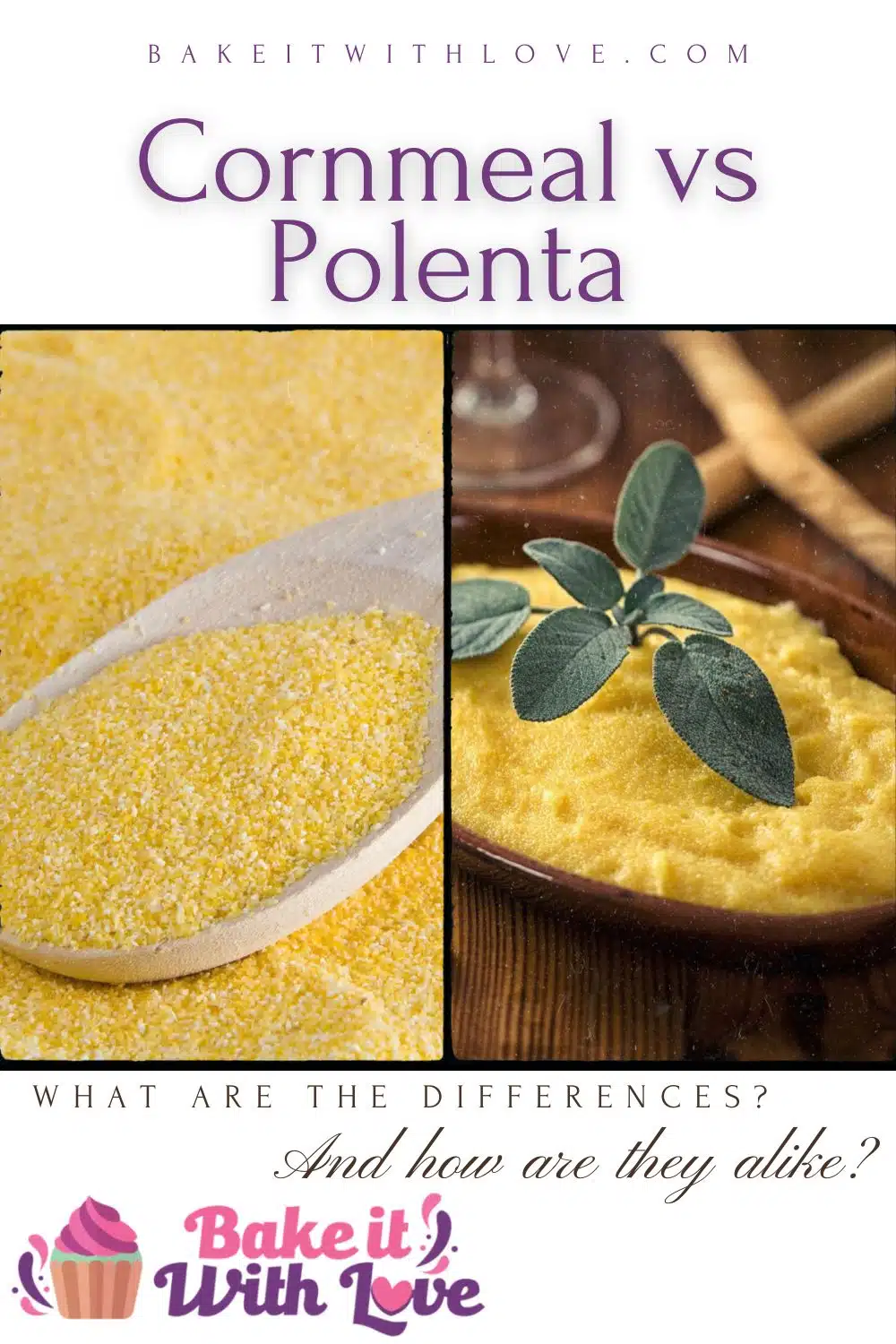 📖 More Food Guides
📋 Recipe
Print Recipe
Leave A Comment
Love This Recipe?
Click On A Star To Rate It!
Cornmeal vs Polenta: Creamed Corn Cornbread (+Tips, Tricks & More Helpful Info!)
Cornmeal vs polenta: everything you need to know about the differences and similarities of these two common foods made from ground corn! In this guide, I break down the key differences in taste and texture, as well as which one is best to use in certain recipes. Keep on reading for tips, tricks, and more on cooking with polenta and cornmeal!
Pin Recipe
Share on Facebook
Instructions
Preheat your oven to 375°F (190°C) and grease an 8x8 or 9x9 baking dish.

In a large mixing bowl, combine the eggs, melted and cooled butter, sour cream, and honey. Mix until smooth, then add the sugar, creamed corn, salt, and baking powder and mix to combine.

3 large eggs,

1 cup sour cream,

¼ cup butter,

2 tablespoon honey,

¼ cup sugar,

14.75 oz canned creamed corn,

2 teaspoon baking powder,

½ teaspoon salt

Next, add the yellow cornmeal and mix just enough to combine it with the wet ingredients. Add the flour and mix gently, just until well combined. Be careful not to over-mix.

1 ¼ cup all-purpose flour,

¾ cup yellow cornmeal

Transfer the batter to your prepared baking dish.

Bake for 40-45 minutes at 375°F (190°C) or until your cornbread looks golden-brown on top and a toothpick inserted in the center comes out clean.
Equipment You May Need
Notes
Using room temperature ingredients when you can (like eggs and sour cream) will help your cornbread cook evenly and they are easier to blend with the other ingredients.
Total cooking time varies based on your oven and the type of baking dish you use. Check doneness with a toothpick when the top is golden-brown and you suspect it is ready.
If the center of your cornbread is not baked but the top is starting to get too dark, just cover it with foil for the remaining time.
Nutrition
Calories:
228
kcal
(11%)
|
Carbohydrates:
32
g
(11%)
|
Protein:
5
g
(10%)
|
Fat:
10
g
(15%)
|
Saturated Fat:
5
g
(31%)
|
Polyunsaturated Fat:
1
g
|
Monounsaturated Fat:
3
g
|
Trans Fat:
1
g
|
Cholesterol:
68
mg
(23%)
|
Sodium:
243
mg
(11%)
|
Potassium:
204
mg
(6%)
|
Fiber:
2
g
(8%)
|
Sugar:
9
g
(10%)
|
Vitamin A:
331
IU
(7%)
|
Vitamin C:
2
mg
(2%)
|
Calcium:
60
mg
(6%)
|
Iron:
1
mg
(6%)
Cornbread, Creamed Corn Cornbread, easy breads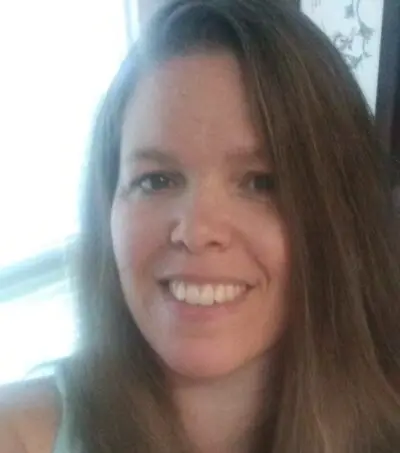 Angela is an at home chef that developed a passion for all things cooking and baking at a young age in her Grandma's kitchen. After many years in the food service industry, she now enjoys sharing all of her family favorite recipes and creating tasty dinner and amazing dessert recipes here at Bake It With Love!