White vinegar vs white wine vinegar: do you know how to tell the difference and which is best used in certain recipes? We have everything you need to know about these two types of vinegar right here! They are not the same, and knowing which one will suit your dish can make all the difference!
Difference Between White Vinegar & White Wine Vinegar
There may only be a single word that is different between these two flavorful condiments, but that one word holds a lot of differences. Starting with the alcohol base used to make these two kinds of vinegar, to the final flavor of each.
With so many differences, it is important to understand how each one is used. Moreover, whether those differences allow you to swap one for the other in a recipe. Keep reading to learn all you need to know about white vinegar vs white wine vinegar.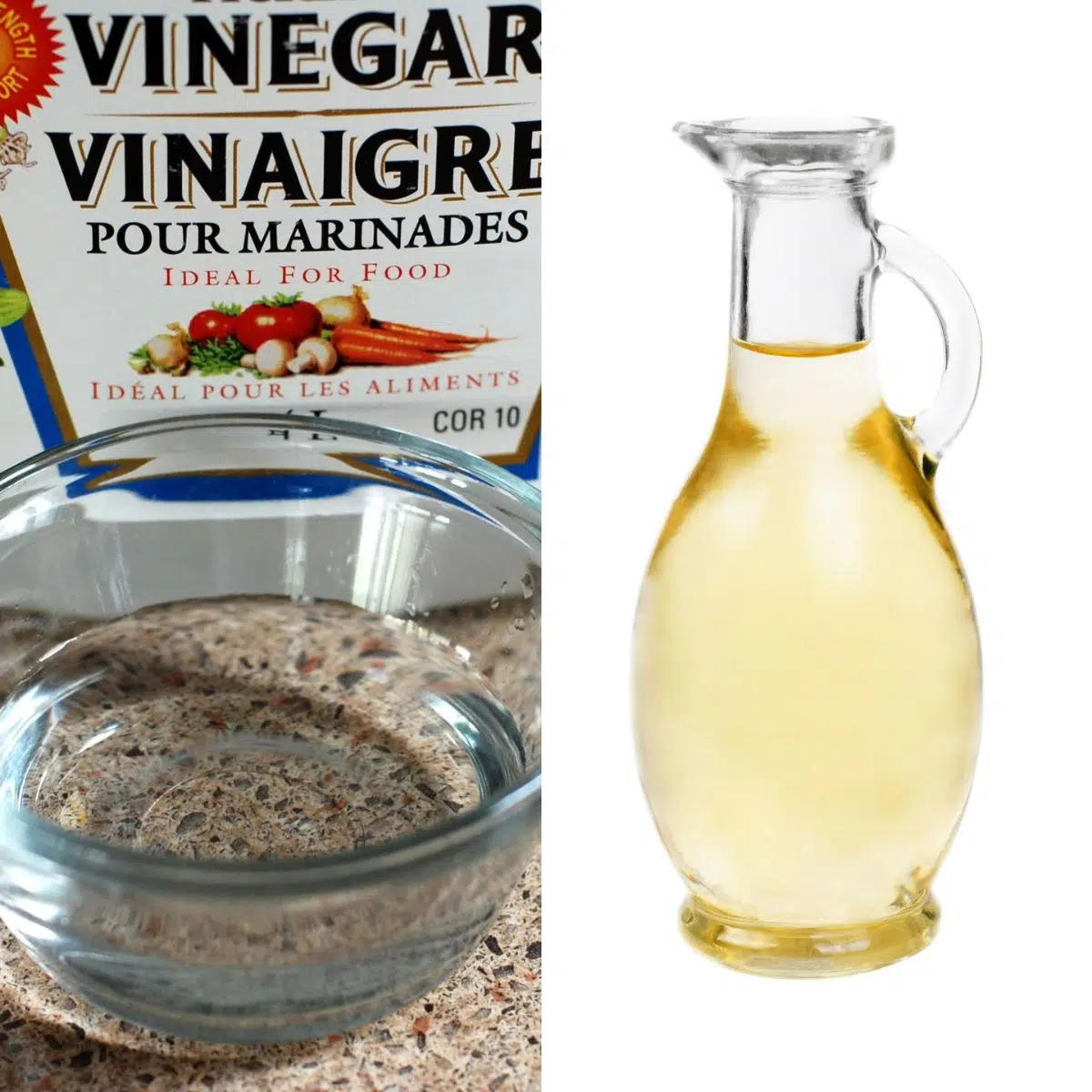 Jump to:
What Is White Vinegar?
White vinegar is the simplest of all kinds of vinegar. It is made from distilled grain alcohol that creates acetic acid. Distilled water is then added to this acid to dilute it and make vinegar.
Therefore, white vinegar is sometimes called distilled vinegar. Whether referred to as white vinegar or distilled vinegar it is a blend of about 5-8% acetic acid and 90-95% water.
What Does White Vinegar Taste Like?
White vinegar is more commonly described by its smell rather than its flavor. This is because of the prominent acidic smell.
Since there is no distinct flavor, many people consider it a sour taste. Although the taste of white vinegar on its own is not ideal, it can be a great way to balance certain dishes by cutting sweetness and adding acidity.
What Is White Vinegar Used For?
The strong smell and acidic taste of white vinegar may make you wonder what it is used for in the kitchen. While its stringent smell may not be appealing in large quantities it can be helpful in small amounts for adding a bit of acidity to certain dishes.
It is mostly used in adding an acidic flavor profile to dressings and sauces. However, the more you explore using vinegar in your cooking the more you will find that white vinegar is the least used.
This is simply because there are so many other types of vinegar that are less stringent. Moreover, other kinds of vinegar often have a bit more complex flavor that is better suited to elevating the flavors in dishes.
Although white vinegar is not the favored choice for cooking it is the best when it comes to cleaning! White vinegar is excellent at removing stains in the kitchen (like stained cups or pots), cleaning fruits and vegetables, and even cleaning clothes. These are just a few of dozens of ways white vinegar can be used beyond cooking.
What Is White Wine Vinegar?
In contrast to distilled vinegar, which is more often favored for cleaning, white wine vinegar is favored for cooking. This is just one of the ways in which white wine vinegar is different from white vinegar. This difference begins with how this type of vinegar is made.
White wine vinegar is made from white wine, rather than grain alcohol like white vinegar. Using wine instead of grain alcohol creates a much different vinegar. Especially when it comes to flavor.
What Does White Wine Vinegar Taste Like?
Since white wine vinegar begins as wine, it maintains some of the natural sugars and sweetness of the wine. This results in a nice tangy and bright flavor.
Most brands of white wine vinegar are made from pinot grigio. However, other white wines can be used. Even champagne can be used to make vinegar! However, champagne vinegar is often distinguished as its own type of vinegar. Keep this in mind if you ever need a substitute for white wine vinegar though, since champagne vinegar is a great choice!
White wine vinegar has a much more balanced flavor than distilled vinegar. Its beautiful blend of acidity and sweetness makes it a great choice for elevating the flavor of many dishes.
What Is White Wine Vinegar Used For?
The balanced flavor profile of white wine vinegar is used in several ways in the kitchen. It is a great choice for making salad dressings and marinades.
Just like white wine pairs best with certain foods for the best flavor match, white wine vinegar also pairs best with certain foods. It is best to use white wine vinegar to enrich the flavors in chicken and fish dishes. However, it can be used in many dishes beyond these.
In addition to the uses above, white wine vinegar can also be used in pickling. You may even consider swapping out distilled vinegar with white wine vinegar in your classic pickling recipes for a softer and slightly sweeter final flavor.
Can You Use These Two As Substitutes?
One of the biggest reasons home cooks want to understand the difference between white vinegar and white wine vinegar is to see if the two can be used as substitutes for one another. As I mentioned above, white wine vinegar is a nice alternative to white vinegar in traditional pickling recipes.
Swapping in white wine vinegar will still offer the acidity needed for pickling, but it will soften the overall flavor and add a bit of sweetness. This more balanced flavor can also be created in other dishes by subbing white wine vinegar for white vinegar.
While white wine vinegar can be used as an alternative to white vinegar in almost any recipe, it is not as easy to substitute white vinegar for white wine vinegar. The stringent smell and flavor of white vinegar can quickly change the taste of your recipe. Therefore, it is better to use a different vinegar in place of white wine vinegar.
Champagne, sherry, and rice vinegar are the best substitutes for white wine vinegar. However, that is just the beginning! Check out my other post for a complete list of white wine vinegar substitutes.
If you do need to use white vinegar in place of white wine vinegar, make sure to start with a small amount. You may even want to add some sugar to cut the acidity. However, on the other hand, you can use a 1:1 ratio of white wine vinegar for white vinegar.
🔪 More Cooking Comparisons
I hope I have cleared up any questions you have on white vinegar vs white wine vinegar. If not, drop your questions in the comment box below and I will get right back to you!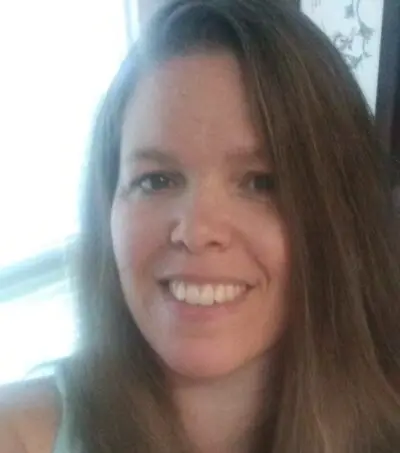 Angela is an at home chef that developed a passion for all things cooking and baking at a young age in her Grandma's kitchen. After many years in the food service industry, she now enjoys sharing all of her family favorite recipes and creating tasty dinner and amazing dessert recipes here at Bake It With Love!