Corn meal vs corn starch: what are they, how are they the same, how are they different, and how do you use them? Any great cook should when to use corn meal vs corn starch when cooking or baking, so I've answered these questions and more in this easy-to-read article about all things corn meal, corn starch, and corn flour!
What Is Corn Meal vs Corn Starch?
Corn meal and corn starch. Sometimes ingredients that come from the same food source have a lot of similarities. Not always though.
While these two kitchen staples have some similar qualities, they are quite different. Keep reading to find out the biggest differences between these two corn by-products. Plus, one way they can both be used.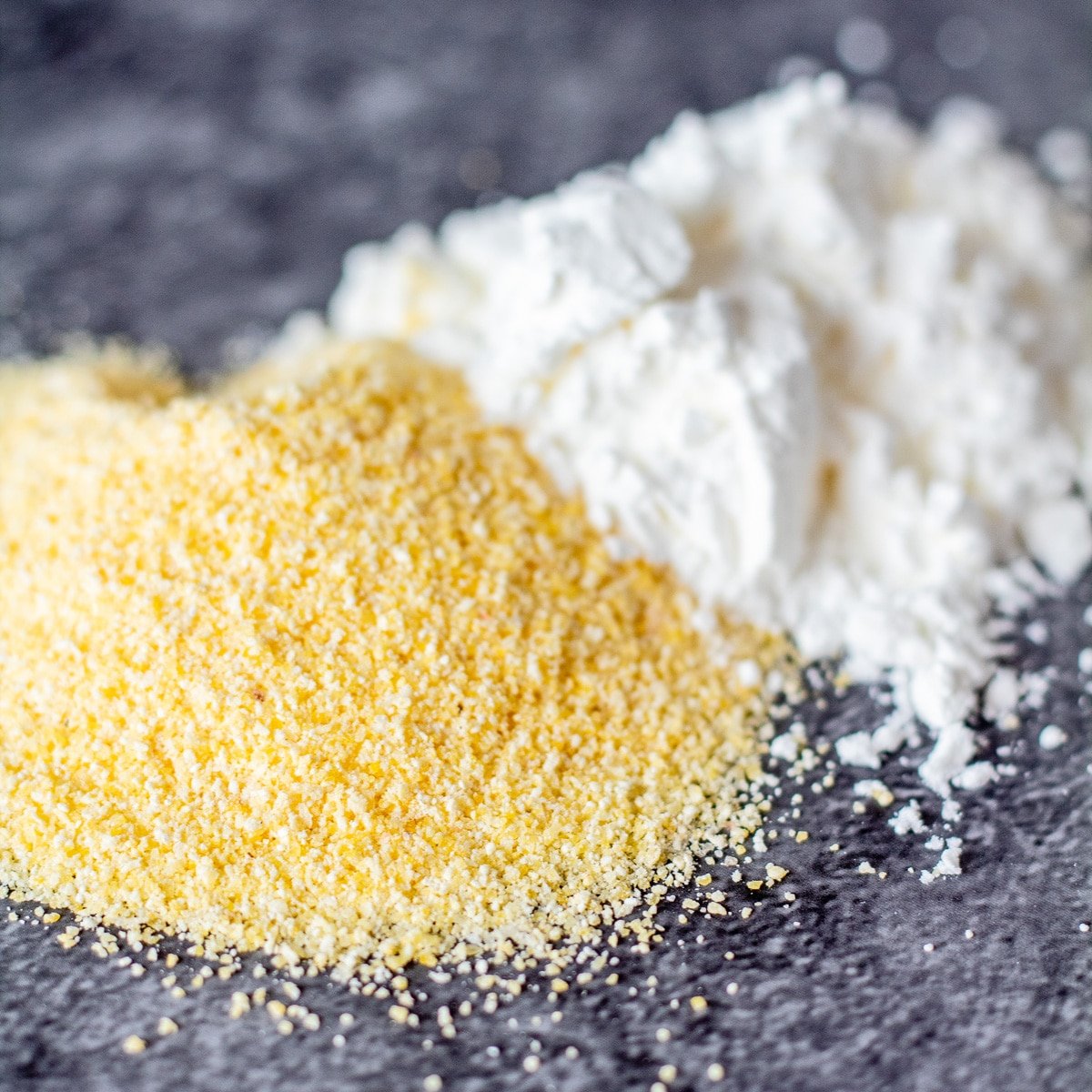 Jump to:
What is Corn Meal?
Corn meal (also written 'cornmeal') is made from grinding dried corn into a powder. The texture of corn meal can vary. It ranges from coarse, medium, and fine. Typically, the corn meal bought in the grocery store is medium or coarsely ground.
Once corn meal has become finely ground it is referred to as corn flour. While corn flour is technically a type of corn meal it is not used the exact same way. Therefore, when cooking with the two ingredients be mindful of what your recipe calls for.
Differences Between Corn Meal and Corn Flour
The difference in texture changes the way that cornmeal and corn flour absorbs liquids. Therefore, if your recipe calls for corn meal and you use corn flour (and vice versa), it can shift the overall texture of your recipe.
To adjust for using corn flour instead of corn meal you may need to add some extra liquid (water, milk, oil). Going the other direction, you may want to start with less liquid when swapping corn meal for corn flour.
Different Types of Corn Meal
In addition to different textures that define corn meal and corn flour, there are also different types of corn. The most common corn meal in the United States is yellow corn meal.
Yellow corn meal in the United States is made from dent corn. This is a type of corn that is particularly high in starch. Therefore, it is great for baking.
While yellow corn meal is the most popular and easiest to find, there is also white corn meal and blue corn meal. White corn meal and yellow corn meal can easily be used as substitutes for one another. The flavor is quite similar, and the color difference is minimal.
Blue corn meal is less popular and usually sold in specialty health food stores. It can also be used as a substitute for both yellow and white corn meal. The color difference will be the biggest change. However, there will often be a slight difference in taste and texture as well.
What is Corn Meal Used For?
One of the best-known dishes that corn meal is used for is cornbread. Corn meal goes beyond this Southern staple though. It can be used for dozens of other delicious dishes.
Beyond cornbread, this course powder is delicious for adding texture to many sweet and savory dishes. It can be used to make muffins and even pancakes and waffles. On the other end, it can be used to help thicken dishes like cheesy grits.
In addition, corn meal is great as a crunchy coating. It can be used as a coating to make baked or fried chicken or pork chops. Alongside cornbread, it can even be used to make fried catfish!
What is Corn Starch?
While corn meal is made from grinding entire corn kernels, corn starch (also written 'cornstarch') is made from extracting a portion of the kernel. The part that is extracted is called the endosperm.
If you look at a diagram of a corn kernel the endosperm is the layer underneath the skin of the kernel. This white starchy substance creates an extremely fine white powder. This white powder is odorless and tasteless.
In addition, corn starch only contains carbohydrates. It is important to note that corn starch is only made of carbohydrates because it impacts how it can be used.
What is Corn Starch Used For?
As a gluten-free ingredient, corn starch is a great choice for many recipes. However, its lack of gluten also makes it a poor choice for other recipes.
To form gluten, a food must contain both carbs and proteins. That is why all-purpose flour is ideal for baking. The ratio of carbs to protein in all-purpose flour creates gluten that forms and binds all your favorite muffins, bread, and cookies.
Since corn starch only contains carbs, it cannot form gluten. Therefore, it is gluten-free. This makes it a great substitute for flour in cooking. However, not in baking.
How to Use Corn Starch as a Thickening Agent
Corn starch is a wonderful thickening agent when cooking. It is easy to use to thicken soups, stews, and sauces. It is also perfect for making a lump-free gravy.
Therefore, even though flour has been used for centuries as a thickener, many cooks prefer corn starch. When flour is used for thickening it is added directly to the pan. Therefore, it needs to be perfectly whisked to keep it from getting lumpy.
However, corn starch is mixed with water before adding it to any liquid in the recipe. This mixture of water and cornstarch is called a slurry. The slurry is smooth, lump-free, and easy to mix in (without a whisk). When using a slurry, you always end up with perfectly smooth and creamy sauces and soups that are also gluten-free.
Can Corn Starch Be Used for Baking?
While corn starch is a star in the savory world it is not used as much in baking. Without the ability to form gluten it cannot replace flour in baking the same way it does in cooking.
If you need to create a gluten-free baked good, it is best to look for a gluten-free substitute for all-purpose flour. There are lots of great ones to choose from!
Even though corn starch isn't great for making the doughy part of a dessert it can be used in other ways! Its thickening properties are wonderful for coating fruit that is going to be baked into a pie or other dessert.
The corn starch will help create a coating that keeps the fruit from being too watery. It can also help thicken the juices and create a wonderfully thick and sugary fruit sauce.
Are There Other Uses for Corn Starch?
Even though you can't bake bread with it, corn starch is quite versatile. In addition to coating fruit for baking, it also works as a coating for other foods.
This is one similarity between corn starch and corn meal. Like corn meal, corn starch can be mixed with spices and herbs and used to coat your favorite meat. When deep-fried or baked it produces a crunchy outside. While it will not have the extra crunchy texture from the ground corn it still creates a delicious coating!
Is Corn Starch and Corn Flour the Same Thing?
As I mentioned above, corn flour is finely ground corn meal. It is made from the entire corn kernel. Therefore, it is not the same thing. At least, not in the United States.
In England though, cornstarch is typically referred to as cornflour. Cornflour (all one word) in England is what we call corn starch in the United States. It is a white powdery substance that is very starchy.
So, if you are cooking across the pond be mindful that corn flour is cornstarch (but cornmeal is cornmeal).
Can Corn Meal and Corn Starch Be Used as Substitutes?
When it comes to substitute cooking the goal is always to find the best substitute! In this case, swapping corn starch for corn meal (or vice versa) is NOT the best choice.
As shown above, these two ingredients are quite different. So, while they can be used for adding a crunchy coating to fried chicken, they cannot easily be swapped for one another in other recipes.
That is not to say there are not any excellent substitutes for both these ingredients though. There are several wonderful substitutes for both!
Check out my favorite cornmeal substitutes and the very best cornstarch substitutes.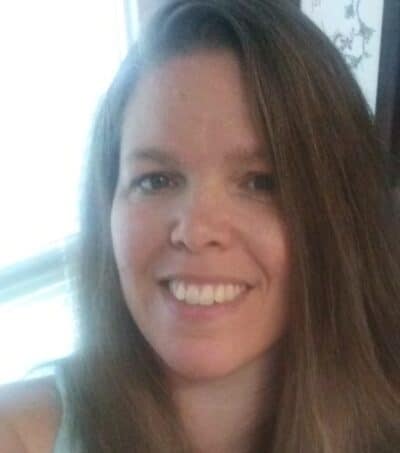 Angela is an at home chef that developed a passion for all things cooking and baking at a young age in her Grandma's kitchen. After many years in the food service industry, she now enjoys sharing all of her family favorite recipes and creating tasty dinner and amazing dessert recipes here at Bake It With Love!