If you're wondering about a casserole vs hotdish and if there is any distinction between them, don't worry, I have all of the answers! Spoiler alert: they are not the same thing! We are about to discuss what exactly the differences are between casseroles and hotdishes.
Casserole vs Hotdish: Is There A Difference?
So, is there a difference between a casserole and a hotdish? Well, it depends on who you ask and where they are from. Some individuals have a strict set of qualities that makes them explicitly different (explained below). However, other people simply think that the difference between a casserole and a hotdish is simply where you're from!
A "hotdish" is basically the unofficial state cuisine of Minnesota. However, if you made the exact same dish in Texas, people would simply refer to it as a casserole. So, are they the same thing or not?
Jump to:
For argument's sake, let's break down all of the information about the great debate of casserole vs hotdish. In fact, many people do strongly believe that there is a difference, so we're going to discuss what exactly those differences are.
What Is A Casserole?
A lot of the confusion between a casserole and hotdish is based on understanding what exactly a casserole is. Technically, the term "casserole" refers to anything that is cooked in an actual casserole dish.
Its popularity grew drastically in the 50s and 60s since it was truly a one-pot meal as the dish itself also doubled as the serving plate.
According to this definition, anything can be a casserole as long as it is cooked in a casserole dish.
What Is A Hotdish?
If you thought casseroles were vague, the hotdish definition can be even more confusing. First of all, the term "hotdish" is used only in the Upper Midwest, specifically Minnesota and North Dakota.
By definition, it is a dish that includes a creamy sauce alongside starch, protein, and veggie.
I can already hear you saying "but wait- isn't that just a casserole?." And let me just answer you by saying yes, that is a casserole.
So all casseroles are considered a hotdish, but (here's where the division comes in) not all hotdishes are considered casseroles.
Casserole vs Hotdish
As far as the actual ingredients themselves, there is a difference between casseroles and hotdishes. Casseroles can contain whatever you want them to, but a hotdish has ingredients that it is required to include.
To specify, a hotdish has to have a "cream of something" soup (or a tomato base), veggies, either potato or pasta for a starch, a protein, and some type of crispy topping (chips, breadcrumbs, etc.).
Cheese is optional but, let's face it, there will almost always be cheese. This means that anything that does not contain all of these ingredients would be considered a casserole, but not a hotdish.
To dive in even deeper, a casserole can be used for a side dish, breakfast, a hearty main dish, or even dessert! On the other hand, a hotdish can only be the main meal because it (allegedly) contains everything one needs in a hearty meal.
Based on the information we have, the two terms are not technically interchangeable. All hotdishes are casseroles, but not all casseroles are hotdishes.
How does your family distinguish between a casserole vs hotdish? Let me know your opinion in the comments below!
🥘 My Favorite Casserole Recipes!
📋 Recipe
Print Recipe
Leave A Comment
Love This Recipe?
Click On A Star To Rate It!
Casserole vs Hotdish: Ground Beef Casserole
If you're wondering about a casserole vs hotdish and if there is any distinction between them, don't worry, I have all of the answers! Spoiler alert: they are not the same thing! We are about to discuss what exactly the differences are between casseroles and hotdishes.
Pin Recipe
Share on Facebook
Ingredients
1

lb

penne pasta

(uncooked)

1

lb

ground beef

(I prefer 80/20)

1

cup

onion

(chopped, or ½ teaspoon onion powder or ½ tablespoon of dried minced onion)

½

teaspoon

garlic

(minced)

1 ½

cups

marinara

(12 ounces)

¼

teaspoon

each, salt & pepper

(to taste, plus more salt for the pasta water)

1 ½

cups

cheddar cheese

(4.5 ounces (3 ounces per cup using a medium grate), shredded)
Instructions
Move a rack in your oven to the middle position and preheat your oven to 400°F (205°C). Grease a 9x13 baking dish with non-stick cooking spray.

Bring a large pot of salted water to a boil and cook the penne pasta for 10 minutes. It should be just shy of al dente because it will cook more while baking and you don't want it to get mushy.

Meanwhile, add the ground beef and onion (*see note) to a skillet over medium-high heat. Break up the meat as it browns for 10 minutes. A few minutes before the meat is done browning, add the minced garlic. *Spoon out any excess fat as needed.

1 lb ground beef,

1 cup onion,

½ teaspoon garlic

Next, mix in the marinara sauce and let it heat until warmed through. Taste the sauce and beef mixture and add salt & pepper as needed.

1 ½ cups marinara,

¼ teaspoon each, salt & pepper

Once the pasta is ready, drain the water and pour the pasta into your prepared baking dish. Pour the marinara and beef mixture into the dish and toss to combine. Sprinkle a layer of cheddar cheese over the top (*see note).

Bake, uncovered, at 400°F (205°C) for 15 minutes or until all of the cheese is nice and melted (*see note). Serve immediately.
Equipment You May Need
Notes
I opted for dried minced onion and added it to the beef after 5 minutes of cooking (it should take 6-8 minutes total to brown ground beef) before draining the excess fat so that it could take on the pan juices to rehydrate. 
When salting the pasta water, use 1 ½ tablespoons of salt per pound of pasta with 3-4 quarts (12-16 cups) of water. For instance, I use 12 cups of water with 1 ½ tablespoons of salt.
If you want your casserole extra cheesy, mix in an additional

½ cup of cheese with the pasta and sauce before you top it with the remaining cheese.

Optionally, you may pop the casserole under the broiler for a few minutes at the end of cook time to brown the cheese some.

Storing: Cover the baking dish with plastic wrap or foil and refrigerate for up to 3 days. Leftovers can be frozen in heavy-duty freezer bags or a freezer-safe airtight container for up to 3 months. 
Reheating: Reheat individual portions in the microwave or the entire casserole in the oven at 350°F (175°C) for 15-20 minutes, or until heated through.
Nutrition
Calories:
613
kcal
(31%)
|
Carbohydrates:
63
g
(21%)
|
Protein:
30
g
(60%)
|
Fat:
26
g
(40%)
|
Saturated Fat:
11
g
(69%)
|
Polyunsaturated Fat:
1
g
|
Monounsaturated Fat:
9
g
|
Trans Fat:
1
g
|
Cholesterol:
82
mg
(27%)
|
Sodium:
628
mg
(27%)
|
Potassium:
616
mg
(18%)
|
Fiber:
4
g
(17%)
|
Sugar:
5
g
(6%)
|
Vitamin A:
549
IU
(11%)
|
Vitamin C:
6
mg
(7%)
|
Calcium:
244
mg
(24%)
|
Iron:
3
mg
(17%)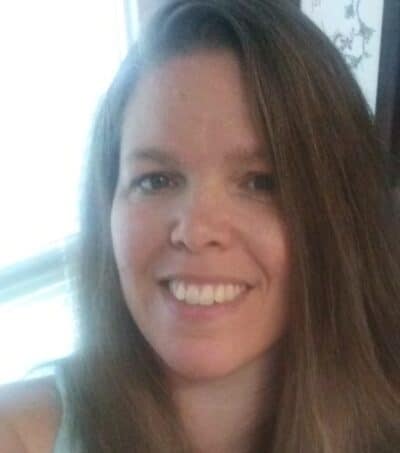 Angela is an at home chef that developed a passion for all things cooking and baking at a young age in her Grandma's kitchen. After many years in the food service industry, she now enjoys sharing all of her family favorite recipes and creating tasty dinner and amazing dessert recipes here at Bake It With Love!