Chateaubriand vs filet mignon: here's everything you need to know about these two delicious and savory cuts of meat! From flavor to cooking techniques and even recipes, I'm going to discuss it all! So keep on reading to learn about these fantastic beef options!
Comparing Chateaubriand & Filet Mignon
Odds are, you've heard of filet mignon and have probably even eaten it! It is well-known for its rich and indulgent flavor accompanied by a melt-in-your-mouth level of tenderness.
However, have you ever heard of chateaubriand? If you haven't, you definitely need to add it to your to-do list as this cut of beef can easily be placed right next to the filet mignon in terms of flavor and tenderness!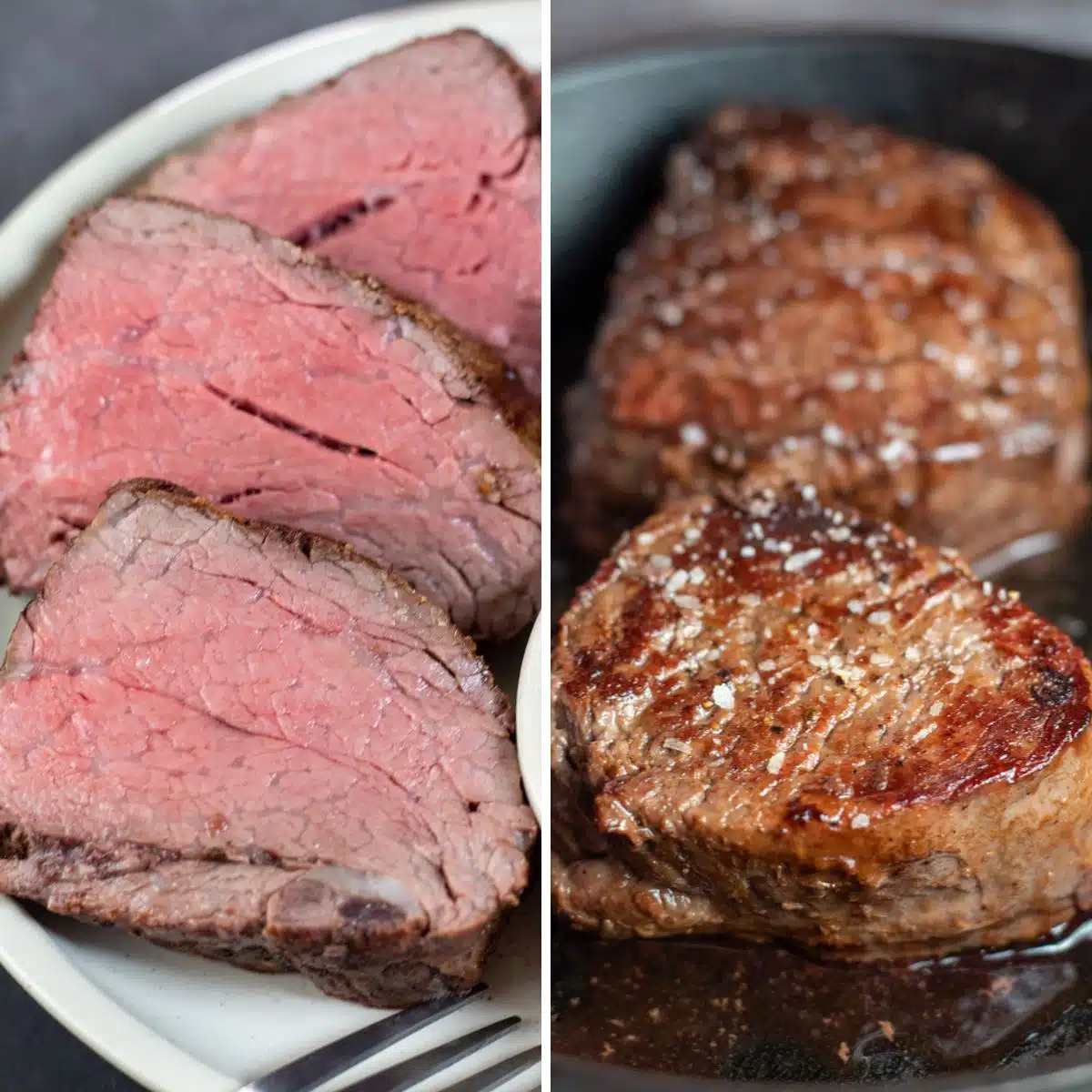 Jump to:
Understanding Beef Tenderloin
Before jumping into the similarities and differences between chateaubriand and filet mignon, we are first going to discuss beef tenderloin. This specific cut of meat runs parallel to the spine of the cow, with both a narrow and thick end. The tenderloin, once harvested, is often sold whole or cut into smaller sections.
So, why does this bit of information matter when we are supposed to be talking about filet mignon and chateaubriand? It's because both of these pieces of meat come from the same sub-primal cut: the tenderloin!
What Is Chateaubriand
The chateaubriand is cut from the center portion of the tenderloin. It is considered to be a roast and is often cut into portions after being cooked. Due to the location, it is packed with flavor and amazingly tender!
What Is A Filet Mignon
A filet mignon is a steak that is sliced from the narrow end of the tenderloin. It is an incredibly popular cut of meat that is known for how tender and flavorful it is!
Chateaubriand vs Filet Mignon
Now that you know where these two cuts of beef come from, how are they different? It all comes down to size and preparation!
Once harvested, the tenderloin can either be trimmed into chateaubriand roast or sliced into individual filet mignon steaks. In fact, you could easily consider chateaubriand to be a filet mignon roast!
Filet mignon is already in a single-portion steak when it is cooked while the chateaubriand is left whole for cooking and then sliced afterward.
Since these cuts of meat come from the same place on the cow, they are actually incredibly similar! They are both amazingly tender since the loin is a non-weight-baring muscle.
Best Cooking Methods
While both filet mignon and chateaubriand have a similar flavor profile and tender consistency, they do have different ideal methods of cooking.
Since chateaubriand is a larger roast, it is best when seared and then roasted in the oven until medium-rare. Allow the meat to rest and then slice it to serve.
Filet mignon is much smaller and thus more versatile in how it can be cooked. You can easily toss it on the grill, pan-sear it, or cook it in the oven!
Price
Both chateaubriand and filet mignon are on the pricier side for beef. Filet mignon may come in at a slightly more expensive cost per pound, but not by too much.
Of course, chateaubriand does weigh more than filet mignon. Therefore, buying only a pound of filet mignon would be cheaper than buying a two-pound chateaubriand. In short, it really depends on how much you are buying, but they fall into the same price range.
Do you prefer filet mignon or chateaubriand? Leave a comment down below and let me know what you think!
>>>>See all of my recipes HERE<<<<
📖 More Food Guides
Do you love a recipe you tried? Please leave a 5-star 🌟rating in the recipe card below and/or a review in the comments section further down the page.
Stay in touch with me through social media @ Pinterest, Facebook, Instagram, or Twitter! Subscribe to the newsletter today (no spam, I promise)! Don't forget to tag me when you try one of my recipes!
📖 Recipe Card
Print Recipe
Leave A Comment
Love This Recipe?
Click On A Star To Rate It!
Chateaubriand vs Filet Mignon: Chateaubriand (+Similarities & Differences)
Chateaubriand vs filet mignon: here's everything you need to know about these two delicious and savory cuts of meat! From flavor to cooking techniques and even recipes, I'm going to discuss it all! So keep on reading to learn about these fantastic beef options!
Pin Recipe
Share on Facebook
Ingredients
2

lb

chateaubriand

1

tablespoon

olive oil

(extra virgin)

1

tablespoon

Kosher salt

1

teaspoon

ground black pepper
Help Us Out!
If you love a recipe, be sure to come back and share your ratings. This helps future users, and allows me to continue sharing free recipes! Angela
Instructions
Get started by preheating your oven to 400°F (205°C).

Meanwhile, place a cast iron skillet over medium-high heat and drizzle in the olive oil.

Generously season the beef with salt and pepper, making sure to cover all sides of the meat.

2 lb chateaubriand,

1 tablespoon Kosher salt,

1 teaspoon ground black pepper

Once the oil in the skillet begins to shimmer, place the seasoned chateaubriand into the pan. Sear each side until lightly browned (about 2-3 minutes per side). Don't forget to sear the ends as well (using tongs if needed).

Once seared, transfer the entire cast iron pan to the middle rack of your preheated oven and immediately reduce the temperature to 350°F (175°C).

Cook for 15-20 minutes or until the internal temperature of the meat reaches 125°F (52°C) for medium-rare.

Removed the cooked meat from the oven and transfer it to a cutting board or serving platter. Loosely tent a piece of aluminum foil over the top of the beef and let it rest for 5 minutes before slicing and serving.
Equipment You May Need
Notes
For extra flavor, you can dry brine your chateaubriand before cooking. To do so, season all sides of the meat generously with salt and pepper before placing it into the refrigerator uncovered. You can allow it to brine for a minimum of 1 hour or up to 3 days.
If you want to serve your beef alongside a red wine reduction, simply place the cast iron skillet back onto the heat after removing the meat (and take a look at my recipe here!)
I recommend enjoying your chateaubriand when it is cooked to a medium-rare level of doneness. For more beef temperatures, take a look at my guide here. 
Plan ahead and try to only prepare as much chateaubriand as you need. For this premium portion of beef, I don't recommend storing and reheating because it has the best flavor and texture when enjoyed directly after cooking. 
Nutrition
Calories:
654
kcal
(33%)
|
Carbohydrates:
0.3
g
|
Protein:
41
g
(82%)
|
Fat:
53
g
(82%)
|
Saturated Fat:
21
g
(131%)
|
Polyunsaturated Fat:
2
g
|
Monounsaturated Fat:
24
g
|
Cholesterol:
159
mg
(53%)
|
Sodium:
1855
mg
(81%)
|
Potassium:
697
mg
(20%)
|
Fiber:
0.1
g
|
Sugar:
0.003
g
|
Vitamin A:
3
IU
|
Calcium:
19
mg
(2%)
|
Iron:
5
mg
(28%)
chateaubriand, chateaubriand vs filet mignon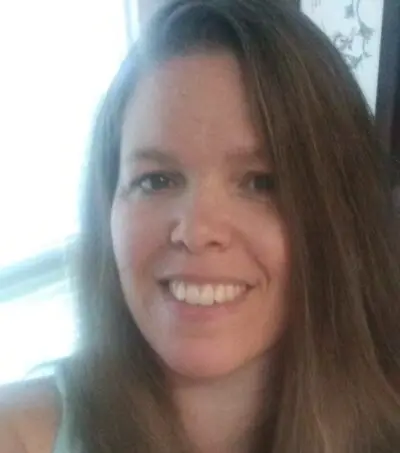 Angela is an at home chef that developed a passion for all things cooking and baking at a young age in her Grandma's kitchen. After many years in the food service industry, she now enjoys sharing all of her family favorite recipes and creating tasty dinner and amazing dessert recipes here at Bake It With Love!