The similarities between Cajun vs Creole cooking are there, but you may be surprised at how many differences there are! The terms are often used interchangeably but Cajun and Creole cooking are not the same things. Read on to learn about the cultural history of Cajun vs Creole cooking, the similarities, and the differences!
What's The Difference: Cajun vs Creole?
Today it seems like a lot of cultures are being combined to create fusion cuisine. However, fusion cuisine is nothing new. Two of the first fusion-style cuisines originated hundreds of years ago.
Cajun and Creole are not only two of the earliest forms of fusion cooking in The United States, but they are also two of the longest-lasting. These two types of cuisine were formed in The South – mostly in Louisiana.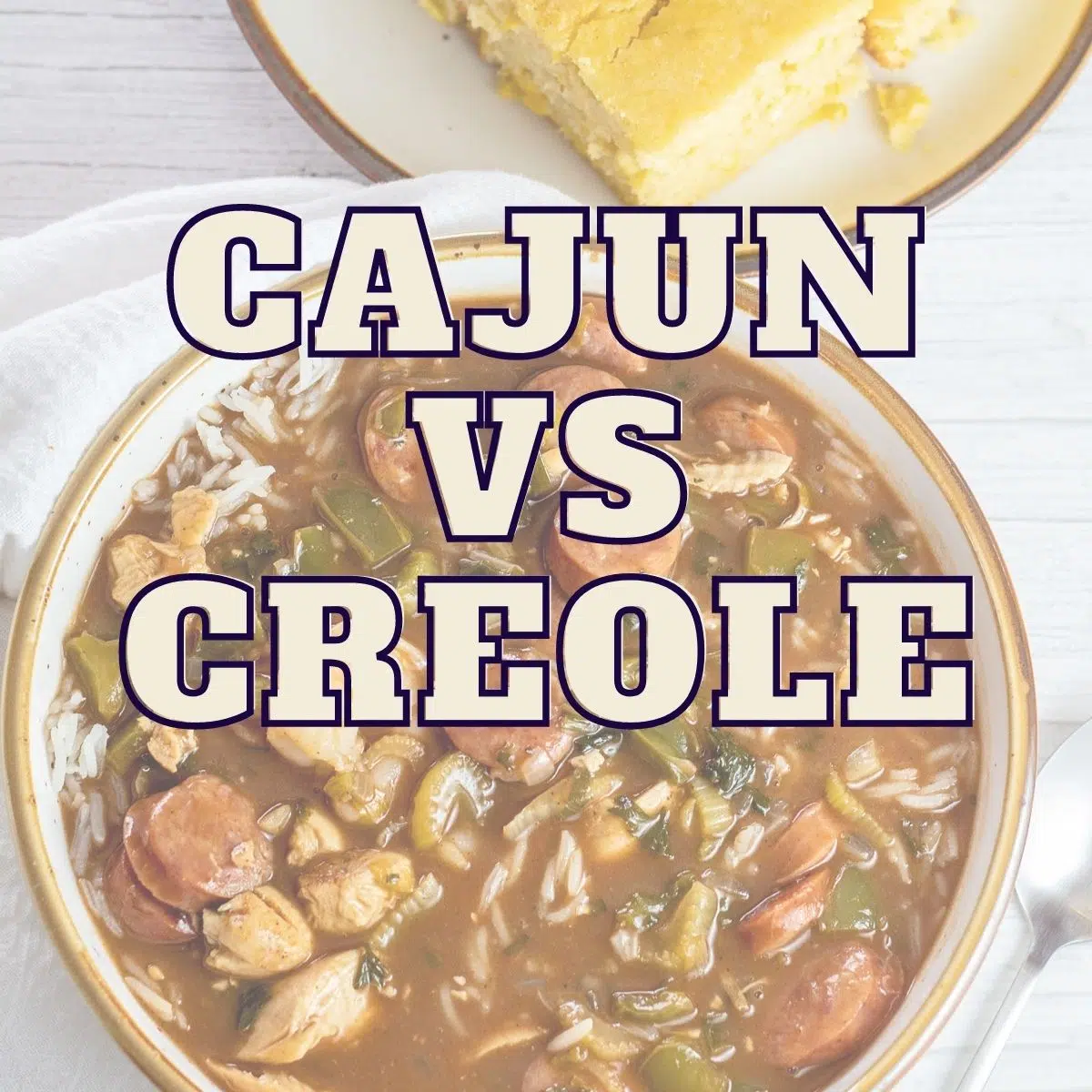 Jump to:
While these two styles of cooking are different from one another, they are often mistaken for each other. Moreover, sometimes they are thought to be the same thing.
Despite some similarities, Cajun and Creole are their own styles of cooking. The differences between these two cooking styles go beyond ingredients though. To truly understand the differences between Cajun and Creole cuisine, you must understand the history of each one.
History of Cajun Cuisine
The history of Cajun cooking dates back to a century before it was brought to the United States. It originated with the country peasants in France. Known as The Acadians, this group of people eventually left the French countryside to immigrate to North America.
In the early 1600s, the Acadians brought their flavors to Canada when they immigrated to Nova Scotia. Unfortunately, their hope of a better life was not met. Rather than being fully welcomed into the community, they were forced to flee.
They fled from the Northern most part of North America to the Southernmost part of the country. Most of them settled in what is now Louisiana.
Cajun Style of Cooking
As peasants, the Acadians focused on cooking dishes that incorporated what they could gather from their surroundings. This started in France by gathering vegetables from the land, like potatoes and carrots. In addition, using the meat they had access to as farmers.
In Nova Scotia, their dishes shifted to incorporate what they could find in the Atlantic Ocean. They began to use lobster, salmon, and other fish they could find off the coast of Nova Scotia.
While what they added to their cooking changed a bit, the style of cooking remained the same. They continued to follow their country roots and cook everything together in one pot.
When the Acadians landed in Louisiana, their one-pot recipes were adapted again. Living along the bayou of Louisiana, they continued to use what was easily available to them. Crawfish, alligators, crab, and oysters became staples. In addition, they began to incorporate new spices and flavors from other people in the community.
As they settled into their new home, their name was changed to "Cajun" – a derivate of the French word "Acadian."
History of Creole Cuisine
Creole cooking dates back even earlier than Cajun cooking. With the arrival of European immigrants to Louisiana in the 1600s.
While in the realm of history they are not far apart in their arrival in the New World, the way these two groups of people arrived is quite different. It is also directly linked to their different cooking styles.
Creole cuisine is a result of the European settlers who came to Louisiana (and other parts of the south). Moreover, these were the city-dwellers. These were the inhabitants of New Orleans who came from money and had access to a variety of foods.
Creole Style of Cooking
Creole is considered the city cooking of New Orleans. It includes rich and savory sauces and an assortment of spices. It draws on flavors from several European countries including France and Spain.
In addition to the European influence that was brought over with the settlers, Creole infused flavors of African cooking, Caribbean, and Native American. This was a result of slaves in the city adding flavors from their own backgrounds into the European dishes they created of their owners.
While the Cajun people were forced to draw from the banks of the bayou, Creole cooks had access to everything from farms to the sea. Moreover, they could import ingredients and were able to refrigerate dairy.
As a result, Creole cooking included a wide assortment of ingredients that were local and imported. It also consisted of rich and savory sauces. Due to its sophisticated nature, some chefs refer to Creole as French cuisine, just with local ingredients.
The Most Popular Cajun and Creole Dishes
While Cajun and Creole cuisine is historically different in many ways, they share two popular dishes: gumbo and jambalaya.
Both dishes are made by adding all the necessary ingredients into one big pot. For the Cajuns, this was whatever vegetable, meat, or seafood was available from the land. As they settled into Louisiana this shifted to mostly rice, peppers, and seafood that were accessible along the Bayou.
Creole gumbo also adds all ingredients to the pot. However, in addition to having a different base for the gumbo, it may include a wider range of meats such as cured sausage.
While gumbo and jambalaya are both one-pot recipes they vary slightly. The biggest difference is that gumbo is served over rice. Jambalaya has the rice mixed in with the other ingredients.
Similarities between Cajun and Creole Cuisine
The similarities between Cajun and Creole cuisine are found in their technique of fusing flavors from different cultures. Specifically, flavors from France, Africa, and Native Americans.
One way these two types of cooking reflect this similar fusion of flavors is in dishes like gumbo and jambalaya. However, while the basic concept of these two dishes is similar, they each have their own unique ways of preparing both.
The difference in preparing these two traditional dishes in both Cajun and Creole cooking reflects the historical differences between these two groups of people and their cuisine. The differences in their cultural history and place in society are greatly reflected in the different ingredients they use for cooking.
Differences between Cajun and Creole Cuisine
The biggest difference between Cajun and Creole Cuisine is seen in the ingredients used. The ingredients used by each group of people reflect what they both had access to when they originally settled in Louisiana.
Cajun people were considered country-dwellers. They lived along the bayou and were poor. Therefore, early on they did not have access to refrigeration. This meant that they focused on cooking with ingredients that did not need refrigeration; moreover, ingredients that had a long shelf life.
Creole people were city-dwellers. They were wealthy European families and had easy access to electricity and refrigeration. Therefore, they were not limited to the types of ingredients they could use.
The most common place this difference is seen in the fat base for Cajun and Creole cooking. Cajun cuisine uses lard or oil as the base for beginning most of its recipes. However, Creole cuisine is primarily focused on using butter as the base for cooking.
Cajun Gumbo vs Creole Gumbo
The difference between using lard/oil and butter is significant because it provides the base flavor and texture for many dishes. Specifically, the roux that is used to begin cooking gumbo or jambalaya.
Remember, both Cajun and Creole cuisine includes gumbo and jambalaya. How each one is made though is what shows their different histories. Beginning with the roux.
Cajun recipes use oil or lard and flour to create a roux. This provides a neutral base to build the rest of the dish around, without adding any additional flavor.
Creole recipes use butter and flour to make a roux. This differs from the Cajun roux because the butter imparts a rich and savory flavor to the sauce being prepared.
Moreover, while both types of cuisines use a roux in many of their dishes – Cajun cuisine is traditionally the only one to use it in gumbo. Cajun gumbo starts with a roux that is turned into a rich and savory stew with the addition of broth.
On the other hand, Creole gumbo has a tomato base. Therefore, rather than a thick stew, it has a soup-like consistency.
Cajun Seasoning vs Creole Seasoning
Cajun and Creole cuisines share many of the same seasonings. However, Creole cuisine includes more herbs while Cajun cuisine includes more spices.
Common Cajun Seasonings
Ground black pepper
White pepper
Cayenne pepper
Onion powder
Garlic powder
Paprika
Common Creole Seasoning
Black pepper
Garlic powder
Onion powder
Cayenne Pepper (in small amounts)
Thyme
Basil
Oregano
Parsley
Bay Leaves
Rosemary
Typically, Cajun food is spicier than Creole. Unfortunately, over the last few decades, there has been a rise in thinking that Cajun food just means overly spicy food though.
This is not true. Simply adding a ton of spicy seasoning does not make a good Cajun.
At the root of both Cajun and Creole cooking is their history. It is how they are prepared and the intention behind honoring their cultural history that makes these two cuisines independent and unique, while still sharing some similarities.
Do you love a recipe you tried? Please leave a 5-star 🌟rating in the recipe card below and/or a review in the comments section further down the page.
Stay in touch with me through social media @ Pinterest, Facebook, Instagram, or Twitter! Subscribe to the newsletter today (no spam, I promise)! Don't forget to tag me when you try one of my recipes!
📋 Recipe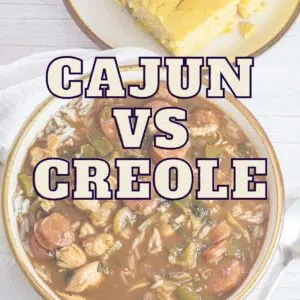 Print Recipe
Leave A Comment
Love This Recipe?
Click On A Star To Rate It!
Cajun vs Creole: Gumbo Soup Recipe
The similarities between Cajun vs Creole cooking are there, but you may be surprised at how many differences there are! The terms are often used interchangeably but Cajun and Creole cooking are not the same things. Read on to learn about the cultural history of Cajun vs Creole cooking, the similarities, and the differences!
Total Time
1

hour
20

minutes
Pin Recipe
Share on Facebook
Ingredients
For The Gumbo
12

oz

andouille sausage

(sliced, or kielbasa)

1

lb

chicken tenderloins

(chopped- *see note)

2

cups

shrimp

(peeled and deveined)

1

bunch

celery

(diced leaves and all)

1

green bell pepper

(diced)

1

large

yellow onion

(diced)

1 ½

teaspoon

garlic

(minced)

1

bunch

green onion

(finely chopped)

1

bunch

fresh parsley leaves

(finely chopped)

1

tablespoon

Cajun seasoning

(up to 2 tablespoons)

6

cups

chicken broth
Help Us Out!
If you love a recipe, be sure to come back and share your ratings. This helps future users, and allows me to continue sharing free recipes! Angela
Instructions
Make The Roux
In a large heavy-bottomed skillet over medium-low heat, combine the oil and flour. Stir constantly to prevent burning. Continue this for 30-45 minutes or until your roux looks like Hershey's chocolate syrup.

⅔ cup vegetable oil,

1 cup all-purpose flour

Once you remove the roux from heat, continue to whisk it constantly until the pan cools as it can still burn if left undisturbed.
Gumbo Soup
Meanwhile, in a large stockpot or Dutch oven over medium-high heat, brown the andouille sausage on each side (about 2-3 minutes per side). Remove it from the pot and set aside.

Add the chicken tenderloin pieces to the same pot and fry them in the fat remaining from the sausage until cooked through. Once the chicken is done, set it aside and add the shrimp to the pot. Sear each side and remove it once the shrimp is pink and cooked (*See note).

1 lb chicken tenderloins,

2 cups shrimp

Add your veggies (celery, bell pepper, onion, garlic, green onions, and parsley) to the pot with the sausage/chicken/shrimp juices and saute until they just begin to soften, then add the Cajun seasoning and stir.

1 bunch celery,

1 green bell pepper,

1 large yellow onion,

1 ½ teaspoon garlic,

1 bunch green onion,

1 bunch fresh parsley leaves,

1 tablespoon Cajun seasoning

Next, add your prepared roux to the veggies in the pot and stir to combine. Add the chicken broth, stir or whisk again, and bring your gumbo to a boil. Once boiling, reduce the heat and let your gumbo simmer for 45 minutes. Add more broth (after simmering) if desired to reach your preferred soup consistency.

Return the sausage, chicken, and shrimp to the pot and stir to warm through. Serve over warm rice.
Equipment You May Need
Notes
If time is of importance, rotisserie chicken, canned chicken, and/or pre-cooked shrimp can be used. Instant Pot shredded chicken would be ideal as well.
There are many types of sausage that will work wonderfully in this recipe, but it can also be omitted if you're out or simply not a fan! Use smoked sausage, or kielbasa, or turkey sausage if desired.
Never turn your back on the roux. It is extra special important for the right flavor, consistency, and quality of gumbo. It takes patience and muscle because you'll be stirring consistently for 30-40 minutes, but the results are worth it in the end!
Store the gumbo soup and rice in separate airtight containers and refrigerate for up to 3 days. Gumbo can be cooled then frozen in a freezer bag for up to 6 months while prepared rice can be frozen separately for up to 1 month.
Reheat leftover gumbo on the stovetop over medium-high heat until piping hot. Rice can be reheated in the microwave.
Nutrition
Calories:
674
kcal
(34%)
|
Carbohydrates:
25
g
(8%)
|
Protein:
47
g
(94%)
|
Fat:
43
g
(66%)
|
Saturated Fat:
9
g
(56%)
|
Polyunsaturated Fat:
17
g
|
Monounsaturated Fat:
13
g
|
Trans Fat:
1
g
|
Cholesterol:
229
mg
(76%)
|
Sodium:
1533
mg
(67%)
|
Potassium:
960
mg
(27%)
|
Fiber:
2
g
(8%)
|
Sugar:
5
g
(6%)
|
Vitamin A:
1569
IU
(31%)
|
Vitamin C:
34
mg
(41%)
|
Calcium:
109
mg
(11%)
|
Iron:
4
mg
(22%)
Cajun Food, Cajun vs Creole, Gumbo Soup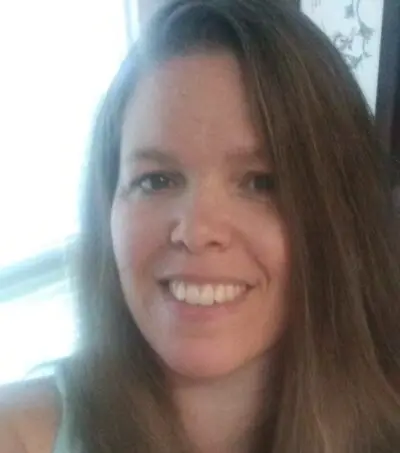 Angela is an at home chef that developed a passion for all things cooking and baking at a young age in her Grandma's kitchen. After many years in the food service industry, she now enjoys sharing all of her family favorite recipes and creating tasty dinner and amazing dessert recipes here at Bake It With Love!