Everything about prime rib vs ribeye steaks including what the difference is between them as well as all the ways they're similar! From taste and texture, to how to cook each best, there's all you need to know about prime rib roasts and ribeyes!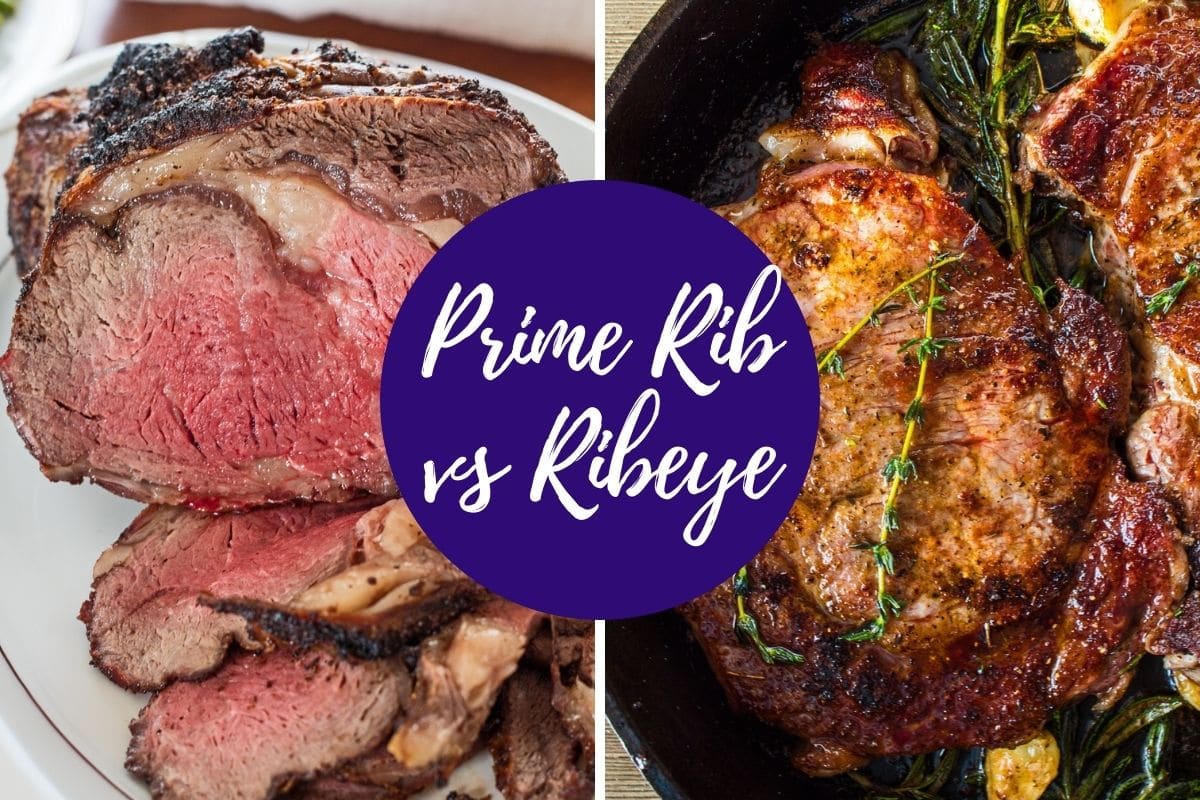 What's the difference between prime rib roast and rib eye steaks?
Two of the most popular beef cuts to enjoy for great reason! These delicious cuts, whether you're shopping for a boneless prime rib, standing rib roast, tomahawk steak, or juicy, thick-cut ribeyes, never disappoint!
Prime rib is featured as the centerpiece of holiday meals, and ribeye steaks are served at well-known steakhouses nationwide. They're that good! But which is better?
Jump to:
Prime Rib vs. Ribeye: The Juicy Facts You Need to Know
Interestingly enough, prime rib roasts and ribeye steaks are not as different as many people think. They are both made from the exact same primal cut of beef. This is the section of the cow that is designated as the primal rib section located on the back ribs.
The only major distinction between these two cuts of beef is the fact that they are cut and cooked much differently.
What's the Major Difference Between Prime Rib and Ribeye?
Prime Rib is the more traditional cut of roast beef. You can either have this cut of meat boneless or bone-in. Most people choose to cook the bone-in cut so they can have that added kick of beefy flavor (plus a built-in roasting rack!).
The prime rib is actually cut from the ribeye muscle which is on the higher back portion of the cow. This cut is a combination of the sixth through twelfth ribs (with most roasts having between 2-7 ribs).
Located between the chuck and short loin sections, this is one of the most tender portions on this animal because this particular muscle doesn't receive much movement or exercise.
There are 3 different muscles that make up the rib eye steak: spinalis, longissimus dorsi, and complexus. Let's dive a little deeper into what these muscles mean for the texture and flavor of this steak.
Spinalis
This is the portion of the rib that is called the ribeye cap, cap steak, and also known as the 'rib crown'. This muscle is connected to the ribeye and only separated by a single layer of fat.
Longissimus Dorsi
This muscle is the legitimate "eye" portion of the ribeye which is located in the center of the rib steak. This well-marbled center cut is a circular shape that is surrounded by other fat and the two muscles it combines with to make up the entire ribeye steak or prime rib.
Complexus
This is the smallest muscle out of the three that are actually attached to the 'eye', which is the longissimus dorsi.
The Difference in Taste and Texture
Prime rib is one of the richest, most tender beef cuts you will probably ever taste. The more intensely wonderful flavor you experience when eating this cut of meat is easy to distinguish because of the wonderful amount of marbling, bone, and connective tissue associated with it.
Whenever you think of steak or roast, you imagine a nice beefy flavor and that's exactly what you get from a perfect prime rib roast.
To get the most out of your roast you should cook your prime rib to medium-rare. If you cook your prime rib over medium, the meat will lose the tenderness that makes it so unique.
Ribeye is also extremely tender since it is cut from the same portion of beef, however, the prime rib is usually considered to be more flavorful. This is because of the larger roast being cooked with all of the marbling and bone adding to the rich, beefy flavor that makes a prime rib so darn good!
Both rib eye steaks and prime rib feature the perfect amount of fat marbled throughout the meat to produce a buttery and rich taste. The awesome part? While the meat is cooking, the marbled fat will continue to render down which bastes the meat from the inside out.
What's it Going to Cost You?
Where you buy your rib eye or prime rib will directly affect the price you pay. Quality is important, but note that you can sometimes find the best quality in your backyard.
Talk to your local butcher and you will likely find not only an exceptional cut of beef but also a very acceptable price tag!
As of today, I'm seeing a two-pack of ribeye steaks (approximately 1 to 1 ½-inch in thickness) priced at about $25 combined, or $12.48/pound, and a tomahawk at $35 when shopping at Walmart. My local grocer (where I buy the whole prime rib roast or rib roll) is priced at $9.49/pound. Awesome!
You can certainly pay upwards of $400 for a whole bone-in prime rib roast (I just looked! - Google 'prime rib roast' and look at the offers on the top of the page). In short, there's quite a range in costs you would pay per ribeye steak and per pound for your roasts too.
I find it very economical to buy a whole prime rib cut and then cut off two roasts, and between 6-8 ribeye steaks. Freeze 'em and you're good to go for a month or two. 😉
How Are Prime Rib and Rib Eye Graded?
The title prime rib tends to lead some people astray when they're trying to understand how the cut of meat is graded. The "prime rib" title doesn't classify the grade of the meat it only refers to the cut of meat you're getting.
When you get a "prime rib", this can be graded by the USDA as one of two grades. The grades are prime or choice (select is another USDA grade level, but you won't see prime rib offered from a select graded beef carcass).
So, you can have a 'prime' grade prime rib or a 'choice' grade prime rib. The same holds true for your ribeye steaks, they are available as prime or choice, and select is not usually not offered or noted.
I will be sharing much more on selecting prime rib soon!
Prime Rib vs. Ribeye: How Do You Cook the Meat?
Given the prime rib (either boneless prime rib or standing rib roast) is a roast, you want to slow cook this meat every time. On the other hand, the ribeye steak can be pan-seared at high heat to a delicious medium-rare.
Prime Rib Recipes
Whatever you call it - cube roll, rib roll, prime rib, ribeye roast, rib-eye roll, standing rib roast, or OP rib (oven-prepared rib) - this tasty, traditional holiday roast is a spectacular treat at any time of the year!
I've included my favorite smoked and oven-roasted prime rib recipes below.
Rich and smoky prime rib roasts are worth every moment of the wait! Bone-in or boneless prime rib shines with this super easy yet intensely flavorful cooking method!
This flavorful boneless prime rib roast is seasoned to perfection with my favorite dry rub for prime rib! Serve it up for a special dinner or treat your Christmas holiday guests to a meal fit for a king!
That luscious crusting on a well-roasted prime rib is taken to new levels of deliciousness with this easy horseradish and roasted garlic seasoning! It's the perfect flavor combination with prime rib!
Once you have your prime rib recipe picked out, take a look at all of the best side dishes to serve with prime rib!
Be sure to also check out all of my incredibly tasty leftover prime rib recipes so you can use your roast to make the very best prime rib recipes to treat yourself to!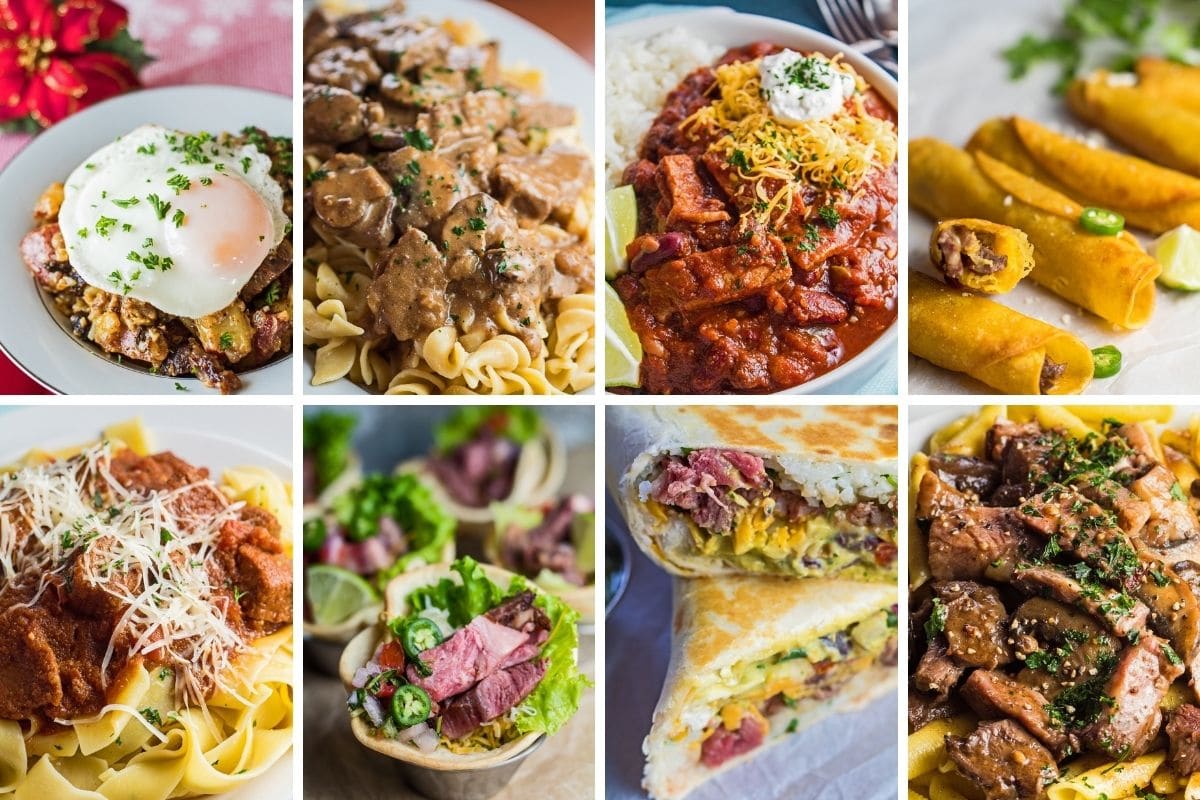 Ribeye Recipes
This cut has developed a couple of names to describe the type of steak you choose. The Tomahawk references the bone-in ribeye that you see with the protruding rib bone, the Cowboy cut is still attached to the bone, while beauty steak, Delmonico, sarket steak, Scotch fillets, and Spencer all reference the boneless ribeye steak.
All of my tips for absolutely nailing the pan-seared ribeye are shared here! That way when weather prohibits grilling, you can still enjoy a steakhouse quality dinner!
Another great way to cook up any thick-cut steak portion is the reverse sear! Perfectly medium-rare is the way to go with this hearty tomahawk cut ribeye steak!
Which One Should You Choose?
These are both great options and you won't go wrong with either! The final decision will really just depend on which cooking method your up to tonight, and personal preferences!
If you're in the mood for a traditional slab of steak then you should go for the ribeye, but if you want a nice piece of roast the prime rib is the definitely a go-to. Try them both out so you can finally decide for yourself which one is the better option for you!