Ribeye steak calories and nutrition: A complete in-depth guide to the nutritional values of ribeye steaks! From calories to carbohydrates and more, this guide covers everything you need to know about enjoying this flavorful cut of beef. Take a look to learn how you can incorporate ribeye steak into your diet in a healthy way!
Guide To Ribeye Steak Nutrition
Unless you are a vegetarian, you probably enjoy a nice juicy steak occasionally. If you really love steak, you may even want to eat one several times a week.
While there are several benefits to eating red meat it is also one of the proteins that are higher in calories. Therefore, it is typically not suggested to eat as regularly as we may like. However, that is up to you!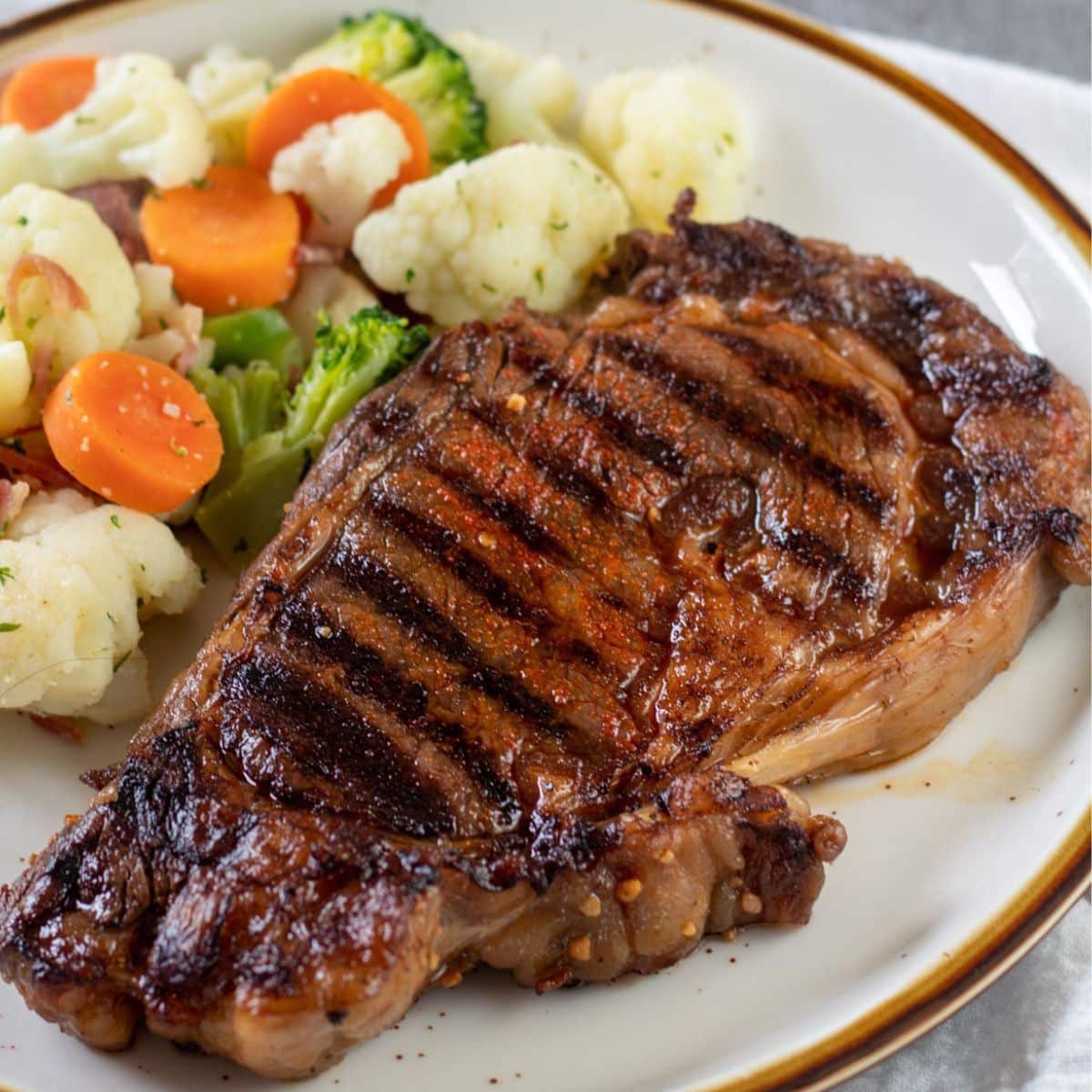 Jump to:
Using the information below you will have a better idea of the calories and nutrition in a ribeye steak. Then, you can choose the best way to include it in your diet.
Be sure to take a look at all of my incredible ribeye steak recipes and my easy and flavorful steak marinade!
Calories in a Ribeye Steak
Many cuts of meat such as pork chops and chicken breasts have a standard serving size of around 4 ounces. However, ribeye steaks are typically served as larger cuts.
It is more common to see ribeye served as an 8-ounce steak rather than a 4-ounce steak.
Although a ribeye may be served as an 8 or even 12-ounce steak, you may not want to eat that much in one sitting. Therefore, it is helpful to know how many calories are in different sizes of ribeye steaks.
Here is a quick guide for how many calories are in different sizes of ribeye steak:
4-ounce ribeye steak = 300 to 310 calories
6-ounce ribeye steak = 450 to 460 calories
8-ounce ribeye steak = 600 to 613 calories
10-ounce ribeye steak = 750 to 760 calories
12-ounce ribeye steak = 900 to 920 calories
As you will notice, I have provided a range for the calories in each weight. This is because each steak is a bit different. Therefore, a steak that is a bit leaner may have slightly fewer calories.
On the other hand, a fattier cut may have a few more calories than what is listed above. However, overall, it will typically not be more than a 20-calorie difference.
How to Determine the Size of a Ribeye Steak
The easiest way to determine the size of a steak is to weigh it on a food scale. This is also the most accurate way.
Not everyone has a food scale though. Moreover, even if you have a food scale at home you may not have one while out at a restaurant.
While eating at a restaurant the menu will almost always say how many ounces each steak is. However, it doesn't hurt to know how to double-check.
Use the palm of your hand to determine how large a steak is. A piece of meat that is about the size of the palm of your hand is approximately 4 ounces.
Another way to measure is to imagine if the steak is about the size of a deck of playing cards. This is also approximately 4 ounces.
Although not many steaks are 4 ounces knowing how to visualize this size helps you approximate the size of a steak in front of you. Moreover, it can help you cut a larger steak into smaller portions if you are watching your calories.
Additional Calories in Ribeye Steak
While a ribeye steak is naturally higher in calories than lean meats like chicken breast and pork, it is easier to cook without adding additional calories. A ribeye can be deliciously prepared with simple seasonings like salt and pepper and then broiled or grilled.
These types of preparation will not add any additional calories. However, several other ways to cook ribeye will elevate the flavor and increase the calories as well.
Calories from Butter
One of the most popular ways to cook ribeye steak is with butter. The addition of butter adds flavor and tenderness. It also adds calories.
How many calories are added depends on how much butter you cook with. Therefore, to get an accurate reading measure the butter before using it and then add the calories for the butter to the calories in the steak.
Calories from Seasonings and Sauces
In addition to cooking with butter, additional calories can also be added through seasonings or sauces. However, with a good cut of meat like a ribeye you do not need a lot of extras. Especially if you cook it in butter.
A dash of garlic salt or some fresh garlic is a great flavor addition that will not add additional calories. If you want to add a sauce, simply pay attention to how many calories are on the label or in the ingredients (if making your own sauce).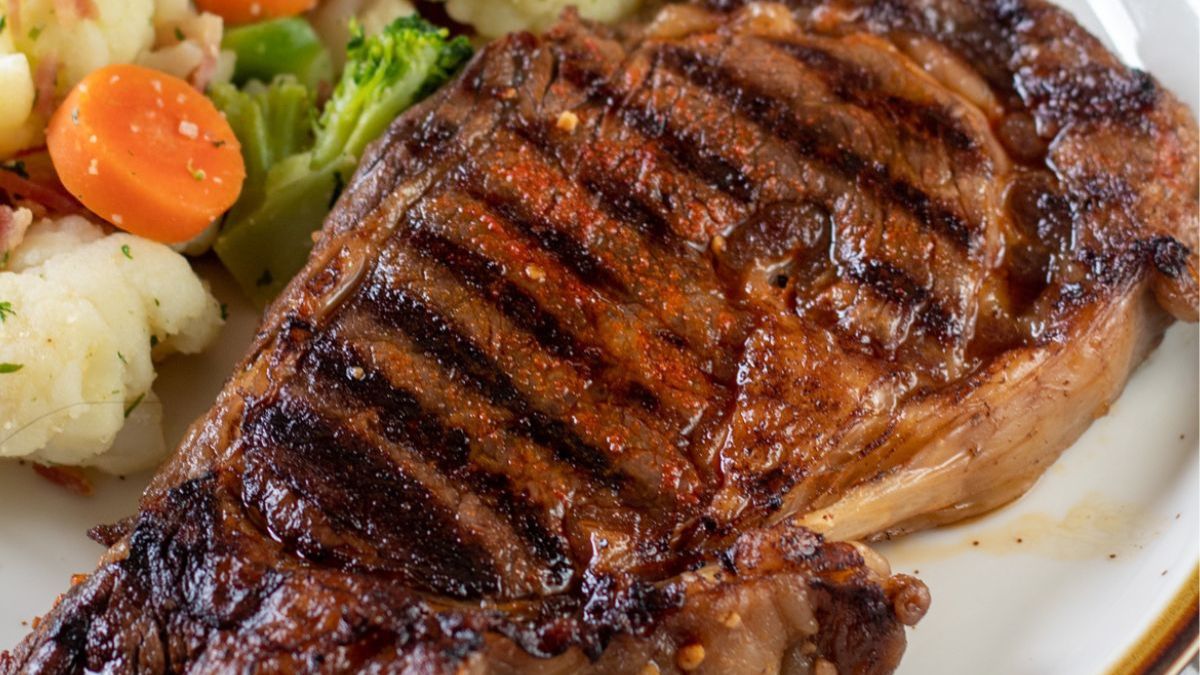 Nutritional Value of a Ribeye Steak
Nutrition goes beyond calories. While calories give a brief overview of the nutritional value of a food it does not tell you how much protein, fat, or carbohydrates are in a food. Moreover, calories do not tell you how many vitamins and minerals are also in your food.
Therefore, to get a better idea of how a ribeye fits into your diet plan it is helpful to know how many macronutrients (proteins, fats, carbohydrates) are in a steak. In addition, knowing the different vitamins and minerals found in red meat can also be important.
Macronutrients in Ribeye Steak
One ounce of ribeye contains about 7 grams of protein and 5.3 grams of fat. There are not any carbohydrates.
Below is a quick guide for the common cuts of ribeye. Since red meat is naturally free from carbohydrates, there are zero carbs regardless of the steak size.
4-ounce ribeye steak
28 grams of protein
21.3 grams of fat
6-ounce ribeye steak
42 grams of protein
32 grams of fat
8-ounce ribeye steak
56 grams of protein
42.7 grams of fat
10-ounce ribeye steak
70 grams of protein
53.3 grams of fat
12-ounce ribeye steak
84 grams of protein
64 grams of fat
Remember that each cut of meat is slightly different. Therefore, just like the calories will vary a bit so will the macronutrients.
For example, since an ounce of ribeye has 5.3 grams of fat, then those .3 grams of fat will add up the larger the piece of meat gets. However, a leaner steak will not have quite as many fat grams.
Micronutrients in Ribeye Steaks
One of the primary micronutrients found in ribeye steaks is Iron. Just like other cuts of red meat, ribeye has a significant amount of this important mineral.
In addition to Iron, ribeye also has Calcium and Vitamin A. While the percentage of Calcium and Vitamin A are not as high as Iron you will still get some benefits from these vitamins.
Choosing Ribeye for Dinner
While ribeye is one of the higher caloric proteins, you do not need to avoid it. It has some important benefits, such as helping to increase the iron in your diet, and it is delicious!
Therefore, ribeye is worth choosing as a protein for dinner more than just on special occasions. It is an easy meat to cook and can be paired with several delicious side dishes.
Moreover, with the information you now have about the calories and nutritional value of a ribeye steak, you can make the best choice of the size of the steak and how you cook it - depending on your dietary needs.
I hope you found this guide on ribeye steak calories and nutrition helpful! If you have any further questions please reach out in the comment section below!
>>>>See all of my recipes HERE<<<<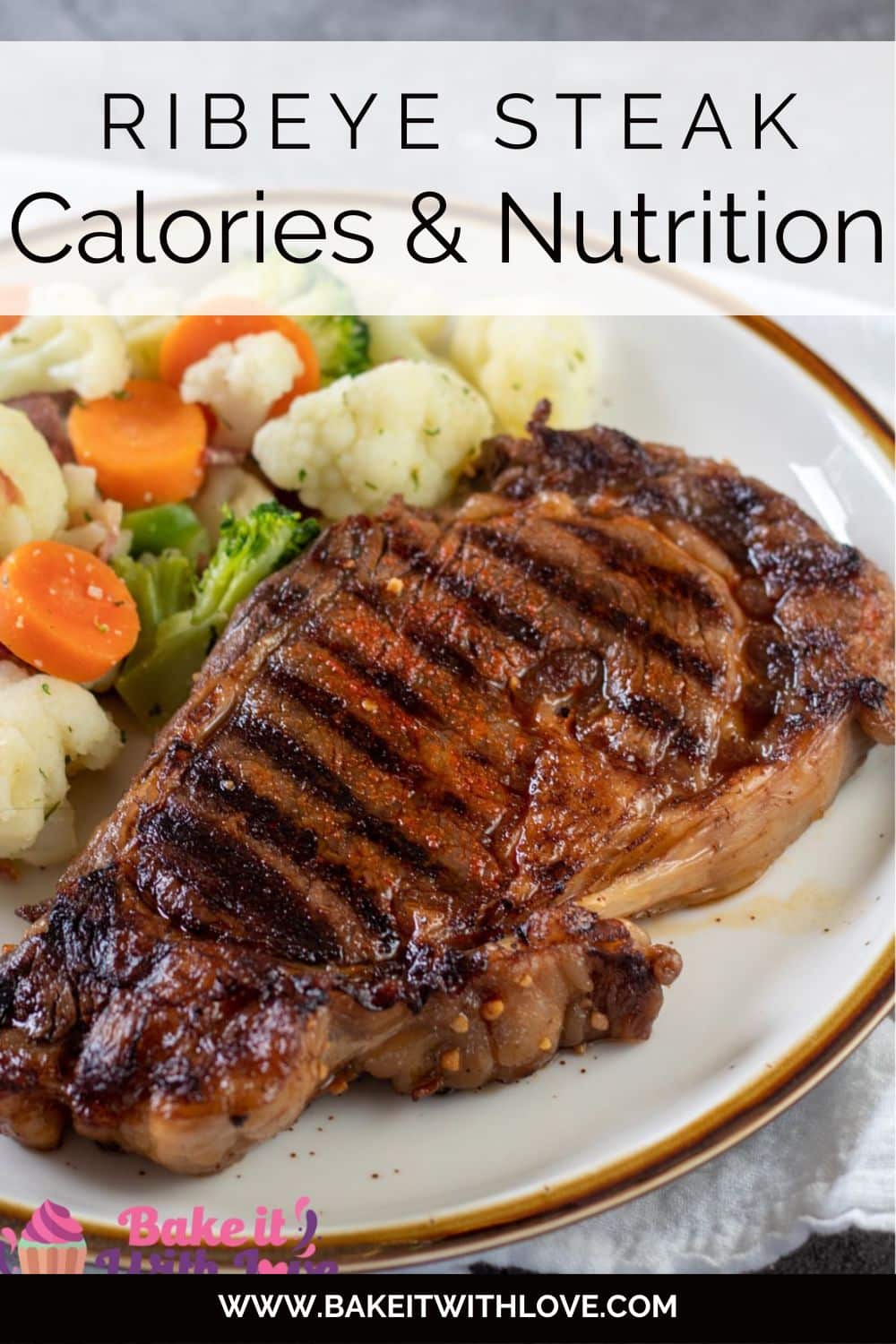 🥩 Best Ribeye Steak Recipes
📋 Recipe
Print Recipe
Leave A Comment
Love This Recipe?
Click On A Star To Rate It!
Ribeye Steak Calories and Nutrition: Grilled Tomahawk Ribeye (+More Juicy Steaks!)
Ribeye steak calories and nutrition: A complete in-depth guide to the nutritional values of ribeye steaks! From calories to carbohydrates and more, this guide covers everything you need to know about enjoying this flavorful cut of beef. Take a look to learn how you can incorporate ribeye steak into your diet in a healthy way!
Total Time
1
hour
16
minutes
Pin Recipe
Share on Facebook
Ingredients
3

lb

tomahawk ribeye steak

(ideally premium choice angus beef)

1

tablespoon

steak seasoning
Instructions
At least 45 minutes before cooking, season your steak on both sides and along the edges (*see note). 30 minutes to an hour before you are ready to grill, remove the steak from the fridge so it can come up to room temperature.

1 tablespoon steak seasoning,

3 lb tomahawk ribeye steak

Prepare your grill for indirect heat with 2-zone grilling (your grill's internal temperature should be 275-300°F/135-150°C). One half of the grill should have direct heat, and the other should have no heat.

Place your steak(s) on the grill over indirect heat (there should be no hot coals underneath) and the bone facing the direct heat side. Close the lid and position the air holes directly above the steak if possible.

Flip the steak(s) every 15 minutes or until it reaches an internal temperature of 110°F (43°C). This took me about 1 hour of cooking over indirect heat.

Transfer your steak to a plate and tent foil loosely over the top as you increase the temperature of your grill to 425°F (220°C) so you can sear it over high heat. *Alternatively, you can have your oven already preheated and walk from the grill into your kitchen to sear immediately.

Once the grill has come to temperature (or your steak is in the oven) sear it over direct heat, flipping every 2 minutes (for about 6 minutes total).

Transfer your cooked steak to a plate or cutting board and loosely tent a square of foil over the top. Let it rest for at least 10 minutes before slicing and serving.
Equipment You May Need
Notes
In place of steak seasoning, you may use a simple blend of salt & pepper to taste.
I like to use a 'dry-brine' method where the steak is seasoned and placed onto a wire rack set in a rimmed baking sheet or pan. I leave the meat uncovered to dry brine overnight and up to 3 days before removing it from the fridge.
Aim for the following internal temperatures for your steak to reach your desired level of doneness. Always remove your steak from heat 5°F shy of where you want it to end up, as the steak will continue to cook once removed from the grill.

Rare: 115 to 120°F (46-49°C)
Medium-Rare: 120 to 125°F (49-52°C)
Medium: 130 to 135°F (54-57°C)
Medium-Well: 140 to 145°F (60-63°C)
Well-Done: 150 to 155°F (66-68°C)

To store: Once cool, leftovers can be kept in an airtight container and refrigerated for up to 4 days. You may freeze leftovers for up to 3 months by wrapping them tightly in foil and placing them in a heavy-duty freezer bag.
To reheat: The best way to reheat a steak of this size is in the oven. Place your steak in a baking dish and cover it with foil. Bake at 250°F (120°C) until sufficiently warmed through. This may take up to 30 minutes and depends on the size of your steak. 
Nutrition
Calories:
711
kcal
(36%)
|
Carbohydrates:
1
g
|
Protein:
69
g
(138%)
|
Fat:
48
g
(74%)
|
Saturated Fat:
21
g
(131%)
|
Polyunsaturated Fat:
2
g
|
Monounsaturated Fat:
23
g
|
Cholesterol:
208
mg
(69%)
|
Sodium:
177
mg
(8%)
|
Potassium:
919
mg
(26%)
|
Fiber:
0.1
g
|
Sugar:
0.03
g
|
Vitamin A:
77
IU
(2%)
|
Vitamin C:
0.1
mg
|
Calcium:
34
mg
(3%)
|
Iron:
6
mg
(33%)
Grill Recipes, Grilled Tomahawk Ribeye, ribeye steak calories, ribeye steak calories and nutrition, ribeye steak nutrition, steak, steak recipes, tomahaw ribeye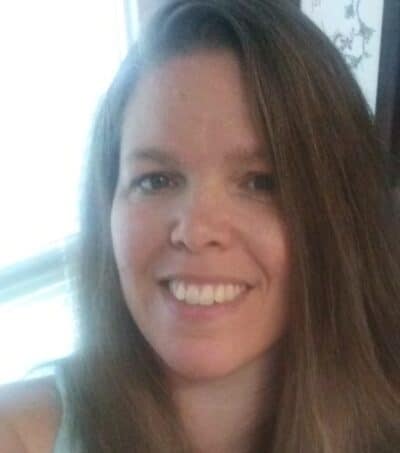 Angela is an at home chef that developed a passion for all things cooking and baking at a young age in her Grandma's kitchen. After many years in the food service industry, she now enjoys sharing all of her family favorite recipes and creating tasty dinner and amazing dessert recipes here at Bake It With Love!