If you're trying to find out the best way to reheat steak, look no further because I've done all the research for you! If you spent a pretty penny on a nice steak don't waste it, with the correct reheating method you can enjoy it until the last bite!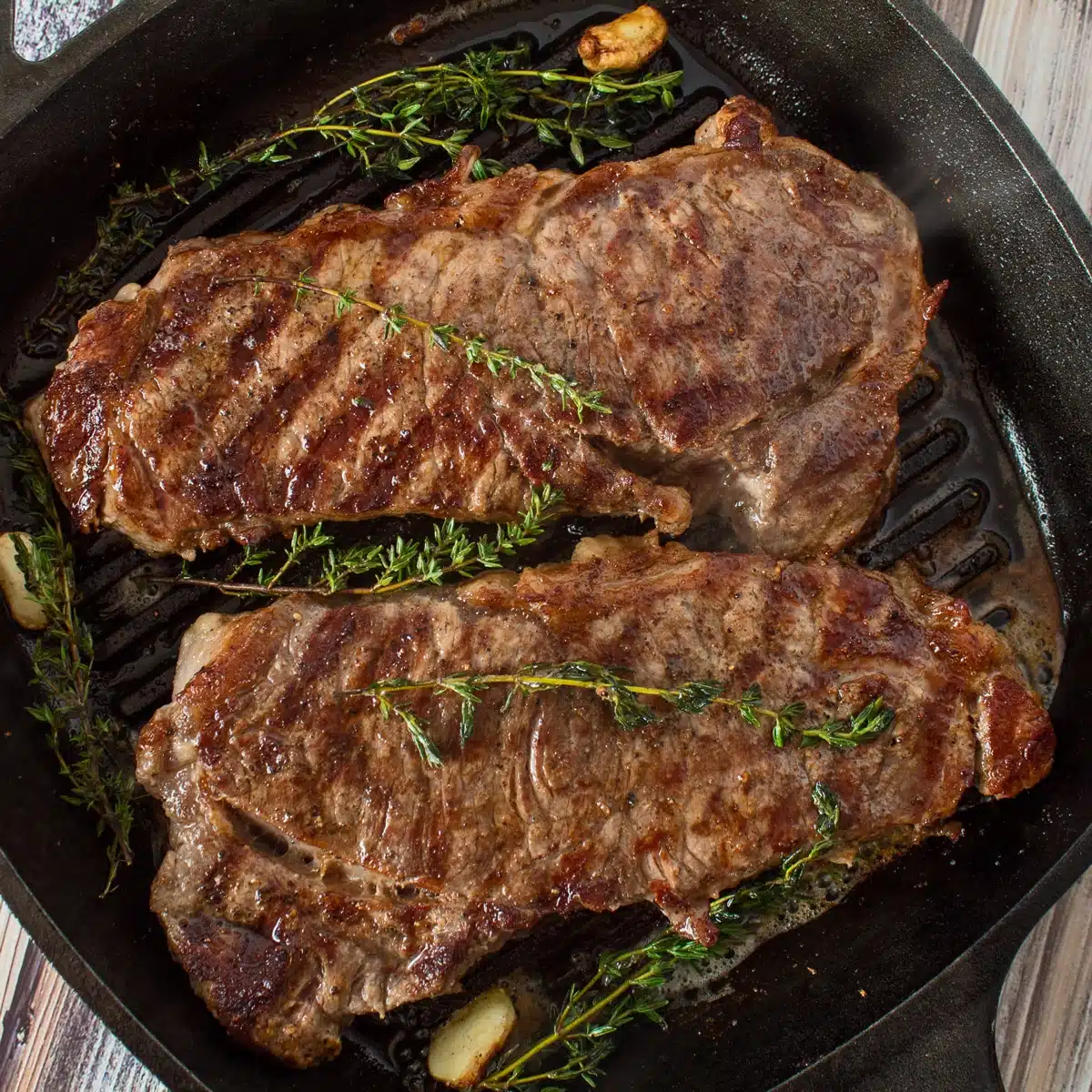 Enjoy your leftover steak warmed up without drying it out!
Steak is often considered a splurge, especially when you go for the best cut of meat! It is so worth it when you bite into that perfectly delicious juicy steak.
Sometimes those ideal cuts are just a bit too much to eat in one sitting though, and you don't want to throw away a perfect piece of meat!
If you can't quite finish your steak, or you were cooking it at home and made too much, hold onto it for your next meal. While it may not be exactly as it tasted when you first cooked it, there are several ways to reheat it that will keep it tasty!
Jump to:
Just like taking your time to cook a steak slowly on its first round, it is equally important to take your time reheating it. Especially if you want to avoid drying it out!
Tips for Reheating a Steak
Before you decide which method to use for reheating your steak, there are a couple of things that can help you get the best result from any method.
First, let your steak come to room temperature before reheating it. This allows the steak to naturally warm up prior to cooking. Therefore, it won't need as much time on a heat source.
This allows you to reheat the steak more quickly and evenly, with less direct heat, which will help keep the steak from drying out.
Simply take your leftover steak out of the fridge and let it sit on the counter for about 20-30 minutes. You can use this time to prepare your side dishes. When the steak has come to room temperature, use one of the methods below to reheat it.
This is especially helpful when you bring leftover steak home from a restaurant.
While you can't anticipate if you are taking leftover steak home from a restaurant (you may want to eat it all at once!), you can plan better when cooking at home.
If you are cooking steak with the intention of saving some for later, a great tip is to undercook the steaks you plan on reheating. For example, if your ideal steak is medium-well then cook the steaks to medium.
That way, when you reheat it you can achieve that ideal pink center without the fear of overcooking it.
How to Reheat a Steak in the Microwave
While not necessarily the best way to reheat steak, using the microwave is the easiest way. Since easy is sometimes the best, let's start here. Then, I will share my absolute favorite ways to reheat a steak for the tastiest result (which are still easy!).
Reheating a steak in the microwave is great if you want to take it to work for lunch the next day, or you just need a quick meal later in the week. If possible, follow the tip above for letting the steak come to room temperature first.
Taking it out of the fridge 30 minutes before your lunch break will definitely help make the most of the microwave.
The trickiest part about reheating steak in the microwave is not overcooking it. Microwaves were meant to cook things fast and fast isn't ideal for steak. However, there are some tricks to keep your steak juicy:
Reheat your steak in short intervals like 30-45 seconds. Flip the steak each time and continue cooking in intervals until it is heated throughout.
Cut the steak up into pieces before cooking. Use the interval method but stir the pieces of steak between each time frame.
Place the steak in a microwave-safe bowl and then place a damp paper towel over the top. This will help reintroduce some moisture and keep the steak from quickly drying out.
How to Reheat Steak on the Stovetop
A quick method that is a bit better than the microwave is reheating the steak on the stovetop. While this method is quicker than others, be mindful that you don't rush the process.
It can be easy to overheat the skillet and then end up with a steak that is burned on the outside and still cold in the center.
To avoid this mishap, keep the skillet on medium to low heat. Then, place 1-2 teaspoons of oil or butter in the pan to keep the steak from sticking.
Place the steak in the pan and allow it to slowly heat up. Turn the steak partway through to evenly warm it throughout.
Reheating a steak on the stovetop has the potential to dry the meat out. There are a few ways to avoid this:
First, place a lid over the skillet to help keep some of the moisture in while cooking.
Second, in addition to the oil or butter, you can add about a ¼ cup of beef broth to the pan and then cover with a lid. This will help add some additional moisture to the steak.
One of the best ways to use the stovetop method is to cut the steak into smaller pieces before reheating. This way each piece gets heated more quickly and evenly and you avoid overcooking it.
How to Reheat Steak in the Oven
Reheating steak in the oven is one of the best ways because you can control how slowly and evenly the steak gets warmed. However, this does take longer than other methods.
That being said, this is not the best option for a quick last-minute meal. If you do have the time, this method will keep the steak nice and juicy if you keep an eye on it!
Preheat your oven to 250 °F (121.1 °C). Remember, you are reheating the steak and not cooking it. Therefore, using low heat is ideal.
To help the steak warm evenly use a wire rack on top of a sheet pan; place the steak on the wire rack (the sheet pan will catch any fat drippings).
How long you need to reheat your steak will depend on how thick it is. For a thin cut, like a flank steak, you will only need about 15 minutes total. For a thicker piece of meat, it may take up to 30 minutes.
Do your best to guess approximately how long it may take so that you can flip the steak about halfway through. Flipping it is also a good reminder to keep an eye on it so that you don't dry it out.
The Best Way to Reheat Steak: The Oven and Stovetop Method
One of the tastiest parts of a well-cooked steak is when it is perfectly seared on the outside and juicy in the center. This is often achieved with a freshly cooked steak on the grill, but It is possible to recreate in your kitchen using the stovetop and oven.
Yes, it will take some additional time. Steak wasn't meant to be cooked in a rush, though. So, if you have the time, I highly suggest giving this method a try. I truly believe this is the best way to reheat a steak.
Begin by following the steps above for reheating the steak in the oven with one slight modification.
With this method, you should take it out of the oven a few minutes before it is fully reheated. Before you take it out of the oven, preheat a skillet on the stovetop. Ideally, a cast iron pan if you have it, but any skillet will do the job.
Add a tablespoon of butter or oil (canola or vegetable) to the skillet. When you remove the steak from the oven, immediately place it in the skillet.
Sear one side of the steak until you get a nice crunchy outside, about 1-2 minutes, then flip it and do the same to the other.
Remove the steak and enjoy!
Butter and Toppings for the Perfectly Reheated Steak
When it comes to reheating a steak, the best option will always be the one that is best for you!
Choose the method you have the time for, as well as the one you feel works best for the cut of meat you have. Depending on the day you may use a different method than the time before.
Regardless of which method you choose, you can ensure a delicious meal by adding your favorite steak toppings.
Use the same toppings you would for a freshly cooked steak. A slab of grass-fed butter that melts perfectly on top of your favorite steak, or steak sauce on the side. You may even choose to add a few extra seasonings during the reheating process.
Just because the steak is being reheated doesn't mean it can't get the same special attention as the first go around. Save some of the side dishes from the first time or make something new and fresh to serve with your steak.
Don't be afraid to get creative with your leftovers as well. While there are plenty of tasty ways to reheat a steak, slicing up a leftover steak and adding it cold to a yummy salad can be the perfect way to use it without any reheating required.
🥩My Favorite Steak Recipes!
---
We hope this list helps you enjoy a perfectly cooked steak the second time around!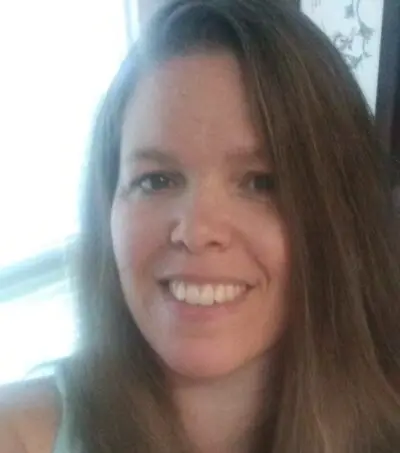 Angela is an at home chef that developed a passion for all things cooking and baking at a young age in her Grandma's kitchen. After many years in the food service industry, she now enjoys sharing all of her family favorite recipes and creating tasty dinner and amazing dessert recipes here at Bake It With Love!