It's a fantastic day when you start it out with the classic flavors of banana and nuts in these traditional Banana Nut Muffins!
Banana Nut Muffins Recipe
I have a house full of banana lovers, and these perfectly portioned on-the-go breakfast muffins are always appreciated. You can always tell when your foods and baked goods like these banana nut muffins are a hit, as they disappear rapidly!
I've mentioned before that I do not personally like banana breads (gasp! I know, it's unthinkable!) but I do love the convenience of using up my bananas and that my family thoroughly enjoys the baked banana goodies.
This batch of fresh banana nut muffins was made during one of my grocery store hauls as occasionally I can get the produce manager to let me have the browned bananas for free, that's the start to a great day!
Check out the day's other baked banana bread recipes - tasty chocolate chip banana nut bread and my rich dessert based on the same loaf, chocolate chip banana nut bread bread pudding!
Banana Nut Muffins Ingredients
Banana Nut Muffins contain all of your usual banana bread ingredients. That includes mashed overripe bananas, sugar, butter, salt, eggs, vanilla extract, baking soda, baking powder, cinnamon and flour - plus your favorite nut variety (I like to use crushed black walnuts, as pictured on this page).
What Nuts Go Well With Banana?
Wondering what nuts to use for your banana nut muffins or banana bread (or add to a banana bread mix)? Here are some of the nuts that pair best with the flavor of bananas:
Walnuts (My #1 Choice)
Pecans
Hazelnut
Almonds
Peanuts
Macadamia Nuts
Cashews
How Do I Keep Nuts From Sinking To The Bottom Of My Muffins?
To prevent any larger chunk ingredients that you are adding to your banana muffins (or banana bread or cake) from settling or sinking to the bottom of your muffins, coat the desired ingredients in flour. In this case, I have used a small ziploc bag and a ¼ cup portion of the flour called for in my banana nut muffins recipe, and combined my crushed black walnuts with the flour. A light coating of the flour will prevent the walnuts from sinking to the bottom of my baked banana nut muffins.
How Long Do Freshly Baked Muffins Store At Room Temperature?
You can store your freshly baked banana nut muffins at room temperature for up to 3 days, as long as they are stored correctly. Keep them covered with cling film or aluminum foil (will last 1-2 days), or stored in an air tight container or ziploc storage bag for best results. This helps to keep your muffins from drying out before you can enjoy them.
What Is The Best Way To Store Muffins?
You can store your muffins at room temperature (see above), in the refrigerator, or in the freezer (see below). I prefer to store our banana nut muffins, banana breads, and banana based baked goods in the refrigerator. When storing in a refrigerator, use an air tight container, and layer the muffins with paper towels between the layers to prevent the muffins from getting soggy. I have never personally ran into an issue with the muffins getting soggy when stored individually wrapped in cling film, or frozen with this method. However, I know of others who have definitely run into this issue.
Can I Freeze Banana Nut Muffins?
Yes! This works beautifully with banana nut muffins, muffins, banana breads, and pretty much any quick bread. Store your muffins wrapped tightly in aluminum foil (heavy foil is best) or place them in a freezer bag. Your banana nut muffins can be stored in the freezer for up to 3 months.
To thaw, I prefer to set the muffins out at room temperature and allow them to thaw. There will be condensation from thawing, so make sure that there isn't any cling film on them when thawing. Muffins and quickbreads can also be wrapped in aluminum foil and thawed in the oven, to serve warm.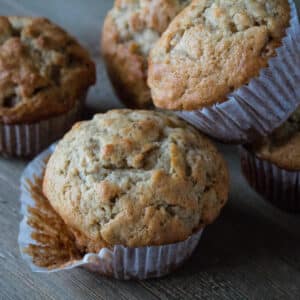 Print Recipe
Leave A Comment
Love This Recipe?
Click On A Star To Rate It!
Banana Nut Muffins
It's a fantastic day when you start it out with the classic flavors of banana and nuts in these traditional Banana Nut Muffins!
Servings:
12
banana nut muffins
Pin Recipe
Share on Facebook
Instructions
Preheat your oven to 375 degrees F (190 degrees C) and either coat your muffin tin(s) with non-stick cooking spray or line with cupcake papers.

In a large mixing bowl, or the bowl of your stand mixer, cream together the butter and sugar. Add the overripe bananas and mash into the creamed butter and sugar.

Add the eggs, milk and vanilla, then mix until combined (wet batter will be very lumpy from butter and bananas).

Add baking soda, baking powder, cinnamon and salt and stir into the batter. Then add the first portion of divided flour amount (1 ¾ cups) and mix just until the flour is incorporated into the lumpy batter.

In a small ziploc bag, combine the remaining flour portion (¼ cup) with the crushed black walnuts. Shake until well coated, then add to the batter and fold in gently to distribute evenly throughout the batter. *You can add mashed bananas at this step too (vs. earlier), if you like larger chunks of banana in your muffins.

Transfer batter to prepared muffin tins, and bake at 375 degrees F (190 degrees C) for 18-20 minutes, or until an inserted toothpick comes out clean from the center of the muffins.

Remove to a wire cooling rack and allow the banana nut muffins to cool in the muffin tins for a few minutes before turning the muffins out. Serve muffins warm or at room temperature.
Nutrition
Calories:
255
kcal
(13%)
|
Carbohydrates:
41
g
(14%)
|
Protein:
4
g
(8%)
|
Fat:
9
g
(14%)
|
Saturated Fat:
5
g
(31%)
|
Cholesterol:
56
mg
(19%)
|
Sodium:
174
mg
(8%)
|
Potassium:
194
mg
(6%)
|
Fiber:
2
g
(8%)
|
Sugar:
21
g
(23%)
|
Vitamin A:
309
IU
(6%)
|
Vitamin C:
3
mg
(4%)
|
Calcium:
31
mg
(3%)
|
Iron:
1
mg
(6%)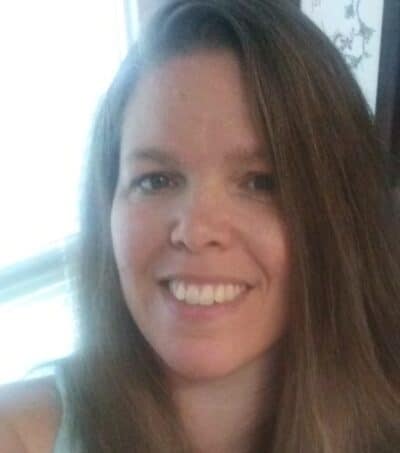 Angela is an at home chef that developed a passion for all things cooking and baking at a young age in her Grandma's kitchen. After many years in the food service industry, she now enjoys sharing all of her family favorite recipes and creating tasty dinner and amazing dessert recipes here at Bake It With Love!