Ultra tasty Chocolate Chip Banana Nut Bread is an easy to make quick bread that is super moist and loaded with flavors!
For the banana bread lovers in the house, this version includes even more of their favorite flavors with its melt-in-your-mouth mini chocolate chips and crushed black walnuts dotted throughout the moist bread.
Chocolate Chip Banana Nut Bread Recipe
Since I myself am not an avid banana bread lover, I have to rely on how quickly any freshly made loaves last to judge how good the resulting bread is (or was).
This Chocolate Chip Banana Nut Bread lasts only long enough to be cooled, removed from the loaf pan, sliced and served!
You'll love the simplicity of using our one bowl method of making banana bread. In just minutes you will have a fresh loaf in the oven and baking to perfection!
Want to use up some leftover banana bread and make an amazingly rich and flavorful dessert? Try out my chocolate chip banana nut bread bread pudding!
How To Ripen Bananas Quickly
For those with no patience, like me! I've seen a few methods of quickly ripening bananas for baking mentioned before, but for me the absolute simplest method is to place unpeeled bananas in the freezer.
Allow them to freeze (minimum 30 minutes, up to two hours) then remove and set them out at room temperature on the counter. Once the peels have blackened, the bananas are ready to be used for your next batch of banana bread, banana muffins, banana cake, or other banana based cookies and desserts.
You can also place unpeeled bananas on a baking sheet that is lined with aluminum foil, and put them in the oven at 250-300 degrees F (120-150 degrees C) for 15-20 minutes. Remove from the oven and allow to cool for about 30 minutes before using the bananas.
Or place your bananas in a loosely closed brown paper bag and allow the ethylene that the bananas produce to circulate in the bag and ripen them much more quickly than normal.
Check the bagged bananas intermittently to see when your bananas have reached your desired level of ripeness (12-24 hours).
The method I haven't personally tried is to fork your banana peel 3-4 times and microwave banana(s) on high in 30 second increments until ripened (30-90 seconds). I just can't bring myself to microwave a banana, but it sure sounds super quick!
How Do I Keep Chocolate Chips or Nuts From Settling While Baking Banana Bread?
To prevent any larger chunk ingredients that you want to add to your banana bread (or cake) from settling, coat the desired ingredients in flour. In this case, I have used a small ziploc bag and a small portion of the flour called for in my chocolate chip banana nut bread recipe, and combined my mini chocolate chips and walnuts with the flour.
A light coating of the flour will prevent my chocolate chips and nuts from sinking to the bottom of my baked banana bread loaf.
What Size Loaf Pan Do I Use For Banana Bread?
Most of our Grandmas used a standard 9 x 5 x 2 ½ inch loaf pan and these can still be purchased. I've found that old vintage recipes work best in this standard size loaf pan. However, the current standard size 1 pound loaf pan is actually 8 ½ inch x 4 ½ inch x 2 ½ inch and this is what you will typically find in stores that do not have a specialized baking section.
There are, of course, holiday loaf pans and mini loaf pans as well as specialty larger loaf pans but the sizes noted above are what most recipes are referring to unless otherwise noted.
How Do I Keep Banana Bread Moist?
To keep your delicious banana bread moist for days (up to a week), be sure to store it in the refrigerator. Your banana bread should be wrapped tightly in plastic wrap (cling film), aluminum foil, placed in a storage bag, or in an air tight container. I prefer and recommend the plastic wrap for storing and refrigerating my chocolate chip banana nut bread 🙂
📋 Recipe
Print Recipe
Leave A Comment
Love This Recipe?
Click On A Star To Rate It!
Chocolate Chip Banana Nut Bread
Ultra tasty Chocolate Chip Banana Nut Bread is an easy to make quick bread that is super moist and loaded with flavors! You will love ease of using our one bowl method for banana bread to have this baked and ready to enjoy in no time at all.
Pin Recipe
Share on Facebook
Ingredients
1

c

sugar

½

c

butter

(salted, 1 stick - softened at room temperature)

3-4

large

bananas

(overripe)

2

large

eggs

2

tablespoon

milk

(whole milk)

1

teaspoon

vanilla extract

1

teaspoon

baking soda

1

teaspoon

baking powder

1

teaspoon

salt

1

teaspoon

cinnamon

2

c

all-purpose flour

(divided - reserve ¼ cup to coat chocolate chips and nuts)

½

c

mini milk chocolate chips

½

c

crushed walnuts

(or your preferred nut variety)
Help Us Out!
If you love a recipe, be sure to come back and share your ratings. This helps future users, and allows me to continue sharing free recipes! Angela
Instructions
Preheat your oven to 375 degrees F (190 degrees C) and butter your loaf pan, line it with parchment paper, or coat with non-stick cooking spray.

In a large mixing bowl, or the bowl of your stand mixer, cream together the butter and sugar. Add the overripe bananas and mash into the creamed butter and sugar.

Add the eggs, milk and vanilla, then mix until combined (wet batter will be very lumpy from butter and bananas).

Add baking soda, baking powder, cinnamon and salt and stir into the batter. Then add the first portion of divided flour amount (1 ¾ cups) and mix just until the flour is incorporated into the lumpy batter.

In a small ziploc bag, combine the remaining flour portion (¼ cup) with the mini milk chocolate chips and crushed walnuts. Shake until well coated, then add to the batter and fold in gently to distribute evenly throughout the batter.

Transfer batter to prepared loaf pan, and bake at 375 degrees F (190 degrees C) for 55-60 minutes, or until an inserted toothpick comes out clean from the center of the loaf.

Remove to a wire cooling rack and allow the banana bread to cool in the loaf pan for 5 minutes, before removing from the loaf pan and transferring to the wire cooling rack to cool completely.
Notes
We typically use a 9 x 5 x 2 ½ inch standard size loaf pan, if your loaf pan is smaller be sure to only fill it so that the loaf pan is ⅔ of the way filled (bake a few muffins or a mini loaf with any excess).
Nutrition
Calories:
255
kcal
(13%)
|
Carbohydrates:
41
g
(14%)
|
Protein:
4
g
(8%)
|
Fat:
9
g
(14%)
|
Saturated Fat:
5
g
(31%)
|
Cholesterol:
56
mg
(19%)
|
Sodium:
368
mg
(16%)
|
Potassium:
194
mg
(6%)
|
Fiber:
2
g
(8%)
|
Sugar:
21
g
(23%)
|
Vitamin A:
309
IU
(6%)
|
Vitamin C:
3
mg
(4%)
|
Calcium:
31
mg
(3%)
|
Iron:
1
mg
(6%)
banana bread, Chocolate Chip Banana Nut Bread, crushed black walnuts, mini chocolate chips, one bowl method, super moist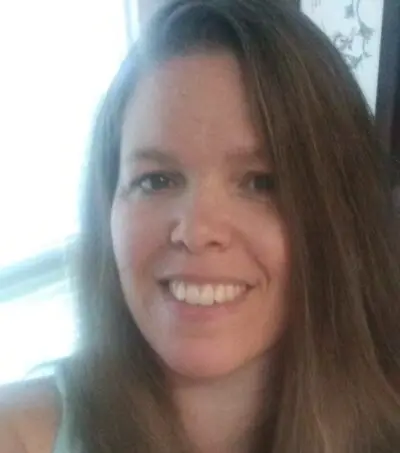 Angela is an at home chef that developed a passion for all things cooking and baking at a young age in her Grandma's kitchen. After many years in the food service industry, she now enjoys sharing all of her family favorite recipes and creating tasty dinner and amazing dessert recipes here at Bake It With Love!