Learn how to freeze banana bread so that you can enjoy it whenever you want without having to worry about it going to waste! This helpful guide will cover the best method for keeping your banana bread as fresh and moist as possible! From storing and freezing to thawing, I cover everything there is to know so that your banana bread tastes just like it came out of the oven!
Guide To Freezing Banana Bread
Banana bread is one of my family's favorite treats to eat! I like to make extra loaves and store them in the freezer so that we can enjoy them whenever we'd like.
In this ultimate guide, I will walk you through step by step how to freeze, thaw, and reheat your banana bread so that it stays fresh and moist. Plus, I even give you a few of my most popular banana bread recipes to try at home!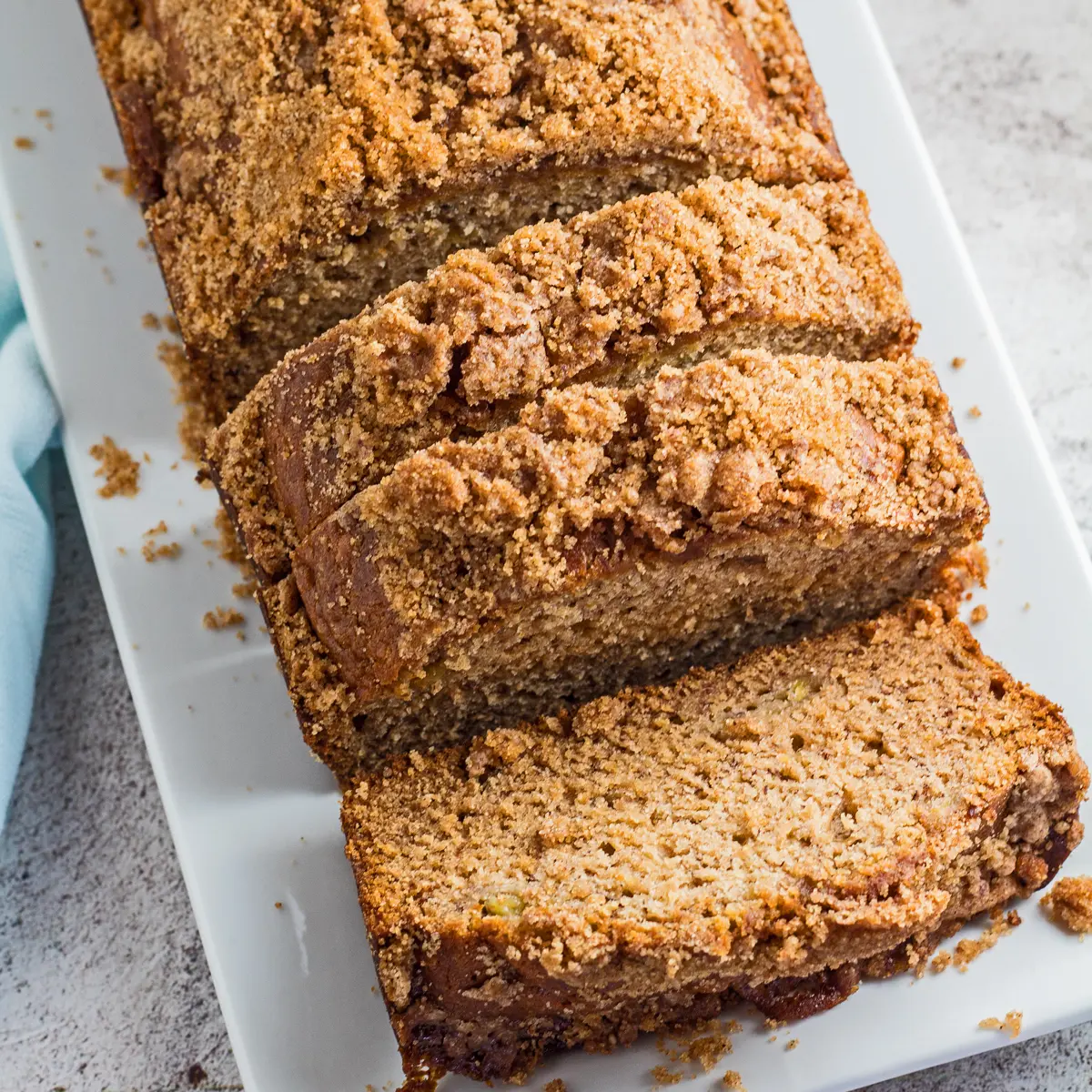 Jump to:
Can You Freeze Banana Bread
Banana bread freezes very well and will stay fresh for weeks and even months when it's properly prepped and stored in the freezer! Whether making a few loaves for busy weeks or having extra leftovers, here are a few tips and tricks that will keep your banana bread tasting amazing!
How To Freeze
Freezing banana bread is an incredibly easy and quick process! Just follow these simple steps, and you won't have to worry about your banana bread going to waste or drying out.
Cool. Allow your banana bread to cool completely before freezing it. This will prevent condensation from forming on the bread and avoid any sogginess.
Wrap. Wrap the banana bread tightly with a layer of plastic wrap and then a layer of aluminum foil. The plastic wrap will keep the banana bread fresh, while the aluminum foil prevents freezer burn.
Transfer. Then place your banana bread in a freezer-safe storage bag or an airtight container.
Label. Write the date on the bag or container so that you can keep track of the amount of time it is frozen.
Freeze. Store the banana bread for up to 2-3 months and follow the thawing and reheating process below.
Whether you are freezing individual slices, a half loaf, or a whole loaf, the bread always needs to be double-wrapped. Personally, I like to slice the banana bread before storing it in the freezer so that it's easier to get out the right amount that I need for the week.
How To Thaw & Reheat
There are a few ways to thaw out the banana bread, and the method to choose will depend on how quickly you want it thawed! Here are the different ways to thaw and reheat your banana bread:
Thaw On The Counter
When thawing a half loaf or whole loaf of banana bread, keep it wrapped and place it on the counter for about 2-4 hours to thaw. For individual slices, it should only take around 20-30 minutes to thaw.
The exact time required for thawing will depend on the size and thickness of your banana bread, so feel free to check on it and serve as desired. Either enjoy your bread as is, or you can reheat it in the oven or toaster oven for a few minutes to crisp the edges.
Don't leave your bread out for too long on the counter or you can increase the risk of foodborne illness. Make sure only to thaw it on the counter if you plan on eating it relatively quickly, or store it in the fridge until you are ready to enjoy it.
Thaw In The Oven
If you want to thaw your banana bread out faster, you can unwrap the foil and plastic wrap. Then re-wrap the banana bread with the foil and preheat your oven to 350°F (175°C). Warm your bread for about 40 minutes (for a half loaf) and 90 minutes (for a whole loaf) or until it fully thaws. By keeping it in the foil, the bread will retain its moisture and taste fresh when it comes out of the oven!
Alternatively, you can wrap a slice in a damp paper towel and microwave it for a few seconds at a time until it is thawed and heated through to your liking.
How To Store Fresh Banana Bread
Other than freezing, you can either store fresh banana bread wrapped in saran wrap on the counter for 3-4 days or store it in the fridge.
To refrigerate, wrap your loaf in plastic wrap, then transfer it to a heavy-duty storage bag or airtight container and place it in the fridge for up to 5 days.
How Long Can Banana Bread Be Frozen?
Banana bread will stay fresh for up to 3 months when properly stored. Although it is technically still edible after three months in the freezer, you will likely run into freezer burn, which would impact the bread's quality and texture. Enjoy the best results within the first month of freezing for optimal freshness.
Tips For Freezing Banana Bread
If you're using a freezer bag, remove as much air as possible before sealing it. This helps prevent ice crystals from forming on the surface of the banana bread.
Consider slicing the banana bread before freezing it. Not only it is easier and quicker to thaw slices, but you can easily take out just the amount you need without having to thaw the whole loaf.
If you are freezing multiple loaves of banana bread, wrap each one separately before placing them in the same container or bag. It will be easier to remove individual loaves as needed.
Now you know how to freeze banana bread properly! Do you have a favorite kind of banana bread? Leave a comment down below to let me know!
🍞 Tasty Banana Bread Recipes
Do you love a recipe you tried? Please leave a 5-star 🌟rating in the recipe card below and/or a review in the comments section further down the page.
Stay in touch with me through social media @ Pinterest, Facebook, Instagram, or Twitter! Subscribe to the newsletter today (no spam, I promise)! Don't forget to tag me when you try one of my recipes!
📋 Recipe
Print Recipe
Leave A Comment
Love This Recipe?
Click On A Star To Rate It!
How To Freeze Banana Bread (The Ultimate Guide): Pineapple Banana Bread
Learn how to freeze banana bread so that you can enjoy it whenever you want without having to worry about it going to waste! This helpful guide will cover the best method for keeping your banana bread as fresh and moist as possible! From storing and freezing to thawing, I cover everything there is to know so that your banana bread tastes just like it came out of the oven!
Total Time
1
hour
15
minutes
Pin Recipe
Share on Facebook
Instructions
Preheat your oven to 350 degrees F (175 degrees C) and lightly grease a loaf pan.

Place the peeled overripe bananas (2-3 large bananas or 3-4 medium bananas) into a large mixing bowl and mash using a fork or masher.

Add the drained crushed pineapple, which will yield approximately 1 cup of pineapple. Then add the ½ cup of melted butter and mix.

To the wet mixture, add the 2 large eggs, ½ cup each of granulated sugar and packed light brown sugar, and 1 tablespoon of vanilla extract. Mix to combine.

Mix in the 1 ½ teaspoons of baking soda into the wet mixture, then add the 1 ½ cups of all-purpose flour and mix just enough so that the flour is fully combined into the batter.

Transfer the batter to your prepared loaf pan and bake in the middle of the center oven rack (or down one notch to prevent the top of the loaf from cracking). Bake at 350 degrees F (175 degrees C) for 55-65 minutes. *Check your loaf at 50 minutes of baking to make sure that it is not browning too rapidly. Cover with a loose square of aluminum foil if needed.

Remove from the oven when done and allow the pineapple banana bread loaf to cool in the pan for about 10 minutes. Then either serve warm or transfer to a wire cooling rack to cool completely before storing.
Notes
Store any leftover pineapple banana bread on the countertop in an airtight container for up to 3-4 days. In general, this is the best and easiest way to store any banana bread.
If wrapped securely in cling film, then stored in an airtight container, your banana bread can last in the refrigerator for a week and possibly longer. Because of the high fruit content of this quick bread, keeping it in the fridge is my preferred method of storage.
Nutrition
Calories:
314
kcal
(16%)
|
Carbohydrates:
52
g
(17%)
|
Protein:
4
g
(8%)
|
Fat:
11
g
(17%)
|
Saturated Fat:
6
g
(38%)
|
Trans Fat:
1
g
|
Cholesterol:
62
mg
(21%)
|
Sodium:
264
mg
(11%)
|
Potassium:
250
mg
(7%)
|
Fiber:
2
g
(8%)
|
Sugar:
33
g
(37%)
|
Vitamin A:
389
IU
(8%)
|
Vitamin C:
8
mg
(10%)
|
Calcium:
31
mg
(3%)
|
Iron:
1
mg
(6%)
banana bread, easy quick breads, Pineapple Banana Bread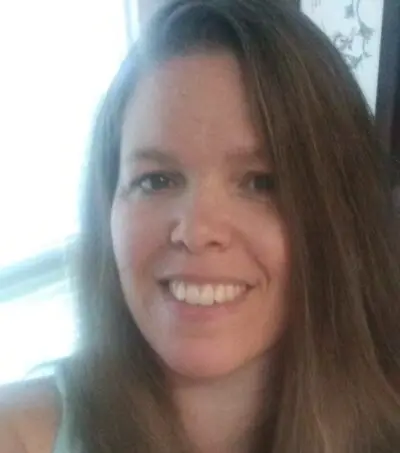 Angela is an at home chef that developed a passion for all things cooking and baking at a young age in her Grandma's kitchen. After many years in the food service industry, she now enjoys sharing all of her family favorite recipes and creating tasty dinner and amazing dessert recipes here at Bake It With Love!